Latest news page May 2006 to Sept 2006
6th Sept 2006 - Posted a few finds on new page
The guys have found a new house site which dates from early 16thC right through to the 1940's. It is covered in military buttons including what are probably WWII USA ones. I have another 2 dozen to post yet and if you can ID any of the unknowns then drop me a mail please.
5th Sept 2006 Celtic gold recorded
Dr Philip de Jersey who runs the National Celtic Coin Index has recorded out first celtic find of the year.. 'that's a fine coin to start the season with! It'll be CCI 06.0412.'
I will be starting a fresh hunt page on the site today to start posting some of the other finds.
4th Sept 2006 First gold finds of the year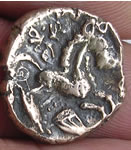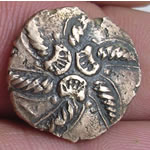 Addedomarus 45BC Celtic gold full stater 18.62 mm - 5.48 g CCI 06.0412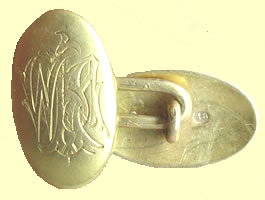 New land today produced the first two gold finds of the season, a 45BC Addedomarus full Celtic stater and a stonking pair of solid gold cufflinks, 18 carat with a makers mark TC. They are probably 19thC by the engraved lettering style WLA, they appear to have have a foreign mark which requires more research. Silver has started to appear with 4 milled coins, George III, , William IIII and Victorian. 3 pieces of hammered silver have been found, a Charles 1st half groat and a one penny and a really nice condition Elizabeth 1st penny. We found a new house site and dug a ton of nice buttons including a 1930's USA Eagle and a 7th Regiment of foot. Other finds included a solid silver hall marked spoon that appears to be late Victorian. So a great start to the hunts so far.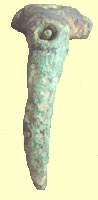 Very unusual type 2ndC Roman head stud type bronze brooch 6.83g - 38.02mmL
3rd Sept 2006 Gentle start to the new season
Well the hunts have finally started again and all the usual bits and pieces are turning up, nice 15thC long cross token, early complete decorated crotal bell, coppers, Tudor period button etc. The best find so far is a 1stC decorated bronze Roman fibula brooch that I will have to check in the reference books as it is quite an unusual design. So no gold or silver yet but that can all change with one swing of the coil LOL
25th August 2006 One week to the off new land maps - Club badge
Hunts finally start again in just a weeks time and it seems ages since we last got out to detect. I have picked up the maps from the new landowner joining us for his first season. Because he is our largest landowner to date the land has been split into 2 more manageable chunks, one the first half of the season and the second chunk after the new year. The first set of fields is about 12 arable and 10 pastureland. We will not be hunting the pasture land yet as this currently has animals on it and requires close supervision due to the archeology potential on non disturbed land. The second chunk for the new year is about the same numbers of fields. The land is multiple crops, wheat, barley, potatoes, beans etc. and about 4 are huntable so far with one plowed and rolled. Some of the fields are a really nice manageable size and others you are whistling Dixi on LOL.
The other 13 landowners sets of fields are all in various conditions and about half a dozen huntable. New fields will come on line each day as they get to plowed,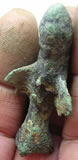 Cal Jeff's 'Find of the Year' copy has been made.
'Status update - I visited the bronze guy yesterday, he has finished the mold and cast pecker , and will proceed to cast the rest. He did pecker #1 from start to finish, including patina, and it looks perfect!I told him I'd need a few of them before Sept. 28th as I plan on wearing one through the airport, and await TSA asking what that is around my neck. "Why Sir, it's obviously a 2000 year old roman winged phallic pendant" When I return from Colchester, he should hopefully have all the peckers nearly done, and I'll ship them out to the guys that ordered them'.

21st August 2006 Ohio Tony and Eric are practising hard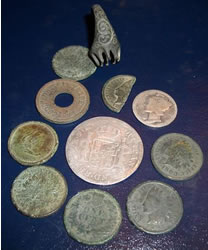 Ohio Tony just sent me a picture of his latest finds from stateside. Good to see they are practicing for their next hunt here in Sept, nice early Spanish Reale.
'Got out in the rain today to an old park with 2 friends.
My first signal was this half dollar sized 1788 (4 Reale)
Also found a civil war token and 5 ½ Indian heads, a merc, a trade token, and a neat old ring missing the stone. Got 16 wheats and new stuff as well.
Ohio Eric got 2 mercs, and a barber dime, an Indian head, and some misc. silver jewelry. Got a little wet, but it was worth it.'

19th August 2006 - German coin ID'd
Got a helpful e-mail from Folkert in Germany ID'ing one of our foreign coin finds. He has ID'd it as 1/48 taler piece from the dukedom of Brandenburg-Bayreuth minted under the reign of Fredrick (1735-1763).


1736 - 1/48 taler

18th August 2006 - Airports are back to normal - Land is in good shape
Just back from our trip to the USA and I can report first hand that the new security arrangements at US airports are running smoothly again which is great news when the hunts commence shortly. Rain has softened the ground up really well but has hampered the farmers from final cropping on some fields. Some of the new 1200 acre estate is ploughed already so the first guys here will get a definite hit on the unknown land. Just two weeks to go to the off !!
Cal Shawn has received a letter from the British Museum confirming interest in purchasing his Silver Viking stapend find.
29th Aug 2006 Chicago Ron's summer haul - Great tips from the senior members
Ron appears to have a special gold setting on his machine LOL. He has already found 4 Celtic gold coins here so far here and is back home practicing like a man possessed for his next hunt. He sent me a picture of his latest finds, some real pretty gold pieces. If we found that type of gold on our Saxon and Celtic areas we would have a heart attack LOL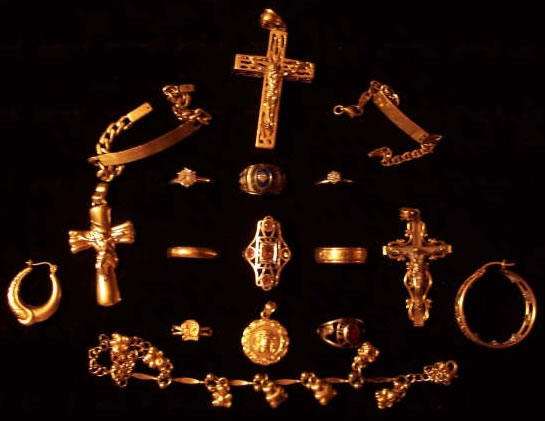 Hi Mate Thought I'd send off some pics to post for the gang. Its not old but it's really pretty.
2 weeks detecting on Chicago Beaches. Total weight 2.56 oz

see you in about 45 Days!!!!!!!!!!!!!!!!!!!!!!!!!!!!!!!!!

Chicago Ron
We have Yngve from Sweden hunting here in Sept and it is his first time ever metal detecting as it is illegal in Sweden. Following a post on the members forum the guys have given some great tips and advice that were excellent so I have posted them on the bottom of the holiday checklist page and they are well worth a read if you are hunting here for the first time in England.
25th July 2006 90% harvested - more reference books wanted
I took a trip out to the farms we have permission to hunt and was very surprised to see 90% of the fields have been cropped already due to the sunny weather. I spoke to one landowner and it was been a bumper yield on the wheat and barley fields which is great news for them. Ploughing will start when we get some rain. Our reference library has steadily improved and now surprisingly stands at 67 publications. If you have any specialist publications that you wish to sell then drop me an e-mail with your asking price.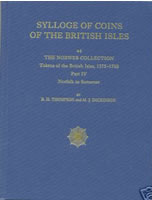 Particular wants are Sylloge of coins of the British Isles Norweb collection, I have volume II that details 17thC hammered trade farthings of Essex but the other volumes in the series detailing farthings from other parts of Britain would also be very useful to have.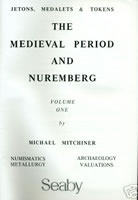 Another superb publication is by Michael Mitchiner covering in great depth Medieval and Nuremberg Jettons Vol 1 which we have, there are two other volumes in this series we are also after.
It does not matter how obscure a publication it is, if it covers something that can be dropped and dug out of the ground then we want it !!
24th July 2006 Long hot summer - we are bored - treasure update
The weather here is hot and sunny with temperatures in the 90's and we need some rain badly to help get the crops in. You can tell all the members are really bored and champing at the bit to start the hunts again as we are on the forum talking about the weather !! They have serious temperatures back home and the guys sent a couple of photos with the first 3pm Morristown AZ taken in the shade on one of the guys back porch, the second shot from California 107-108 f in the shade. Not the kind of temperatures to go detecting !! 90 F does not seem that hot now LOL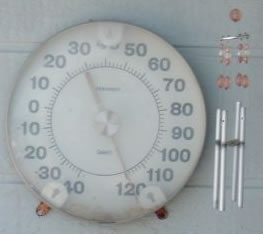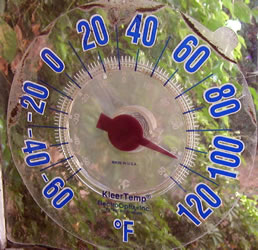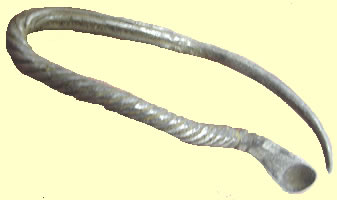 Treasure/hoard update - It has been a good year clearing the outstanding treasure and hoard back log. Currently there is only one outstanding case to be resolved by the British Museum which is the Roman silver twisted ear scraper found in March. The local museum has shown interest in acquiring the artefact. The British museum are still keen to purchase Cal Shawns 9thC silver Viking strapend but have yet to make him an offer.

17th July 2006 Coins just back from the goldsmith
The latest straightened hammered silver found by the guys with the before and after shots in most cases, great results even with the huge stress cracks in them.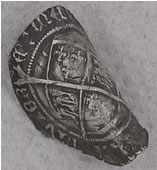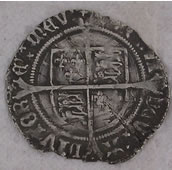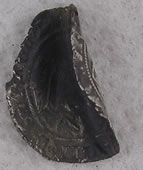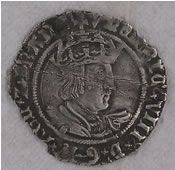 1509 -26 Henry VIII hammered silver groat -initial mark Pheon
Obv HENRIC VIII DI GRA REX AGL FRA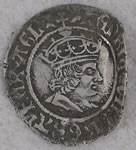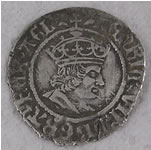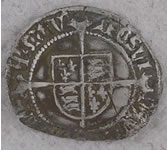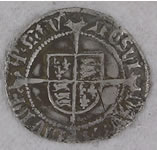 1508 Henry VII hammered silver half groat - York Archb Bainbridge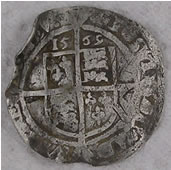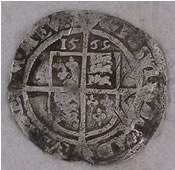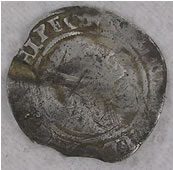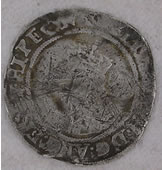 1569 Elizabeth 1st hammered silver sixpence - 24.10mm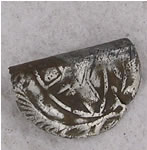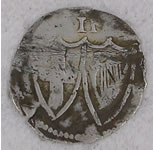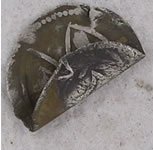 1649 Commonwealth hammered silver half groat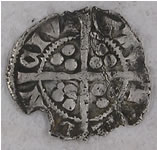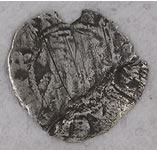 14thC hammered silver penny London mint
10 July 2006 Sad news for the members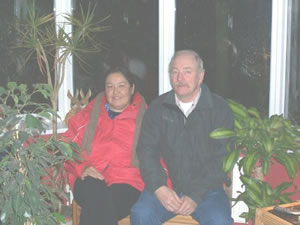 I was stunned yesterday when Alaskan Zeke's wife Glo sent me an e-mail saying he has died suddenly following a diving accident. Zeke was such a great good humoured guy and was really pumped up looking forward to his 3rd trip here in Sept. He will be sorely missed by all that knew him and those that got the privilege of hunting along side him.
Tenn Jim sent me his favourite picture he took of Zeke and Glo last season while they were chatting in the conservatory at the house.
9th July 2006 More land more guys
We currently have 3 more landowners that want us to hunt their fields but we have insufficient numbers to ensure any kind of coverage at the moment so they are on hold. The new 1000 + acres added to our existing farms for Sept will stretch us very thin because we found so many hotspots on other new land last season that require a return visit. I have added more self catering slots at peak times to try and increase the numbers but if the new land starts to produce early on then we will not get around to some of our sites. It is a catch 22 really, the more land requires more bodies other wise there is nothing in it for the farmer. Senior member Ark Gary is investing in a GPR set for the new season and will here for extended intervals mapping the Bronze age village and other key areas, he will be running the self catering. Chicago Ron's team trialed the site last April and it worked really well.
If you have a club or team of 6 guys then a Senior member will run the show for you and you can help with the hotspotting LOL

Gold accommodation
6th July 2006 Added Roman Empire timeline page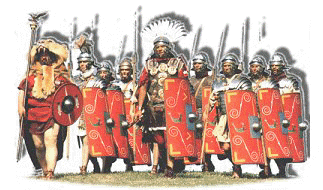 Added a new Roman Empire Timeline page to the History section with where your Roman/British finds fit in. Ariz Bert still holds the record of the oldest coin found here at 118BC.
5th July 2006 3 Disclaimed treasures
The BM has disclaimed 3 treasures which means they do not wish to purchase them so they can be returned to the finders, more details on members area. All the outstanding treasure and hoards have now been bought by the local museum and the finders and farmers have received their compensation cheques. I I spoke to export duty today and 11 approved export licenses were sent out to us yesterday.
I have been using the new special reference books to ID the Jetons and 17thC trade tokens more accurately. The Mitchener Jeton book is a superb publication with 700 pages and exacting detail. We do not find many Jetons in ID' able condition as they suffer badly in the soil.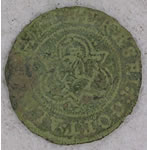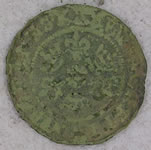 Hans Krauwinckel II c1585- 1635
Rev GOTT.ALLIEIN.DIE.EER.ESEI
Obv HANNS.KRAVWINCKEL.I.NVR
German Jetton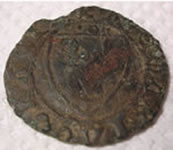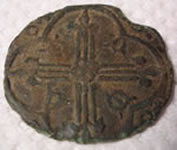 15thC 'Shield of France' Jetton
Obv X AVE MARIA o GRACIA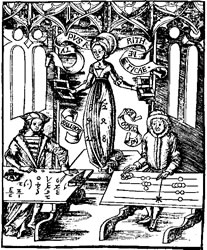 John the Good (1350 - 64) Jetton(b)
Three pellet clusters as trefoils across crown

21st June 2006 New Smuggling hotline 0800 59 5000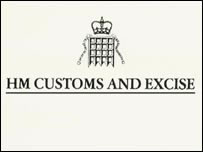 Last year the members caught a guy smuggling finds out of the UK and he was reported to the museum and Gatwick Airport customs. We recovered the artefact and it was returned to the landowner. Now a smuggling hot line has been set up if you have credible evidence that an illegal export is about to take place.(passenger name, travel details etc). The number to ring is 0800 59 5000
It is crazy to risk imprisonment fine or both when there are simple processes in place to export finds correctly. I have handled finds for members that have been hunting in other parts of England and needed assistance. ANY find over 50 years old MUST have an export license. If you are planning a trip to England detecting then contact The Museums, Libraries and Archives Council who process exports and can supply you with blank export forms ready for your trip, they are free.
Victoria House,
Southampton Row,
London WC1B 4EA
tel: +44 (0)20 7273 1444
fax: +44 (0)20 7273 1404
email: info@mla.gov.uk
Contact you local Finds Liaison Officer who can help you with recording finds and reporting of Treasures/Hoards

Finds Liaison officers contact details
Read these links on my site for more info
http://www.colchestertreasurehunting.co.uk/treasureact.htm
http://www.colchestertreasurehunting.co.uk/export.htm
20th June 2006 Getting ready for the start of the season - Club badge orders
It is still 10 weeks to go to the start of the new season but the members have been studying the latest aerial photos supplied by Nev Gary that reveal huge numbers of crop marks. There appears to be a huge Bronze Age burial mound near where Mass Bruce's axe hoard was found and the classic Roman villa shape on land we only detect infrequently on. The new 1000 + acres we start to hunt form Sept also has huge numbers of crop circles, ring ditches etc. An excavation 30 years ago by the museum found Beaker people graves so this area is being studied to determine the best place to make a start. 4 more reference books are on order including one that covers Roman lead tokens and gaming pieces. NY Dan found the piece below which has still not been positively ID'd as either an 18thC lead token or a Roman one by various experts.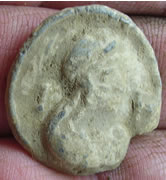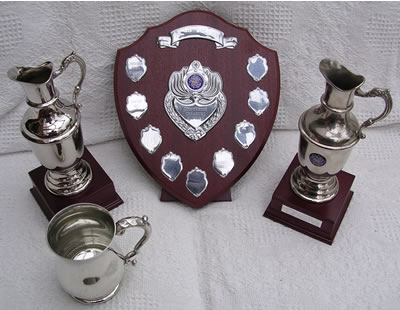 All the shields and cups are at the engravers to be ready for presentation to the guys on their return in Sept.
Cal Jeff - Find of the year
Texas Dave - Coinhunter of the year
Tenn Earl - Wayne Otto memorial Trophy
A new set has been ordered up ready for the 2006/2007 winners LOL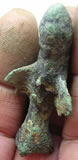 Cal Jeff has posted details on the members forum about the reproductions he is having produced in California for us of his 'find of the year' artefact
'This would be a replica pecker, cast of bronze, with patina applied to match the original. The necklace "hole" will be repaired so these peckers will be wearable unlike the original that has a broken necklace hole.Yes, you can be the first in your area to be wearing a bronze replica of a 2000 year old roman pecker. Imagine the sex appeal'
You can only order them directly from Jeff via the forum and this is the new Colchestertreasurehunting club badge LOL

14th June 2006 Texas Dave wins 'coin hunter of the year' - more finds posted
The final export processing has now been completed which makes Texas Dave the winner of the 'coin hunter of the year' award 2005/2006 Dave's coins included a beauty hammered gold James 1st and his second hammered gold found on these hunts. Dave's trophy will be presented to him on his next hunt in Sept when he will be back trying to add to his current gold collection found here over the last two hunts. This guy appears to have a special gold setting on his machine LOL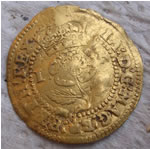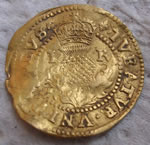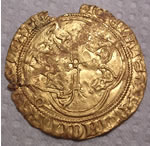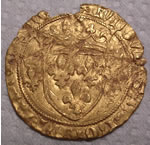 James 1st hammered gold Thistle- Crown (4 shillings) - Louis X1 Ecu (1461-83)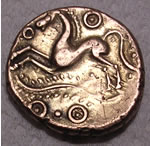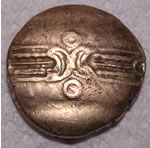 Dubnovellaunus Late 1st BC to Early 1stC AD Full Celtic gold
Below are more unpublished finds from the export process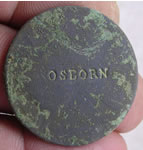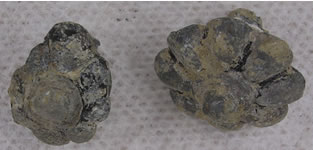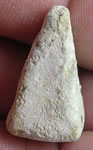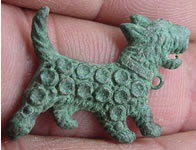 Osborn overstamp on Georgian copper - 19thC Tobacco jar handles - Roman lead gaming piece- 19thC charm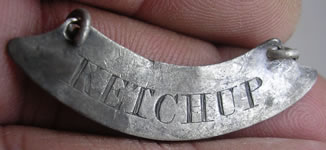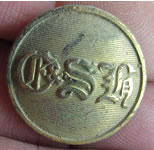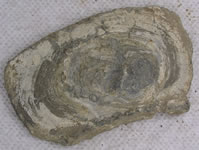 19thC silver bottle label- Monogrammed button- 19thC lead palm sowing guard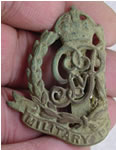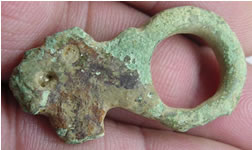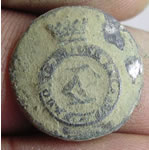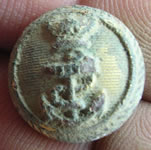 WWII Military Police badge - Roman bronze finger key- Unknown button- Post 1840 Navy button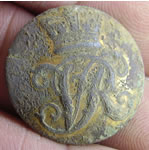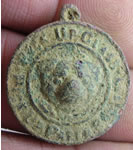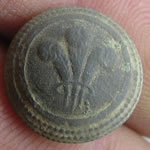 Victoria button- 19thC dog medallion class winner- Royal fusilier's button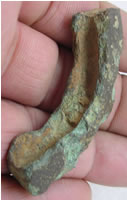 Large early Bronze ring fragment - possibly cart fitting 55.89 mm L x 10.55 T x 13.29mm W
Complete ring would be 36mm dia - wheel fitting ?
13th June 2006 More unposted finds - more reference books
Export process is still turning up more unposted finds including several curious early tokens not in the reference books. I am trying to get hold of a specialist publication on Saxon/Viking weights as some of them bare a resemblance to those currently published by N Biggs. I have also ordered up another two specialist reference books that cover a topic in great detail. One is the definitive guide on 17thC trade farthings and the other covers Medieval and Nuremberg Jettons in great depth.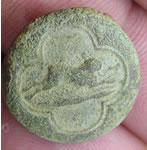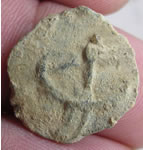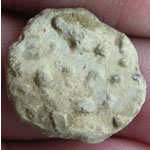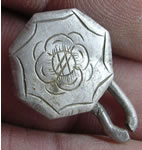 Early hunting button- Possible 9thC weight- 18thC silver cufflink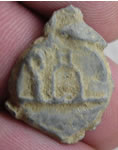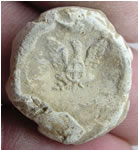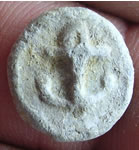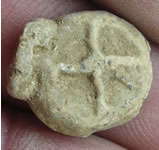 Unknown token- German bale seal- 17th/18thC lead token - 15thC lead token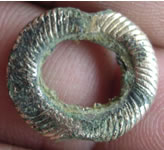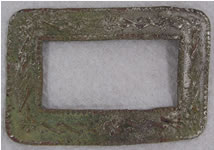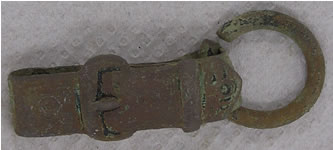 Gilded Georgian fob watch swivel- 19thC ornate belt buckle- 18th harness fitting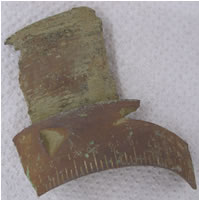 WWII flack shell fragment with manual altitude setting still attached
12th June 2006 What a rare Roman find
Our Roman expert has done more work on the initial ID of the rare Roman bronze find posted on the 10th. Feedback from the other experts has confirmed it is a very rare variety.
Mark,

'That's a rare variant of the normal COS III As of Vespasian, with Judaea seated by trophy not palm tree on reverse.

BM has one, BMC 608 (not ill.).

I'm forwarding this to Ian Carradice and Ted Buttrey who may want to take account of it for their new Flavian RIC'.

Yours,
Curtis

11th June 2006 Archived old news and created new News Index
I have halved the size of the latest news page to speed up loading times. The site now has a new page detailing all old news with an index back to 2002. Amazing to read the early years.
11th June This years Archaeology training course in Sussex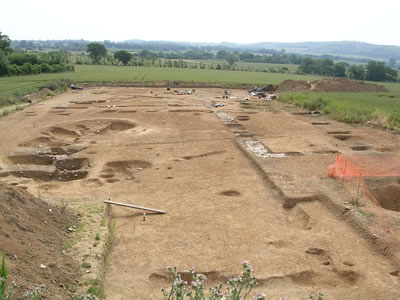 I have just got the dates for this years continuing Barcombe villa dig. 5 day courses start from 17th July to 11th August. This course is a superb hands on event and teaches the basic skills that are needed to undertake a successful dig. I thoroughly recommend all detectorists take this course which is tremendous value at just 180 pounds and there are cheap B&B's locally.
Check out our diary of last years event we attended - Villa dig
Contact details for bookings the event
10th June 2006 Finally ID'd Veggie Mike's Coin and a back garden Roman
Lots of finds initially have us stumped but we continue beavering away behind the screens until we come up with an answer. This coin Veggie Mike found in April was quickly followed by another one by Chicago Ron and although they looked to quite a modern coin design with the globe there was a date clearly on it of 1799. It turns out to be Brazilian copper coin 10 Reis as a Portuguese colony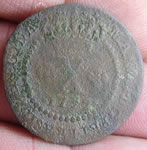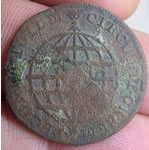 An interesting Roman coin dug from the back garden of house in the middle of Colchester was handed to me for ID. I sent it of to our Roman expert Mark and it runs out to be very unusual find.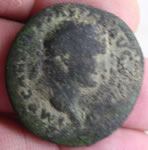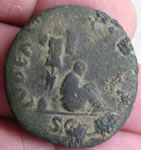 'That, my friend, is a "Judea Capta" As of Vespasian - a highly desirable coin in any identifiable condition - what a find for digging in one's garden!. It commemorates the final putting down of the 1st Revolt in Judea (Masada, and all that, the burning of Solomon's Temple, etc, etc, the Jews carried off in bondage to Rome to build the Coliseum financed by the treasures of Jerusalem, etc, etc.) - a job finished by Vespasian's son Titus after Vespasian was called-away from the effort to restore order and become emperor in the chaos in Rome following Nero's demise.
Although this is not, generally speaking, a "rare" general type by any means, it is highly sought-after by "crossover" folks - ie: people who have little to no other interest in ancient or Roman coins want one because of its "Biblical" or "Judaic" references.

This one appears to be in pretty nice shape for a British ground-find and it makes me wonder if it might not be a collector's piece that had been lost in more recent times. I would advise great care in its cleaning and restoration - please advise your friend not to have at it with Brillo or anything, OK? - this is a potentially fairly valuable piece.

Your obverse image is a bit blurry, but so far as I can see, the complete legend should be something like:
IMP CAES VESPASIAN AVG COS III (or IIII?) for Vespasian's 3rd (or 4th) consulship putting it in 71 or 72-3 A.D. The reverse has an odd (but not unknown) variant legend and spelling of IVDEA rather IVDAEA or IVDAEA CAPTA which are more commonly seen.

I thought I was going to be able to easily rip-out an RIC reference for you on this one, but after spending some significant time with the book, I don't find this exact type listed - at all. The reverse of Jewess seated right, trophy behind, is common enough for denarii, but not for larger AE's which usually have the Jewess seated by a palm tree with a variety of adjunct figures or impedimentia. I have sent photos to a couple of folks I suspect might have a clue, and when (or if) I get a reply, I'll let you know.

A very interesting find no matter what, and potentially a very important one if it is a hitherto uncataloged type'.

Mark

Amazing that this guy was just digging his vegetable patch !!
8th June 2006 Still processing the finds and exports
I had a bunch of approved exports back yesterday with details posted on the members forum. I am still working through the finds process and here are the latest missed finds not posted during the hunts.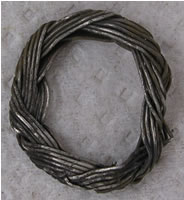 Reported to museum as potential treasure - silver twisted wire ring 58g, 14mm dia - probably 19thC but worth checking as the Romans like their twisted wire jewelry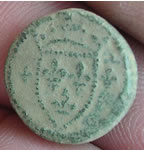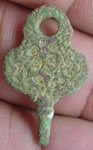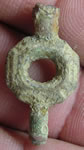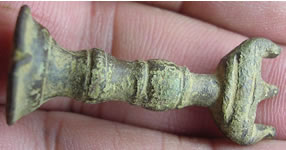 1422-61 AD Bronze coin weight - French Ecu - Three lis in shield type , 2 watch winders - Chess piece ?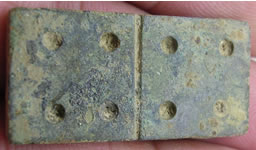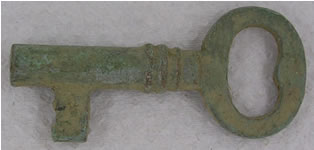 18th/19thC Domino probably brought over by Napoleonic prisoners of war - 18thC draw key
27th May 2006 Free Forum competition 2006/7
This years free forum competition is to guess the number of gold finds that will be made this season from Sept to April. The prize this year is this handsome 14th C Edward III hammered gold 1/4 Noble. See Club competition page for more details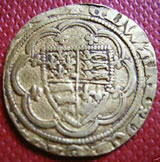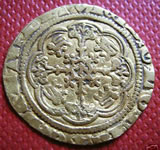 26th May 2006 More approved exports
9 approved export licenses arrived this morning, details on the members forum.
22nd May 2006 More land for Sept's start
I have just exchanged contracts with the new land owner that asked us to hunt his fields from Sept . This is a real feather in the caps for the members here who's conduct on the land and with the farmers has secured us this permission again. It was great to hear some of the positive feedback that this landowner got while he was checking us out prior to approaching us. Our last 4 sites have come from personal recommendations by our current landowners which means that they are more than happy with our style of detecting.
This is now our biggest single landowner with just under 1500 acres in prime locations. One of his fields had a excavation by the local museum on it 30 years ago which unearthed Beaker People graves. The aerial photos of the land also shows numerous crop marks, ring ditches, burial mounds etc.
There are around 30 fields over two main sites so we will try and hot spot one set in the first half of the season and then move onto the second site in the second half of the season. This will concentrate our efforts better then running around like headless chickens trying to cover it all in between detecting on our other existing sites LOL It will also give the guys after Christmas a fresh set of around 15 fields to try out.
Looks like I will have to cancel eating and sleeping on the next tours LOL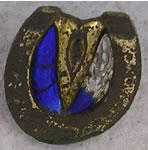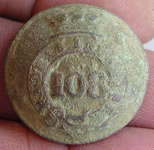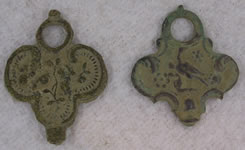 20thC 'hoof' button - 108th Regiment button - 2 Georgian watch winders
Celtic Woad cosmetic grinder and Jeff Roman Pecker find
Viking silver strap end- Rare Roman silver coin finds
Great Saxon silver finds Offa Rex - Coenwulf - Hammered gold
Villa Dig - Roman gold - Celtic gold hoard found
Can Majos and Mass Bills gold rings - Texas Dave's hammered gold
Roman gold coin - Mass Bruce's axe hoard
2000BC Axe - Boston Buds Saxon gold
michelle@colchestertreasurehunting.co.uk