Oct 2007 - March 2008 Latest News Page
23rd Feb 2008 Exports completed - Updated export page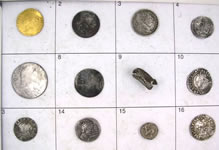 All export applications are now complete, check the members forum for full finds lists. I have updated the export page with a sample finds list of Chicago Reid's hunt to show you the detail required for the export license applications. Every find over 50 years old has to photographed and the FLO selects from this lists those finds to be taken to the museum to be examined and recorded.
I have been adding more of our finds to our Foundintheground searchable databases. Type in by any keyword to search. We still have a whole bunch of unknown do-dads posted on the forums if you can help ID them.
Updated the Romano/British finds page with the latest finds
21st Feb 2008 Land news, more unpublished finds - hunts start again in a week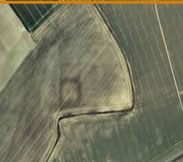 I have just two more export pouches left to complete before we start searching again next Saturday. I was amazed to find two more of the 5th Dragoon guards buttons lurking amongst a guys buttons. That brings our total to 4 of these now from our POW area. These are unlisted in any publication and Tim our button expert has added them to his latest book and attributed them to the Crimea war. A lot of the members have been 'google - earthing' the new site looking at the various crop marks that appear to cover this site. I was with the new landowner yesterday looking at all the maps again and he told me of of very important house site that was on his land and it shows up as a huge black square on the ariel shots (picture left) . Lots of hot spotting to do here.
2 more unlisted Crimera War period 5th Dragoon Guards buttons - This is the 4th of this type from our POW site so they must have been on guard duty

Titled family livery button

Walter Williams London

1624 E. LATYMERS ALMS BOYS

During the 17th century important charities were founded for schools and for alms-houses.

Latymer school was established under the will of Edward Latymer dated 1624

Latymer school catered only for boys but in 1778 a girls' charity school was started in Edmonton

Shipping line button - not found it in the books yet

Medieval annular buckle

Interesting post medieval lead trade weight with Eel design

Medieval drop pendant with traces of gilding remaining

Large Georgian star patterned mount

1587 dated Antwerp Hand coin weight

1666 Thomas Peeke of Colchester hammered copper trade farthing

Spanish bronze cob dated 1621
20th Feb 2008 More unpublished finds and ID's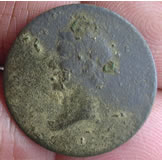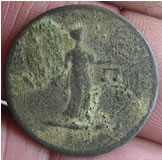 Some more great bits and pieces missed out of the export pouches including the stunning 17th C hammered copper trade farthing, another new one for our set, check out the 17thC token page . A couple of nice Roman pieces cleaned up and ID'd. The token on the left is perplexing. I just got a reply from a Conder (Condor) token expert I sent it to. Any ideas as I am stumped ?
After taking a look at the pictures you sent, I am sorry to tell you that we cannot identify it-but, as you stated, it may be a medal because it has no denomination on it. Best of luck identifying this coin, and again, apologies that we cannot further help you. If you have any other inquiries in the future, please do not hesitate to ask!
Small 1st to 4th C Roman bronze knife quillion - 14.35mm W 13.66mm H x 10.26mm T

17thC Daniel Walker, Grocer of Woodbridge Suffolk hammered copper trade farthing

Roman - Cast copper alloy buckle tongue with half of it's loop broken. File marks are evident on the sides and underside. Three incised lines decorate a raised rectangle at the base of the loop - Ref Bishop 186

15thC Shield of France Jetton

1770 Russian St Petersburg lead bale seal
| | |
| --- | --- |
| | |
| 16thC lead Tudor Rose mount | 15thC lead token - long cross and pellet type |
17th Feb 2008 More unpublished finds
Huge Post medieval triangular standing weight 2 lb's - 114.6 mm long

Huge Victorian reigns guide with a neat hunting sceen
Royal Horse Artillery

1888-1889
Smith & Wright Ltd
180 Brearley Street, Birmingham

1860-1912

'I will maintain'

Charles Jennens London

WWII National fire service

USA Marine button

1941 - 1960

1710 Corneill & Limest Ward Schools

French Infantry Button
26th Line Regiment
Circa 1803-1814

C 1825

'Corde Rixam'

Firmin & Sons Strand London

Dublin Fire Brigade

Henecy & Son

Dublin

16thC Tudor button

16th/17th Nipple button

17thC 3 pence token - William Morrifon Barr (William Morrison Barr)

Georgian horse bell
15th Feb 2008 More finds - New land research
Canadian Rod has started his research on the new land and is already finding some very interesting Archeology on it, he will be posting more info on the members forum. He is also preparing the new maps ready for the 1st March when we begin searching it. I have posted more complete finds lists on the members forum, please don't send me find locations yet until the museum selects those required to be taken in and added to the National databases. They currently have over 350 artefacts deposited with them so it will be while before I publish the next find list grid references needed.
The latest set of detailed reference books are still proving invaluable to ID finds that initially appear to be Georgian but are a lot earlier. Roman circular mounts look like just like Georgian draw pull back plates and are very tricky to differentiate, as are Roman copper alloy domed studs. I have just started to build a Roman Military page of our finds Roman Military.


Roman circular mounts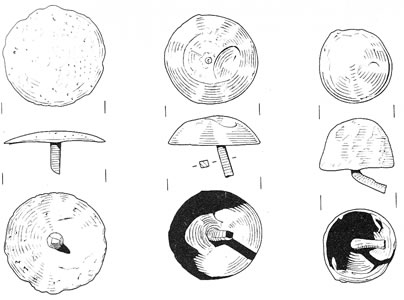 Roman copper alloy domed studs
I get most of my specialist books from Roger at Spin-a- disc http://www.metaldetectingbooks.co.uk/. He can get you any obscure or out of print items if you give him a ring.
If you finding Roman items then here are my favourite reference books. I have a whole series of old British museum books on Roman finds but these below are the most detailed and easy to use.
Roman Military equipment - Bishop & Coulston
Roman buckles and Military fittings - Appeals and Laycock
Finds from Roman Aldborough - Bishop
Prehistoric and Roman studies - British museum
3rd C Roman spear butt – Osterburken type Ref Coulston - Drawing Roman 3rdC spear butts

Roman 'heart' mount Ref Laycock

What initially looked like the end off a snake buckle is a fragment of a Roman Open looped dolphin buckle Ref Laycock

16thC decorated Tudor duck head S buckle along side a 19thC version of a snake buckle
11th Feb 2008 More finds and land for the 1st March
I went to see the new farmer today that has asked us to search his land . He showed me all the maps of his plot and it is another huge area being just under 700 acres. It has never been detected before so lots of hot spotting for us to do from the 1st March although it has a noted 11thC Priory on one of the fields that gives it a huge potential. That probably takes us to just over 200 fields to cover in March !!
WWII Civil defence

19thC livery button

1838 Nortzell & Son

21 Bouverie St. London

Gordan Highlanders

1884 - well after 1899

J R Gaunt & Son

London

Huge decorated lead mount - Lead mounts with crests were used on carriage doors so this could well be a decorative mount for the same- Probably Georgian period

1603 Coin weight for Scottish thistle crown of James 1st, revalued - IIIIs 4 D ½

Copper shilling - May 1690 James II Irish 'gun metal' emergency coinage
8th Feb 2008 - More unpublished finds and ID's
More interesting do dads out of the export pouches. More complete finds list with pictures just posted on members forum.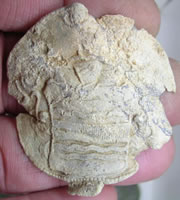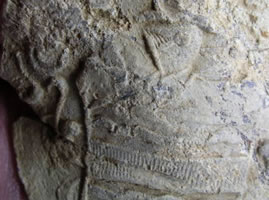 I am not having much luck researching this earlier lead document seal find with heraldic shield impression. It has a medieval armour helmet facing left at top of shield and Barry wavy of six argent. 41.40 mm L x 38.20mm W. If you can help ID it please drop me a mail. Here is a link for a great web site for heraldic info
1634 -36 Charles 1st Rose hammered copper farthing type 2

Obv CAEOLU D G MA FRA

Rev FRA ET HI REX

Very interesting James 1st hammered copper farthing with a mintmark that appears to be Pommel with 6 arms but should be Cinquefoil with 5 ?

1613- 15 James 1st hammered copper farthing Type 2 Mintmark Cinquefoil or Pommel ?

General type Obv. IACO D G MAG BR (IT)

Rev. FRA ET HIB REX

1586 Hans Krauwincel II Rose orb Jeton

HNNS KRAVWINCKEL IN NVRENB

1564 Elizabeth hammered silver sixpence – Pheon mintmark 3rd Issue

1853 Victorian milled silver sixpence

1897 Victorian milled silver sixpence
1774 Annulets, with a Lion Bullion Weight – 4 pennyweights

Really nice decorated silver cord end dated 1751 Chester mint date letter 'a'

Roman Baldric phalerae

Roman military Pelta mount

Unusual open topped lead thimble - probably Georgian

Interesting 16thC clothing fastener
7th Feb 2008 Gerry's Barn Hunt - one space free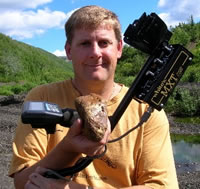 Idaho Gerry has just had a last minute cancellation for his 'Barn Accommodation Hunt' on the 7th to 14th March. The 6 man team has their own mini bus and it is a go as you please type event and you can detect as many hours as you can handle. If you can get away and join his group then you will be with a 'Top Detector Trainer' who has an amazing track record at finding gold nuggets , left is Gerry holding his 40 Oz nugget he found this year. Gerry also takes his teams to Ganes Creek Alaska every year for two weeks and they are seriously good. Check out the videos and details of the accommodation here .
Email Jerry at gerrys1det@cableone.net. for more info. Check out his site with pictures and training he gives on a machine if you buy it from his shop http://www.gerrysdetectors.com/train-p1.asp
5th Feb 2008 More unpublished finds - Tim's ID's
More individual find lists just published on members forum.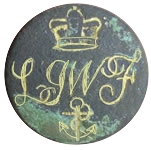 Tim Burton our button expert has managed to ID a very interesting button find below and sketched in the lettering for us. He said it was 'as rare as hen's teeth' and it is not in the reference books.
L.G.W.F.
Loyal Greenwich
Water Fencibles
( Coastal Home Guard )
In use 1798 - 1820 ?
He also ID'd a button that I initially thought was military as an early railway button.
1418 -37 Charles VII Shield of France Jetton – shield of tressure design – double stranded arcuate cross fleuretty with lis at centre –Ref Mitchiner 322

L.G.W.F.

Loyal Greenwich

Water Fencibles

( Coastal Home Guard )

In use 1798 - 1820 ?

Mid 20thC

Back mark - Firmin . London

RN Capt / Commander - 1901

Other Ship's Officers - 1901

In use 1901 - 1952

Royal Marines light infantry

W Twigg & Co Birmingham

Buttons include Royal Marines Light Infantry dating from 1855

Royal Marines

1888-1889

Smith & Wright Ltd

Birmingham

UK - Britain

SE&CR - South Eastern &

Chatham Railway Cº

Marine Division

1902 - 1922

Æ Gilt - Ship's Officers

Maker - Unknown

Merge - Southern Railway 1922

18thC Norwich Copper Halfpenny

17th century Allen Gurney - AG crotal bell – Hull foundry

??

Fire button - helmet with breast plate ?

19thC snake belt clasp

1619-25 Gold coin weight Half laurel of James I, 3rd Coinage 5.0 gm - Crown XS

Interesting design on a Georgian button

19thC Lion livery button

Superb Medieval square lead goldsmiths coin weight – Single Lis of 3 flowers in square obv shield Ref Rogers 3.21g

19thC Crescent livery button

Unusual Post medieval lead bale seal with figures
3rd Feb 2008 Busy recording finds - more land on offer
I an still busy working through the export pouches and trying to ID unknown finds. A particular Jetton has me stumped and I have the huge Mitchiner bible on these finds. It is a 14thC shield of France type but instead of the classic Fleur De Lis it has 3 pine trees and a bunch of foliage in a shield. The reverse is the classic triple stranded cross fleuretty with quatrefoil at centre and at the end of each arm, in ornamental 4 arched tressure. If any one can ID this fascinating find then drop me a mail.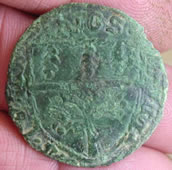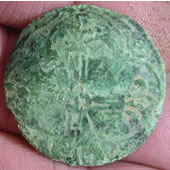 14thC French Jetton - not in the ref books
I dropped off over 350 finds with their find spots to Colchester Museum for recording on Thursday and these will be input onto the the National database. Check their database here which is great for helping to ID any finds you make. http://www.finds.org.uk/ . If you have any finds for recording then drop them into your local Finds Liaison Officer. If you click on our exporting page there is a finds recording template you can download and use. Sal posted this screen print below of his Saxon gold find on the forum which is now on line on the Fitzwilliam Museum National database for Early Medieval coinage. What a stunning find, English Saxon gold is the rarest type of coin finds there are.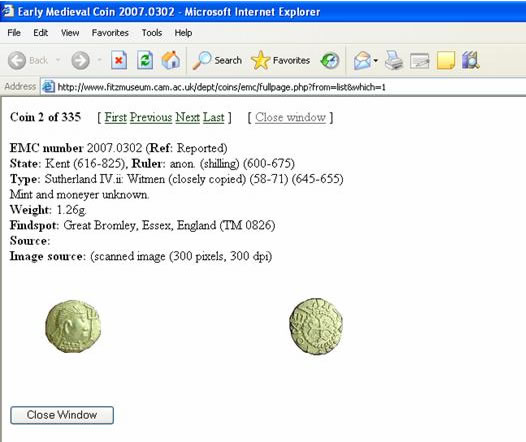 I went to see one of our new landowners and his wife who are very keen on the history of their land with our latest discoveries. They have 700 acres of undetected land that we have only started searching at the end of last season. Canadian Rod who does the historical research of our sites produced a huge laminated early map of their site which showed old water courses and early houses which they were fascinated by. The Chicago team this season found an amazing Roman area on this land which the museum have suggested is perhaps an offering site after I have taken in several votive offerings to be further ID'd by the museum. I produced a large coloured portfolio of the Roman finds for them to keep and also the Saxon artefacts we have been finding in another area of their site. They have offered us another new undetected farm in the local area which is owned by a relative. I will be seeing the new landowner this week and hopefully get permission so we can make a start searching it in the second half of the season.
29th Jan 2008 Royal mint study - New history of village shops - more finds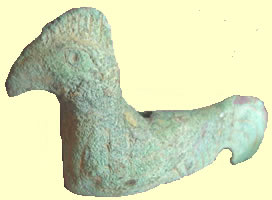 Just cleaned up a spectacular find from Chicago John's pouch which appears to be 3 miniature Roman bronze bowls joined together. These have been used in the past to offer the first fruits of the season as a votive offering. The pots appear to be too small to contain much fruit so perhaps they contained an incense, miniature loaves are also used as votive offerings. It came from an area where an old map shows a large water course which has since disappeared and Romans liked to make offerings at water locations. It has 3 small feet so it raised from the surface when sat on an alter. It will be interesting to see what the museums final ID is.
'Ancient religion was more concerned with everyday problems than the afterlife. Worshippers would make a declaration (nuncupatio) that if the deity heard their prayer - say for a cure, a safe journey, or a bountiful harvest - they would pay them back by setting up an altar, sacrificing a pig, or offering up a treasured artefact'.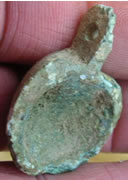 These gifts could be an animal sacrifice, or a model of the sacrifice. Interestingly it came from the general area that the Roman 'chicken' was found – the cockerel was associated with the god Mercury. Another Roman looking miniature bowl was also found close by.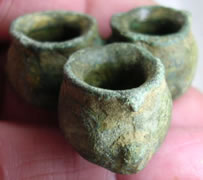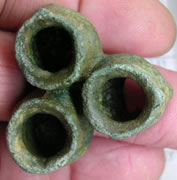 Amazing Roman bronze artefact 35.8g, 36.46mm W x 14.73mm H - votive offering pots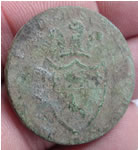 Got a real nice e-mail in from a guy working at the Royal Mint who is doing an interesting project on Sudbury tokens, I have sent him the find spots of the ones we have found.
'As someone who is making a special study of the Sudbury halfpenny token of 1793, I was interested to see on your informative website that specimens of these tokens are being discovered by detectorists, presumably in the Colchester area.
The geographical extent to which these tokens may have circulated beyond Sudbury is of particular relevance to my study and I wonder, please, if it is at all possible for you to tell me where the findspots are.'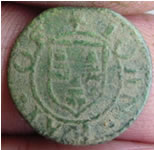 I got another e-mail in from a guy writing a new Shire publication book on the history of the village shop which should be a very interesting publication.
'I am writing a book on the history of the village shop for Shire publications to be published later this year. To this end I am seeking an image of a collection of trade tokens and wondered if you would be able to help me in this matter. I would be very grateful if you could assist me in any way and I would of course be willing to credit your club in the acknowledgements'.
I responded that he can use any pictures from our site as one of the main purpose of us recording every find we make and publishing it on the net is to improve history. Great to see the information we collect being put to good use. Check out the 17thC token page with all the trade farthings we are finding
I have also updated the Jetton page and managed to ID an outstanding find that I initially though was another trade farthing but is an 18thC Jetton.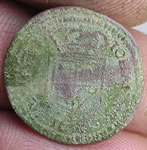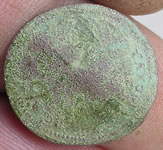 Johan Jacob Dietzel of Nürnberg who made this sometime between 1711 and 1748.

Obverse "GEORG.DG.M.(.........)

Reverse: "IOHAN(N.I)ACOB.DIETZEL.RECHP.COUNTERS"
I have updated the forum competition page and added the latest missed hammered silver finds to the total which now stands at 155 so far for the year.
| | |
| --- | --- |
| | |
| 1566 Elizabeth 1st hammered silver 3 pence - 3rd issue Portcullis mintmark | 1591-5 Elizabeth 1st hammered silver 2 pence -5th issue Tun mintmark |
| | |
| 1645 Charles 1st hammered silver penny – A, Ashby mint | 16thC duck head S buckle |
28th Jan 2008 More finds and exports
More full finds lists and coloured pictures of the guys export pouches just posted on the members forum.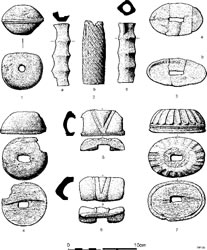 Some more great do dads out of the pouches including a very unusual early Shield of France Jetton where the Fleur De Lis break into the legend. A seriously good book for ID'ing Jettons is the Michael Mitchiner series with 700 pages of enlarged Jetton pictures including weights and legends. Another interesting button which is our 4th or 5th example found is the Royal Navy Packet Service ( Mail & Supplies Delivery). These have come from our POW site so were these guys delivering letters to the POW's ? I just got an e-mail back from Dr Mike Bishop who wrote a fantastic Roman Military equipment book which I now have a new hard back copy of. We can use the pictures from his book for a new Roman Military page I am currently constructing.

1478 Louis XI Shield of France Jetton – Cross fleuretty with roses on reverse Ref Mitchiner 706

1690 William III circular lead trade weight – Bust and Averdepois mark, 0.86 oz

16thC casket key

One piece Navy button

HONI SOIT QUI MAN Y PENSE

PACKET

Honi soit qui mal y pense (Old French: shame upon him who thinks evil of it)

RN - Packet Service
( Mail & Supplies Delivery )


c.1800-1811

The Edinburgh and District Tramway Co Ltd

Back mark - H.Totery London




16th/17thC decorated crotal bell - we have found a few with the makers mark 'I' but they are unlisted in the known foundry owners of that period

WWI Machine gun corp

1685 John Burrough, Grocers of Ipswich Suffolk, hammered copper trade farthing Ref Noweb 4362a

1509-47 Henry VIII trade weight - London hallmark, Crown h - 1.9oz 48.9mm dia

16thC Tudor clothing fastener

Medieval strap end - 2 rivet fixing (remaining)

Prussian NCO Imperial Eagle WWI one piece button

Kings Royal Rifle Corp 1872 - 1939

1634 -36 Charles 1st Rose hammered copper farthing type 2

Obv CAEOLU D G MA FRA

Rev FRA ET HI REX

20thC Butlins holiday camp enameled badge , Clacton is local seaside town.

One piece Navy button

HONI SOIT QUI MAN Y PENSE

PACKET

Honi soit qui mal y pense (Old French: shame upon him who thinks evil of it)

RN - Packet Service
( Mail & Supplies Delivery )

No back mark

Unlisted button - Crimea war's period

THE 5TH. (PRINCESS OF WALES'S) DRAGOON GUARDS

19thC livery button

RW Jackson & Co

58 Gracechurch St London
24th Jan 2008 More unpublished finds - Axe heads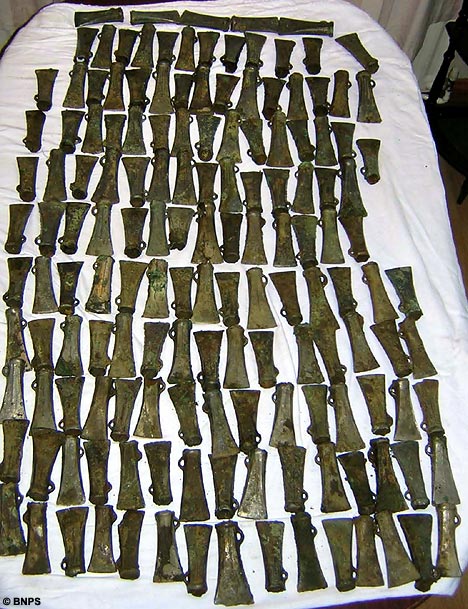 Great news story about a guy finding 500 Bronze age artefacts - Click here
More cleaned up and unpublished finds including an amazing discovery of a Kemper Military School Boonville Mo button and an early silvered pin. Lots more to post yet.
Cast copper alloy Gargoyle pendant

Roman prick spur fragment

1586 Hans Krauwincel II Rose orb Jeton

HANNS KRAVWINCKEL IN NVRENB

15thC Silver on bronze pin

19thC lead fishing weight

Georgian flintlock pistol toy

1344 Edward III hammered silver penny – Florin type obv EDWAR ANGL DNS HYB – Canterbury mint
Great find Kemper Military School Boonville Mo

Back mark Superior quality

Kemper Military School was a private military academy located in Boonville, Missouri

38th Regiment of Foot

( 1st Staffordshire )

O/R's - 1855-1881

In use WWI

Officers Tunic Button

??

RN - Royal Naval Reserve

Captain & other Officers

In use 1886 - 1901

P&O Line
In use 1920 - 1940s
Maker - Unknown


Capt / Commander - 1774-1787

4th Regiment of Foot

( The King's Own )

Officer - 1808-1830

?? Back mark superior quality

Britain's Merchant Navy
Generic Design Issue
In use 1900 - 2000's

Bliss Bros Ltd

Rd 665050


16thC fretwork Tudor button

Corporation button ?
20th Jan 2008 More unpublished finds - buttons and coppers
Lots of interesting buttons out of the export pouches and the odd really nice copper worth photographing. I was amazed to see that the 94th Regiment of Foot button is not in my reference books. They were formed in 1802 and disbanded in 1881.
It is nice to see an example of a great condition early and late bust Victorian large penny next to each other.
1886 Victorian young bust copper penny in real nice shape

1900 Victorian older bust copper penny in real nice shape

1901 Edward VII copper half penny in real nice shape

George 1st copper half penny in real nice shape

circa 1500 -1550 Rose Orb Jetton – anonymous issue – Large orb series with three Fleurs de Lis around a 5 petalled rose –fictitious legend - Ref Mitchiner 1190

1672 Charles II milled copper farthing

THE 5TH. (PRINCESS OF WALES'S) DRAGOON GUARDS

WWII type 1935-1952

Firmin London


Livery button

1860-1912

C.J Jennens

[Prince of WalesPlume]

Pre 1947 The Kings (Shropshire Light infantry)

32nd regiment of foot

( Cornwall )

O/R's - 1855-1881

1870 -1914 Bavarian reservist

Unknown

94th regiment of foot

O/R's (Brass) - 1802-1881

No buttons of the 94th are listed in any reference book


RN Capt / Commander - 1901
Other Ship's Officers - 1901
In use 1901 - 1952

J R Gaunt & Son Ltd

Poughkeepsie Police button - New York button ?

Infanterie de ligne (1871-1916)

French

Brevete.Parts H TW&W

ROYAL MARINES
This button dates 1923 - 1952
O/R's Tunic Button
Maker = Smith & Wright, B'ham
RMLI & RMA merged in 1923

Owl livery button

1860-1912

Charles Jennens

[Prince of WalesPlume]

Victoria Royal Engineers button

Officer & O/R's - 1856-1901
19th Jan 2008 More unpublished finds - Potential treasure and unknown coin - more ID's
Got an e-mail from Tim on the latest button ID's. 30th Bn. E. Lancashire Reg't, (30th Reg't of Foot, Cambridgeshire) (1881-1901) & Oxfordshire & Buckinghamshire Light Infantry (1908 - 1946). Interesting that he has the maker Clancy listed as different dates than in my button guide.
| | | |
| --- | --- | --- |
| CLANCY | CHAs CLANCY . DUBLIN ( 1 ) | 1855 - 1881 |
| | C. CLANCY & Cº . DUBLIN ( 2 ) | 1881 - 1901 |
| | Known date(s) - Regular UK Militia - (Irish) ( 1 ) | 1855 - 1881 |
| | 30th Reg't of Foot ( Cambridgeshire ) (1st Bn E. Lanc's Reg't) ( 2 ) | 1881 - 1901 |
He has more supporting evidence that his date is correct
'1881 - Under Cardwell's reforms the 30th Regiment of Foot, united with 59th (2nd Nottinghamshire) Regiment of Foot, to become 1st Battalion, The East Lancashire Regiment'
I have reported the silver clasp item below as potential treasure to the museum as the crude decoration is possibly over 300 years old. I cleaned up a very interesting hammered copper coin that is not English and requires more investigation. If you know what it is drop me a mail please
Silver clasp item with crude decoration - reported to Colchester museum as potential treasure

0.78b, 17.51mm dia x 4.24mm W x 1.93mm T


17thC Lancelot Felton , baker of Bergholt Suffolk hammer copper ½ penny token - undated type - Ref Norweb

George III 1760-1830 1 pennyweight (Dwt) and 7 grains (G) coin weight - 6 shillings and 9 pence - 1 pennyweight = 24 grains - Ref Whithers

Unknown foreign hammered copper coin 0.91g, 16.76mm - needs researching

Foreign military button - possibly Dutch

It's in poor shape but it's a great find , the first 1912 -18 Royal Flying Corp button found here - Pre Royal Air force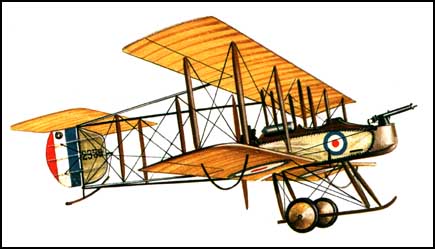 Vickers F.B.2 (1914)
17th Jan 2008 Museum feedback - line drawing and ID's
NS Andy's Saxon amazing strap end find has now been drawn by the museum.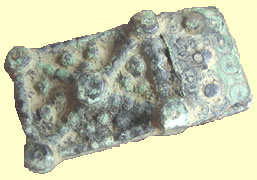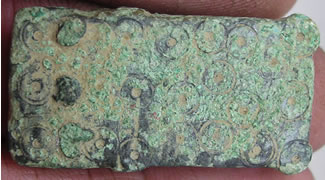 C10thC Anglo Saxon strap end 18.48g, 34.41mmL x 18.33mmW x6.53mm H

Only one of it's type found in Britain - donated to Colchester museum by NovaScotia Andy

'It is probably an insular copy of a Carolingian style, or it could even be the product of a workshop located on the fringes of the Carolingian continent, maybe somewhere like Domburg on the coast of Frisia. 10th - 11th century in date'.

I have just got back the confirmed ID's of the finds that were taken previously to the museum for evaluation.
Chicago Keith: Late Iron Age – early Roman terret fragment
Cal Jim : Post Medieval spur fragment - c 16thC
Ohio Mike :Post Medieval knife stop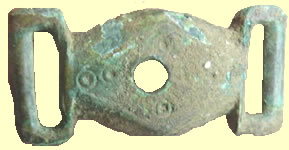 Mike: Roman strap fitting (with ring-and-dot decoration)
I originally thought this was Saxon so it is a lot earlier than I thought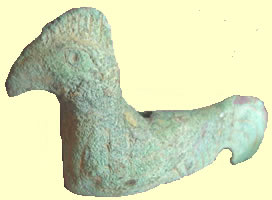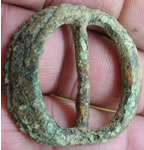 Cal Jeffrey: Medieval annular buckle, Medieval dagger guard and Roman chicken mount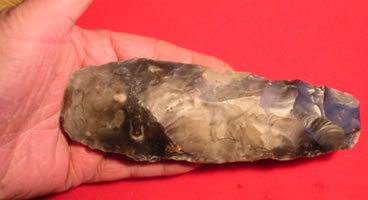 Penn Christie's : 11000 BC Mesolithic Axe
I have just posted a list on the members forum for the next batch of finds that the museum want to view and record. Please review you list and confirm the find spots by e-mail.
15th Jan 2008 More unpublished finds and updates
Some great missed finds out of the export pouches including a couple of unrecorded military buttons I have sent off to Tim Burton the button expert for further ID. There is a really neat looking bronze Roman cotter/clevis pin that will go off to the museum for further investigation. The bronze Medieval knife pommel is the second one of that design we have found with a Fleur di Lis top, the previous one came back from the museum ID'd as Medieval. These are from a very small knife perhaps a domestic type.
Really nice 18thC decorated silvered clog fastener

Unrecorded

30 th Regiment of Foot

( Cambridge )

Cambridge shire XXX

Back mark

C. Clancey & Co - Dublin

1817-47

Unrecorded

Buckingham shire

Back mark

J Gaunt & Sons London

1899 onwards

Great condition General service Army button - From 1890

16thC Tudor period button - possible late Medieval

1871 French copper coin - 10 Centimes

1603 James 1st gold Angel coin weight, 2nd coinage revalued - Crown XIs

Picard's Duke of Wellington Hull (Yorkshire) halfpenny token. Obverse: Bust of Wellington, wearing laurel, to left. Reverse: Text in centre and round edge listing major battles and their dates. Diagonally milled edge. These Peninsular War tokens are thought to have been issued by Picard, the owner of the Hull Lead Works, who spent some of his time in London and took to gambling his fortune away, eventually becoming bankrupt in 1827 and dying in reduced circumstances in 1843

RN Capt / Commander - 1812
RN Lieutenant - 1812
RN Midshipman - 1812
RN Volunteer Gr.I - 1812
After this issue a Midshipman
will have the Captain's style


16th/17thC spur buckle

Georgian fob seal with head facing right impression

North Eastern London Tramways button

Back Mark

John Hatton & Co

Roman bronze clevis pin ? 30.82mm L x 6.68mm dia 12.98g

WWII Royal marines button

Medieval bronze knife pommel- Fleur di Lis type- part of iron blade remains 5.18g, 14.54mm W x 14.13 L

17thC lead token with chicken design
12th Jan 2008 More unpublished finds and updates
What should have been a simple ID of a Scottish regimental button with a good back mark has us stumped so far. Tim Burton has replied' It looks like a generic Scots Regimental bandsman button' but he can also find no reference to it yet. Information on a Morgan 6 pence silver token find is scare but I found an advert in the The Star, London, June 24th, 1813. I have updated the following page with latest finds.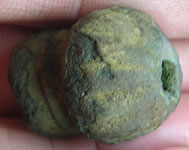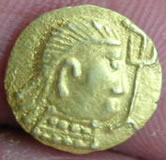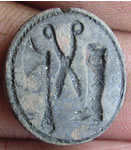 17thC George Nicholson, Grocer, Thorp Le Soken, Essex, hammered copper trade farthing

Not in ref books, Scottish regiment ?

Early 20thC

Firmin&Sons Ltd London

'It looks like, a generic, Scots Regimental Bandsman's Button.

So far, no reference, will keep looking'.

19thC Silver 6 penny token HM - Payable by a £1 note for 40 of these at Morgans token manufactory 12 Rathbone place London

Advertisement from the The Star, London, June 24th, 1813.

Local tokens of Gold and Silver, invented and first made for Public Convenience, in March, 1811, by Messrs. Morgan and Co., die Makers and Medallists, at their Licensed Token Manufactory, No. 12, Rathbone Place, Oxford Street, London,having been honoured with Legislative sanction and patronage, by three successive Acts of parliament, continue to make to any design, for Companies and Individuals, at a short notice, in that superior style of execution which has obtained for M & Co. during the last two years numerous and extensive orders for Bankers, Manufacturers and Shopkeepers, in almost every city and town throughout the United Kingdom. NB. Unpaid letters will not be admitted. Dies of numerous patterns ready engraved.

C10thC Saxon key
11th Jan 2008 More updates ID's and unpublished finds
Updated the following pages with latest finds. More full export finds lists published on members forum.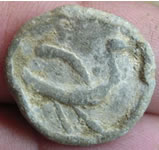 Tokens 15thC to 17thC lead - Starting to add 17thC lead tokens to this page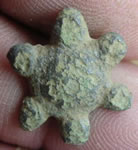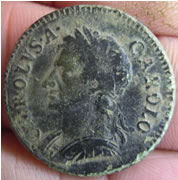 Base metal coins - added loads of the early coppers found in great shape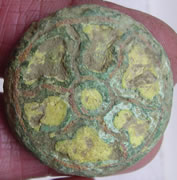 Mounts - Updated the mount page that now includes all periods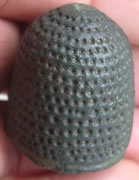 Thimbles - - Updated the thimble page with also some history
1553- 86 AD Hans Schultes I 'Lion of St Mark' Jetton

obv Lion of St mark standing left, nimbate and winged, holding book of the Gospels in right fore paw: Lions halo orjecting into the margin and surmounted by a cross

+ SANT:MARGVS:NORPED

Rev Imperial orb surmouned by cross patty

HANS rosette SCHVTLTES rosette NORNBE

Ref Mitchiner 1382

5th Regiment of Foot

( Northumberland )

O/R's - 1790-1830

Customs

( Victoria ) VR

1837-1855

Roman bronze helmet trim

19thC livery button

RN Capt / Commander - 1812
10th Jan 2008 More unpublished finds cleaned up - more find pages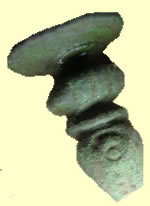 I have added two new individual pages to the site for finds. I need help dating the various chess pieces we have found as I cannot find any equivalents while researching them.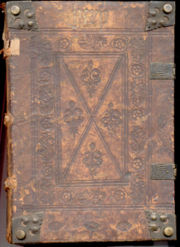 Full export lists with pictures and ID's are posted on the members forum.
17thC Rose Ryal (Ship and Rose type) square brass gold coin weight from Antwerp the low countries, 3.3 g,16.65mm . Reverse hand with makers letters - possibly Bernaert Bommeres 1620 to 50

One piece Navy button

HONI SOIT QUI MAN Y PENSE

PACKET

Honi soit qui mal y pense (Old French: shame upon him who thinks evil of it)

RN - Packet Service
( Mail & Supplies Delivery )


c.1800-1811
Firmin & Co

Victorian Generic Military HQ Staff Officer

Smith & Wright
Birmingham

1840 -81

German POW ?

92nd Regiment of Foot

( Highlander )

Officer - 1798-1830


Interesting lead crown seal

Royal Navy Lieutenant - 1748

Circa 14th to 16thC Decorated copper alloy book clasp - single rivet fixings

17thC spur

2- Georgian decorated watch winders
8th Jan 2007 More unpublished finds and Trade tokens
I spent an age trying to ID a 17thC token find that had the same IG mark as a Joseph Gleson of Dedham Essex but I could only read a partial legend Stoke Nailon. Finally after a couple of hours I found it in the Suffolk reference book and it is a misspelling on the legend for Stoke by Nayland Suffolk. I checked our other Joseph Gleson finds on the 17thC token page and I had also attributed another John Groome incorrectly as the IG mark is very similar. Would you believe that checking the next export pouch there was a perfect John Groome 17thC token with full legend so now we have found three !! Another nice button find and only the 2nd one we have found is a Royal Harwich Volunteers button, these is still unlisted in any reference books.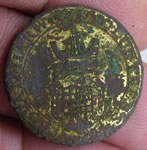 Probably Napoleonic period
1664 Joseph Gleson of Dedham hammered Copper trade farthing

17thC Groome, John of Stoke by Nayland, Suffolk hammered copper trade farthing

Legend reads John Groome Stoke Nailon

17thC Groome, John of Stoke by Nayland, Suffolk hammered copper trade farthing

Legend reads John Groome Stoke Nailon

Louis XII 1497 -1515 Tower shield of Tournai French Jetton – 4 lis in a lozenge type

Obv SIT IIOIIIEII BOIII I II I

Stunning condition 1724 Dump issue George 1st copper halfpenny

1614-25 James 1st hammered copper farthing Type 3c

General type Obv. IACO D G MAG BR (IT)

Rev. FRA ET HIB REX
7th Jan 2008 More ID's, finds and exporting
Back from the Christmas and New Year break and it is now full steam ahead with the exporting and doing more work on the outstanding ID's. I will be posting more of the unpublished finds like these below and full finds lists with photo's on the members forum.
I have added a great news story about an ancient pan which may have been a souvenir from Hadrian's Wall that will go on show on Tyneside today, amazing find.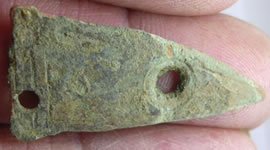 Crude decorated copper alloy strap end - Early Medieval

Roman bronze military helmet trim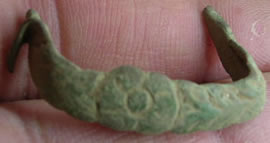 Unusual Tudor period buckle fragment
Tim Burton has just sent me some updates on outstanding button ID's
C J Burns Ltd 1840-1860

German navy pre 1918

This Agnus Dei indicates Surrey or West Surrey Regiment.

Horn indicates Volunteer or Rifle Brigade

Probably one of the Surrey Rifle Volunteer Regiments

Sorry no reference on this

Possible Belgian navy related or merchant shipping line ?

Will do more research.
I have cleared up any outstanding paperwork during the break and have start the exporting procedure. The trial of the new process last season was successful so we have adopted the system below. Every single metal find is now re-examined to ensure each piece is recorded and photographed in preparation of the export applications. I will be posting any finds we missed while the hunts were in full flight.
1- Normal detailed finds lists with export application form sent to MLA (Export Duty)
2- Detailed finds lists also sent to the Finds Liaison Officer at Colchester museum at the same time
3- Full size pictures of all finds electronically mailed to MLA and FLO and finder
4- FLO selects the find/finds from the list that need to be taken into Colchester museum for further investigation and recording
5 Finds are taken to Colchester museum
5- FLO signs off on the finds list and informs export duty so license can be granted.
29th Dec 2007 Exporting and More ID's
I am busy working on ID'ing some of the more obscure pieces found prior to export. Two very useful new reference books are 'Roman Buckles and Military fittings', written by Andrew Appels and Stuart Laycock and 'Finds from Roman Aldborough'. Both have very detailed drawings. Interesting to note that both the Romans and Saxons were very keen on the dot and circle decoration like the one below on this strap end.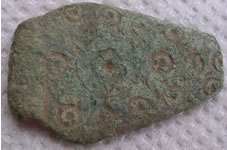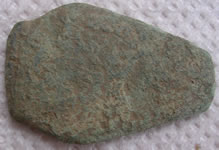 Fragment of a late Roman strap end with ring and dot pattern - similar to an amphora type 11.14g, 37.76mm L 24.89mm W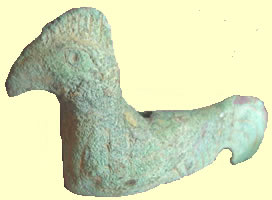 Romano/British mount - currently with Colchester museum

being evaluated
38.68g, 55.64mm L x 15.43mm W x33.39mm H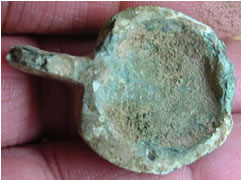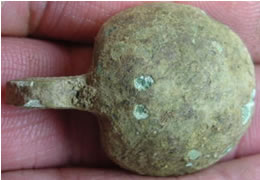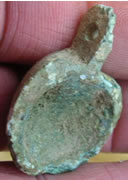 Roman period bowl with hanger 35.86mm L x 24.99 mm W - currently with Colchester museum being evaluated
Fixed plate Roman armour buckle - single rivet fixing

Fragment of a closed loop dolphin buckle

Roman Military piece - Lugged baldric mount

Fragment of a closed loop buckle

Roman buckle pin
23rd Dec 2007 More extracts of our finds from the Annual treasure report - outstanding ID's
Record Gold Treasure Trove Found click for Global News Page
The new year is going to very busy compiling the latest export licenses and getting the outstanding ID's back from Colchester museum. I still have a whole raft of unpublished buttons to ID. The first half of the season was amazing in terms of rare military buttons from our POW site. I have just sent off another bunch to Tim Burton our military button expert. If you can help with ID'ing any buttons all unknowns are always posted on the foundintheground forums.
Similar to Trinity House pilot button

Similar to Trinity House pilot button

Dutch/Danish Army ?

Unlisted 3rd Dragoon guards

Unknown maker - Jackson

30 Gracechurch St London

3rd one of these we have found - not ID'd yet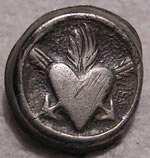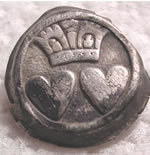 3 - 17thC silver buttons with a combination of hearts, flames, crown and arrows. Issued to commemorate the marriage of Charles II. These are currently on display in Colchester museum.
Our other series of silver button finds have either been declared treasure or disclaimed and returned to finder. These will appear in the next issue of the Annual Treasure report.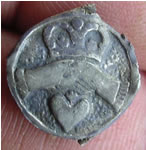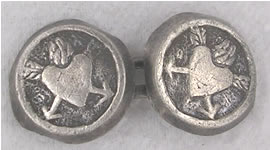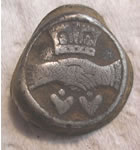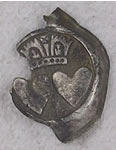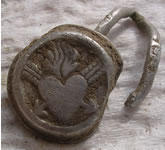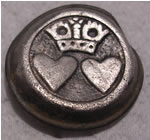 22nd Dec 2007 - Updated more pages with latest finds
20th Dec 2007 Added a global news page - More of our finds from the Annual Treasure Report
Added a new page to the site for interesting Global News where I will post any related topics to finds both here and abroad. The latest post is fascinating, the only lead curse on a Roman emperor ever found, with a Roman gold coin.
Click on the thumb nail pics to enlarge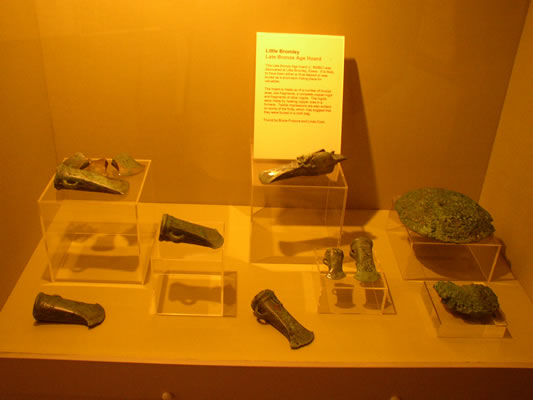 850BC Axe hoard - currently on display in Colchester museum
19th Dec 2007 Updating searchable database - Annual Treasure report detailing our finds
I have updated the foundintheground searchable database with more silver and gold coin finds. Use these databases to search for specific coins by any key words.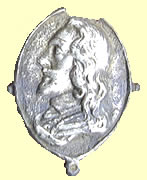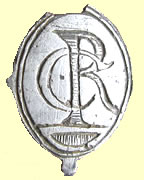 C 1640 Charles 1st bust - 0.58g, 13.54mm L
This superb Charles 1st loyalist pendant was previously declared treasure and is currently being purchased by Colchester museum. I have updated the Hoard and Treasure Page with the lastest information on outstanding finds reported to the museum.
The latest Annual Treasure Report this year issued by the DCMS lists a large number of our treasure and hoard finds from the past. It takes several years for items declared treasure to finally appear in this report. Some of our finds are currently on display at Colchester museum having been purchased by the museum under the Treasure Act. All proceeds are split 50/50 by law with the landowner and finder. See Hoard and Treasure page for more details on each find. Click on the page thumb nails below for larger view of the write ups that appeared in the report. I have several more to post yet including Mass Bruce's excellent 850BC axe hoard.

Mixed Celtic gold and Roman Republican silver hoard Fig 422.1, 422.2,422.3.

There are two of our gold rings finds on this page. Fig 314 and Fig 317. The superb 17thC engraved gold mouring ring is currently on display at Colchester museum.
4thC Roman gold ring - currently on display at Colchester museum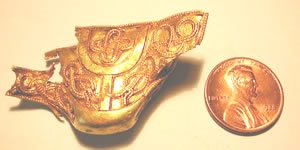 Anglo Saxon gold dagger pommel - currently on display at Colchester museum
15th Dec 2007 Nice Testimonial - More updates and two new dress guides
Got a great e- mail in from Louisiana Sal that I have added to the testimonial page.
I have created a new page with our 16th and 17th artefacts and where they fit on a man of the period. Click on the pictures to enlarge or go to the new Dress Guide Page
Updated the following pages with latest finds
14th Dec 2007 More updated pages
Updated the following pages with latest finds
William IIII to Victorian milled coins 1830 to 1901
Charles II to Queen Anne early milled silver coins
13th Dec 2007 More updated pages
Updated the following pages with the latest finds. I still have the following 18thC Conder type token I am trying to ID. If you know what it is drop me mail please or post info on Foundintheground forum.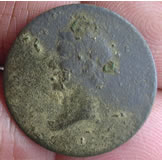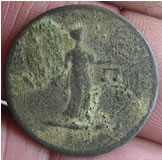 18thC Conder (Condor) token
11th Dec 2007 Current research - Hammered silver pages updated
Special thanks to Canadian Rod who is our historian and does extensive research on the land we search including new land farmers ask us to explore. Rod produces full size laminated old maps of the area and this year in particular they proved very useful in discovering two really early house sites on new land that are no longer there. Earlier in the season I took the maps to show the landowner with the finds made around these houses and he was amazed at the two large water courses that use to flow through his land which is why these houses were probably built in that location. Yesterday I sent the landowner an updated coloured portfolio of the latest finds we have recovered from a newly discovered Roman area on his site. While discussing with the landowner the possible importance of the Roman finds we have taken to Colchester museum for recording and ID's I learnt some more very important historical information about the land, I have posted an update on the members forum. This new site is 700 acres and 17 fields so lots more hot spotting to do yet but it is showing huge potential.
Updated some of the hammered silver pages with the latest finds
9th Dec 2007 Finally ID'd this coin - Napoleon button ID'd - Celtic bronze
Now we are closed until March I have a chance to beaver away ID'ing unknown finds and getting the export documentation ready. I have also been out looking at more new land that hopefully will be ready for searching in the 2nd half of the season. I have posted the last few finds to the latest hunt page.
Some of the guys have moved their slots up to the start of the season to be the first on the freshly ploughed and rolled fields not yet detected. I have altered the availability page and those original slots are now free.
Thanks to Trez on the Treasurenet forum for pointing me in the right direction to ID this coin found months ago by Mass Glen. It is a Carlos II of Mallorca Dobler. Phew took me ages to finally find another picture of it on the net!!


Charles II (1665-1700)
DOBLER DE CARLOS II CECA DE MALLORCA FALSO ÉPOCA
Thanks again to the guys on the French forum for ID'ing this Napoleonic button find by Ark Gary.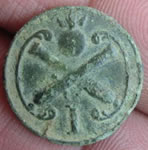 Bouton d'officier du 1er regiment à pied et des compagnie d'ouvriers et d'armuriers de l'artillerie
1804-1811

I have had feedback from the Celtic Coin Index on the possible Celtic bronze coin I sent off to them for recording and it is indeed the right weight and size. I need to do some work on this coin to try and bring out more detail on the horse.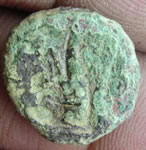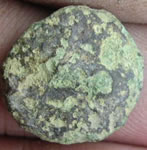 Possible Celtic bronze - concave shaped 2.30g, 15.55m sent off to CCI for recording
'The reverse looks as though it could be a Celtic horse and the weight is certainly right, as is the size. If you can possibly get some better
quality images I might be able to do more with it, these are just too small to see anything very much.'
Philip
5th Dec 2007 Great end to the hunts - Half season summation
I have posted a few more finds on the latest hunt page with a bunch more to upload yet. Mass Glen found this really crisp Henry VI half groat.
1422-27 Henry VI hammered silver half groat - Annulet issue

obv HENRIC DI GRA REX ANGL Z FRANC

2 annulets by bust, annulet in 2 qtrs of reverse

Calais mint

Copper alloy bird mount - one for the museum to date

16thC seal matrix with flower design - very unusual type

2ndC Roman bronze fibula brooch
That's it now until we re- open again in March with hopefully lots more new land to try and hot spot again. I am hoping that we can secure 4 new plots offered to us that show huge potential. Two of them border a fantastic new Roman area that Chicago Ron's team discovered on a new site this season. Some of the Roman looking relics found on that site are currently with Colchester museum being evaluated. I have had no feedback yet on the results but will keep you posted.
Thanks again to all the guys that came here to hunt for all their hard work and dedication out there for 12 hours a day in all weathers getting skunked on a regular basis but then walking over a nice keeper. This season has produced a sting of firsts for us including our oldest find in both relic and coin category. We have reported our 61st Treasure and Hoard to the museum and it is great to now be able to see so many of them on display there for all to enjoy. We found our 63rd Celtic gold coin that are all recorded on the Celtic Coin Index. We recorded our 22nd Saxon silver coin and our 3rd Saxon gold coin with the Fitzwilliam museum's Early Medieval Corpus database. A fantastic achievement by the members here to help improve the history of the area we search by recording all important finds on the National databases.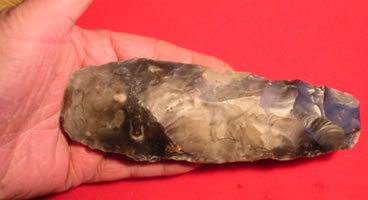 Penn Christy found the first 11,000 BC Mesolitic flint axe head - currently with Colchester museum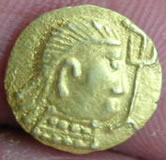 Louisiana Sal found the first ever English Saxon gold here 620 AD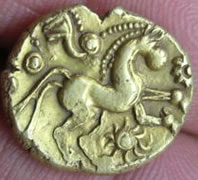 NS Andy discovered an unrecorded type Celtic gold coin 50BC
Mass Don found the earliest ever milled silver coin found here 1631 AD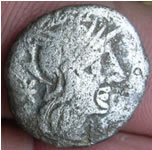 Billericay Mark found the oldest coin ever found here at 126BC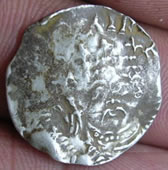 Canadian Bill found the first 1158 AD Henry 'Tealby' coin found here with an unrecorded bust type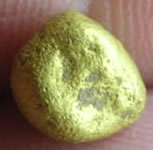 UK Les found the first gold nugget found here - currently going through the treasure process
3rd Dec 2007 Extra - Official ID of the Roman gold coin find
Thanks to Mark Lehman for the correct ID of the Roman gold find.
'This is, as you later suspected, Theodosius I rather than Magnus Maximus. A solidus of "Mag Max" would be a great item to find - Kipling included him as a character in "Puck of Pook's Hill" with a vividly-drawn, if fairly historically inacurate portrait. He's a good bit scarcer, in general, than Theodosius I, but the coin we're looking at today carries an "R2" rating in RIC, so it's pretty scarce as well.
This is a Solidus - the denomination introduced by Constantine the great which would continue to be struck with very little variation in weight or fineness for nearly another thousand years as it became the flagship coin of the Byzantine empire.
Your specimen was minted at Trier, between 388 and 392 A.D. The "COM" in the exergue refers to it being pure gold - the mint designation is the T - R to either side of the two characters on the reverse - who are meant to be 2 co-regnal emperors - the basic design goes back to the time of Valentinian I and Valens, but continued until, at this time, it was supposed to be Valentinian II and Theodosius I as the 2 senior Augusti, there was however (throughout the era) a 3rd and even, at times, a 4th emperor.
The obverse legend is D N THEODOSIVS P F AVG - with the normal diademed draped and cuirassed bust right.
The reverse is VICTORIA AVGG (the 2 "G's" abbreviating "Augustorum" referring to multiple emperors) and shows the 2 emperors, presumably Valentinian II and Theodosius I seated facing, holding a globe between them, the top half of Victory between and spreading her wings above them.
RIC IX Trier 90b.
Congratulations to you and the digger - What a great find!
Mark
3rd Dec 2007 Roman gold update - Foundintheground database now working
I am still waiting for the reply from our Roman expert on the Roman gold found yesterday but the gold appears to be an earlier emperor Theodosius I 379-395 AD. In the Roman reference book it states
VICTORIA AVGG -Two emperors enthroned facing, holding globe between them;in back ground, Victory standing.facing,wings spread; in ex, CONOB
Interesting that I cannot find this coin in the latest Spink's book, probably due to the fact that this is from a Greek mint, COM below Victory. I found the picture below on the internet and it is almost an exact match of the one found yesterday.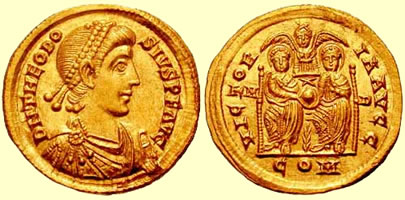 Theodosius
379 - 395 AD - RIC 8b.2 (Mediolanum),
The son of a famous general, Theodosius's own military prowess caught the eye of Gratian who sent him off with an army to deal with the various barbarian hordes making regular excursions into Roman territory. After scoring some impressive victories on the battlefield Gratian gave Theodosius the ultimate reward by crowning him emperor and formal successor to Valens.
Theodosius then went on to settle a peace treaty with the barbarians and conferred upon them "federate" status and allowed them to occupy Roman territory under the condition that they would defend it against other intruders. The benefit, in principle at least, was that this settlement created a buffer zone for the Romans. In the following years he put down the rebellions headed by Magnus Maximus and then, literally with a little help from the weather, by the puppet emperor Eugenius.
During the waning years of his life he became the first Roman emperor to turn full circle on the issue of religious persecution. After centuries of Christian persecution and then another three quarters of a century whereby Christianity coexisted mostly peacefully with Pagan rituals, Theodosius began the active persecution and steady elimination of all non-christian sects and their temples. This policy would be vigorously followed by all succeeding emperors. He died in 395 leaving behind a split empire to be ruled by his sons Honorius and Arcadius.

I have uploaded more finds to the latest finds page
2nd Dec 2007 Site finally back up - Earliest ever milled silver found - Amazing Roman gold
Fasthost the biggest supplier of hosting in the UK got hacked so I have been off the air for several days. I have just got this site back up and working but the SQL finds database on Foundintheground is still not fixed so you will get errors if you try to log onto it.
Meanwhile the guys have had quite a lean hunt but have found some exceptional pieces. Mass Done found the earliest milled silver coin ever found here. It is a 1631 Briot's test milled issue hammered silver penny, what a brilliant find. What makes it even more remarkable is Don in the afternoon went onto another completely different site and found a Charles 1st hammered silver penny of the same king so he did an amazing double!!
Mestrelle's Coinage
Milled coins were minted for the first time in 1561, in the reign of Elizabeth I. A screw press powered by horses was used in their manufacture, under the supervision of a Frenchman, Eloye Mestrelle. The quality of the coins was vastly superior to the normal hammered coinage, but production was much slower. Mestrelle was also resented as an interloper by the mint workers because of his nationality and unpopular because his machinery was perceived as a threat to their continued employment. After ten years Mestrelle was dismissed and the milled coinage ceased. Later Mestrelle turned to counterfeiting, for which he was hanged in 1578.
In gold, the milled coinage consisted of a limited number of half pounds, value ten shillings, crowns of five shillings, and extremely rare half-crowns of two shillings and sixpence, all beautifully styled and well-struck and circular. However, though produced throughout the reign, there were no milled versions of the gold angel, half angel and quarter angels, all of which had the same respective values but different designs. The gold milled coinage is found with two mintmarks, a star or a lis.
The silver shilling was over 30 mm diameter, and suffered slightly by a much shallower relief, particularly on the reverse. This may have been a result of the thicker metal flan used. Only one mintmark, the star, is known and it is thought that they were only minted in 1561. A slightly smaller version from the same period is usually better struck.
Also in silver, the sixpence was produced nearly every year over a period of eleven years and all were dated. Because of their long mintage, they are relatively common. Various mintmarks were used. Rare silver groats of four pence were minted in 1561 and silver threepence from 1561-1564. Despite the longer production period the latter coin is also fairly scarce. Equally scarce are the silver half groat or two pence. The scarcity of these two denominations and the absence of a milled silver penny reflects the difficulties in milling these small coins.
Briot's Coinage
After the departure of Mestrelle almost sixty years elapsed before the Mint was prepared to experiment with another milled coinage. Again it was the work of a Frenchman, Nicholas Briot, who joined the mint as chief engraver in 1628 during the reign of Charles I. His coinage was of an extremely high standard, in contrast with the hand-made hammered coinage which was generally of poor quality. The first series was minted in 1631-32 and included all the gold denominations.
1631-9 Nicolas Briot's coinage

Charles 1st milled silver one pence one of the first milled silver coinages ever made

rev IUSTITIA THRONUM FIRMAT

1633-4 Charles 1st hammered silver penny - Portcullis mint mark Tower mint under Charles
Another remarkable find by Billericay Mark is this spectacular Roman gold coin. It appears to be a Magnus Maximus - solidus - 383-388 AD 4.40g, 20.26mm. I have sent it off to our Roman expert of his evalution.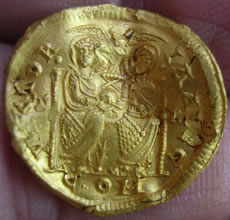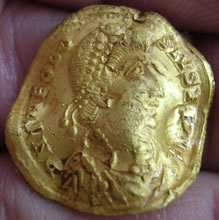 Magnus Maximus - solidus - 383-388 AD 4.40g, 20.26mm
I have some great relics to upload yet including an unusual Roman fibular, some real great mounts and more hammered silver. I have uploaded a few more this afternoon on the latest hunt page.
28th Nov 2007 Correct terminology - Slim pickings
The guys are out there hunting hard playing the odd's looking for more Saxon and Celtic gold but it looks like Sal got the only one in the area, he cleaned it out real well LOL. I have just posted a load more finds to the latest hunt page. I really like a huge copper coin found by Mass Don celebrating 4 generations of the Royal family. Ark Gary got the first Roman off a new plot we have just started hunting.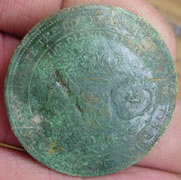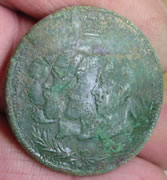 What a really neat copper coin - 1897
obv FOUR GENERATIONS OF THE BRITISH ROYAL FAMILY
rev TO CELEBRATE THE 60TH YEAR OF HER MAJESTIES REIGN 1837-97
THE DIAMOND JUBILE
Thanks for the update from Dr Martin Allen at the Fitzwilliam museum Cambridge further to Sal's English Saxon gold find. The correct terminology for this find is a Witmen type Thrymsa ( Thrysmas is plural). It is not a Crondall type as that was the hoard found.
I have produced a new page for members video's showing hunting here and updated the latest hunt page with more finds
27th Nov 2007 Use Foundintheground forums for ID help - First decent Roman from a new site
I keep getting dozens of e-mails wanting my help with button, coin and artefact ID's. Please post on our foundintheground forums and I or the members will be happy to help you. I do not answer e-mails wanting help especially if they have attachments so please don't keep sending them to me.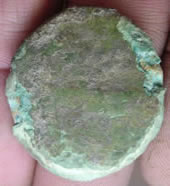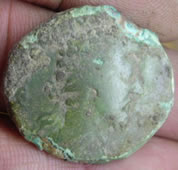 2nd C Roman bronze, Commodus - 177-192 A.D- 13.03g, 28.63mm
A new site we have just started hunting produced the first readable Roman coin yesterday. The other Roman bronze coins from this site have been chewed to bits and round lumps of bronze. Thanks to Mark Leham again for the great ID below that helps us date a field.
Luckily, you have legend enough for a positive ID on the emperor - it's Commodus - 177-192 A.D.
The weight/diameter is a little problematic. The diameter is adequate, if a bit small for a Sestertius, although the weight would be about the lowest I've seen - well below the average weight for Commodus Sestertii. It has, obviously, lost a bit to chipping on the edges, but not enough to allow me to be comfortable or certain calling it a Sestertius. At 28mm, it's on the lower end of the diameter scale for Sestertii, but is really a bit large to be an As - since there's no traces of radiate crown, it can't be a Dupondius.
So, it's a little unusual, either an undersized sestertius or an oversized As.
The reverse is most likely some sort of standing personification or deity - but lacking detail enough to make out any recognizeable attributes and not in any characteristic posture - actually, as I rotate the image, there's even a distant possibility that this is a galley.
So, I'm sorry I can't give you more specific and positive information, but it is, at least, firmly attributable to to ruler.
Mark
Yep it is a galley on the obverse
Normally, it wouldn't help, since, as was common at the time, Commodus tended to put the same reverses on all of his denominations. An issue of all the current denominations with a specific reverse was far more the rule than what we have here - only the Aureus and Sestertius carried this particular reverse type - PROVID AVG P M TR P XI IMP VIII COS V PP S - C and dates specifically to the 2nd half of 186 A.D. This would be RIC III 486 or 487.
So, despite being a little too small and a little too light, it is a sestertius - and a relatively sought-after type (although this specimen is hardly the most desirable) since ship reverses have always been a popular theme for a collection.
Mark
26th Nov 2007 Sal's finds from the fields video ready to view - More great finds and ID's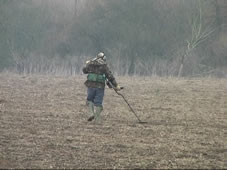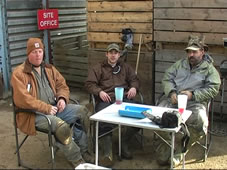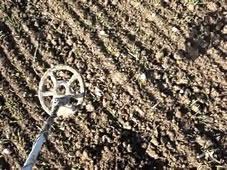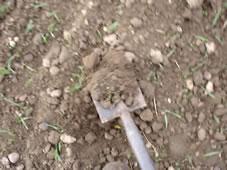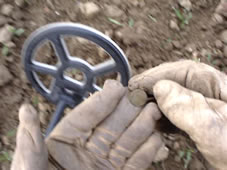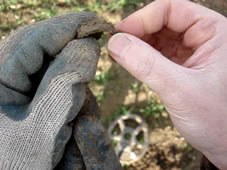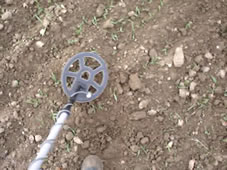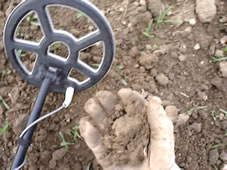 Louisiana Sal is famous in the US for his 'finds from the field' video's using his amazing hat video camera. It allows the watcher to be able to see and hear exactly what the detectorist sees and hears, it's like being there without actually getting muddy and cold !! Sal and Craig just spent a week here for the first time and took hours and hours of footage which I have condensed down into a brilliant 45 minute streaming video on our server. You can also download the 65 Meg file to play on your own PC if the server is busy. Sal captured the true essence of hunting here, button, copper, lead, crap, more buttons, more crap and then a keeper. What is amazing is he captured his Saxon gold coin find as it was laying in the dirt after he had flipped the plug. Unfortunately the wind noise on that day kind of drowns out his screams of excitement but an amazing moment caught on video
Watch or download Sal's video's here VIDEO DOWNLOAD PAGE
Sal has his own web site where you can play almost 100 other relic hunting videos he has captured over the years including some great privy digging and bottle digs. http://treasureoutfitters.com/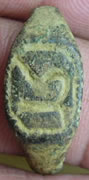 Sal, Craig's and Chris's other great finds are on the latest hunt page including a really neat Roman seal ring he captured as he dug it. I still have a load more to upload yet. Craig found a broken silver Roman coin that I 'cooked' to bring out the detail. Mark Lehman has just ID'd for us.
1st/2ndC Roman silver coin fragment - cleaned up and sent for ID 1.34g, 17.05mm
'With the lack of readable letters in the obverse legend, I'm going to have to give you a fairly wild guess, based on what the shape of the back of the head appears to be, that it's likely to be a denarius of Trajan (96-117 A.D.). That it is (or was - lol) a denarius is not in question, but who's on it might be. Now Trajan was around for a bit over 20 years and was a most wonderfully prolific minter of denarii - the Trajan section in RSC (Roman Silver Coins) is 23 closely-spaced, fine-print pages long - so the reverse type wouldn't tell us much even if we could be sure what was happening there. It appears that it could be someone in military dress (the emperor? "Mars"? "Virtus"? Minerva? some generic soldier?) with an inverted spear. A spear with the point down, in the Roman iconographic shorthand, was usually a sign that some previous hostilities had ceased. Or, I suppose it might be Hercules leaning on his club - but there really isn't enough left to be certain.
Sorry I can't be more specific, but sometimes the crucial bits will either be missing or so unclear that there just isn't very much anyone can tell you'. Mark
21st Nov 2007 Great finds being made
The guys have been really sucking it up over the last couple of days with 5 hammered silver coins found yesterday including a tiny Henry VI halfpenny in great shape. Louisiana Sal dug the rarest groat ever found here, King Richard II, the Black Prince. Some great artefacts have been found including an 850BC Bronze socketed axe fragment, the first 2nd C Roman 'bird' type fibular brooch and a stunning 13thC seal matrix. I have started to post a load more finds onto the latest hunt page.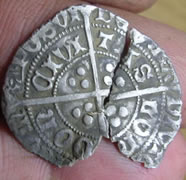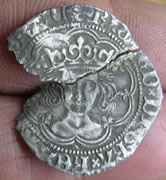 First of this King's groats ever found here - rare find - he was known as the Black Prince
1377 AD Richard II hammered silver groat ( 4 pence) Type 1 (Straight sided)
Ob RICHARD DEI* GRA*REX ANGL Z FRANC DNS HIB Z AQT
Rev Outer POSVI DEVM ADIVTORUM MEVM
Inner CIVITAS LONDON - London mint
Anonymous: letter I early 15thC. An initial with crown above, branches at the side, was a design that became incrreasingly common in the 15thC and was often used on a signet ring.The letter suggests it stood for the owners forename. This example was used in 1424 by Edward Saddler, clerk

Tiny 1422 - 7 AD Henry VI hammered silver long cross half penny - Annulet issue Type A1 annulets in VIL and Cal qtrs

obv HENRIC x REX x ANGL

rev VIL LA CAL LIS - Calais mint

0.36g, 12.80mm
19th Nov 2007 Archived more news - Saxon coin time line
I have halved the size of the 'Latest News page' to speed up loading times, news from June 2007 to Sept 2007 has been put onto a new page
I have updated the Saxon page with the latest Saxon finds and produced this Saxon coin timeline below of our Saxon finds. The coin has now been recorded on the National data base as EMC 2007.0302.
Here is more info on the English Whitmen type Saxon gold just found.
The hoard was discovered in 1828 in Crondall, Hampshire. It remains the most important body of evidence for early Anglo-Saxon coinage. The hoard marks the reintroduction of coinage into Britain two centuries after the abandonment of the province by the Romans. The new coinage was modelled on that of Merovingian Gaul, but also looked back to Rome for inspiration. These gold coins may have been the earliest English shillings. The hoard was purchased for the Ashmolean in 1944 as a memorial to Sir Arthur Evans.
Quick Timeline of Saxon coinage we have found so far
c. 561

Coins are minted again in England by Bishop Liudard

The minting of coins in Britain had been abandoned after about 435 as a result of the Anglo-Saxon invasions. Bishop Liudard came over from France with the Merovingian Princess Bertha who married Prince Aethelbart who later, in 590, becomes King of Kent.

c. 604-616

Bishop Mellitus issues gold coins from a mint in London

These are used more for ornament than as currency.

c620-625
Sutton Hoo ceremonial Saxon burial ship

Among the various treasures on board, are 37 Merovingian gold coins, but no English coins.

c. 630
Saxons first start to produce gold coins in significant numbers

As a result of the gradual rebuilding of commercial and cultural contacts with France and Italy Merovingian types of coinage begin to circulate in south-east England.

c. 630-c. 650
Crondall hoard of coins

A hoard of 101 gold coins, most of which were minted in England, is buried at Crondall in Hampshire. The precise date is not certain.

c. 675
Silver starts to displace gold in Saxon coinage

Initially silver is used with gold as an alloy but early in the 8th century silver and base metals are the only ones used.

c752
Pepin the Short of France starts minting the Denier

This new silver coin serves as a model for the English penny.

c757-796
Reign of Offa, King of Mercia the most powerful Saxon Kingdom

During Offa's reign the minting of coins in England reaches new heights, both in terms of quality and quantity.

c. 765
King Heaberth of Kent produces the first English pennies

After the conquest of Kent by Offa, King of Mercia, production of the silver penny increases enormously and it replaces the older, more crudely designed sceat as the main English coin, except in Northumbria.

c789
Vikings raid Portland

For the next 2-3 centuries England is subjected to repeated Viking attacks.
18th Nov 2007 First English Saxon gold found
Great find by Louisiana Sal is the first Saxon we have found off a new site and in real fine shape. Our previous Saxon gold finds have all been Merovingian tremissis. I have sent it off to the Fitzmuseum for recording on the Early Medieval Corpus database.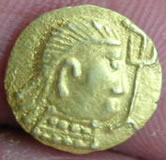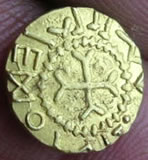 English Saxon Thrymsa gold coin - 'Witmen type' c620 -650 AD named after the hoard found in 1828. Sent off to the Fitzwilliam museum Corpus database for recording 1.26g, 11.46mm
16th Nov 2007 Great military button finds
The last couple of days have been very lean silver wise but some great tokens, Jettons and Military button finds have been made. All 3 of these buttons are unrecorded and were sent off to Tim our button expert who sent back the following ID's and an updated version on his own line books featuring these buttons. I have posted a few more do dads to the latest hunt page
Unrecorded

4th Regiment of Foot

( The King's Own )

O/R's - 1830-1855

Markers mark - Kings St Covent Gardens

Unrecorded

7th Queen's Own

Light Dragoons

Officer - 1784-1807

THE 5TH. (PRINCESS OF WALES'S) DRAGOON GUARDS button - one on right is the first one found here. The find on the left differs by a lower crown and horse shape
15th Nov 2007 Another rare Celtic gold - site errors fixed
I have repaired most site errors due to the required file transfers, please report any broken links or missing pictures please.
I have finally get the ID and feedback from Dr Philip de Jersey who runs the Celtic coin Index on Friday's Celtic gold coin find. Please report any Celtic coins you find directly to him so he can record them and send you a unique CCI number for your find.
'This is quite a rare type, as you no doubt appreciate. The best parallel is provided by three coins in the British Museum, listed in their catalogue as nos. 3353-55. It's one of a group of coins loosely described as the Snettisham staters, because several of the types were first recognized in one of the Snettisham (Norfolk) hoards of the early 1990s. The exact type is not in Van Arsdell although it's closely related to the North Thames types listed as VA 1500, 1502 and thereabouts. It is presumably an East Anglian type, although because of the stylistic similarities there must have been some very strong link between the producers of the Snettisham types and the North Thames types. Date c. 50 - 40 BC, I think.
I'll record it as CCI 07.1164. '
Best wishes
Philip
The finds have been thin on the ground as the guys have been playing to odds and looking for more Celtic gold on the village sites. However Billericay Mark had a good morning for silver and included this mint Venetian Soldino hammered silver coin. Thanks to the guys on the Italian forum for their ID.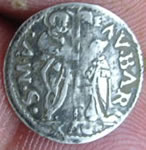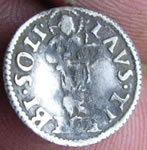 Venezia, Agostino Barbarigo LXXXIV Doge (1486-1501)
Soldino o Marchetto (AR) Biaggi 2938
D/ AV.BAR.S.M.V.DUX / S.Marco a s., il Doge a d.
R/LAVS TIBI SOLI / il Redentore
I will try and start uploading more finds to the latest hunt page
12th Nov 2007 Huge site update - errors
I have had to do a a huge file update on the server as the numbers of files had reached a maximum size again. There will be missing pictures and wierd fonts and menu problems until I can fix them.
11th Nov 2007 Stunning short cross silver and copper
Cal Dave pulled up a stonking early King John hammered silver with a full clear legend showing moneyer and mint. Another great early copper find is this William and Mary in fantastic condion for it's age. I have posted a few more finds to the New hunt page Nov 2007
King John 1199 - 1216 hammered silver penny Class 6a2

Moneyer ABEL

LVNDE - London mint

Stunning condition 1694 William and Mary copper penny
9th Nov 2007 Rare hammered silver and a beautiful Celtic gold.
Canadian Victor found the first Charles 1st 'plume' type hammered silver half groat I have ever seen, a great rare find. His buddy Nova Scotia Andy not wanting to be left out found what appears to be the first right facing Dubnovellaunus Late 1st BC to Early 1stC AD Full Celtic gold stater found here. It could at a pinch be an unusual Addedomaros design.
Addedomaros: Was the next identifiable ruler of the Trinovantes after Mandubracius in Caesar's time, though it is not known whether any others preceeded him. Almost immediately upon his succession to the throne sometime between 25 to 15BC, he moved his centre of government from Braughing on the eastern headwaters of the river Lea to a new site on the east coast which he named 'the fort of the war god Camulos', or Camulodunum. It is possible that he either warred with or was client to Tasciovanus, for around 15-10BC the Catuvellaunian monarch produced a coin issue with the mint mark CAMV[lodunum]. He reigned for about a decade or so before being succeeded by his son Dubnovellaunus c.10-5BC. It is possible Mandubracius died intestate or leaving no heirs; the family of Addedomaros, possibly championed by his father, succeeded to the throne after a brief struggle between the remaining Trinovantian noble houses; the Catuvellaunian king Tasciovanus later claimed that he was the true heir to the thone (perhaps his mother was the daughter of Mandubracius) and went to war on that pretext; thanks primarily to the interest of Rome, Tasciovanus was forced to withdraw and Addedomaros resumed the throne.]
Dubnovellaunus: Succeeded Addedomaros to the Trinovantian throne c.10-5BC and ruled for several years before being supplanted by Cunobelin of the Catuvellauni. Like his contemporary Tincommius of the Atrebates, he appeared as a suppliant to Augustus and paid tribute on the Capitol in Rome before AD7. He should not be confused with Dubnovellaunus of the Cantiaci.

I have sent it off to the Celtic coin index for Dr Philips comments and recording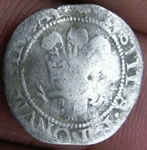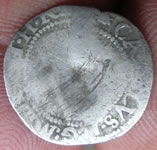 Very rare find and the first ever found here.
Charles 1st Aberystwyth - Furnance mint 1648/9 hammered silver half groat - Large plume
book mintmark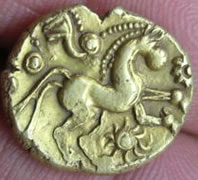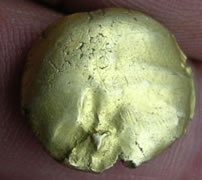 Interesting Celtic gold find - it appears to be the first right facing Dubnovellaunus Late 1st BC to Early 1stC AD Full Celtic gold stater found here 5.73g, 17.13mm
I have sent it off to the Celtic coin register for confirmed ID and recording
7th Nov 2007 Excellent early hammered and an Anchor
Canadian Bill found the first hammered silver off the new land yesterday and what a find. An early Tealby issue 1150 AD Henry II with an unrecorded bust type. There is nothing even similar in all the specialist reference books. Canadian Victor got a stonking cast copper alloy huge anchor mount, probably 1780's by the design. All the usual stuff, thimbles, coppers etc so lots more hot spotting to do yet. I have posted a few more finds to the new hunt page. I particularly liked the early officers Queens dragoons Guards button
1158-1180 AD Henry II Cross and Crosslet (Plantagenets) hammered silver penny - Tealby issue 1.31g, 19.54mm , Moneyer is probably Nicole

From JJ North Busts 1 -19, This specimen has 10 pearls on collar and unrecorded bust type.

What a great find - huge cast anchor mount probably off a chest

2nd Queens Dragoon Guards

Officer - 1746-1872
6th Nov 2007 More new land - Mini bus problems - Stunning Jettons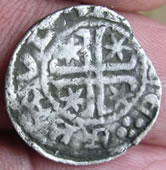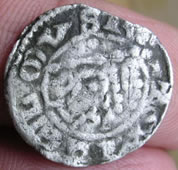 1195 Scottish William 1 The Lion hammered silver penny
Short cross and stars issue Class I
Moneyer RAUL ON ROCEBU (Raul of Roxburgh)
obv WILELMUS R (E) X
Bust of pellets facing left, the king holding a sceptre
Just had a full service on our mini bus and the gearbox decided to completely fail so I have been running around getting it back into the shop for replacement. I am totally backed up with finds posting but uploaded a few to a new hunt page Nov 2007 this morning. I went yesterday and saw yet more new land one of our farmers just bought and the guys are out there hitting it for the first time today. It backs onto a 1570's house that the Pilgrim fathers lived before going to America and has never had a detector ever on it. The 3 new fields are huge so it is going to take a lot of work trying to hot spot them. Lots of neat finds and artefacts have been found over the last few days including these two stunning Jettons, first of their type ever found here. Another interesting artefact is this Arabic looking brooch complete with pin. It appears to have different legends than the other two we have found in the past.
1608 AD Hans Schultes III 'Turbanded bust' German Jetton. Male bust right wearing a turban. 1.28g, 22.23mm

obv GLICK 4 foil KVMPT 4 foil VON flower GOT 4 foil ISTWAR

rev Traditional imperial orb with cross patty in a tressure with 3 main arches, 3 pairs of pellets inside the tressure

rosette HANS:SCHVLTES:ZV:NVRNB

1562 AD Hans Krauwinckel I Master German Lion of St Mark Jetton, 19.27g, 30.02mm

Lion of St Mark standing left with both wings shown. Book of the Gospels between fore- paws.Halo, rising into the margin, is surrounded by a star:

Obv *S*MARCVS * EVANGELLIST*GOTT***

Rev Imperial Orb surrounded by cross patty witin an ornate tressure *HANNS * KRVRENBER

The normal weight for this type is 7.95g to 11.30 g, this specimin weights 19.27g ???? It is acually two of the same type of Jettons stuck together
2nd Nov 2007 Hunts start again tomorrow - faster kit
Had a busy week off getting the paperwork done and dropping off the outstanding treasure and interesting finds to the museum. There were no further updates on treasures currently progressing through the Treasure process. Initial feedback on the 'chicken' find is that it is Roman, the Torc find unfortunately has now been deemed to be modern.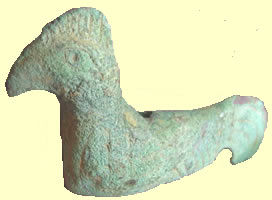 38.68g, 55.64mm L x 15.43mm W x33.39mm H
I have replaced all my computing equipment with a new 'monster' and added maximum memory to speed up the video editing for members 'finds from the field'. I also upgraded the web production software, picture processing and video editing suite that can do lots of clever things to enhance the production.
I went and saw more potential land on offer that shows excellent potential, further details on the members forum.
30th Oct 2007 Finished last weeks finds
Added a couple more hammered silver coins found last week to the latest hunt page so I have finished posting until I go through all the export pouches and photo the missed finds. Every metal object is looked at individually again prior to this process and it is always amazing what was missed while the hunts are underway. The current hammered coin count stands at 116 for this years forum competition, we are on target for a figure around 350 so check your guess here Forum Comp page .
I have updated our searchable on line database with a few of the finds http://foundintheground.com/. I have posted all the outstanding buttons that require further ID on the forums. If you help ID any of the buttons then post there please.
Updated the following pages with our latest hammered silver finds.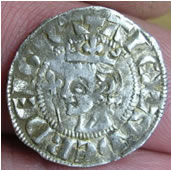 Foreign Hammered coins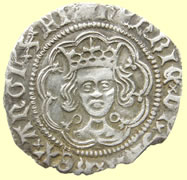 Tudor silver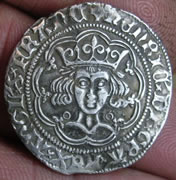 Houses of Lancaster and York, 1377-1485
29th Oct 2007 Updated more pages
Updated the following pages with the latest hammered silver finds.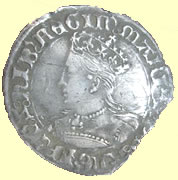 Elizabeth 1st and Mary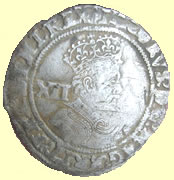 James 1st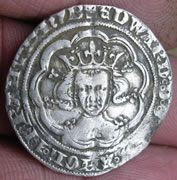 Edward 1st to 3rd
28th Oct 2007 Huge update on individual pages
Updated the following pages with the lastest finds.
27th Oct 2007 More great finds and closed for a week
That's it for a week while I get a chance to charge my batteries for the next part of the season. I still have an extra space on the 3rd Nov and 10th Nov as we have added more slots due to demand. We are back hunting again on the 3rd Nov and lots of new fields are coming on line as the farmers plough more. I was offered another potential new site yesterday which I am going to look at this week while we are closed, more details on members forum.The hunts ended with a bang yesterday as Pen Dennis found a monster hammered silver. I took a before and after shot to show the 'foil' cleaning method and the spectacular results you can get. The trick is to clean the high spots and leave the black behind. The Medieval Groat is the epitome of an English hammered silver and this must have been mint before it was lost, great find. Idaho Jim found a really pretty Victorian milled silver Florin (24 pence) and the first one of it's type ever found here. The date is in the form of Roman numerals but does not match any in the Spink book. This coin needs more research. I have posted more finds to the latest hunt page and will try and catch up on outstanding finds over the next couple of days including more hammered silver.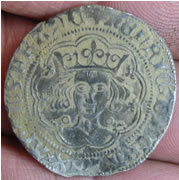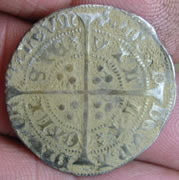 See cleaning tips page using the foil method to clean hammered silver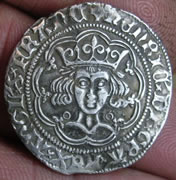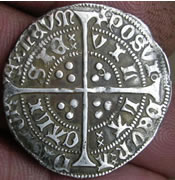 Stunning 1422 -27 Henry VI hammered silver groat (4 pence) Inital cross 2
obv HENRIC DI GRA REX ANGL Z FRANC DNS HYB
rev outer legend - POSVI DEVM ADIVTORE MEVM
inner legend VILLA CASLISIE - Calais Mint
Initail mark incurved pierced cross
Annulet issue - annulets by neck and between two sets of opposing pellets
3.74g, 26.87mm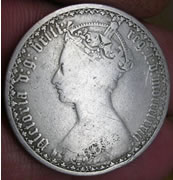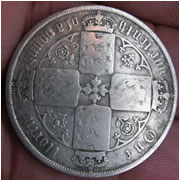 Victorian one Florin (24 pence) mdcclviii - date does not match a coin with britt in the llegend : ???not in the Spink book
26th Oct 2007 More great finds including Saxon silver and a Celtic wode grinder - Latest Roman ID'd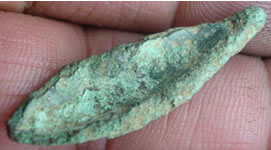 1stC BC to 1stC AD Celtic bronze cosmetic wode grinder (used to make blue dye) - side suspension loop type (missing) 3.78g, 33.57mm L x 10.67mm w
Another stunning hammered silver found yesterday by Geo Doug is the mint Henry VIII half groat posted below and it is an Archbishop issue. Geo Harry also got the first Saxon sceat from a new area of land. It was very encrusted so I 'cooked' it in the lemon juice and olive oil mixture with amazing results again. This is a simple and effective technique and I took a before and after shot, I have added the 'mix' details and other cleaning tips to the Cleaning tips page. Thanks to Dr Martin Allen at the Fitzmuseum who has ID'd it as a Saxon C600-775 AD Silver Sceat Series C2 and recorded it on the National database as EMC 2007.0268.
I have posted a few more finds to latest hunt page and updated the Saxon page with the latest finds.
| | |
| --- | --- |
| | |
| Before picture of the Saxon - always clean small green blobs as there could be a Saxon, Celtic or Roman silver coin lurking underneath | Saxon C600-775 AD Silver Sceat 0.88g, 11.07mm - Series C2 and recorded as EMC 2007.0268. |
15thC Shield of France Jetton

This type of back with no inner circles around the fleur di lis to obverse is not listed in ref books

rare

obv X AVE MARIA + GRACIA

1526-32 Henry VIII hammered silver halfgroat WA beside shield- Warham's Uncertain initial mark (Archbishop William Warham)

rev CIVITAS CANTOR - Canterbury mint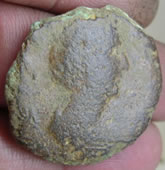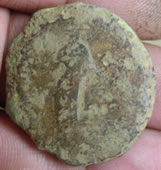 Huge 2ndC Roman bronze "c. 150-160 A.D." 15.28g, 30.10mm x 4.25mm thick
'As you say, there's little other than the main types for us to go on here, but my best guess is that it's Faustina I or Sr. (depends on who you read whether she's numbered or given seniority)
She was the wife of Antoninus Pius (138-161 A.D.) and died only 3 years into his reign, in 141 A.D. Consequently, very few of her coins date to her lifetime, but there is an enormous body of posthumous commemorative issues in her honor. She typically has this same characteristic hairdo which is what enables an educated guess, here. At the size and weight this would be an orichalcum Sestertius.
The obverse should read: DIVA FAVSTINA
I think the reverse might be Pietas standing left (legend: AVGVSTA S - C) , sacrificing from patera over short, lighted altar and holding box of incense in left hand, although it could be one of half a dozen different female personifications or deities standing left, holding some object in right hand. If it is Pietas, then it would correspond to: SR 4620, mint of Rome, minted sometime after 147 A.D. - you could say "c. 150-160 A.D." pretty safely about any sestertius in the AVGVSTA series'.

Here's a similar sestertius from the same series with Vesta reverse, from my collection you can compare:
http://www.stoa.org/gallery/album93/ML_001_Faustina_I_Vesta_Sest

and this is a dupondius (a little smaller and from a different series) with Pietas reverse:
http://www.stoa.org/gallery/album93/ML23_Faustina_I_Pietas_as

Mark
24th Oct 2007 Heart attack find - Celtic gold Torc ??
Idaho Jim dug this yesterday and nearly had a heart attack as it looked like a Celtic gold wrist Torc in the ground. Having played with it I am not sure if it is Victorian or Celtic. It is certainly heavy enough and it's construction is crude but it is probably modern. I have just sent pictures off to the museum to be on the safe side. Whatever date it turns out to be Jim can still say he dug a Torc while he was in England !!
I have just updated the hoard and treasure page with the latest Treasures including this Torc as initial feedback is it could be Roman.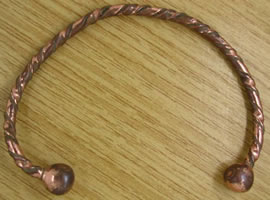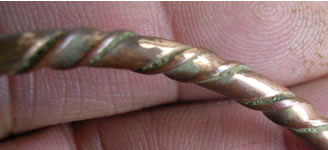 It's a wrist Torc but what time period ?? 23.19g, 81.95mm W x 3.80mm dia