25th Jan 2003
What a painful job, I will be reducing all photo sizes over the next week and deleting some pictures to cut the site down. I will still post thr nice finds.
31st Dec 2002 Happy new year to all
Look at a my late Christmas present to myself, a very nice example of a Corieltauvi tribe coin, struck in good silver, depicting a wild horse on one side and a nice hairy boar on the other, this coin was minted in or around the Lincolnshire area in 50bc.
I could not resist buying this as it was so beautiful and the Celtic gold stator I found was looking lonely on the shelf by itself !! That's my excuse anyway.
This years detecting kicks off this Thursday, got a new set of waterproofs, another new spade digger so I am raring to go.
23rd Dec 2001 Happy Christmas to all but not you Nighthawkers !!!
My last few hours detecting before Christmas produced three tin cans and then a very nice Edward 1st hammered silver penny which was a good note to hang up the detector till Jan. I have had to remove all reference names to my sites as I noticed some holes that I did not dig, there might be some 'night' detectorists taking some interest in my sites. Not much use to them really as the fields are so huge, knock yourself out guys !!!!
18th Dec 2001
He got a very nice range of copper coin dates and I have identified his pendant, see below.
17th Dec 2002 Cabin fever
Got out today for a few hours today, chores were giving me cabin fever !! A bit wet underfoot but it is just so mild. Got two great bits of silver, huge Victorian Crown and an Elizabethan penny. Picked up another nice printing block to add to my collection, no idea what dates the ones I have found below are. Took time to snap a few more of the earlier finds and Gary sent me his latest cleaned find, an interesting pendant.
Earlier find 14th C bronze spur

Silver 1890 Victorian Crown, 1560's Silver Elizabethan penny

Earlier find a Medieval enamelled rose button

Ron's earlier find turns out to be a melted Roman broach

Toy petronel

Printing blocks

Lettering, probably off a military uniform

Medieval rose design button, traces of enamelling remain

Gary sent me this picture of his earlier find he has started to clean up. The shield has rampant Lion's, Fluer de les and a harp. It is an exact copy of a George III second bust Gold Guinea 1787.
12 Dec 2002 Christmas is coming
Not been out detecting since the 5th as there are always too many chores to be done before Christmas. The weather is still fine with just a bit of a chill in the air so I will be out there looking for the Roman hoard this weekend. Arkansas Gary is back again in early Jan for two more weeks to renew the hunt for some more silver Roman's and to try out some of the new land. I will be out detecting on the known productive fields until then and leave the new ones for visitors, there is a serious amount of 'hotspotting' to be done on the new ones to determine what is on them.
05 Dec 2002 Mid week detecting break from the house hold chores !!
Great day for detecting, mild & sunny with the ground just nicely moist for maximum depth. (got to be global warming this good weather in December !!!) Lots of the usual 17th & 18thC coppers turned up plus this very nice heavy Roman coin suffering from the dreaded 'bronze rot' and another small very rough bronze. Lots of interesting bits and bobs appeared including the top of a very early beehive thimble, 2 broken crotal bells, one the early decorated variety.
Large chunky 117AD Hadrian Roman coin

Heavily cast harness decoration 19thC

Interesting inscription on a horse harness decoration 'Protection' Initials are IR. I wonder if was off a mail coach with a guy riding 'shotgun' or Inland Revenue (tax man ) perhaps

18thC draw furniture

Handle, looks early

Fragment of a metal bowl and what I initially thought to be an arrowhead is I think a bit old toot !!

My new set of wheels !! a 1960's milk float metal toy truck.
Earlier Charles 1st 1631 Sixpence find I forgot to scan in !!
03Dec 2002 Yet more land to detect!!!
I secured the rights today for 3 more farmer's sets of land. One guy has huge amounts of land where he grows three types of crops, wheat, barley and sugar beet with all different planting times. He also has set aside land and grass areas. The second guy has less land with 1/3 set aside and a 1940's WWII radar site with some old buildings still intact and remains of the mast, this area is grassed. The last guy has the most potentially interesting land all around an old church REMOVED. All the sites are within ten minutes from my house by car. I have no idea what these fields will produce as they have never been detected before, should be very interesting.
28Nov2002 That is real old !!
Brilliant find by one of the guys is a 6000 BC scraping core. I think it was 'Alaskan' George who chucked it in the boot of the car and joked it was a Roman scraper !!! Little bit older than that by a long way !!
A core is a "Block of raw material from which flakes, blades or bladelets are detached "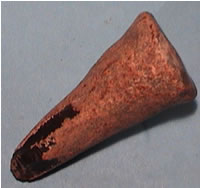 I am very happy with this find (not quite as old) I cleaned up as it turns out to be a James 1st 1603 London Mark trade weight.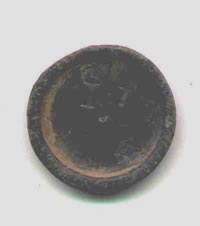 I also cleaned up a rough Cuban copper (star on it ) 1910, what were they doing in Ardleigh ??
27Nov2002 Digital Camera's are great
Got a nice Roman broach and a hammered silver yesterday. I have borrowed a digital camera so I have started to improve some of the pictures and add the larger of the previous weeks finds like the sword that don't fit too well on a scanner !! Lots more to snap yet once I have recharged the batteries.
| | |
| --- | --- |
| Picture removed | |
| Roman 1st to 4thC knee broach | Edward 1st 1272 AD hammered penny |
| | |
| Gary's Tudor keyhole type horse shoe | Roman bronze |
| | |
| Brass reins guide | Nice monogrammed button |
| | |
| Decorated jug or cup handle | Late 16thC decorated crotal bell |
| | |
| Huge old door knocker | Lots of buckles, broken spur of all ages |
| | |
| Door furniture and box handles | Roman bronze |
| | |
| Sword blade found at the **** site, looks Roman size | Pocket Watch centre |
| | |
| Royal Artillery baton end (2nd one) | Brass bottle cap ?? |
25 Nov2002
Special thanks to Kris in the USA for identifying some of the unknown Roman coins for me.
25Nov 2002 **** Farm - first finds
I had a half day's detecting at the new *****farm site and the afternoon at the Roman village site. The ****** farm site is showing real potential with a crotal bell, GeorgeII milled silver shilling and a really nice farthing of the same period. A very nice medieval purse bar hanger, part of an early arrow head, some early buttons both livery and military and the usual 17th & 18th C coppers. So it is now showing a date period from what I thought was a Hadrian Roman ( it turns out to be a Nero) I found from AD54 to 1940, not a bad spread. The rest of the Roman village site has now been ploughed but not seeded but still does not want me to have any Roman finds (it hates me for some reason). The guy I was with picked up three really rough Roman coins but Californian Ron's Roman ring is the last artefact taken off this field (where are the broaches and necklaces with my name on them ??) One day it will give me a really good find but not yet it seems.
20th November 2002 Arkansas Gary's finds
'Arkansas' Gary just sent me this nice picture of his finds laid out, man that was a lot of digging in just one week and does not include the bum signals !!! Gary's recount of his coins was 34, just 2 short of Texas Mike's record !! Check out more of his pictures here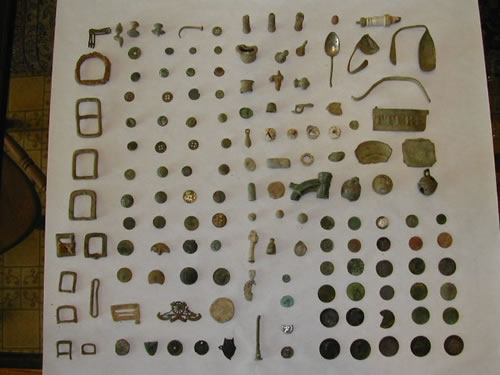 | | | |
| --- | --- | --- |
| | | |
| 1688 William & Mary halfpence | 1807 George III penny | 1729 George II penny |
I have moved a number of this weeks finds to the Previous weeks finds section to make things load quicker hopefully. I have been giving my old back a rest this week as we found one hell of a load of bits and bobs last week and it took a real pounding. I have been scanning in more finds but I really need to treat myself to a new digital camera with a macro to get better quality and take shots of the larger bits (hope Santa treats me ) like Gary's huge Tudor Horse shoe. Lots more finds to scan in yet.
Constantine II AD350

18thC Ornate watch winder

Roman 8 scriptulla coun weight VIII number

"Gallic type" such as Postumus or Victorinus or even a Tetricus
antoninianus

Part of a horse harness ??

Huge late 19thC monogrammed horse brass found by Alaskan George

Belt or harness decorations, top right part of a Roman broach 1st to 4th Century

19thC thimbles
13 November 2002 2nd Roman Silver found
Gary's final day produced a surprise as a find he made earlier when cleaned up is his 2nd Roman silver coin. He actually found this coin within his first hours detecting after he landed, we both thought it looked Australian originally for some strange reason as the back looks like a Emu bird !! What I also thought was a Georgian copper I found turns out to be a Hadrian 'copper' Roman coin, must get some glasses !!! I will post more of Gary's finds on the testimonial page when I have scanned them in.
Arkansas Gary's second Roman silver, unfortunately badly hit by the plough this time. It is still a great find and only the 2nd Roman coin found at the **** site.

3rd century Severan female

Gary chased Texas Mike's record of 36 coins in one week real hard but only managed 34 in the final reckoning. His best finds were:
2 Roman silver and 2 bronze

1688 William and Mary halfpence

1729 George II penny

1807 George III penny

1828 George IV farthing

1865 Victorian penny

Various bronze Romans found this week.Bottom left Julian II 360AD,The large one is a 54AD Nero 'copper' from the '*** farm site'
12 November 2002
William sixpence 1837
What an interesting weeks detecting so far, Arkansas Gary arrived and by lunchtime we were on the fields and my very first hit was a nice milled silver William sixpence. I then added a further 9 coins within 3 hours to my collection of the usual 17th & 18th C coppers ( best 3 hour coin rate I have ever had). Gary had not yet unpacked his trusty Minelab Explorer and was struggling with his other machine. However he soon got into the 'swing' of things and looks like he is could be close to beating Mikes record of 36 coins in a week by having a great '11 coin day' including a beautiful Roman silver and a bronze and one milled silver. This is the first Roman's found on the field that should be Saxon in period. We had a half day session on the new ****** farm fields that are really huge and show potential. We took off 4- 17thC coppers a crotal bell, some nice buttons including an early military one and a possible Roman VIII round marker. We now know why it is called ****** farm because at one end of the field is a small lake and a mini forest. Gary skirted the lake but did not find any camped Roman's left overs !!!!! I will scan in the finds when I get the chance but we are out hunting tomorrow for the elusive hammered silver.
31st Oct 2002 I have cleaned up further finds from the last couple of weeks and used my new 3 volumes of 'Collector Finds' books to help identify some of them. It is certainly easier to find them then to identify them !!! Gary from Arkansas arrives in a week so we will be hitting that 'gold' field again soon. I also want to try that field where the hammered coins came up as I have never detected that field before. The weather is great at the moment, sunny and mild.
(left)4th Century
Constantinian Valens I (right) AD 268 Claudius II 'Gothicus'

Medieval clothing fastener

Georgian lead tobacco box handle

17thC cross hatched snake belt hook

Ornate disc probably 19thC

Haunting face (no idea what date, looks early)

17thC Copper alloy shoe buckle

17thC Cockerel barrel tap
26/9/2002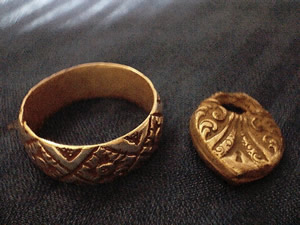 Alaskan George has sent me this picture of 2 of his earlier finds, the ring turns out to be Victorian in date, having had the ring repaired he is now wearing it !! The locket is Elizabethan .Very nice memento of his trip.
23/09/2002 Some news
I have added a land and holiday date availability section for those of you contemplating a detecting holiday. Slots are going fast so book early to avoid disappointment. The farmer has bought a new set of fields at ****** farm 55 acres in total, I have not looked at them yet.
20/9/2002
What a weekends detecting, 2 gold and 4 hammered + some great Roman artefact finds, the bummer is that I did not find any of them and the area the gold was found both myself, Mike, Ron and George had hit quite well. Goes to prove no land is ever detected !!
1758 George II Guinea (should have been mine !!!)

Edward IV 1461-70 Gold Angel
13thC Short cross penny

James 1st 1603 Penny

Elizabeth 1st 1558 Shilling

13thC Hammered penny

Medieval cross.

Roman bucket loop

Huge 1822 Portuguese Coin

Nice Roman bird figure 1st to 4thC AD

No idea what this is (some sort of horse harness fitting ??)
14/9/2002 Ron's last day before he flew back to sunny California produced a couple of milled silver and the usual 17th-19thC coppers. He finished with total of 50 coins, 7 Roman & 2 silver but the hammered coins eluded him. He pledged to come back next year to get them !!!! Texas Mike still holds onto his impressive record of 36 coins in a week. No more detecting now until next weekend as I have to catch up on my chores !!! A brilliant few weeks and lots of batteries burnt, large amounts of food devoured and many tales of Polar bears and rattle snakes. I will clean and post more finds from the last couple of weeks shortly.
Ron's horse harness decoration

15thC spur

Interesting bowl (no idea of date)

1844 Victorian Shilling.. 1818 GeorgeIII.. 1838 Victorian 4 pence

Roman Bronzes

2/9/2002 Sight seeing day so no detecting was done. I have started cleaning more finds from previous week. Got a forum going for questions and comments about my site or detecting holidays.

Watch back and key winders

Some nice buttons, 44th essex Regiment 1795, 19th C unicorn livery button

Found by Californian Ron, melted Roman broach

An earlier find by Michelle appeared to be a badly worn hammered silver coin but on closer inspection reveals the letter RF with a heart then JL. Is this another 17thC love token this time with their names inscribed on it ?
11/9/2002 The farmer has ploughed and rolled the remainder of his fields apart from a couple of set aside plots. He is using new design of roller and the fields are like pool tables to detect on !!

Both Mike & George have started to clean up their finds & I have added them to their testimonial page. I have ordered up 3 new volumes of the "Detector finds" books to aid in identifying some of their goodies. Yesterday produced some interesting finds and my favourite was a 1 shilling token for Spitalfields market that is still there today in London. Californian Ron continues to sniff out the Romans taking his total to 7, most are in bad condition but there are a couple of nice ones.
I cleaned up some finds and this very interesting coin appeared

It is George III penny 1819 but they never made any ?????? It has a hole stamped through it, I will have to do more research as it could be quite special.
9/9/2002 Very quiet day, tried a new field and it was a detectorist's graveyard.
This are previous finds over the last week.

Roman metal urn rim

Bowl fragment

Better than average Georgian copper
Top left 2 old pence token, Victorian 1823- 4 pence piece & various Roman's
8/9/2002 Another amazing day of finds, 1 silver & 3 bronze Roman coins scattered very far apart,one was a very decent size but badly corroded. So far we have identified three new fields that had Roman occupation. A lot of hotspotting to be done as these fields are huge.

Elagabalus AD 218-222

What I though was solid gold turns out to be plated gold ornamental watch key 18th-19th C (uncleaned). That's what happens when you spend two weeks with an Alaskan nugget hunter, you get gold fever !!!

7/9/2002 Californian Ron picked up his 3rd Roman bronze coin today on fields with no previous Roman finds, he also got his first silver a 1823 Victorian 4 pence piece. After my silver Roman and 2 bronze finds the fields are reluctant to give me anymore and are making me work hard. However good news from earlier last week the foreign silver hammered coin I found is identified as a Spanish half real of Ferdinand V 1474 and Alaskan George found the same coin. Also a find made by Michelle last week turns out to be a medieval spur.

Medieval spur
Ron's lockett......... Horse decoration

6/9/2002

Michelle picked up another Roman coin and a badly worn hammered silver this morning off the same field as the ring. I found two unidentified Roman bits, one looks like the arm off a statue. Texas Mike has produced this picture of a nice find he made earlier.

Lion and Rose badge, still has pin in the back
1550 Hans Scultes Nuremberg German jetton.

4/9/2002

We were all invited to the Colchester Metal detecting club and it was a very enjoyable evening. I took along my unidentified finds and was pleasantly surprised to learn that a lot were medieval and I had a set of Henry scale weights, very collectable and an indication of a fair site. My wife's find was a 1550 Hans Scultes Nuremberg German jetton.

The curator of the Colchester museum got really excited about a very early ornate snake find I made last year. He wants me to take it to the museum for further tests and he hinted at Celtic period.

Celtic snake belt fitting

Henry scale weights

3/9/2002 Another great days detecting

Roman silver coin found today

Roman ring found by Californian Ron

'Alaskan' George takes his silver total to 10

Silver milled sixpence, Elizabethan locket & Victorian ring

Silver love token and foreign silver pendant

Some nice finds, sixpence (for size) Spanish half real of Ferdinand V 1474 (broken),Elizabethan 1569, Henry III 1247 ,Spanish half real of Ferdinand V 1474, Edward III 1327,

17/8/2002

The farmer has bought yet more land near the old *** on the map3 link. It is 100 acres and is currently ploughed and rolled. He also has a bid in for another large plot of land 50% of which is a listed site (lets hope his bid is successful as I know the site which is bronze age)

Here is a selection of this weeks finds on one of the fields I have only detected on once before. It is a huge field and there is a known **** offering site next to it. What is nice is the range of finds so far means it has been in use for at least 2000 years right though the ages. I have found buckles, lead weights and a large number of different calibrate musket balls so the field has had a busy history. I have not found any Celtic indications yet.

Nice button with cockerel on it (19thC)
1859 Victorian silver 3 pence piece
Very clean Roman coin(not identified yet)
Early token (not cleaned it yet)
Georgian penny
Musket ball
1913 George Penny
12 th C hammered coin (too bad to identify)
Early silver button
Medieval button (still shows some enamel)
Snake belt fitting
1890 Royal artillery button
Two Cromwellian tunic toggle (17th C)
A couple of Roman bits
Great Saxon silver finds Offa Rex - Coenwulf - Hammered gold
Villa Dig - Roman gold - Celtic gold hoard found
Can Majos and Mass Bills gold rings - Texas Dave's hammered gold
Roman gold coin - Mass Bruce's axe hoard
2000BC Axe - Boston Buds Saxon gold