Louisiana Sal's Video's from the field
This is a 45 minute video showing Sal's, Criag's and Chris's finds dug fresh from the fields in England. Sal is using a hat cam so you can actually hear and see the finds as they are dug.
This video is on our own streaming video server and might not play if it is busy with other guys viewing it. Just right click the download button below and play it from your hard drive.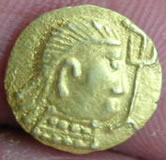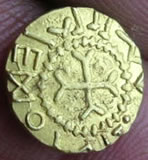 English Saxon Thrysmas gold coin - Crondall type c620 -650 AD named after the hoard found in 1828. Recorded on the Fitzmuseum Corpus database as EMC 2007.0302 1.26g, 11.46mm
'Witmen type'
You can also download the vid here, right click save as
Click to download here if the video is busy
Check out more of their finds on the November hunt page