20th March - Last hunt of the season starts today - guys find two nice big hammered
The hunt started well on a new undetected land that will definitely be worth a revisit. Both of the Massa guys Linda and Bruce found large hammered's but the find of the hunt so far has to be the Duke of Wellington coin of the 1812 , exciting find. Will post more finds later when I have set up a new hunt page 8. Canadian Rod is on his own here in April for an out of season fix.
Brilliant condition Duke of Wellington coin commemorating the battles of Salamanca, Rodrigo and of course Waterloo against Napoleon(y)

Small silver engraved piece with cupid and hearts - no idea of date(y)

1638 Charles 1st hammered silver shilling(y)

1605 James 1st hammered silver sixpence(y)
18th March extra - Just found Vancouver Brent's coin on a Dutch site.
Can't read Dutch but it is an exact match - Double STUIVER denomination dated 1475 AD although this particular one has a ZD as the date. I have sent the guy that owns the site an e-mail to see if he can give some more info on it. I used a translater and it came up with this.
Denomination DOUBLE STUIVER,
King - Karel de Stoute
Date - Z.D.
Country - Flanders
Mint Brugge
Here is a link of the page on the Dutch site with the exact coin on it, 2nd from top
http://www.muntstukken.be/karel_de_stoute_afb_.htm


18thMarch 2004 Disclaimed treasure papers are back & Boston Bud's Saxon gold - Members area updated
Two of the disclaimed treasures have now got the completed paperwork back, see Hoard&Treasure page for more details. Boston Bud's Saxon gold is now ready for it's export licence application to progress.
There is still no more info on that unknown groat sized Medieval hammered found by Vancouver Brent yet, the best guess at the moment is that it is perhaps a Medieval silver Jetton as a few were made in silver and gold.
16th March 2004 Last hunt starts Saturday - Voting time is fast approaching
The last hunts of the normal season start this Saturday before we close until September.
The completely free weeks holiday (can be used for any dates next season) is up for grabs for winner of the 'Find of the Year' voted by all the guys that have hunted here or those that have confirmed bookings for next season.
All the finds shown on the New Hunt pages 1 through 7 plus what the guys find over the next two weeks can be included in your choice. It is going to be very tricky to pick your favourite find.
Each guy get's one vote for his favourite find (not his own) and the winner will be announced at the end of April, the Roman silver jug will also be engraved and sent to the winner. The second award up for grabs with the most coins found in a weeks period.
Voting will start on the 20th April, sent to FOTY@Colchestertreasurehunting.co.uk (closing date 28th April) Winner announced 30th April.
14th March 2004 Posted a few more finds
13th March 2004 Posted a few more finds and updated members area
Will try and post the remainder of the finds tomorrow
12th March 2004 Veggie Mike does the double gold
The boys split up and hunted different fields for the last day of their hunt, two plumped for the new Roman site found and the other went to separate previously productive land. Veggie Mike did the the double gold 5 feet apart and Arkansas Gary picked up a really nice 12thC seal matrix with an amazingly detailed inscription. What a great finish to a dry spell, just goes to show it is never over to the last swing. More finds to post later.
12thC seal matrix. The clay impression clearly shows a falcon attacking a bird lying on it's back

1786 George III Guinea (b)

Plain gold ring - not dated yet (b)
11th March Getting well skunked !!
The latest hunt started really but the last couple of days have been very lean and we have all been basically skunked. A few coppers. buttons etc but it looks like the Canadians sucked up all the silver ! Arkansas Gary just about saved the day with a rough old Schilling foreign silver coin. The only find of note was another Bronze age axe head but it was lying by a previous guys trash pile at the side of the field ! Someone must have thought it was a lump of broken bronze and chucked it ! If any of you recognise digging this axe drop me a mail of the location where you left it and I will include it in your finds export.
Bronze age flat axe
9th March 2004 Latest finds posted
8th March 2004 Gold and another great new house site produces the goods
Yesterday a homesite found last week by the Canadians continued to produce the finds with both gold and hammered silver turning up. Again today Californian Charles hit the back of an old barn where another old house once stood and he sucked up some great finds including some amazing Roman coins that look like solid copper or even have a high gold content. I have never seen a Roman bronze come out of the ground looking like this one. Will post more finds later.
What is it made of ? Looks like copper but it came out of the ground like this so it must have a high noble metal content - does anyone know the type of metal or the date of this coin ? Amazing condition
Very early looking lead face - this could be very exciting find
07 March 2004 New hunt starts with another unusual silver found by Arkansas Gary
Denmark-Holstein-Gottorp-Rendsborg 12 Skilling 1719-BH

Large very pretty silver coin, slightly bigger than a groat or 2 Shilling piece
06 March 2004 Boys head back to sunny Vancouver - more finds posted - updated hoard page
The guys are finally on their way home having hunted really hard and got some great finds. They managed to pull up a total 35 pieces of silver including the first Saxon coin ever found here, 2 gold and that amazing 2000 BC axe head which has to be the find of the hunt. The deadly team of Arkansas Gary, 'Veggie' Mike, Nevada Gary and Californian Charles return this morning to give the land a beating, the Vancouver team are going to be a hard act to follow. Can Arkansas Gary continue his gold roll as he has sucked it up everywhere so far this year in Alaska, Arizona and here ?
4th March 2004 Vancouver 'Dude' does the double - 2 Elizabeth 1st hammered silver groats
Those of you that know Dave the 'Dude' realise he covers ground like a 'tom cat on heat' charging off at high speed and he can easily cover 4 huge fields in just a morning. It paid off yesterday morning when he got two Elizabeth 1st hammered silver groats miles apart within an hour !! Great finds. The weather has settled back down now from the freak stuff we have been having over the last couple of weeks and it is now mild and sunny out there. I have posted a few more finds on new hunt page 7.
The two recent 17thC silver buttons found this week will be declared treasure by the museum as per the treasure act. The silver thimble if ID'd as being over 300 years will also be considered treasure.
1578 Elizabeth 1st Groat

1566 Elizabeth 1st Groat
2nd March Extra - Can anyone ID this hammered silver coin ??
Vancouver Brent found this coin this afternoon. It is a huge hammered about the size of an Edward Groat or an Elizabeth six pence. It is not in any British books and I have tried German, French etc without any clue. If you can ID it please send me an mail.
2nd March 2004 Great homesite found - more finds posted (more info in members area)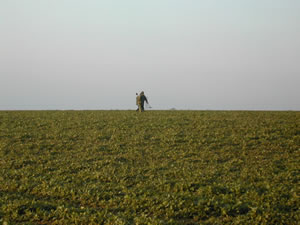 The boys pick a small field (100 acres) and find a brilliant home site
1st Feb 2004 Vancouver Mac finds a Saxon bronze see member's area for more info.
Posted a few more finds
29thFeb 2004 More finds posted on New hunt page7
28thFeb 2004 Vancouver Dave the 'Dude' get's a silver Saxon in amazing condition
Great find of an early Saxon silver that is uncleaned at present to let the museum have a look at it first. Brent got what appears to be an early silver Roman coin . Will post some more finds later.
English Saxon Primary silver Sceattas c 680 - 710 AD
27th Feb 2004 Vancouver Brent finds an early bronze age flat axe c2000 BC - more info
Initail indications from the photo suggest it is an early bronze age flat axe. These are quite a rare find in Essex, so this one will be looked at by the British Museum for confirmation. They are abundant in Norfolk, with quite a few in Suffolk".
25th Feb 2004 - Members area updated and more latest finds posted on New hunts page 7
23rd Feb 2004 - Some great finds makes and more land added
Some great finds turning up including Brent's find of the hunt so far this superb Vessica shaped medieval seal.The design does not appear to be in the reference books so more research will have to be done to ID the subject. Vancouver Mac found a really good old homesite and pulled up loads of really good bits, Edward III 1354AD hammered silver farthing in top condition, a Spanish two Reale 1700 milled silver in again excellent condition and perhaps a very rare early gilded 1st Regiment of foot one piece officers button. Brent joined Mac on what would have been the back garden to the homesite and between then they pulled up some perfect condition coppers and buckles. The house appears on the 1890 map so the ground has not been cultivated very long hence the lack of decay on the coins. I have started to post some finds on New hunts page 7
(m)

Medieval Seal (Vessica shape) Very unusual design with symbol on rear
I got permission to hunt an additional new 200 acres + this afternoon that is very near some of the recent productive land, it is available to detect from tomorrow.
22nd Feb 2004 - Vancouver team make a great start to the new hunts
Great day out yesterday produced 10 bits of silver of various types, one of which was a really beat up but rare early 1500's Queen Mary hammered silver penny. Brent found a huge Roman bronze which looks to be a Nero 54AD and then Vancouver Mac pulled up a nice gold ring, probably Georgian/Victorian era but in really great shape and nicely monogrammed. What is odd is there are no hallmarks on it so dating will be difficult. I will post more pictures later on a new page 'New Hunts page 7'
(m)

No hallmarks will make this gold ring difficult to date
20th Feb 2004 Posted cleaned up finds
The guys are busy cleaning up their mystery finds that were just lumps of crud when they were exported, they have been sending me the pictures of them for ID. Some very nice finds have immerged from behind the 'grunge' and I have posted a selection on the bottom of New hunts page 6 click here to view
19thFeb 2004 More history from Boston Bud about his Saxon coin find
Thanks to Bud for sending more this information he researched about his coin. I must admit I knew nothing about this period so this is fascinating stuff.
Merovingian Tremissis
The Merovingian dynasty is said to have begun in 481 with King Clovis I, king of the Franks, who defeated the last Roman army in Gaul. King Clovis, a Salian Frank, supposedly descended from a mythical hero named Merovech. The dynasty ended with the power of the last Merovingian kings being taken over by a prime minister, Pippin the short (752-768). His son Karel (Charles) the great or Charlemagne (768-814) initiated the Carolinginan Dynasty.
The Merovingian Dynasty, ca 500-751
The Carolingian Dynasty, 752-911
The Saxon Dynasty 919-1024
Here is a site listing the Merovingian Rulers

http://www.ac.wwu.edu/~stephan/Rulers/merovingian.html
It is said that the Franks were the only tribe to make and use coins. Circulated gold coins were called Solidi and Tremissis. They were crude coins with simple portraits and figures. In the EMC at the Fitzwilliam Museum, where coins can be viewed on line. http://www-cm.fitzmuseum.cam.ac.uk/ I found about 80 Tremmisis. All look different to me.
The gold tremmisis found here is described as "early" continental Merovingian Francia (584-750) because at the end of the 7th century, gold coins were replaced by silver denarii or pennies. Silver coins from the Netherlands are called sceattas.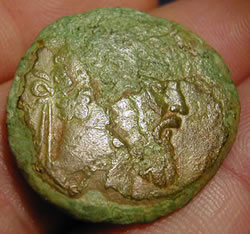 An earlier large Roman sestertius find cleaned up really well and I think it is a Antoninus Pius
131 to 161 AD. If anyone can ID it better please drop me an e-mail.

16th Feb extra - Offical ID of Boston Bud's Saxon coin from the museum
The coin appears to be a Merovingian tremissis of the moneyer Gundobodes of Tidiriciacum, identified by Prou as Trizay-sur-Lezay, in the arrondissement of Fontenay (Vendee). The obverse reads [T]IDIRICIACO and the reverse reads +GVNDOBODE. The coin is broadly similar to two coins of the same moneyer illustrated by Belfort, although there are minor differences in the designs. I would hesitate to give too precise a date, but it's probably earlyish 7thC

16th Feb 2004 - Updated the gold page with the latest info on Alaskan George's one off Celtic find, that type has never been recorded before, another great find
15th Feb 2004 Boston Bud's gold coin ID'd - 584 - 750 AD French Saxon
Bud's coin has been registered by the Colchester museum with the Fitzmuseum at Cambridge, to view it's entry click on the link below. What a great find of an early Saxon coin. I have no indication of it's rarity yet.The Fitzmuseum appear to have had e-mail problems informing the finder and the local museum so I have not had the official e-mail yet. Thanks to Dino UK for finding the info prior to the official feedback. They even pinched the pictures of the gold coin from my site LOL.
http://www-cm.fitzmuseum.cam.ac.uk/
EMC number 2004.0030 (Ref: Reported by Caroline MacDonald)
State: Early Continental (Merovingian Francia) (584-750), Ruler: anon. (tremissis) (590-670)
Type: Merovingian tremissis (500-675)
Mint: Thiré (TIDIRICIACO), moneyer: Gundobode (GVNDOBODE).
Weight: 1.47g.
Uncertain Findspot.
Obv. TIDIRICIACO
Rev. +GVNDOBODE
Source:
Comments: Cf. Belfort 4297