1st Sept 2005 - Just a couple of days to go
Temperatures today are 28 C and the ground is still nice and moist for easy digging. As with other seasons I will post finds as we go on a new hunt sheet , that's assuming we don't get skunked LOL. The first hunt is just a couple of guys so I can also get time to hunt as well. Only 10 % of the fields are ploughed and rolled so far but new fields will come on line daily as the ploughing progresses during the season. If we find any major treasure or hoards then I will post them as they are found but the usual finds will be slow initially at being posted as we will be hunting to late evening.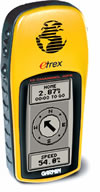 25th Aug 2005 GPS and fieldwalking
Two new best practices have been introduced to the hunts this year to plot the history of a field more positively. The new GPS unit will be used to more accurately record the find spots and that information passed onto the FLO for Colchester. Individual members are now also bringing their own GPS units with the local maps downloaded to record as they go, these can be uploaded and plotted onto large scale maps. Each member will now be making a point of picking up early pottery from each field we hunt and this too will be map referenced, logged and numbered. At the end of the season each numbered bag will be sent to a pottery expert for further examination to help date the fields and their use. Particular areas of interest are the 'Beaker people' and Saxon areas highlighted last season.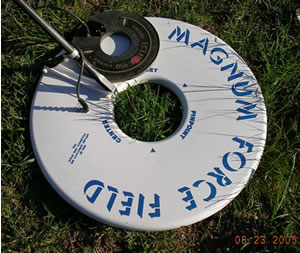 24th Aug 2005 Guys are getting tooled up LOL
Since we started these hunts just over two years ago we have steadily improved our detecting techniques and equipment by observation and ideas. This has to be the ultimate coil that Ark Gary is going to use this season LOL
The black coil on top is the 9.5 inch stock coil !! See size does matter sometimes !!

23rd Aug 2005 Adding new pages
I have added a couple of new pages to the site that are still under construction at the moment. Horse related items and Jewelry finds. It will take a while to complete as they are scattered on the individual hunt pages.
20th Aug 2005 Free valuation and ID service ?
I receive dozens of e-mail's a week from guys not hunting here sending me pictures of finds wanting ID's and valuations thinking I am a free service LOL. Please note that I do not open e-mail attachments from unknown addresses due to possible virus problems so your best bet for help is to contact your local finds liaison officer, their links are on my Treasure Laws page. Also I have had FLO's refer guys not hunting here to me for handling their exporting of finds which again is something I don't do. The paperwork and ID process I do for guys hunting here involves a lot of additional paperwork with time and effort to do it right. Again all the links to the correct Govt departments are on my Treasure page so you can contact the right department direct.
20th Aug 2005 Wayne Memorial cup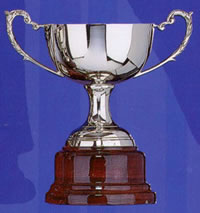 Everyone here is still in deep shock with the untimely death of Wayne on Sunday. There has been hundreds of tributes posted across all the forums by guys that knew him as he was such a large character and a main distributer of detectors. Veggie Mike represented the club at his wake on Thursday and took along flowers on behalf of all the members here. In lasting memory and as a tribute to Wayne I have commission a yearly award in his name to be presented to the detectorist that most exemplifies the virtues that Wayne bestowed on detecting. He had such an infectious positive attitude every morning before the hunt which rubbed off on all the guys here. Constantly cheery and joking whether he was finding good stuff or getting skunked. He always made the time to help less experienced detectorists with their machines and was like a big mother hen trying to make sure all his team we motivated and happy.
16th Aug 2005 Very sad news from the USA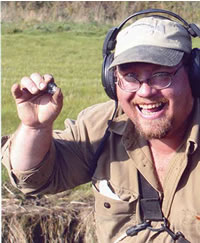 On Sunday, August 4, 2005, Outdoor Outfitters was dealt a great loss with the untimely death of Wayne Otto. Senior Colchester Member Wisconsin Wayne died doing something that he loved - water hunting with friends at Lake Nokomis in Tomahawk, when he accidentally drowned stepping off a sandbar.
Wayne was a great guy, warm hearted and generous and will be badly missed by guys that hunt here. I only spoke to him a couple of weeks ago and he was pumped about his teams next hunt in Oct. I will always remember his great sense of humour , cheery smile and patience at helping out the less inexperienced detecorists with their Minelabs which he was an expert with.
Boston Bill just sent me this picture from their last hunt togther here.
Hope he don't get to suck up all the good stuff upstairs before we get there to join him LOL.
13th Aug 2005 Artefact treasure Valuations are disappointing - more kit on order
Several of the preliminary valuations of the 'big' treasures have been received by the finders and are a little disappointing. These guide prices are the ones that go forward to the valuation committee who make the final decision. It is a difficult process to value unique objects as oppose to coins in a hoard as there are no books for a guide price. It appears that the initial valuations are based on previous action realizations which can be from 1999 and are of items that do not match the find particularly well . During this process the finder has the right to appeal and provide evidence to support a higher reward. I will keep you posted of the eventual rewards for the treasures once it is announced. It is fascinating learning first hand the treasure process in action.
More equipment is on order to help record and ID finds more accurately this season. An excellent new digital caliper and a microscope.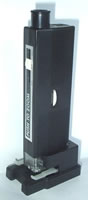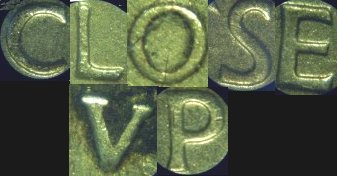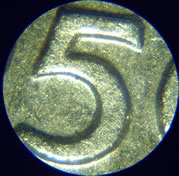 Digital photo's can be taken through the lens, the 5 is from a silver sixpence so this is perfect for helping to read the legends on Roman coins.
10th Aug 2005 Final treasure inquest for ND Lowell's post Med silver button
I have received the letter from the DCMS for the last outstanding treasure that is having it's hearing at Colchester Coroner's court. It is scheduled for the 8th Sept 2005 which now means all the hoards and treasures will have had their inquests. All we have to do is find a few more this season to keep the museum busy LOL 3 weeks to go !!
30th July 2005 Going cold turkey - early cropping
Just 5 weeks to go to the start of the new season and the guys are going cold turkey on the members forum waiting for the off LOL. This could be a particularly exciting season as we have been slowly hotspotting the new land and found some great spots to return to this season including the last hoard spot. There is also a possibility of adding another 1000 acres of new land that has never been hunted as it was previously owned by a trust that excluded detecting on it. I have spoken to a few of the landowners and it looks like an early harvest this year so lot of the land will be ploughed and rolled by the start of the season. New fields come on line daily as the ploughing continues.There are still a couple of slots free if anyone wants to join them
26th July 2005 Imperial Roman silver and Celtic gold Hoard valuation award

I got a letter today from the DCMS with the initial valuations of the mixed BC silver Roman and Celtic gold hoard we found in late 2003, final confirmation of the awards will be announced after the committee sits on the 23rd Aug 2005. The valuations are based on Spinks standard catalogue 2005 and auction prices. They represent a very fair award to the finders and I spoke to the landowner today and he is very happy with the outcome as well. The Colchester museum are buying the hoard subject to valuation so they could end up on display for all to enjoy. More details on the members area.
23rd July 2005 Next treasure inquests 8th Sept 2005 - Valuation letters
That was very quick, got the letter today from the Coroners office stating that the Celtic 45BC gold hoard we found in March is in for the 8th Sept inquest at Colchester court. Because they are of the same type and found in the same location then they will be obviously declared officially a hoard as that is what is defined in the Treasure Act. Colchester museum wish to buy then subject to valuation so some more of our finds will possibly be on display for guys to visit. This is what makes detecting such a rewarding pass time, the fresh air, exercise, camaraderie of your buddies and finding items important enough to be displayed at a museum for all to enjoy.
Van Mac has received the official valuation letter for his 17thC silver button declared Treasure at the last inquests. The final process for the reward for treasures is that it is automatically paid out 50/50 to finder and landowner by law, Colchestertreasurehunting take no active part in the final process.
22nd July 2005 Valuations letter - visit to a local dig - pound is dropping
Ohio Bud has got this letter Anglo.doc from the valuation committee which met on the 11th July to decide the reward for his Saxon gold dagger piece. It states that it will be going for a second valuation before the committee makes a recommendation which must be a very rare outcome. Could be good news for Bud. I have still had no more news on the other 9 treasures and hoards currently outstanding for the valuation committee to decide on the rewards.
A good suggestion by one the senior members is a visit to a local dig during the next hunts. If anyone wants to have a break to do this then we can pay one a visit. Check out the Archaeology page for links to local digs like the Roman chariot track.
Good news for those hunting in Sept, pound is heading in the right direction for once LOL.
18th July 2005 Got the GPS - finished the dig page - getting the specialists involved
I have added the last two days to the Roman villa dig page, great hands on course for those thinking of attending. I am currently preparing the maps to enable a 'desktop survey' to be carried out by a professional Archaeologists we have commissioned. There are two particularly interesting areas of land we have uncovered last season that could turn out to be very important historically and require a greater in depth investigation. The new GPS handheld is now available for the start of the season for guys to use when recording their finds accurately for the DCMS.
12th July 2005 Added day 3 to the Roman Villa dig page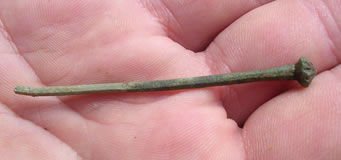 Roman bronze decorated pin
8th July 2005 Added British Museum letter below - new best practice added
Mass Bruce sent me his copy of the letter from the BM on the latest hoard found. Click the letter below on 6th July post to enlarge. I have introduced a new 'best practice' on these hunts of collecting a sample of early Bronze age/Roman pottery shards/tiles while we are on each field to be sent away to a acknowledged pottery expert. The findspots will be logged and each find numbered to enable the distribution of pottery and dates to be plotted. This will not include later Georgian type shards.
6th July 2005 Latest news on Celtic gold hoard found in March 2005 - Widgets ID'd - Handheld GPS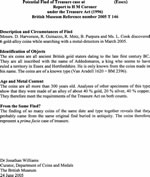 The treasure process for this hoard has moved on very quickly through the system. Guys have just started to receive letters from the British Museum on the hoard of Addedomaros type Celtic gold 45BC indicating that the Colchester museum is buying them subject to valuation. Great news as these with the other 9 treasures/hoards will be on display when we visit the museum. More details on the members forum.
I forgot to mention from an earlier post that two of the widgets taken to the Roman expert to look at where ID'd as a fragment of a Roman bracelet and a Medieval chaffing dish handle.
I am currently investigating the purchase of a hand held GPS for the start of next season to more accurately record our finds via the DCMS. If anyone has a particular model that they know works well and is robust then drop me a e-mail please.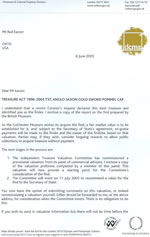 5th July 2005 Dates for the next course and Bud's letter from the DCMS
For those that have put their names down for the 5 day Excavation courses next year I have had a reply from the organisers. It might be held at another dig site which I will also be attending to develop my techniques further, details on the members forum.
The process for the first treasure found on these hunts is about to be completed on the 11th July and I have attached the letter sent to Ohio Bud for those that are interested in this process. One of the landowners telephoned me yesterday and he has also received notification of an offer on another treasure Vancouver Mac found in Mar 2004, so the process is moving along quickly now.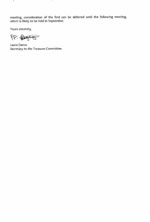 The letters for the other outstanding treasure and hoards should be with everyone within the next few weeks. I will publish the final outcome of the valuations once all parties have agreed to the final figure.
Click on the thumb nails of the letter to read
4th July 2005 New Roman Villa dig page (click here to view) and first Treasure valuations offers made
I have added the first two days diaries of the dig to a new page with lots of pictures and a link to the course tutors web site if you want to take part. I have also had notification from Ohio Bud on the first offer for the Saxon gold dagger piece. It appears you get a preliminary offer a week before the valuation committee actually sits for you to make comment on. I will post the outcome of the final valuation in about a weeks time.
1st July 2005 Back from a 5 day course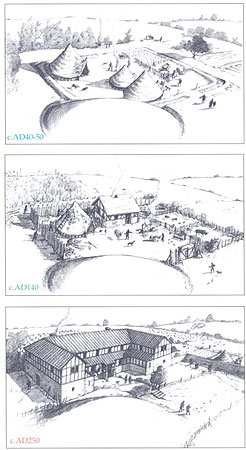 I have just completed a fascinating 5 day hands on Archeology course at the Barcombe Roman Villa dig in Southern England. I will be producing a new page shortly of the event with a daily diary and lots of great pictures. This is a model dig where both detectorists and Archaeologists work in complete cooperation together and show how it should be done. I would recommend that every metal detectorist take the opportunity to attend one of these courses as they cover an amazing amount of useful topics and they only cost 150 pounds for the 5 days. I will publish details and a link to the course on the dig web page I produce. Link to a brilliant PDF file on the dig with Geophysics,finds and maps produced by the team.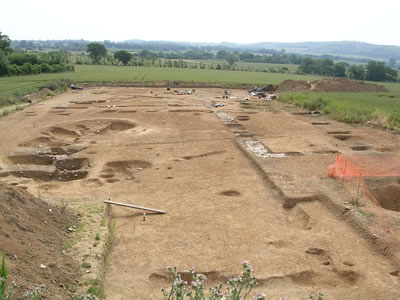 25th June 2005 Awards back from the engravers - finds for further ID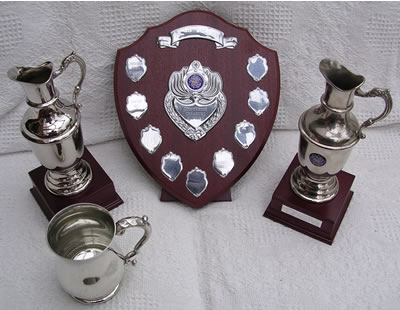 Boston Bill's 'Find of the year award' Silver Urn is back from the engravers and will be presented to him on his next hunt in Sept which he won as a freebie. He also gets his name immortalized on the shield of honor under last years winner Mass Bruce. Must be something about the boys from Mass as they have taken the donor two years running LOL. Another jug and English Pewter tankard are up for grabs again this season pictured on the left.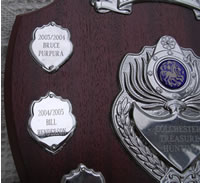 Half of the fun of running these hunts is the later research and ID'ing of the tricky finds for me when the guys have headed home. We find enormous amounts of 'partifacts', chunks of unidentified bronze/copper widgets etc. that you know are of a Romano/British period but cannot be ID via the books or the museums. An example is a possible fragment of a twisted wire Roman brooch found by Cal Jeff. It has all the appearance of that type of find but could also be simply a piece of twisted electrical drop wire LOL. Rather than dismiss the 'partifact' as not ID'd or modern I have held back a series of them from export. I am taking them to a serious Roman expert to see if in fact they can be ID'd as to their date and use. Chicago Ron found a bronze circular widget with iron running through the middle which is suffering bronze rot and has a series of crude lines etched on it. The detailing makes it more than just a rude stud but again it is not in any reference book as a Roman cart fitting which I feel it is. It will be interesting to see if any of the items can be positively ID'd as it really bugs me not knowing LOL
24th June 2005 This years free club/forum competition announced
Check out the awards and prizes page for a link to this years forum competition to win this ancient gold coin.
ROMAN GOLD SOLIDUS OF THE EMPEROR VALENS AD 364 - 378. D.N.VALENS PER.F AVG. REV. RESTITVTOR REIPVBLICAE; Valens standing facing head right, holding labarum and Victory
9th June 2005 Network problems preventing updates
Severe network problems this week have prevented up dates to the site. I am attempting this update on a 56K modem LOL
Official paperwork has arrived from the Coroner confirming all the inquest results on the 2nd June as treasure. Another batch of approved export licenses has arrived, details on the members forum.
I am reducing this page size to help with loading times and have created a page 2 with older news
4th June 2005 6 items declared treasure
The six items that were awaiting their Treasure inquest were officially declared treasure at Colchester Coroners court on the 2nd June. They will now be bought by the museum subject to valuation see Treasure valuation process - PDF document.
1st June 2005 ID
The find below has been ID's as an 1641 8 Maravedis revalidated with VIII counterstamp on 8 Maravedis of 1625 of uncertain mint, Felipe IV (1621-1665) of Spain, neat find.
31st May 2005 Site updates
Added a great English Civil War site link to the Charles 1st hammered silver page and a chart and explanation of the coinage in the Roman Empire to the Romano/British page.
I am still trying to research a find made at the end of the last season without any success. It looks to be some kind of Coin weight but it's date of 1641 is an important date in the English Civil war. Was this a token issued to troops as money ?? If you have any ideas please mail me.
Clearly marked 1641 with crown Obv is VIII = 8
28th May 2005 Added Treasure Act page
I have added a new page that covers in more detail the Treasure Act and what items are included, please ensure that you familiar yourself with the act before coming on your hunt here. There is a link from that page on the laws in other countries.
27th May 2005 Treasure valuation Process
Currently we have 3 finds that have been declared treasure after inquest with another 6 going before an inquest on the 2nd June. This link details the process and has a members list of those involved with the valuations. The committee sits 10 times a year and sometimes more if the need arises. This document covers all the questions finders might ask.
Treasure valuation process - PDF document
26th May 2005 Extra dates for 'helpyourself' house
Ark Gary, the most Senior club member, wants to try out the new house for a much longer hunt this season in late Oct/Nov. He will be running the show for a whole month if you want to join him and get some serious on the job detecting training LOL. Further discounts apply for a longer stays,
20th May 2005 Added New Archaeology Page - more approved export licenses

I have added a new page with links on what excavations are happening locally and previous digs, check out the Roman circus (Chariot track) link. There is another great site link, a day by day diary with detailed pictures of how an excavation took place and the ID'ing of events like post holes.
Details of the latest export license approvals that arrived today are on the members forum.
18th May 2005 More export license's arrive
A large batch of approved export licenses arrived from the MLA this morning, see members forum for a list of names and more details.
14th May 2005 Export license's arriving via MLA - FLO contacts - updated the hoard/treasure page
The first of the approved export license's sent via the new set up of Museums, Libraries and Archives Council (MLA) arrived yesterday, turnaround times appear to be significantly quicker. Here is a link to their website and the work they cover http://www.mla.gov.uk/
Remember, any article over 50 years old, even a musket ball or button, requires an approved export license before you can take it out of the country legally. You are smuggling and liable to imprisonment and fine or both if you do not have this paperwork. Use the MLA link above to get the relevant application forms from the MLA if you are considering hunting over here on your own. Also if you are detecting over here in the UK and make a find that possibly falls under the Treasure Act or requires identification and recording contact the local Finds Liaison Officer for that area. A full list of contact names and numbers is published here. http://www.finds.org.uk/involved/contacts.php
For all general enquiries, address post: c/o The Portable Antiquities Scheme, The British Museum, London WC1B 3DG Telephone: +44 (0) 20 7323 8618
Email: info@finds.org.uk

10th May 2005 Previous Inquests make the newpapers - New Inquest dates set- Latest hoard paperwork received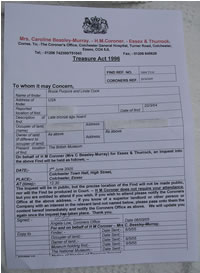 I have just received the official paperwork from the Coronerfor the next set of Treasure/Hoard inquests that are being held in Colchester on the 2nd June 2005. The inquest will include the following outstanding items.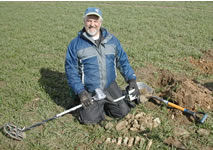 An 850 BC bronze axe head hoard that includes those 3 large round bronze ingots and kilo's of smaller ingots, found by Mass Bruce & Mass Linda. See Axe head report written by Bruce for more details. Probably the most important treasure/hoard found here so far.

17thC silver button issued to commemorate the marriage of Charles 1st found by Wis Wayne

4th C Roman gold ring with green stone - Amazing find of the year winner 2005 , found by Boston Bill

Celtic gold /Imperial Roman silver hoards - found by myself , Veggie Mike, Nev Gary, Virginia Brian, Vancouver Brent.

Gold 17thC mourning ring found by Ark Gary - A thin gold band, the exterior engraved with a skull flanked by pointed triangular panels with traces of white enamel in a lozenge pattern. Inside the inscription contains much of its black enamel:prepare be to follow me IK ob4 1st 67 (IK died 4 January 1667.The inscription is followed by the maker's mark, BW in a rectangular shield. The skull may once have been enameled black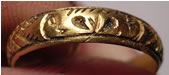 Gold Memento Mori ring 17thC - found by Canadian Marjo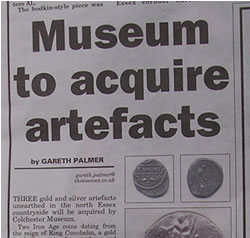 I also have just received the official paperwork detailing the verdicts from the inquests held on the 5th May declaring all 3 items treasure under the act. They made the local papers and there is a summary by Caroline McDonald at the Colchester museum detailing the eventual resting place of the finds. Click on the paper to read the article. Finally the paperwork for the latest Celtic gold hoard, Addedomaros type 45- 30 BC, and another 17thC silver button reported by us to the museum in March has arrived from the Coroners office, no date for those inquests has been set yet. All in all a pretty exciting month ahead.
6th May 2005 Ark Gary finds Roman gold
A very unexpected find on new land produced only the second Roman gold ever found on these hunts. This must be pure gold as it rang out like a copper coin on his detector. Although we are shut until Sept Ark Gary just popped in for a quick fix before next season, lucky he did LOL.
Roman Gold solidus of Valentinian I or II - Val I, 364-375 A.D. Val II, 375-392 A.D

4.42g 21mm dia

Obv: DN VALENTINIANVS PF AVG - would be the same for either.
Rx: VICTORIA AVGG for I, AVGGG for II. Two emperors enthroned facing
5th May 2005 Inquest results -posted a few more outstanding finds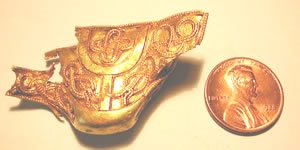 At the Colchester Coroners court today our first three outstanding treasures and hoards, including the 6thC Saxon gold dagger piece, were officially declared treasure and all of them are going to purchased by a museum subject to valuation. That rare silver Celtic coin was judged to be almost pure silver by the experts. So a great result as eventually we will probably be able to see them on all on display at the local or British museum.The next Coroner Inquests dates have been set for June and will include possibly the 17thC gold mourning ring, 16th gold ring, 4th C Roman gold ring, Axe head hoard and the Celtic gold and Imperial Roman silver hoards.
I have posted a few more outstanding finds on March's hunt page.
29th April 2005 Added another site - treasures and hoards
I went and saw the new land we have been offered to hunt yesterday with the landowner, it looks very promising with a old heavily beamed 1300 AD house on it, this land has never been detected and will be available to hunt from the start of next season. Paperwork for the remainder of the outstanding treasures and hoards has been received by the landowners and hopefully these will be included in the 5th May inquests. It will be fascinating to finally see the outcome of Mass Bruce's axe hoard.
I have received notification from the DCMS that export duty is from the 9th May 2005 being reorganized to now being part of Museums, Libraries and Archives Council (MLA).
23rd April 2005 Added Chicago Ron's testimonial - export licenses/treasure links
Great testimonial in from Chicago Ron, chairman of the Chicago club and another one from the 'Canadian Rod school of hunters LOL. The trick to hunting here is to go with your vibes, get the maximum hunting time out on the fields to improve your odds and to keep your coil slow and low.
The application for outstanding export licenses is progressing via the DCMS, here are some useful links that cover their codes of practice. If anyone is privately hunting over here then they can download all the necessary forms to do this process themselves.
Main page - Main DCMS export page with other links
Codes of practice - handling times, contact numbers etc.
Treasure valuation committee - how the treasures are assessed
Treasure valuation process guide - Useful guide explaining in detail how the process works for those guys waiting for their inquests on the 5th May at Colchester Coroners court
In 2001 the criteria for Treasure were extended to include any group of two or more metallic objects of any composition of prehistoric date that come from the same find.

18th April 2005 More Coroner inquest dates set - updated hoard and treasure page
The Celtic gold and silver hoard found in Sept 2003 has an inquest date set for May 2005 at the Colchester Coroners court. This will be an interesting one as the silver Celtic that is part of the hoard is a very rare as only one other has ever been recorded.
Very rare silver 1/4 stater Cunoblein tribe 10 to 40 AD CCI 03.0812


Cunoblein Gold full stater 10 to 40 AD, CCI 03.0811.

17th April 2005 These guys were a blast
Les UK came along to team up with Mass Bruce, Linda and on the last week and it was an absolute blast with Bruce throwing coke in front of Les as he hunted LOL. Les brought some amazing finds along to show the guys from an brilliant site he has permission to hunt in the south of England, unfortunately Dino UK was unable to get back to visit the guys as he had prior family commitments as it would have been a riot LOL. Check out Bruce's England post on the Tesoro forum as they are all great guys to hunt with if you get the chance to.
http://www.thetreasuredepot.com/cgi-bin/tesoro/tesoro_config.pl?read=39971
Looks like Mass Linda has bought herself a Tejon and is scraping her Whites LOL
http://www.thetreasuredepot.com/cgi-bin/tesoro/tesoro_config.pl?read=40346
14th April 2005 Updated the individual find pages - New land
I have updated the hammered silver, milled silver, lead, Romano/British etc. pages with the latest finds, still got some outstanding finds to photo and upload yet. I have not been to see the new land we have been offered to hunt from next Sept yet but initial research from Mass Linda puts the new site at 1300 AD.
Export license applications for the outstanding finds will be sent to DCMS shortly.
12th April 2005 Updated Hoard and treasure page
Added the Celtic gold coin finds and the 17thC silver button to the hoard and treasure page, these will now be going through the treasure process. I have added confirmed dates of the 5th May 2005 for some of the outstanding items that are going for inquest at Colchester Coroner's court.
11th April 2005 Updated latest Roman coin ID's
Thanks again to Mark Lehman at the URF on the latest ID's of the Roman coins, updated the March hunt page.
11th April 2005 Uploaded some more finds - added a testimonial - Landslide victory for Boston Bill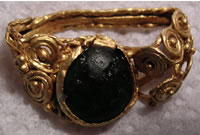 Loads more finds to photo and upload yet but I am slowly getting through them. The voting for 'Find of the Year' is a landslide victory for Boston Bill's 4thC Roman gold ring that is currently with the British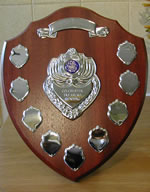 Museum undergoing the treasure process. Bill gets the free weeks holiday next season and his name etched on the Roman silver urn and find of the year shield, congrats to Bill on a remarkable find. Mass Bruce tried really hard this year to make it a double but even his amazing 3 Celtic gold coin finds could not outshine that amazing ring. I will be totaling up the coins from the official export sheets and announcing the 'prolific coin hunter' winner shortly. Doug in SJ from the California Forum run by Cal Jeff and Dan wins the gold coins from the Forum competition having made the closest guess.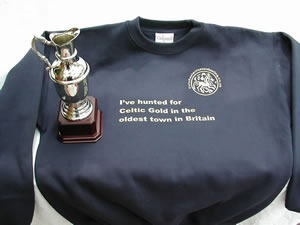 Cal Jeff from the Californian forum has sent a great testimonial of his hunt here, check out his forum. http://www.kinzlicoils.com/forum/
8th April 2005 Can Rod ID's his early buckle - Get you vote in now !!!!
No wonder we could not find this buckle in the reference books, Rod has found a web site that ID's his buckle find as 6th-8th century Byzantine, great artefact. I will be posting the remaining finds shortly.
Don't forget to send me an e-mail for your favourite find of the year, winner gets the free weeks detecting holiday next season and the Roman silver Urn looking trophy.
6th-8th century Byzantine
5th April 2005 Added more new land to hunt for next season - details on members area
4th April 2005 Feedback from Philip at the Celtic Coin Register on the latest finds.
Thanks to Philip for this great info and yet another tribe found the Trinovantes
Mass Bruces Quarter Celtic gold stater
'yet another very interesting coin. This is a Clacton quarter stater, unlisted in Van Arsdell but in the British Museum catalogue (in the wrong place, with the Corieltauvi) as BMC 192, and in 'Coins of England' as no. 42. These coins were almost unknown in the late 1980s, but there are now about 60 of them recorded here, mostly from Essex and Suffolk. The reverse design is basically the same as the better-known Clacton stater (VA 1455), while the obverse has yet another interpretation of the three men in a boat design, here with two 'men', and sometimes looking like a human face. Unfortunately not readily visible on this one, though you should be able to pick out the outline of the boat.
Of those 60 or so examples, possibly as few as two are struck from the same reverse die as this coin, which has several large flaws and is probably from late in the series (as the use of a nearly plain obverse die also suggests). Both of the earlier two coins came from Suffolk, one from Ipswich and the other near Alderton. The type probably dates to c. 50 BC and was definitely a production of the Trinovantes.
Hope this helps! this one will be CCI 05.296.
The last 4 Full staters
The CCI numbers for these four will be
adde3: 05.0290
adde4: 05.0291
adde7: 05.0292
adde8: 05.0293
'The 'burnt' one is curious, can't really tell whether a lot of that will clean off or not from the image. It's interesting that so far, most of the coins are really quite worn - which suggests that these coins had been around for a while before they were buried. So subject to further finds etc, at the moment I'd guess a burial date somewhere round 20 BC, perhaps even a few years later'.
Canadian Rod's Rarer Celtic gold full stater
'This will be CCI 05.0283. What is unusual about it is that the reverse is struck quite far off-centre, so that much more of the inscription is visible than is usually the case. Although the initial A of Addedomaros is not visible (at least I can't make it out on this image), what you can see then reads DDIID working clockwise round the top of the horse - with the first two Ds represented by the Greek letter theta (so with a bar across the middle), then the II representing the fourth letter, E, then a conventional D for the next letter. And obviously the rest of the inscription would carry on round in front of the horse's head and beneath the cornucopia under the horse. It is more common to see these coins offstruck so that the lower part of the design is visible, and relatively very rare to see the early part of the inscription as you can here'.
Final 2 Celtic gold finds.

For LindaCeltic 19 mm 5.45g CCI 05.0285. Again, part of the start of the inscription visible - but this time I think with regular letter Ds rather than thetas. For Linda Celtic2nd 18 mm 5.62 g and CCI 05.0286.
1stApril 2005 Mass Bruce makes it 3
Mass Bruce literally flipped a coin lunchtime to see what field to hunt and it was heads so he went for a new one. Good job it was not tails as he got another Celtic gold taking his total to 3 for this hunt. This time however it is a real mans find LOL a 1/4 Stater. It appears to be a rare one but it has a 50BC Gallo Belgic/Clacton type feel about it. I have sent it off to Philip at the CCI for a positive ID and a CCI number. Pretty amazing week so far with 9 Celtic gold coin finds.
Trinovantes Clacton Celtic gold 1/4 stater 50 BC 1.29g 14mm CCI 05.296
31st March 2005 Posting a few more finds
I am trying to catch up with posting more finds including Mass Linda's great Roman lead dice. I have posted the latest Roman coins finds to the UAC for an ID. I have not had any feedback yet from the Celtic Coin Register on the last 8 Celtic gold finds, we are certainly keeping them busy this week LOL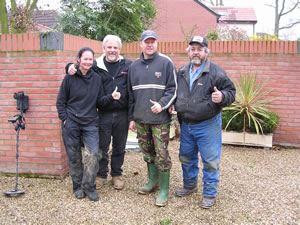 Mass Linda and Bruce and the two Garrett 2500 GTI boys Canadian Rod and Veggie Mike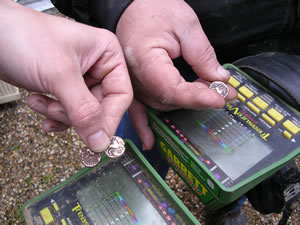 3 of the 4 Celtic 45 BC gold found by the GTI 2500
30th March 2005 2nd Celtic hoard reported to museum
Another potential hoard of Celtic gold coins, in compliance with the treasure act, was reported to the FLO at the museum and the landowner informed. The coins have been sent to the Celtic coin register for logging and the issuing of CCI numbers. More info on the members area. Other great finds included a Roman animal head dagger handle, will be posted a few more finds on the March hunt page later.
Addedomaros type 45- 30 BC - 5.53g 18mm

CCI 05.0290

Addedomaros type 45- 30 BC 5.62g 17mm

CCI 05.0291

Addedomaros type 45- 30 BC 5.63g17mm

CCI 05.0293

Addedomaros type 45- 30 BC 5.57g 16mm

CCI 05.0292
Great Saxon silver finds Offa Rex - Coenwulf - Hammered gold
Villa Dig - Roman gold - Celtic gold hoard found
Can Majos and Mass Bills gold rings - Texas Dave's hammered gold
Roman gold coin - Mass Bruce's axe hoard
2000BC Axe - Boston Buds Saxon gold