Old news Sept 2007 to Oct 2006
10th Nov 2006 Sad news about Van Mac - readers ID feedback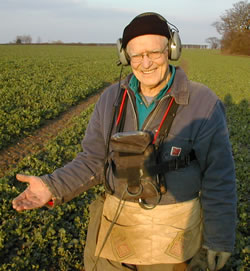 I recently heard the sad news about one of our first and oldest members that has passed away. I believe he was 86. Mac was a really great guy and even with failing heath you could not keep him from swinging out there to dusk fell, he will be fondly remembered by the club for his great cheery personality and an ambassador of the hobby.
I have had some great info in from readers of the site: Thanks for their input. If any reader can shed further light on unknown's or better ID's then please feel free to send in your input.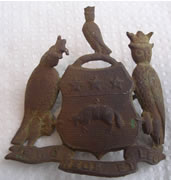 'The large Masonic badge on Oct 2006 finds page looks like the Leeds City Coat of Arms please look at the Leeds - Coat of Arms link on http://www.leeds-uk.coolfreepages.com/history.htm web page. Keep up the great web site, it excellent , the best on the web for detector finds.
Cheers
Michael Joy'
'Great site and good that people are interested in seals : my seal Expert friend has pointed out some things :

in the 2nd line from above: Russian sack seal is obliviously not Russian as ZOLL is clearly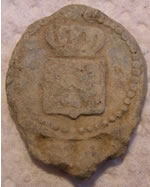 visible
3rd line: 17thC Dutch low countries sack seal ? is 19th century Netherlands
17thC Dutch bale seal with Lion and shield ? as before
17thC Dutch low countries bale seal ? as before (R & A = Regten en Accisen, state finance department)
Large document seal Crown with R(b) is a Prussian lead seal of Friedrich II.(1740-86), nothing to do with documents
Complete and mint condition cloth seal, double B's with crown. Used in the town of Bocholt in Germany during the reign of Charles II(x) - this has nothing to do with Bocholt as BB is not the sign of Bocholt, but stands for Bombasine and textile quality
"Bale seal" with A is from Augsburg

Steven mcalpine'
The observation about the BB seal in interesting as in the Geoff Egan book of Lead Cloth seals at the BM it is listed as Bocholt. I will drop Geoff a mail.
9th Nov 2006 Another Anglo Saxon find - posted loads of do-dads
Our new site has been producing some Anglo Saxon artefacts and this check piece in the reference books is attributed to the Vikings as it has the distinct knob design C 11thC. I have just posted a load of neat finds on Nov 2006 Page 5 page.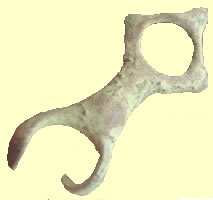 11thC Anglo Saxon - possible Viking - bridal cheek piece
8th Nov 2006 New structure to the hunts
Since we started these tours with just a few guys a year and one farmers site it has now grown to us having 18 sites and a number of new sites we have not yet taken on board yet. Senior members had a free hunt this season to try out a couple of different self catering style hunts with some success. However the logistics of running these types of hunts proved too time consuming so all self catering style accommodation is now being handled by a separate new company.
http://www.essexfarmholidays.co.uk/
Any inquiries for these type of venues needs to be sent via their web site. On those holidays you hire your own car and it is a go as you please type event. If you wish to go detecting during that stay then you can book the metal detecting with Colchestertreasurehunting. A weeks detecting on all the 100 + fields, ID'ing of finds, reporting of treasures and hoards, preparation of export licenses and the first kilogram of postage is only $400 US booked in advance by bank transfer.
Those new accommodations allows you to bring your partners along who can go out sightseeing while you are out there swinging LOL
6th Nov 2006 New hunt page - Members forum still down - Madonna and Thor feedback.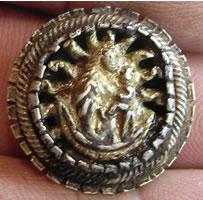 The possible 17thC Madonna and child brooch we reported as potential treasure has been ID'd by the British Museum as a late medieval hat badge. This makes it a lot earlier than first thought at c1400 - 1500 AD. It will now progress through the treasure process, what a great find. Further feedback from the museum on the earlier Thor's hammer pendant which I thought could be an Anglo Saxon copy of a Scandinavian piece is below.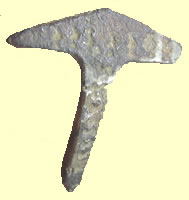 'The pendant is Viking period, so 9th-11th century. It represents Thor's hammer which was called Mjollnir. I would suggest that it is Scandinavian rather than a copy, as it is securely placed within Viking mythology.'
I have created a new smaller hunt page Nov 2006 to speed up loading times. I have just posted a load of the latest finds to this page with more on the way. The member's forum server is still down and I have sent them an e-mail to see what the problem is.
5th Nov 2006 Members forum still down - Great start on new land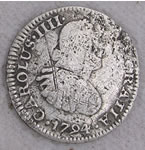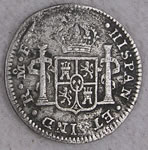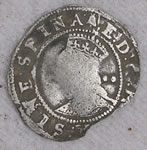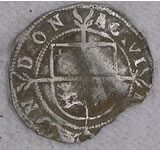 1794 Charles IIII of Spain 1/2 Real Mexico mint 1.56g , 1582-3 Elizabeth 1st hammered silver half groat
The second hit on new land produced a great range of bits, date wise, including some excellent military buttons, trade and apothecary weights, 3 nice pieces of silver including a Scottish Charles 1st twenty pence but the find of the morning has to be this late Saxon stirrup mount in fine shape.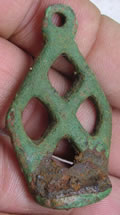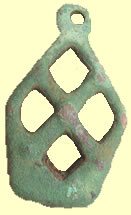 10th/11thC Late Saxon stirrup mount - Type 12 openwork version Page 7 - fig 312, David Williams
20.10g, 46.78mm L x 27.47mm W x 4.99mm T
Members are going cold turkey without the forum to chat about the latest finds and things !! Here is the link to check the server status, we are on server 7 which is still down. You can check this link to see when they fix it.
4th Oct 2006 Little and large of hammered silver !! - Forum down
It appears that the members forum has gone down, probably server problems their end. A couple of great silver finds yesterday was the little and large of hammered coins, stunning condition. I will be trying to get more finds posted today.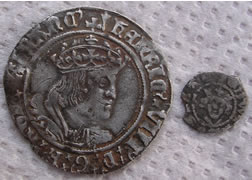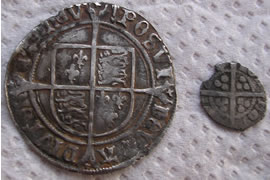 1532- 42 AD Henry VIII hammered silver groat - 2nd coinage 2.68g, 25.18mm and a 1272 AD Edward hammered silver farthing 0.32g,9.52mm - Type 30h Obv EDWARDVS REX AN Rev CIVITAS LONDON
3rd Nov 2006 Posted a load more finds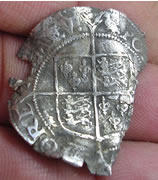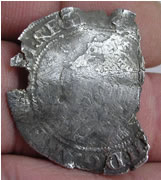 1560-1 Elizabeth 1st hammered silver shilling ( 12 pence), the plough gave this a good kicking LOL
Just posted a load more finds on the latest hunt page click here to view Oct hunt page
2nd Nov 2006 Modern gold in the dark LOL
Since the clocks went back it has been getting dark at around 5 pm but that has not stopped the guys detecting as they are out there to 8pm LOL. In the moonlight one of the guys thought he had found a nice Victoria silver shilling until he got home and put it under the light and was amazed that it was actually gold and in really great shape !!! He was then washing up all his bits and pieces and out popped this amazingly detailed clothing fastener with a Roman head design.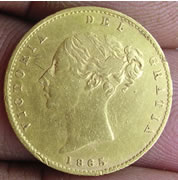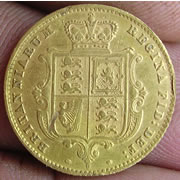 1865 Victoria gold half Sovereign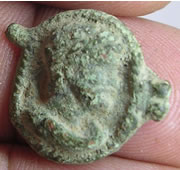 Roman clothing fastener ?
1st Nov 2006 Thor's hammer find
What a fantastic find, a c 10thC Thor's hammer pendant which was worn around the neck from a suspension loop. This example is silvered and decorated the whole of its front. It is difficult to give the exact country of origin as they were used by the Vikings but also copied by the Saxons. I have sent it off to the museum to be recorded so they might be able to shed more light on it's particular style. It was however found on the same field where the Saxon gold was found and that was continental.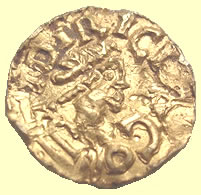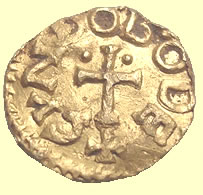 Saxon period gold coin 6th/8thC, Early Continental (Merovingian Francia) (584-750), Ruler: anon. (tremissis) (590-675).
'Thor's Hammer was more than a symbol of his supernatural strength. It was used by Vikings of all walks of life as a piece of jewelry. Usually made of silver, it was worn as a necklace or pendant. Those wearing it believed it would protect them from danger. It was especially important to Viking warriors. And, it was often given to a bride on her wedding day as a source of protection and good luck'.
'Wearers of the Thor's hammer pendant hope to invoke the favour of the god Thor. The symbol represents Thor's hammer which he employs to create thunder and to smite the Giants'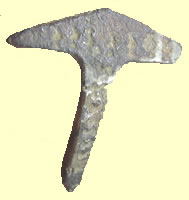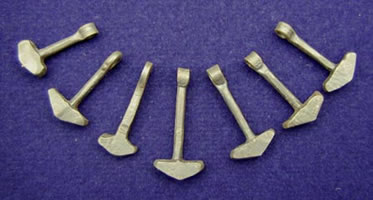 Thor's hammer pendant - silvered base metal 2.45g - 22.59mm L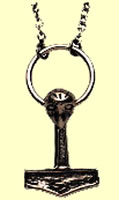 Viking Age 1000AD. This particular Thor's Hammer pendant was found in Mandemark on the island of Møn and is displayed in the National Museum, Copenhagen, Denmark.
31st Oct 2006 Celtic silver ID confirmed
Posting of the normal type of finds will be sparse this week as I am bogged down with paperwork. However if anything amazing like this Celtic silver coin is found then I will post it. This is the final ID from the Celtic Coin Register, only the 3rd Celtic silver coin ever found here and man what a find.
'further to yesterday's email, yes, this is a rare silver unit of Cunobelin. The type is in recent volumes of 'Coins of England' (no. 310) but isn't in VA or the BMC catalogue. I've attached an image of the best of the six we already have here for you to compare.
Judging from the style and the very classical griffin it's a late issue, presumably 30s AD. Findspots are in Essex (4 including yours) and Suffolk (1), ie in the Trinovantian territory rather than the Catuvellauni.
I'll record it as CCI 06.0523. Congratulations on a rare find!'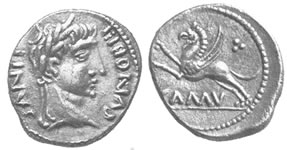 30th Oct 2006 More land and Roman silver update
A new landowner approached us a few weeks ago to detect his property and we just signed the contracts for permission to detect his land from today. The land is vast being just over 700 acres and around 20 fields. The land borders a really early church and has never been detected so it will be interesting to see how it develops over the coming months.
Initial up date from Mark on the Roman silver finds from yesterday.
'The larger one is an early denarius of Hadrian, 117 A.D. - his first year as emperor. You can tell it's an early one as the portrait looks so much like Trajan.
Obv: IMP CAESAR TRAIANVS HADRIANVS AVG. Laureate bust right with drapery on far shoulder.
Rx: P M TR P COS DES II - CONCORD (in exergue) concordia seated left holding patera and resting arm on statuette of Spes; cornucopiae beneath throne.
RIC II 17, RSC 251a, SR 3465, VM 43/1.

I'm going to need some time to study the smaller piece - it's not immediately obvious what it is - I'll need to twiddle with the image a bit, rotate and adjust contrast, etc. I can't quite make sense out of the reverse. It might be, from the size, a quinarius. This is a half-denarius and a very scarce denomination in general. This is if it's Roman - I'm not 100% certain it's a Roman (Imperial, at least - might be Republican?) coin at this juncture. I'll be in touch,

Mark

29th Oct 2006 Roman silver finds
Two very interesting Roman silver coins found, one is Sestertius sized but the other is the smallest Roman silver I have ever seen at just 13mm dia with a very unusual reverse. I have sent them off to our Roman expert for further ID and comments.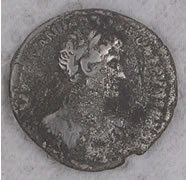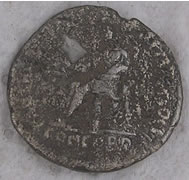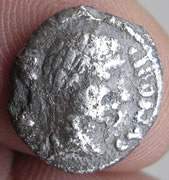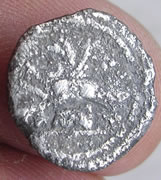 Roman silver denarius sized - 2.89g, 18.69mm - Rare Cunobelin Celtic - 1.23g 13.49mm

27th Oct 2006 Hunts resume tomorrow - silver in the barn !!
Just two more small hunts over the next two weeks before the end of the half season. Some of our best ancient sites have just come on line and we have had some rain to weather them down during our weeks break. Ground conditions are critical for getting any kind of depth with the machines as they do not perform well with any kind of air pockets in the soil.
One of our landowners rang me to go over and ID some hammered silver brought over by a friend while some relatives were clearing out his late fathers effects in a barn. They were two Henry VIII hammered silver groats and an Elizabeth 1st hammered silver half groat in reasonable shape. I do not have the exact location of the finds as this guy do not find them personally. Perhaps there are more there, if these were located in the same spot then they could constitute the reporting of a hoard !!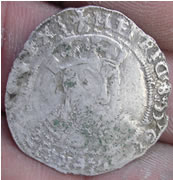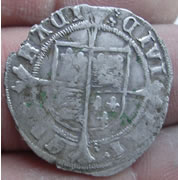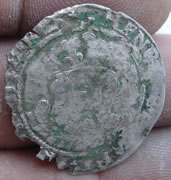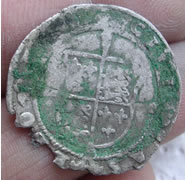 Both coins are : 1544-7 Henry VIII hammered silver groats ( 4 pence) - 3RD COINAGE bust 2
HENRIC VIII (8) DI GRA AGL FRA Z HIB REX
2.16g & 1.93g - 25.79mm


1582-4 Elizabeth 1st half groat - 5th issue 0.81g, 16.75mm
I have added another type of accommodation to the availability page for peak times. We are still too thinly spread out on the existing sites with another 3 new sites on offer I have not pursued due to lack of bodies. The second group of fields from the latest new land will also come on line after the new year break. So far we have only hunted 5 of the 30 or so fields on our latest new landowner plots that have been excellent producers.
23rd Oct 2006 Updating site pages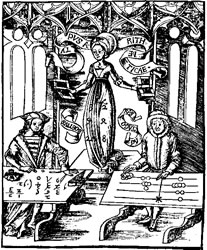 Updated the following pages with the latest finds;
Jetons: Their Use and History - Great web site detailing how they were used
22nd Oct 2006 Celtic gold updates from the CCI - no hunts this week
I have reported another potential treasure to Colchester museum which is a very unusual concave silver button with a shield pre Charles 1st i.e. no harp in bottom left quadrant. The museum have had a quick look and agree it is possibly worth pursuing.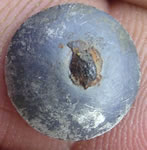 Feed back from Philip at the Celtic Coin register on the latest 2 Celtic gold 1/4 staters
'many thanks for these two Clacton 50BC quarters. The first one will be CCI 06.0491, the second one 06.0492. Not much I can say about these except that the second one is probably the later of the two, struck from a rather more stylized reverse die. But 'later' in this context might only be a matter of days or weeks, I don't think these coins were struck over a very long period'.

21st Oct 2006 Another Celtic gold - end of the first part of the season.
Another great Celtic quarter stater find was made on a site we have only just started to hunt his season and it was a fitting end before we take a weeks break . I have sent it off to the Celtic coin index for registration. After the break we have just a couple of small hunts then it is the end of the first part of the season to the new year. There are still a couple of slots free if anyone can get away and join us during the thanks giving period. I have posted a whole bunch of finds on the latest hunt page.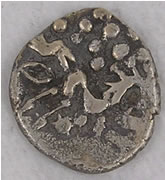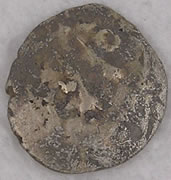 Trinovantes Clacton type Celtic gold 1/4 stater 50BC 1.28g, 13.72mm
20th Oct 2006 Celtic gold
Real great find yesterday was a Trinovantes Clacton type Celtic gold 1/4 stater who are a local tribe. These 1/4's are thinner but have a larger diameter than the Morini type. I have sent it off to the Celtic Coin register for logging and Philip's comments. It has a particularly nice centrally stuck obverse but the reverse die shows heavy signs of wear. I will try and get more finds posted later on hunt page 4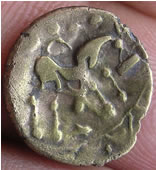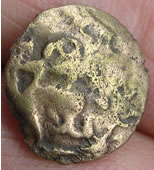 Trinovantes Clacton type Celtic gold 1/4 stater 50BC 1.26g, 14.04mm
19th Oct 2006 More nice finds - Huge silver hoard LOL - posting more finds
Guys dug 11 milled silver coins in the afternoon but none of them were below 1920 LOL. 50 + coppers were also found but none of them were dated below late Victorian, still it was great fun. This site had a farmers fair on it for a number of years but amongst the modern stuff this James 1st shilling had been lurking !!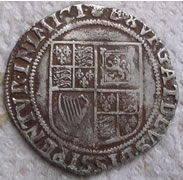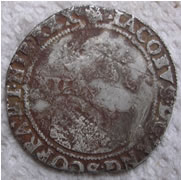 James 1st hammered silver shilling (12 pence) 1st coinage 1603-4, 5.21g, 30.09mm
Rev EXURGAT DEUS DISSIPENTUR INIMICI


Roman decorated stylus - loop missing 7.99g, 42.68mm L,8.05mm dia
A particularly nice find was this Roman period writing stylus, heavily decorated with some gilding remaining. This type in the artefact books has a loop at the top so it can be worn around the neck, much like the Biro of today LOL
17th Oct 2006 Monster of all silvers found - Land hunting statistics
When Canadian Bill slapped this in my hand last night I thought the guys were playing a trick on me as it is such a monster piece of silver coin. In the dusk I could not see it properly but when we got home and washed it up man what a coin. Luckily I bought a new Scottish coin book last year as initially I though it was an English Charles 1st milled coin that was not in the Spink book. The giveaway is the thistle mint mark making this a Charles 1st 1637 - 30 shillings ( 360 pence) Briot's issue milled coin. It is a Falconer's Anonymous Issue type. One of the finest silver coin ever found here.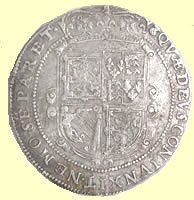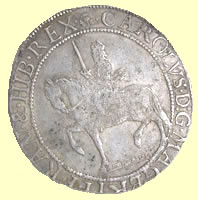 Charles 1st 30 shillings 14.95g, 35.63mm

Obv - CAROLUS D.G MAGN BRITAN FRAN ET HIB REX B - Charles by the grace of God King of Britain France and Ireland B(riot)
Rev QUAE DEUS CONIVNXIT NEMO SEPARET - What God hath joined together let no man put asunder
Other great finds yesterday included a James 1st hammered silver shilling and a open top Medieval beehive thimble that I will try and post later.
This year I have kept a record of the % of hunting of each site to see how much land we cover and how much time is spent per site. It is very interesting to note that a 1/3 of all our time this season has been spent on the new sites which would normally have been spent on our ancient type sites. That would explain why the numbers of ancient coins is lower than normal and the more modern 16th/17thC type finds are higher than normal. Fascinating to see that 4 sites have not had a footprint on them yet LOL
| | |
| --- | --- |
| Site A | 14% |
| Site B | 9% |
| Site C | 2% |
| Site D | 1% |
| Site E | 18% |
| Site F | 0% |
| Site G | 8.5% |
| Site H | 5% |
| Site I | 2% |
| Site J | 5% |
| Site K New land | 34% |
| Site L | 0% |
| Site M | 0% |
| Site N New land | 0% |
16th Oct 2006 Roman statue find - CCI number allocated
The recent Celtic silver coin find has been allocated a CCI number
'just to confirm that the CCI number for the Eppillus unit is CCI 06.0473'.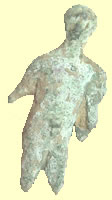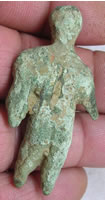 2nd C Roman bronze statue in uniform (possibly military) with toga over arm - some red enameling remaining 28.87g, 52.25mm H

15th Oct 2006 Updating site - Celtic mount ID'd
Some real nice artefacts turning up including a bronze piece with the classic circle Saxon type design.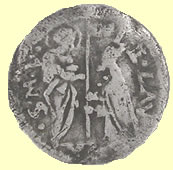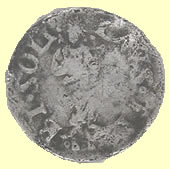 Superb tiny 14thC Venitian Soldino hammered silver coin 0.27g, 12.02mm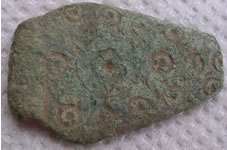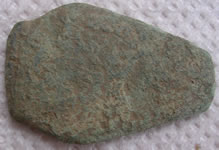 Saxon fragment possibly off a bow brooch 11.14g, 37.76mm L 24.89mm W
An earlier find from a couple of days ago turns out to be in the reference books as a Celtic animal head mount, great find.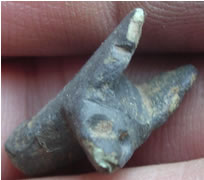 1stC Celtic bronze animal head mount
New hunt has just started so I am trying to catch up on last weeks finds to post. Updated the Saxon, Gold and hoard pages with latest finds and info. Posted a few more finds
12th Oct 2006 - Enameled Roman brooch finds - Treasures update - Saxon update
Two amazing enameled Roman brooches were found, the first of their type here. The Plate brooch has the classic diamond pattern and is in excellent condition considering it is 2000 years old. The trumpet brooch still retains it's spring mechanism and is the first enameled bow type brooch found here. I have reported a gold brooch find to the museum as a potential treasure, pictures posted on the finds page 4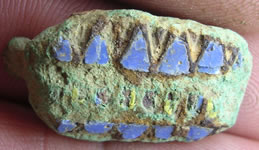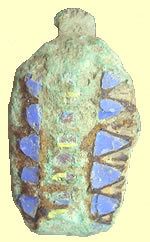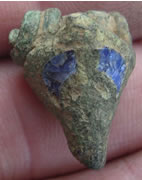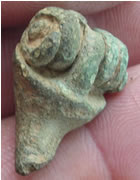 2nd C Roman blue and yellow enameled Plate brooch - 7.56g,28.1mm L x 15.46mm W -Right 1st to 2nd C Roman blue enameled Trumpet brooch 9.84g, 16.63mm W x 21.68mm L
Yesterday's Saxon silver Sceat feedback from Martin at the Fitzmusem.
'Many thanks for the latest find (EMC 2006.0342), which is excellent example of the Series C1 inverted type'.
Updates from the musem on the latest treasures reported:
Medieval Gold ring: DISCLAIMED
Medieval Hawking bell: DISCLAIMED
Silver Madonna and child fitting: POSSIBLE ACQUISITION ON OUTCOME OF BM REPORT
Post medieval button: TO BE ACQUIRED
Gold iconographic ring; TO BE ACQUIRED
Intaglio ring: NOT TREASURE (we think that this is 18th century and not 10% silver by weight)
Post medieval head dress pin: NOT TREASURE (plated bronze).
17thC Charles 1st cufflinks TO BE ACQUIRED
Disclaimed means the finder gets it returned to them.
11th Oct 2006 More Saxon finds and latest Saxon feedback - Celtic silver found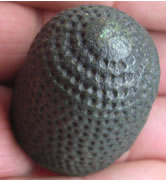 Some truly amazing finds turning up including the most beautiful huge medieval 'Beehive' thimble I have ever seen, this is a stonking find. It weights 22.64g and is 27.7mm in diameter and 29.1 mm long !!!! Another stunning Saxon sceat was found and again a different type from the others. It has been sent for ID and registration. A Saxon brooch found has the classic circle design. I have reported as treasure a complete 17thC Charles 1st heart and flame silver cufflinks to the museum. Some great artefacts !!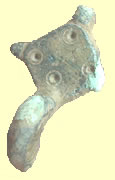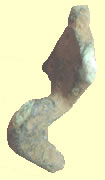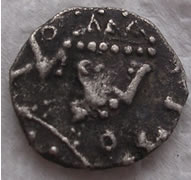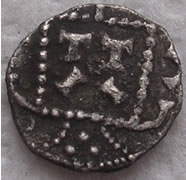 8thC Saxon bronze brooch 3.80g, 25.46mm L 15.24mm W - Saxon C600-775 AD Silver Sceat 1.23g,11.15mm
EMC 2006.0342
Just had an update of the previous Saxon silver posted on the 8thOct from Dr Martin Allen who runs the National database at the Fitzmuseum for early medieval coins
'Many thanks for the new coin, which I have recorded as EMC 2006.0338. A nice example of Series D Type 2c, one of the major series of Frisian sceattas'.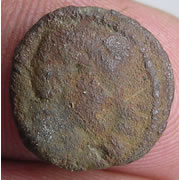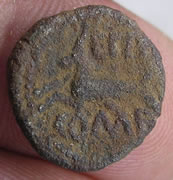 I confused the life out of Mark our Roman expert as I sent his to him thinking it was another Imperial Roman . Mark suggested it was perhaps Celtic so I sent it of to Dr Philip de Jersey who runs the National Celtic Coin Index for his views which I have posted below - 1.52g,13.75mm
'This is one of mine, yes! It's a silver unit of Eppillus, VA 443-1, with a head right on the obverse and inscription IO VIR or CO VIR or FO VIR, and on the reverse a Capricorn left with EPPI above and COM F below. There's a page of them at: Celtic Coins
Although Eppillus appears to have been from the Atrebates, this is one of the coins he struck which is found predominantly in Kent, reflecting his brief period of rule there probably around the turn of the first century BC/AD. The obverse inscription of this type is a bit of a puzzle: CO VIR would presumably be Commios and Verica, but it's not clear whether IO and FO refer to other words or whether they're simply mistakes by the die engraver'. CCI number to follow'
'just to confirm that the CCI number for the Eppillus unit is CCI 06.0473'.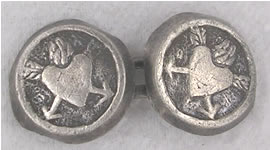 17thC Charles 1st silver cufflinks 1.09g,10.48mm dia
10th Oct 2006 Imperial Roman silver find - 107 BC !!
Great find turns out to be the 2nd oldest coin ever found here. I also have what looks like another potential Imperial Roman coin soaking to remove some of the crud.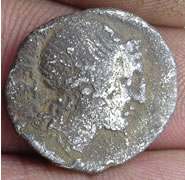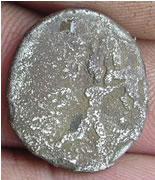 107/8 BC Roman Imperial silver
18.10mm, 3.83g
'Exciting find indeed - this is a Republican-era denarius. At first I thought it was Julius Caesar, but it belongs to the gens Herrenia The obverse shows a diademed head of Pietas, right - with the inscription PIETAS behind and a control-mark letter beneath the chin. The reverse reads: M. HERENNI and shows Amphinomus carrying his father. I'm not certain to what exact bit of mythology or early "history" this refers, but is reminiscent of the "Aeneas carrying Anchises" reverse of the Venus denarius of Julius Caesar which would be current 60 or so years later.
This piece dates to about 108/7 B.C., and as such may have been traded to islanders for tin or something similar since it does not show the wear requisite to have been in circulation for the whole amount of time between its minting and the Roman incursions. SR 185, Syd 567, Bab/RSC Herennia 1'.

Mark

9thOct 2006 Gold and new finds page
I have created a new finds page to speed up loading times - Oct2006Page4. Finally after a very dry spell, gold wise, a nearly mint condition full 1853 Queen Victoria gold Sovereign was found. I have posted a few more finds on the new hunt page.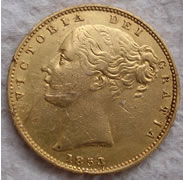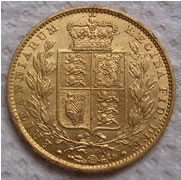 8.04g, 22mm
Latest feedback from our Roman expert on a very nice condition small bronze Roman find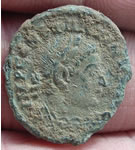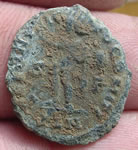 2.42g, 20.46mm
'That's a reduced-module follis of Constantine I, "The Great". The reverse reads: SOLI INVICTO COMITI and shows Sol, radiate, standing left raising his right hand hand and holding a globe in his left. I can't quite read the exergual mintmark in your photo, but from the field-letters S - F, and the clear "N" at the end of the exergual string, it must be MLN - for Mint of London, emission of late 315-early 316 A.D.

The obverse is not clear enough to be certain which of many possible legend-variants it bears, but I think it's CONSTANTINVS AVG - which would make this RIC VII, London, # 43 (however, I could be wrong on the letter-count and it could be anywhere from # 43 through # 49) - rated "R2" - meaning that only about 7-10 specimens were known in major collections at the time of the book's publication in 1966 (but all the S-F/MLN's are rated "scarce", at least, for frequency)

There are many folks who agressively collect products of the London mint, so this is one of the more desirable "common Constantinians" you have shown me'.

Mark

8th Oct 2006 More Saxon silver
I have been snowed under with great finds but had to post this really crisp Saxon Sceat and pin found. I have sent it off to the Fitzmuseum for registration and final ID. I will try and get some other finds posted later.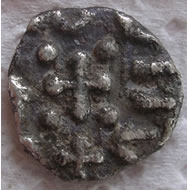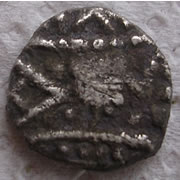 Saxon C600 - 775 AD Silver Sceat1.14g,10.81mm EMC 2006.0338 Series D Type 2c, one of the major series of Frisian sceattas'.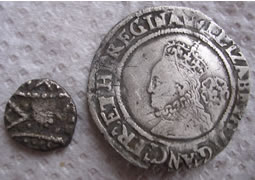 Size comparison of a Saxon Sceat and a 1569 Elizabeth 1st hammered silver sixpence found on the same field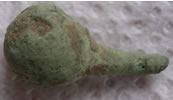 8thC Saxon pin head- 4.05g, 9.47mm dia, 19.05mm L
6th Oct 2006 More great hammered silver - posting more finds
All outstanding treasures are now in the hands of the museum and going through the treasure process. Coroner's letters have already been received by the landowner and finders of the two gold Medieval rings, they are posted on the Hoard and Treasure page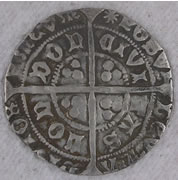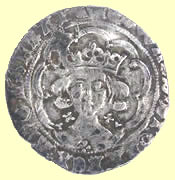 1464 Edward IV First reign light coinage Type VI Very clear London, Initial mark sun on both sides, Quatrefoils at neck, Fleur on cusps except over crown 3.01g, 25.03mm
obV EDWARD DI GRA REX ANGL Z FRANC
rev CIVITAS LONDON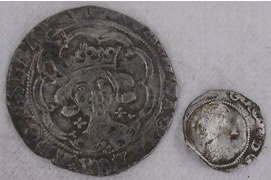 Size comparison Edward VI Groat (4 pence) - Charles 1st hammered silver penny
5th Oct 2006 Great finds and hammered
Another great day but gold is very thin on the ground at the moment LOL . A superb Roman enameled Roman plate brooch with traces of gold red and blue enamel remaining was the find of the day with some great hammered silver especially the half pennies which are really tricky to find.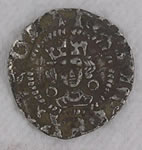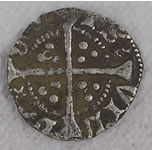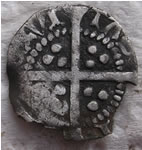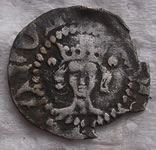 (left) 1422-6 Henry VI hammered silver halfpenny - Annulet issue Type G, annulet in two quarters of reverse and annulets by bust - Calais mint 0.52g,13.81mm -
(right) 1461- 4 Edward IV hammered silver halfpenny - Heavy coinage Class 1a - extra pellets by crown - London mint,obv EDWARD REX ANG,rev CIVITAS LONDON - 0.47g,13.03mm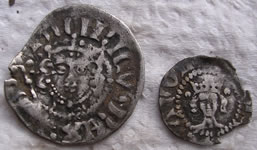 1247 Henry III hammered silver voided long cross penny Class Vb(5b) and halfpenny size comparison
2ndC Roman Plate brooch -enamel cells of red and blue - gold spokes 4.99g, 28.85mm L x 18.54mm w
4th Oct 2006- Just posted a whole bunch of finds on page 3.
Some really nice early hammered silver half groats being found, slowly catching up on last weeks finds postings.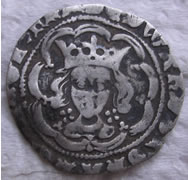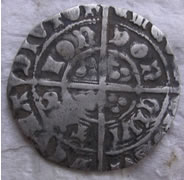 1464-5 Edward IV hammered silver half groat-
Quatrefoils by neck- standard F type
obv EDWARD DI GRA REX ANGL Z FRANC HIBERINE
rev CIVITAS LONDON - London mint
18.50mm,1.11g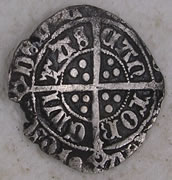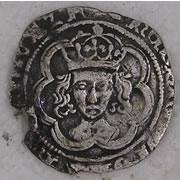 1509- 26 Henry VIII hammered silver half groat - first coinage - two arches unjewelled
rev CIVITAS CANTOR (Canterbury mint) POSUI DEUM (Archbishop William Warham)
1.11g, 18.83mm
3rd Oct 2006 Saxon silver find update - uploaded a load more finds onto new hunt page
What a find in this condition a huge French Henry 111 (1574-1589) Paris mint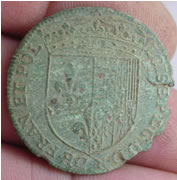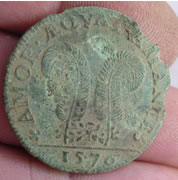 obv +AMOR A Q YA
rev DE FRAN ET POL LOIS SPLG DD
Sent to French coin expert for a better ID
Final ID of the Saxon silver find from the Fitzmuseum expert
'After puzzling over the reverse inscription of your second coin (EMC 2006.0336) for some considerable time I realised this is actually a Pada type III sceat (North 31). The reverse inscription is not as clear as it
might be, but you can just see the runic letters of Pada, which are larger than the other letters. The 'pellets' in the angles of the cross are actually annulets, smoothed down by wear. This coin was issued during the transition from pale gold shillings to silver pennies or sceattas, c.665-680, and its very worn condition suggests that it was in circulation until well into the 8th century. Collectors may not like worn coins, but you could argue that the heavy
wear of this coin makes it more interesting as a piece of monetary history than an unworn coin that saw very little circulation'.
Dr Martin Allen
2nd Oct 2006 Extra - What a Nelson find !!
What a find, a huge medallion of Nelson one of Britain's biggest hero's. I wish I had found this !!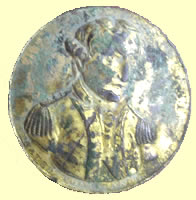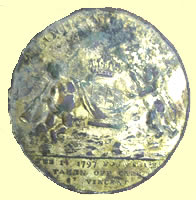 38.13 mm dia 24.15g
Obv Defeated the Spanish Fleet St Vincent
Rev Feb 14th 1797 four ships taken off Cape St Vincent - Valour rewarded
February 14th 1997 marked the bicentenary of the Battle of Cape St. Vincent, the first of the important series of Horatio Nelson's naval victories leading up to the bicentennial of the Battle of Trafalgar in 2005.
2nd Oct 2006 Roman Pecker's arrive - Roman hanger ID - New finds page 3
Created a new hunt page and this weeks finds page to reduce loading times. I still have a huge backlog of find to post yet.
An earlier find that was thought to be a Roman hanging pendant has been ID'd by the local museum as the following and an example can be seen on record number ESS-1DAE38 at www.finds.org.uk
'Complete cast copper alloy Roman escutcheon, probably from a bucket. The main plate of the escutcheon is triangular in plan and semicircular in section, having a domed front and flattened reverse, though the top end of the reverse of the plate is slightly concave. Extending from the broad end of the plate is the integral oval suspension loop. When viewed in profile, the suspension loop is approximately half as thick as the plate. The object is very abraded, but there appears to be a transverse groove to either side of the top of the plate, where the suspension loop begins to extend away. The original surface survives in poor condition to front and rear with a dark green patina. Exposed surfaces are lighter green and there is a fair amount of orange corrosion product. The tips of the plate are intact, but worn. The escutcheon is 56.8mm long, of which 16.26mm is the suspension loop, 31.56mm wide, tapering to 5.4mm and 8.66mm at the thickest point. The loop is 5.52mm thick. The object weighs 36.80g. A similar example can be seen in Frere, 1972, Verulamium Excavations volume I, figure 41, number 132. This escutcheon was dated to c.150AD, though there is no supporting evidence to accurately date the object recorded here. An almost identical example has been recorded from Suffolk as SF-8C12D5'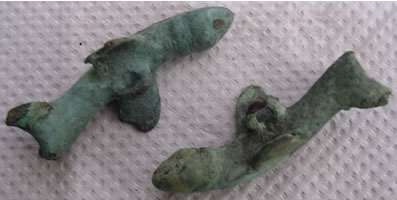 Cal Jeff who won find of the year last season with his Roman Phallus pendant has had some of the little peckers made up as a club badge. The reproductions are excellent right down to the green patina. Another great find from yesterday is this bronze medieval ring with inscription I am trying to decipher, possibly an early posy ring the writing suggests perhaps runic.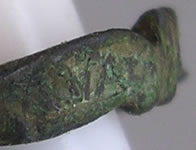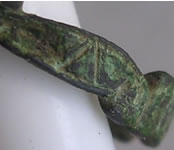 Medieval bronze posy ring 1.51g, 20.82mm dia x 2.62mm w
1st Oct 2006 Extra Saxon silver update
Dr Martin Allen has kindly sent us an update on the two Saxon coins I sent for registration.
'The sceat is Series F, variety bi (Metcalf, p. 129) (EMC 2006.0335).
The other coin (EMC 2006.0336) is an interesting find, but it is not Anglo-Saxon, although it might look like an Anglo-Saxon coin. It is actually a Merovingian denier from France. The reverse design of cross and pellets is quite common in the Merovingian series, and there are traces of a diademed bust on the obverse, also typical of Merovingian deniers. I hope that it will be possible to identify this coin further from the reverse inscription, and if so I shall let you know.'
1st Oct 2006 Saxon silver day - Medieval enameled shield update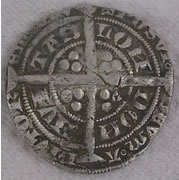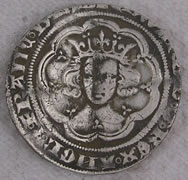 A couple of great Saxon silver coins found and neither are in the Metcalf Saxon coin volumes so I have sent then off to Dr Martin at the Fitzsmuseum Cambridge for registration and ID. Like the Celtic Coin Register we use all Saxons found in Britain are recorded and given a unique EMC number. They are all available to view at their online database. The second Saxon is perhaps quite a rare type as this cross and 4 pellets only appears on a couple of the rarer ones like the Post-Crondall c 620 to 655 AD. What great discoveries. Other great finds included a Roman gilded grape or date spoon with a latch for hanging on the side of the bowl and a beautiful Medieval hammered silver groat. I am well backed up with pictures but will try and post more finds later onto the hunt pages.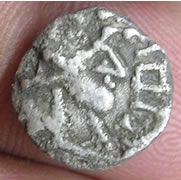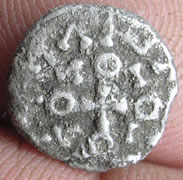 Saxon C600 - 775 AD Silver Sceat, 0.94g - 11.09 mm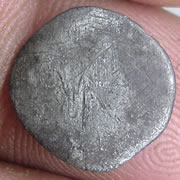 Post-Crondall type c 620 to 655 AD Saxon silver ? 0.82 -12.19mm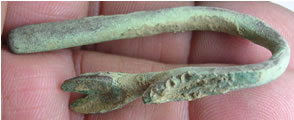 Roman gilded fruit spoon - note the latch for hanging it on the side of the bowl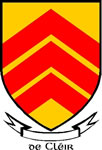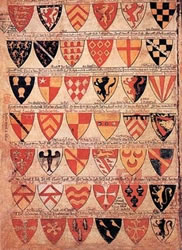 Nevada Gary has done some great research on yesterdays stunning gold and red enameled shield find.
'Found more on De Clare-- seems there was a Gilbert "The Red" (red haired) de Clare & son of Richard-- was one of the Earls of Gloucstershire (7th , I think) and had a whole bunch of other lands in 20 counties in Eng and Ireland. Joined the Montfort rebellion against the king. Married a jaon (Johanna) daughter of Edward II Longshanks , she was born in Acre - the site in the holy land where the Crusaders / Templar's lost it all . He was born in 1243'.
29th Sept 2006 Another treasure reported
Amazing, what looked like a baked lump of crude with careful soaking and cleaning turned out to be this beautiful solid silver Madonna and child brooch. It pre dates the hall mark system and feels like17thC in date. It has been reported to the museum and landowner as potential treasure.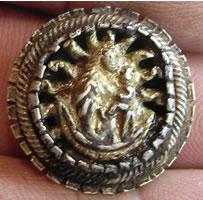 Madonna and child silver brooch 6.60g,19.92mm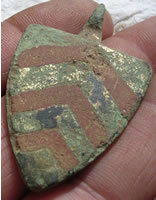 The have been some other great finds including a mint condition rarer William and Mary trade weight and the first Queen Anne milled silver love token I have ever seen. William and Mary and Queen Anne are rare periods for coins as they were only on the throne for a very limited reign.
One of my favourite finds is a stonking c12thC Medieval enameled gold and red harness shield pendant. 45.53mm L 28.70mm w. I have a load of hammered silver to clean up ID and post. I will be uploading a few more today onto the main hunt page including the oldest find ever made here which is 150 million years old.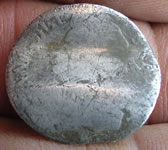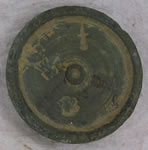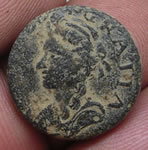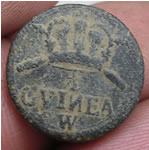 Rare 1704 Queen Anne milled silver sixpence love token (S shaped) and 1690's William and Mary trade weight with London hall marks sword and ewer - very rare Queen Anne 1 guinea gold coin weight
28th Sept 2006 Great artefacts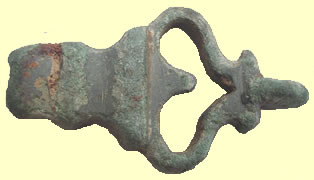 Some superb artifacts turning up including another huge Bronze Roman key 41.19g, 55.95mm L, a brilliant double sided 18thC fob seal with head and anchor, probably belonged to a ships captain.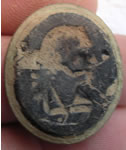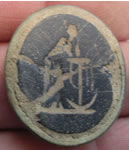 However the best find over the last couple of days has to be this complete cast copper alloy Roman escutcheon, probably from a bucket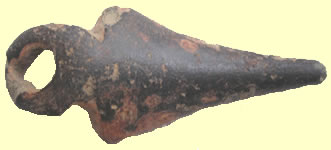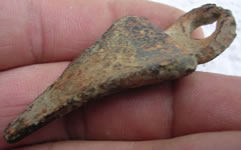 24.8g, 56.63mm L x 26.25mm w
Got a tons of finds to post including an early Mexican silver cob and an ornate silver brooch which is currently soaking to remove the crud.
26th Sept 2006 Early medieval hammered silver - Posted more finds on Sept page 2 page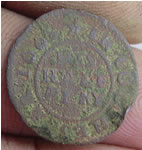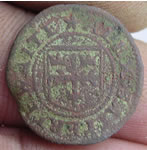 1668 Alex Satterthwaite of Colchester hammered copper 1/2 penny
The rain poured down and it was a bit of a boot sticker but the guys still managed to find 3 nice medieval hammered silver pennies and two big Elizabeth 1st coins, a sixpence and a shilling. Two more treasure are going to the museum, fragment of a medieval silver hawking bell and a gold on bronze intaglio ring.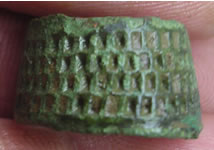 Medieval bronze open top thimble
I am catching up with some of the picture posting so check out the latest hunt page.
25th Sept 2006 Monster silver find and more land - latest finds page 2 added
Everyone's dream here is to find a large early milled silver as they are as rare as hens teeth and this is the first one ever found here and in great shape. I have photo's it next to a Edward hammered penny also found on the same site to shown you the difference !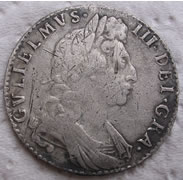 1697 William III milled silver halfcrown (30 pence) with hammered silver penny for size comparison
Another new farmer has approached us to hunt his land and it will be available to hunt in few days after I have gone and seen the fields. It is around an old village with an early Medieval church about five miles from our current plots. I will post more details after we have exchanged contracts.
The current finds pages are getting too large so I have reduced page 1 and started a new one to help with loading times. I will be posting some great finds today so check out Sept2006 Hunt Page2.htm
24th Sept 2006 Excellent Roman key find
Some great artifacts turning up including this huge Roman bronze key that must have opened a seriously large lock. I have posted a couple of the really crisp hammered silver coins and will try and catch up on more postings later.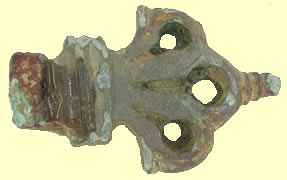 Huge Roman bronze key 56.66mm L35.47 mm w 11.73mm t, 55.86g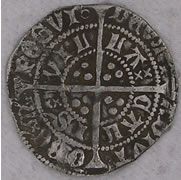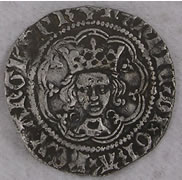 1.78g, 20.39mm
Henry hammered silver half groat (2 pence)
HENRIC DIN GRA REX ANGL Z FRANC HYB- under reasearch legend does not match known types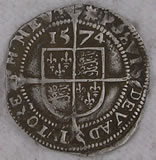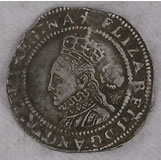 Stunning 1574 Elizabeth 1st hammered silver three pence
23rd Sept 2006 First early hammered silver - Posting more finds
It is nice to see the first early hammered short cross coin of the season. Some great early artifacts turning up like a 14th/15thc C book clasp and 14th/15thC chest handle posted on the main hunt page.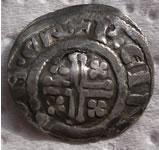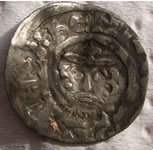 1204/5 AD King John hammered silver short cross Class 5 - 1.07g, 19.15mm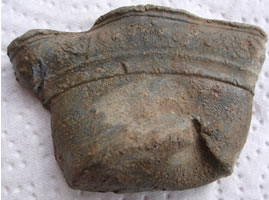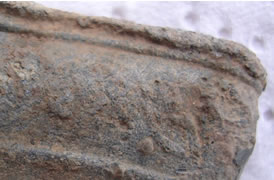 Early decorated lead cup thought to be used for blood letting and pharmaceutical use, 62.29mm dia
22nd Sept 2006 Unrecorded Dedham token - Iconic gold ring - 2 Treasures found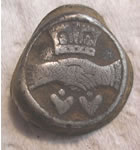 Things are very hectic here with the level of great finds being made and I posted another batch on the main hunt page. Great finds yesterday included a decorated lead medieval pilgrims ampoule, a rare double struck hammered silver Elizabeth, an unlisted Dedham hammered trade farthing and some great artefacts. Initial feed back on the gold ring with figures etched on the front is it perhaps very early and is thought now to be a medieval iconic ring that are quite valuable . The local museum will pass it on to the British Museum as part of the treasure act and they will examine the ring in the flesh and give us a positive ID. When the ring is declared treasure at a future Coroners inquest the BM have the right to purchase it first at a fair market price or it is returned to the finder.. Another 17thC Charles 1st marriage commemoration button was found yesterday and reported to the museum as treasure. A late medieval/Tudor decorated silver bodkin needle was also reported to the musuem as treasure.


1575 Elizabeth 1st threepence, 1580 sixpence, 1645 Charles 1st shillling (12 pence) Note the middle coins head is a rare double stuck head
21st Sept 2006 - 2nd c 850 BC Axe head found, from the same shop ?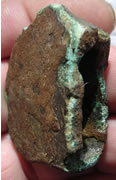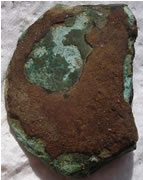 Another c850 BC axe head fragment was found yesterday on a field near our Bronze Age settlement where no early find other Roman had been found. The two recent finds were only 1/2 a mile apart and you can see the clear differences the of soil types had on the corrosion.. Closer study reveals that these could be from the same local producer , both heavily worn and failing in the same location on the cast. Both are due to be looked further by the Bronze age expert who might be able to give us further information. 44,44g 29.54mm L x 41.81mm w x 15.03mm t
I have posted a load more finds but have tons to post yet Sept 2006 Page 1 Latest finds posted here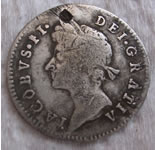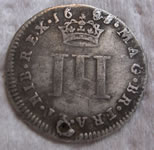 1688 James II milled silver 3 pence
20th Sept 2006 Some more excellent finds - read the rules again - posted a load more finds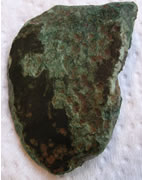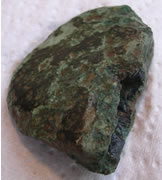 Mass Bruce's axe hoard was found several years ago now and the guys have searched the site with no other bronze age finds other than a separate axe head fragment found at the time of the hoard about 40 feet away. This axe was included as part of the hoard and purchased by the local museum. Chicago Ron searching an adjacent field just found another socketed axe head which is a very important find as it now shows that the axe hoard was not an isolated bronze age deposit. Unfortunately the fields on this site are monsters so it will take a long time to even cover a small percentage of them. I think this axe head is the same c 850BC in date but will wait for the museums further evaluation. 51.40g, 31.72 L x 41.76w 15.81 t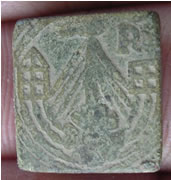 Stunning condition Gold Ryal brass single sided coin weight
Guys are still arriving here with no knowlege of the Treasure laws and I must impress on any guy that is coming to England either here, privately or other tours to hunt to read the Treasure Act link on my site before they book a trip and be clear on the law. NO find over 50 years old whether is is a button or musket ball can be taken out of the UK without a correctly issued export license. It is not sufficient to say the guy said it was OK as it is your legal responsibility and you will be the one doing the possible 7 years in prison and £50,000 fine. My site has all the links to the MLA export duty, local Museum Finds Liaison Officers who you can contact for more info. Ignorance is no defense. There is Smuggling hotline 0800 59 5000 posted on my site if you believe anyone is attempting to circumvent the laws.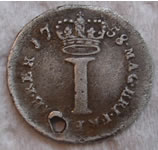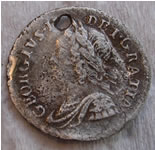 1758 George II milled silver one pence
19th Sept 2006 Extra - Posted some finds, more on the way - click here
It took Mark our Roman expert 5 minutes to ID this latest dug Roman off new land LOL
'Although I can't be certain about the reverse type, this is obviously a sestertius of Hadrian - 117-138 A.D. The obverse legend of: [HADRIANVS] AVG COS III PP places it among his later issues since he only held the PP title post 128 A.D. and this legend is specific to 134-138 A.D. If, as I think is likely, the reverse is "PAX AVG S - C" it dates to around 135 A.D. However, there are several other standing figures holing cornucompaie that it might be - if we could get a few letters of the reverse legend, I oculd pin it down more specifically'.

Mark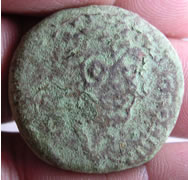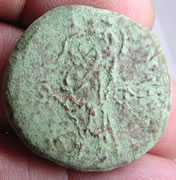 20,96g , 28.77mm dia x 4.56mm t
19th Sept 2006 First modern gold find of the season - paperwork done posting finds
90% of the gold coins found here are ancient so it is really nice to see some modern gold found early in the season. It is a really nice example of a 1865 half Victorian gold sovereign in crisp condition. I have completed the outstanding paperwork and will be in full flight to post the backlog of finds now. The museum have confirmed the earlier bronze appliqué find as Roman and they will be studying it further in the flesh shortly.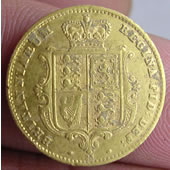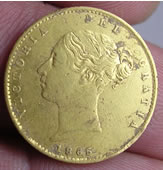 1865 Victorian gold half sovereign
18th Sept 2006 Still doing the paperwork
A couple more days and I will start posting again the latest finds on the new hunt page. Guys are still making some great finds including this very rare early milled silver of William and Mary. This is only the 2nd one found here, the previous one was almost slick. This an amazing find and in such crisp shape. I have sent the find spot and details off to Colchester museum for Roman bronze appliqué head. They will record it and hopefully confirm the provisional ID we made.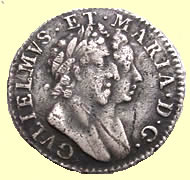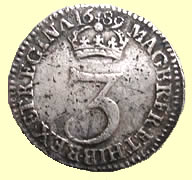 1689 William and Mary milled silver maundy 3 pence
17th Sept 2006 Find of the year so far made - stunning gold ring
Another stunning gold ring find was made, raised gold lettering on black enamel with full inscription -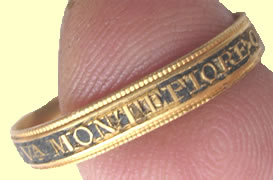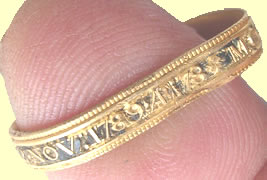 1789 gold mourning ring, 3.48g 24.22mm
MONTEFLIORE/OBI 12 NOV1789 AE78* - a fantastic mourning ring that is not yet 300 years old and therefore not treasure. But the find of the year so far has to be a Roman bronze appliqué found near our Romano/British village , fitted to a shaft or septres and used for religious purposes. It is about 2 inches dia and in the form of an Egyptian head with full engraving with, eyes, mouth hair etc. This is an amazing discovery and details will be sent to local museum for further evaluation.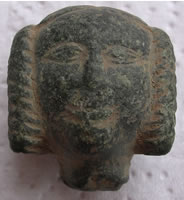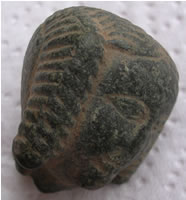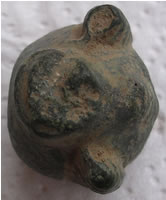 Medieval bronze bucket handle mount 84.33g, 28.39mm W,32.16 L x 23.84mm T
I am still trying to catch up on paperwork and there are tons other great discoveries include a decorated early lead cup yet to be posted. Below is another one of my favourite finds, huge Admiral Edward Boscawen Portobella campaign medallion at the battle of Porto Bello 1737 , back is sailing ships attacking with the front a full picture of the Admiral holding a sword.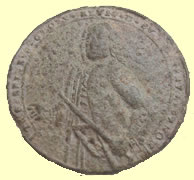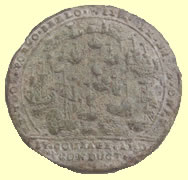 Admiral Edward Boscawen at the battle of Porto Bello 1737,37.27mm dia
15th Sept 2006 Monster find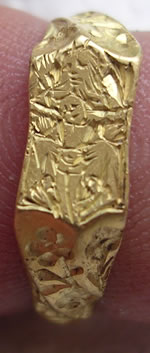 What a find, my guess was 16th/17th as the inscription is early but the gold flower work is of later design, it predates the hall mark system. One of the members suggested that perhaps two engravers did the work so it is possible that it is an early ring decorated later. Both the landowner and museum have been informed as it is treasure, initial feedback from the museum is 17thC but it will now go off to the British Museum for more detailed study. A great find and in such good condition.
Other great finds included a huge James 1st Thistle Crown Merk hammered silver coin of James VI of Scotland 1602. Lots of other great artifacts to post but not for a couple of days too I complete some outstanding paper work, had to take a break to post this !!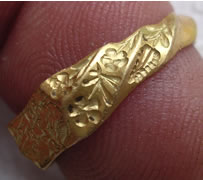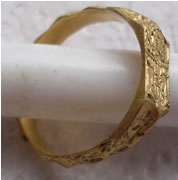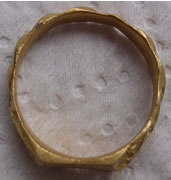 Medieval Iconic gold decorated ring - 2.96g, 18.87mm dia, 3,34mm w x 1.46mm thick
14th Sept 2006 Posted a load more finds - no more posts for a couple of days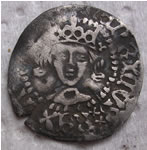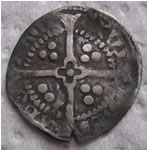 1377-99 Richard II hammered silver penny, great find.
Type 1 - 17.89mm, 0.84g
Obv RICARDUS REX ANGLIE - mint legend worn

It finally poured with rain which is great news to improve the detecting conditions out there. Posted some great finds on the Sept 2006 hunt page but will not be posting any more for a few days to catch up on paperwork. Quieter day yesterday but another great ring was found this time silver with a raised inscription MIZPAH ? and decorated edge. The mint mark date letter is not obvious but it is Birmingham either Georgian or Victorian. More nice do dads were found including a superb early decorated crotal bell, 17thC bronze toy cannon and 2 hammered silver together with more local 17thC hammered tokens.
13th Sept 2006 Two exceptional finds
Some exceptional finds being made this week and this Elizabeth 1st hammered gold Angel is a beauty. What looked like a great condition Roman bronze cleaned up to be probably the best condition silver Roman ever found here. It was sent off to our Roman expert who quickly replied 'This one's almost too easy' as for once he had a full legend both sides to work with. I have some great finds to post yet including some nice early hammered silver coinage.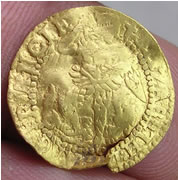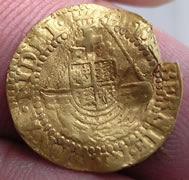 1561-1582 2nd Issue, long cross mint mark - Elizabeth 1st hammered gold 1/4 Angel 1.16g,15.81mm North 1993
Obv ELIZABETH D G ANG FRANCIE
Rev ET HIBERNIE REGINA FIDE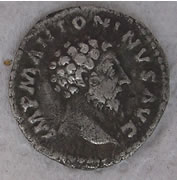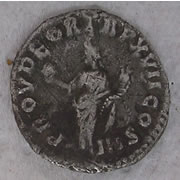 Marcus Aurelius in 163 A.D Roman silver

'This one's almost too easy.

This denarius would be easily recognizeable from its realistic portrait of the youngish Marcus Aurelius in 163 A.D. just after his elevation from Caesar under Antoninus Pius (138-161 A.D.) to Augustus in his own right, even if it didn't have a single letter of legend showing.
However, this one is so clear that I can give you a multiplicity of references for it.
- RIC III, 70,
- C/RSC 526,
- Cf. SR 4925.
This obverse legend was used only during this one year (Dec. 10, 162 - Dec. 10, 163), and the reverse legend: 'PROV DEOR TRP XVII COS III" recapitulates the date of 163 A.D. by proclaiming his 17th yearly renewal of tribunician powers along with his 3rd consulship (which occurred in 161).

This is a great example of how well-dated some Roman coins were. In the case of those emperors who didn't necessarily renew TR P, Imperium, etc, all on the same date as the commencement of their Consulships (if any), it is possible to date some coins to a frame of months or even weeks'.

Mark Lehman
12th Sept 2006 Quieter day but some real nice finds including a rare copper find LOL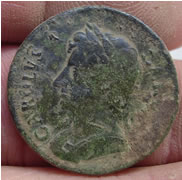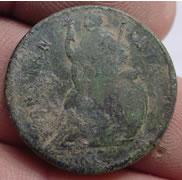 What I thought just was a stunning 1600's Charles II copper, the best I ever even seen dug of this early period, I noticed the bust was facing the wrong direction for this King so I checked it in the Spink book. It is a Spink 3394 1774 Copper halfpenny and was amazed to find that this is quite a rare find. There are some amazing rare coppers of this period so I am glad I did not Dremmel it LOL !!. I have posted a load more finds with tons more to do today. This Henry VI half graot found yesterday is just the perfect Medieval coin find.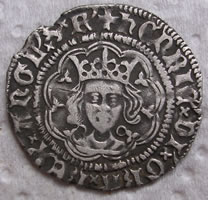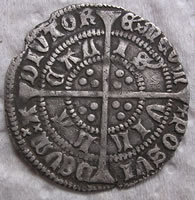 Stunning condition Henry VI Annulet issue hammered silver half groat (1422-1427) Calais Mint
Standard F type JJ North 1429
Obv HENRIC DI GRA REX ANGL Z FRANC DNS HYB
11th Sept 2006 What a great day LOL - posted a few more finds
Brilliant hunt again on new land yesterday products buckets of bits and I am falling behind badly with photographing the outstanding finds. Washing up the finds last night revealed our first Saxon piece a fragment of a double ended brooch which I have yet to post. I will be updating the latest finds page during the day.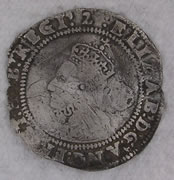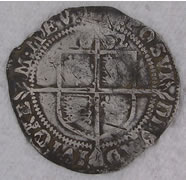 1602 Elizabeth 1st hammered silver sixpence - sixth issue, last year of her reign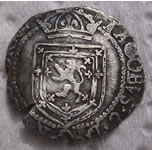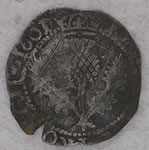 1601 James VI of Scotland hammered silver 1/4 Thistle Crown Merk
10th Sept 2006 Stunning eyeball find and this beautiful early gold ring - Posted a few more finds
What a fantastic find, thin gold ring with a full inscription and early cross motif. I do not have a feel for the date of this ring as the cross indicates an early medieval design but the lettering suggests late Medieval early Tudor. It has been reported to Colchester museum as treasure so I will report back after the initial ID is indicated.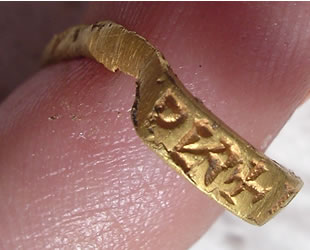 Possible late Medieval gold ring 1.18g - 24.26mm dia, 2.65 mm D x 0.73mm thick
Great eyeball find by one the guys which he thought was a pretty rock and picked it up. He turned it over to dicover this stunning early bottle fragment with a name on it, Nunn 1764.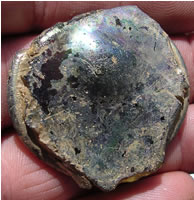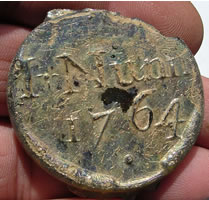 Some real nice do dads coming up which I have started to post on the latest hunt page.
9th Sept 2006 New fields are hot so far - last Celtic update
Philip has just replied on the 2nd Celtic gold found this week
'didn't think you'd take long, but this was very quick! It'll be CCI 06.0445. I'm away from Oxford at the moment but will check for die links etc when I'm back'.

The guys picked the 2nd field of the new land yesterday for their last afternoon and it was infested with iron targets, lead etc and all the back ground sounds of really heavy use over the centuries. Some great finds were made including a very rare Hartington hammered 17thC trade farthing , another superb 17thC hammered farthing in mint condition that I have yet to check in the reference books yet. The first 2 big hammered silver coins of the season were found, a Mary 1554 hammered silver groat in rough shape and an 1590 Elizabeth 1st sixpence in really nice shape. Two great condition coppers were also found including a rarer dump issue 1724 George 1st farthing. I also have a few nice doo dads to post yet including an early military pre 1800 clasp/mount with crown design.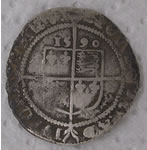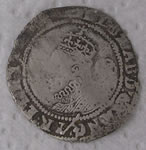 1590 Elizabeth 1st hammered silver 6 pence - 5th issue 0.925 fine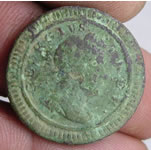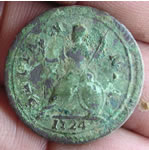 1724 George 1st farthing Dump second issue
8th Sept 2006 End of the first week - Land conditions are poor - Romans ID'd
The guys have done exceptionally well this week having found 3 pieces of gold on very poor land conditions. The land is beautifully flat after being plowed and rolled but the lack of moisture and air pockets means we are getting hardly any depth. Effectively we are only getting the top two inches which is why later in the season the fields almost become alive as the ground compacts and we get more rain. We need a torrential downpour for a few days to weather in the freshly rolled land. Mind you it still did not stop the boys from finding another two Roman fibula brooches, another early hammered silver penny and one of the nicest milled silver George III coins I have ever seen yesterday with a day to go LOL In fact I did not know we made an 18 pence silver coin with the words 'bank token' on it, great find and in really crisp condition. The house site on new land the guys found producing an amazing number of military button from 1770's up to WWII including a range of USA ones from the small one up to the real nice large sizes below, probably a guy visiting his English sweetheart waiting for D Day LOL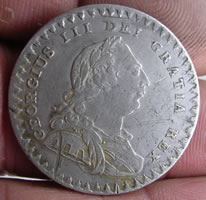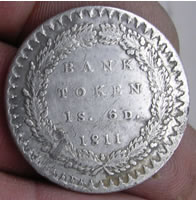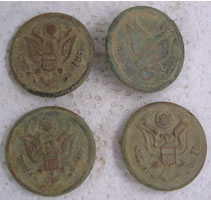 1811 George III Eighteen pence milled silver - 1 shilling and six pence - USA WWII buttons ?
Mark Lehman our Roman expert has ID'd the first two Roman coins off the new land. He has done another great job considering how rough they are.
'perhaps after a bit of cleaning might allow a somewhat more accurate ID, I believe the first one is a FEL TEMP REPARATIO from the late 350's, early 360's A.D. - most likely Constantius II - The posture of the soldier leaning left into the spear with which he is dispatching the unhorsed persian/barbarian is unmistakable.

"Roman 34" doesn't give me much to work with aside from a ghost of the outline of the back of a head. The weight seems too low, but the diameter is appropriate for it to be an As, and the apparently curly hair makes it likely to be Marcus Aurelius (particularly as Caesar under Antoninus Pius) Lucius Verus, Commodus or Septimius Severus. Most likely, I think, would be Aurelius. His dates as Caesar run from 138-161 A.D. and as Augustus from 161-180'

7th Sept 2006 2nd Celtic gold stater found - first Medieval hammered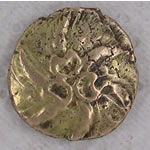 Addedomarus 45BC Celtic gold full stater 17.75mm, 5.64g CCI 06.0445
This is a very important find as it the first Celtic gold found on this field and of all the fields we have permission to hunt this should have the greatest potential. It is very unusual due to the heavy die wear shown on the coin and must have been very late in Addedomarus's reign. It has been sent to Dr Philip de Jersey for registration and comments.
Nev Gary posted this nice potted history about the King
Addedomarus (sometimes written A??edomarus on coins) was a king of south-eastern Britain in the late 1st century BC. His name is known only from his inscribed coins, the distribution of which seem to indicate that he was the ruler of the Trinovantes.
He was the first king to produce inscribed coins north of the Thames, perhaps as early as 45 BC, although some estimates are as late as 15 BC. He seems to have moved the Trinovantian capital from Braughing in Hertfordshire to Camulodunum (Colchester, Essex). For a brief period (ca. 15-10 BC) he seems to have been supplanted by Tasciovanus of the Catuvellauni, who issued coins from Camulodunum at that time. Addedomarus then appears to have regained power and reigned until 10-5 BC, when he was succeeded by Dubnovellaunus.
Other nice finds included the first medieval hammered silver coin of the season, a penny of Edward 1st 1272 AD class 10. I have updated this years gold finds page with the latest finds Gold finds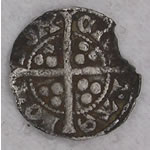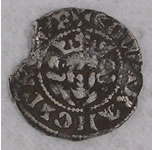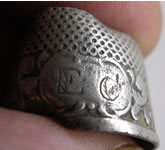 1272 Edward 1st hammered silver penny London mint class 10 - 18thC decorated silver thimble with initials EC
First Celtic gold of the season
Celtic Woad cosmetic grinder and Jeff Roman Pecker find
Viking silver strap end- Rare Roman silver coin finds
Great Saxon silver finds Offa Rex - Coenwulf - Hammered gold
Villa Dig - Roman gold - Celtic gold hoard found
Can Majos and Mass Bills gold rings - Texas Dave's hammered gold
Roman gold coin - Mass Bruce's axe hoard
2000BC Axe - Boston Buds Saxon gold
michelle@colchestertreasurehunting.co.uk