June to Sept 2007 Latest News
11th Sept 2007 1000 BC Axe and a hoard
What a great find by Cal Sarah on land we very rarely detect on and a few miles off from our Bronze age village sites. It is a c1000 BC Bronze Age socketed axe head fragment and quite a large example. The Bronze age expert at the Colchester museum will be able to date it closer to either the Middle or late Bronze Age.
Cal Sarah also found another great find of an amazingly detailed 1stC Roman Sestersius nearby which I have sent off to our Roman expert Mark to try and ID. You hardly ever get a big Roman in this condition and there is even a partial legend.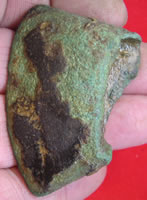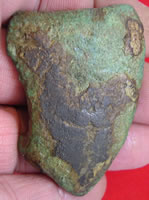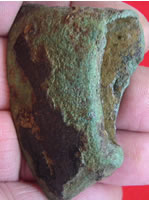 37.44mm L 55.91mm W x 13.52 mm T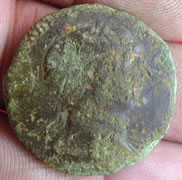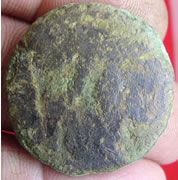 IstC Roman bronze - sent off for ID - 28.44mm, 12.87g

NH Dave found a hoard !!! Shame it is 3 Chinese copper coins stuck together in the same hole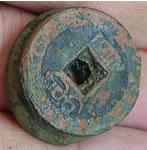 3 - 19thC Chinese coins stuck together !!!
10th Sept 2007 Some nice artefacts turning up - we need rain !!
The first video from the field is now uploaded and available to view on the members forum.
The ground is dry as a bone and we are still not getting any kind of depth out of our machines. Lots more new fields have come on line but as they are ploughed and rolled they have huge air pockets in them. However the guys are still finding some great relics including a stunning large bronze Saxon period key, Bronze bird and Georgian fob seal. I have posted a few more do dads to the latest hunt page Sept 2007 finds page 1
C 10thC Saxon Bronze key

Stunning double sided fob seal matrix - possible trade mans seal

Bronze bird pipe tamper ? could be earlier as it looks very detailed for a tamper - one for the museum to look at
9th Sept 2007 First two small treasures of the season
Nice to see the first treasures finds of the season that have been reported to Colchester museum. Treasure is any artefact 10% gold or silver by weight and over 300 years old. Another important find made is the first Saxon piece off existing land, it is a fragment of a bridal cheek piece. Some great artefacts turning up including a bronze bird pipe damper and a Roman bronze decorated knife pommel pictured below. I have uploaded a few more finds to Sept 2007 finds page 1.
I will try and get a load more uploaded tomorrow.
1662 silver button to commemorate Charles II marriage

12.91mm dia, 0.62g

Mid 17thC Mourning silver token

Obv 'Prepared be to follow me' CR T

Rev 'I live and dy m loyal ye'

19.88mm L x 19.02 mm W 1.14g

Henry V 1413-1422

0.68g

Roman bronze decorated knife pommel
8th Sept 2007 Hammered silver ID'd - Rough week out there
That has to be the worst weeks hunt in terms of silver finds I have ever known. The dry land is really hampering our ability to get any kind of depth out of our machines and the good sites are just not producing. The new ploughed and rolled fields are just lots of small hard nuggets compressed together and we are praying for a good down pour of rain. It will be interesting to see if the return today of the 'find of the year winner' NH Dave who is a skilled dectectorist at finding hammered silver can pulled up a few. The weather is warm but over cast so we need to do the rain dance !!
The coin found yesterday by Ark Gary has been ID by the guys on the French forum as mid 15thC Spanish Ferdinand of Aragon and Elisabeth of Castilla, hammered silver 8 Real. The picture below is close but the legend is slightly different. I have sent pictures off to a Spanish coin expert hoping he can help us with it, great find.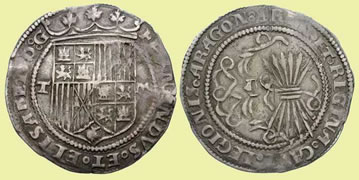 7th Sept 2006 Finally some nice silver - uploaded a few finds
It has been a hard week out there on the land, very dry nuggety soil with no depth. Great weather though
. Lots of new fields have come on line but even with rolling they have huge air pockets, we need rain bad. We tried a brand new site and it really sucked as it is a clay based soil, we will return to it later on in the season when it has had more time to weather down. Finally however, apart from one real bad crispy hammered coin, we managed to find a couple of nice ones and a really fascinating find by Ark Gary. I am completely stumped as it has a thistle at 6 o'clock on the shield but is definitely not Scottish. It will straighten nicely and the inside of the coin looks mint, I have posted it to several foreign forums today to see if they have a clue. The inside of the coin also has a design I have never seen. It is the size of an Elizabeth 1st 6 pence, if you have a clue drop me a mail please.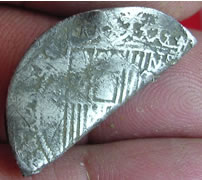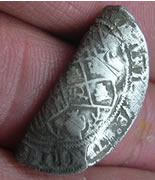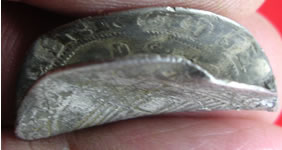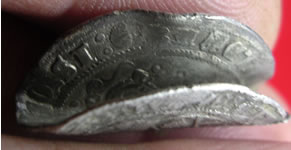 Unknown Medieval hammered silver coin 2.76g 26.08mm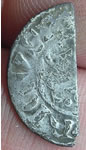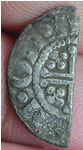 1199 King John hammered silver half penny - looks like Bury mint - need to get the books out to check
I have created a new Sept 2007 hunt page and have started uploading finds to it.
4th Sept 2007 Not a sniff a silver
Man we can't find a silver coin worth squat
. Not one silver coin so far but we are digging all the usual stuff including the heart attack find below from Ark Gary. It looked like he had struck the holy grail when it was in the dirt but it turns out to be Georgian cut glass brooch!!! We have dug some real nice military and Navy buttons yet to be cleaned up, buckles, 17thC trade farthings, etc but not a sniff of silver apart from a plain circular worn disc. However some nice artifacts turning up including only our 3rd working toy pistol which dates C 1600's and this one has an exploded gun barrel where the children overcharged the gun powder, lethal toy.
The Petronel was a large pistol especially favoured by horse soldiers in the 16th & 17thC: it takes it's name from the fact the butt end rested on the chest during firing
I am still out there hunting hard and will try and set up a new finds page and upload a few more photo's later.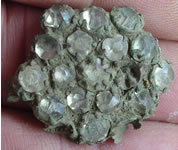 Heart attack find !!
Stunning 17thC working toy petronel pistol, note the barrel blew out due to overpacking of gunpowder.

17th/18thC fob deal with bird impression
Merchant Navy - not checked the books yet

Great condition 1696 William III copper farthing

WWI Machine gun Corp
31st August 2007 Just a few hours to the season opens - Barn openings
Finally after months of waiting and huge anticipation the new season opens in a few hours. I did a tour of the sites and more new land is being ploughed as we speak. One of our best gold producing sites has just been ploughed and rolled so expectation is high but with just 3 guys wandering aimlessly this week on all these fields is a tough call to scratch much. I will not be posting a lot this week as I will be out there detecting hard as well as I need a fix, obviously if we find a monster I will post it
. This season we are having smaller hunts but more of them and are hunting through until the first week in December. Fields conditions in November are particularly good as they have had a chance to compact and weather down. Returning teams are using the new Barn house we trialed last season as it was such a great success. After 12 hours of hard hunting the sauna and Jacuzzi were an absolute bonus to aging muscles. Chicago Ron the president of his local club has booked the Barn for two weeks but has a couple of guys drop out for the 2nd week. If anyone fancies joining the team from the 5th to the 12th of October then e-mail Ron direct for more details and price. rpg61@msn.com. Ron did a video of his last trip there and there is also a video of the house and what is on offer. Ron has his own new mini bus and you hunt where you like and for as long you want on all the sites. Ron is offering a real cheap deal if anyone fancies joining a great fun bunch of experienced guys with great accommodation. Check out the video links below.

28th August 2007 Uploading the Navy buttons - coin ID'd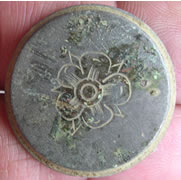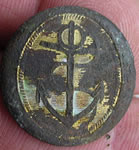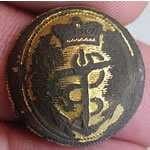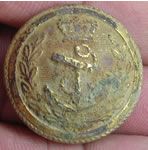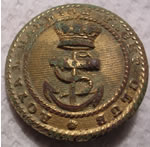 I am still getting dozens of e-mail's a week asking for ID help. Please use the foundintheground forums to post your find for ID. I am not answering any more via e-mail as that new site was set up for that specific purpose and other guys can chime in with their views/help.
Just about finished uploading our Navy button finds to the new photo albums on the searchable database.
Just got a great e-mail in from Hendrik en Mia ID'ing what I thought was a 18thC token. It turns out to be a 1830's Belgium 5 cents.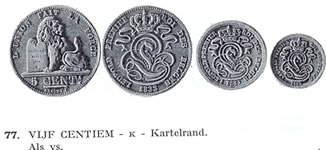 24th Aug 2007 New quick news page - one week to the start of the season - Competition ends in 2 days
As the start of the hunts approaches I have created a new page to the site called Quick News so that loading times are fast. This new page will only display the very latest post. The exisiting Latest News Page page will also be updated daily but the quick news page is for those that have already read this page and just want the headlines.
New for this season is video's live from the fields. The test videos we did from the fields during the summer turned out great and the new boom mic really cuts out wind noise well. The video's will be produced daily and available on the members forum so if you can't be here then this is the next best thing. Mudslideslim is also coming for a hunt in Nov with some other guys from the ARH forum and is going to do his vids from the field using his neat hat cam. He has a great web site where you can see his current video's of Relic hunting http://treasureoutfitters.com/. Their privy digging looks really productive which is something we don't currently do over here on our 1000 year old house sites.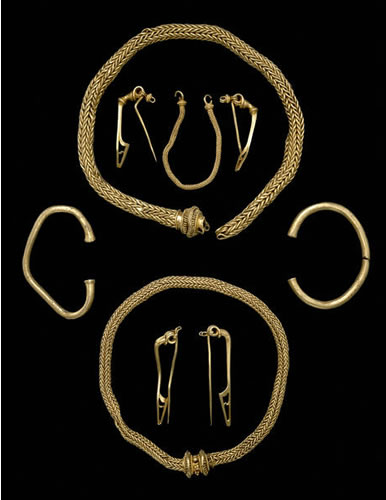 The start of the season is just a week away and we are busy getting things ready for next Saturday. The members forum is buzzing with expectation of what is possibly out there to be discovered especially on the new sites that have never had a detector on them. We are well overdue for a big pot of coins this season, even though we have found several scattered hoards of coins, which are most probably offerings, we have yet been able to look down and discovered a pot full. One of our new sites had a Chief's burial and Gold Torc found in the 1950's and we have yet to hunt that field. We would dearly love to find one of those beautiful Torcs for the local museum as they do not have one currently on display.
Ploughing and rolling is well underway so more new fields are coming on line daily, as a general rule nearly all the 150 fields we have permission to detect have been completed by the beginning of November. Our problem again this season is too much land and not enough bodies to even scratch it. Selecting the sites you want detect each day is even more a crap shoot now.
You have just 2 days left to enter the free forum competition as the closing date for guesses is the 27th. Check that you guess has been entered on the list.
20th Aug 2007 Picked up the finds - ring is earlier
I have completed uploading the apothecary weight finds to the new photo albums and was surprised at how few we have found so far. I am about half way through uploading the Trade Weights to the new foundintheground.com database. Please stop sending me finds for ID via email as the new site has forums where you can post them for ID.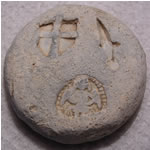 Tradeweights
I picked up all the completed recorded finds from the museum today and several disclaimed treasures, more info on members forum. I took along the seal matrix ring I found on the 16th Aug to be looked at and it is as I thought of an earlier period than the design suggests at c15thC. It is probably just a fluke that the seal matches the design of an 1649 Commonwealth coin design, still a great find. I had a great e-mail in from Peggy in Canada regarding one of our unlisted livery button makers. The maker is listed at that address in 1884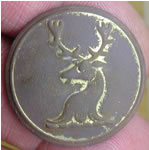 Livery button with unlisted manufacturer
Oakshette & Co
15 Mill St
Conduit St London
(same street as Firmin & Sons)
Interested in the livery button found from Oakshette & CO. It says on your site it is from an unlisted manufacturer but I have found that the company was listed in the London directories between 1873-1883 at 14 Mill St. 1884 at 15 Mill St. 1885 14 Mill St. Henry Oakshette was the owner. I would love to find out more since I am related.
Henry was my grandfather's uncle.
Peggy (Oakshette) Dickey, Caledon, Ontario Canada.

18thC Aug 2007 More fire buttons ID'd - Apothecary weights
More ID's of our outstanding Fire button finds from Ron Long. If you have any fire buttons that you want to look Ron to look at then post them on the forum at Coporation/Fire button forum. I have just uploaded the apothecary weights to the photo albums. These weightss are quite a rare find here.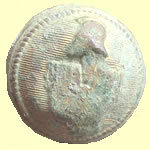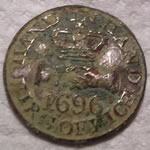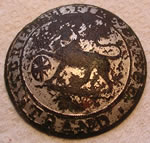 'The Fireman's button with Helmet & Tunic is MOST probably French, however, The English fire Engine Maker Shand & Mason did produce omething very similar around 1900. It was called the Parisien pattern. If made by them it would be back-marked accordingly.
As to the Insurance Buttons -
The Hand-in-Hand was Established in London in 1696 and employed Fireman right the way through to
1833. Your button which is 30mm. in diameter ? with either the back-mark for T.Shaw, or Firmin dates from
the very late 1700s or more likely 1800-1833.
The British Fire Office was Estb. in 1799 and employed firemen up to 1833. Your button, which again should be about 30mm.? is probably blank on the back/ and will date between the two dates mentioned.
I should dearly like to have these two buttons for my collection - any chance you could sell them to me?
they would find themselves well looked after and appreciated !
If you need any further info. on Fire Brigade buttons - don't hesitate.'
Ron.
17th Aug 2007 Fire button ID'd - more land added - Coin weights
I have completed the uploading of all the coin weights to the new photo albums site. I have just about finished uploading all the hammered gold coins to the albums as well. This database is fully searchable by any key words and you can do a real nice slide show of the finds.
Got a great e-mail in from Ron Long, a Retired Fire Officer, currently involved in research for a book he hopes to publish on early Fire Insurance Company Fire Brigades. I posted a find I made on the 10th August which I thought might be WWII German but Ron has sent me this caption and ID'd it as British and quite early at 1880. I sent Ron a bunch of our not ID'd fire buttons so hopefully he can help us some more. I have also been approached to hunt yet another new site for this season but do not know the size or cropping details yet.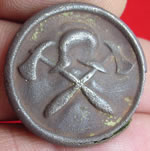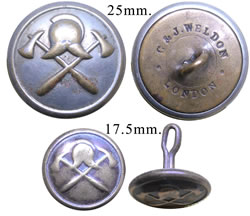 First, with regard to the button on your site which you caption "WW.II Fire Service Button construction looks German" The Button is most definitely British. There were a whole series of them quite similar in composition of Xd. Axes and Helmet which were used as uniform buttons in large size and as fixings for shoulder epaulettes (small size with long shank) up until the outbreak of WWII - however the one you show is of the very earliest pattern as Made by Weldon and dating from 1880, or very soon after.

16th Aug 2007 Found a stonking seal matrix ring - Museum update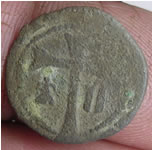 I am picking up all the finds that previously went for recording to Colchester Museum on Monday so that exporting can now start. Chicago Reid's twisted gold Roman ring is now with the British museum undergoing the Treasure Process. Mass Glens's totally perplexing hammered copper coin find is still with the museum and not ID'd yet.
All the land sitting there waiting for the start of the season was just too tempting yesterday, so myself and Billericay Mark got out for a couple of hours detecting on one of our new sites. I arrived at the site early and was already detecting when Mark pulled up so I changed direction to go over to meet him. I was still swinging my detector and just before I got to him I got a great copper coin type signal and thought better dig it. To my amazement this stonking seal ring popped out and it is the first one I have ever found. Mark reckons he deserves half for making me change direction
The ring appears to be of an earlier design but it matches the 1649 Commonwealth pattern as on the coins of that period. The harp does not appear on our coins until James 1st 1603 period.
I am dropping it off to the museum on Monday for recording and their views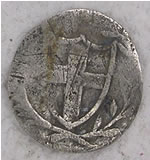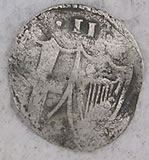 1649 Commonwealth hammered silver half groat (2 pence)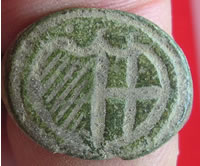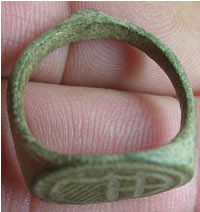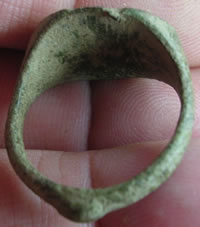 Possible Commonwealth period 1649 AD Bronze seal ring - 6.23g, 24.42mm L x 21.10 dia x 14.43 mm W
Dated by the museum at 15thC
15th August 2007 - 2 weeks to the start of the season - forum competition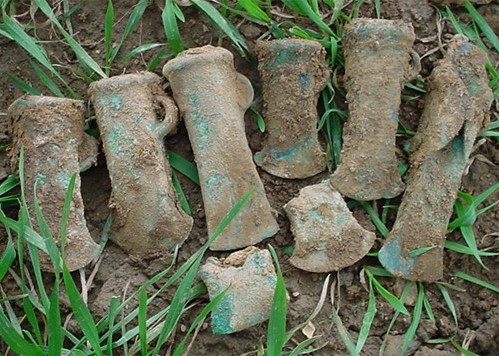 I took a tour of the sites yesterday and the land is looking excellent for the start of the season. 99% of the crops are in and ploughing has started and we still have 2 weeks to go. It is very unusual to have so many fields flat with no crops this early as we never hunt stubble, it sucks
. Some of our key fields are ready including the area where the Saxon gold tremmis's have been found. Two key fields on our very productive early POW site are ready and Mass Bruce's Axe hoard field is sitting their waiting for us. That field is a monster size ! This whole area is Bronze age and another 850BC axe head was found on an adjacent field to it last season by Chicago Ron. We are hoping that the guy that buried the original axe hoard also buried a few more including a nice spear head hoard LOL
. The field on another site where we found that rare 2000 BC flat axe is also ready for detecting. The new land we starting detecting from last Feb, that produced some real nice Saxon finds, has also got a couple of fields ready including two we have not detected yet. Usually the first week of the season has restricted field numbers if the weather has been poor but this season there is tons to detect. It will be a tall order for the guys here then as there will be only 3 of us out here running around like aimless chickens on the first hunt !! If you want to join the hunts then drop me a mail.
Don't forget that you have just one week left to make your guess on the forum competition to win the free weeks holiday next season
13th Aug 2007 More ID's - Russian bale seal report completed
Still trying to ID our outstanding Conder (Condor) tokens.
The Russian Bale seal report took 3 weeks to type up with all the detailed Cyrillic script involved. I cannot up load the report to this site as it does not display the script properly but I have uploaded the full word document. You can download it and open it on your PC. http://foundintheground.com/files/. If the Cyrillic script is missing then enable it on your keyboard in control panel.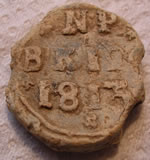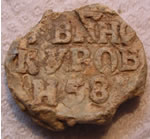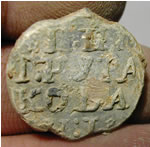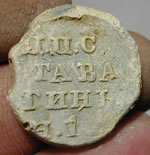 This is every impressive piece of work by Prof John Sullivan so if you have found any Russian bale seals you can use this report to ID yours. Please drop me a mail and a picture including find spot and I will forward them to Prof John or alternatively post them on the Russian bale forum foundinthegroundsite and he will be able to reply.
Cambridgeshire County copper Conder farthing token dated 1795 Obverse: Cloaked druid bust looking right: "CURRENT IN THE COUNTIES OF", "1795". Reverse: Bees swarming around a beehive: "INDUSTRY HAS IT'S SURE REWARD.". Diagonally milled edge. 1795 Copper Halfpenny
10th Aug 2007 Latest button finds
87th Regiment of Foot

O/R's (Brass) - 1855-1881

5th Regiment of Foot
( Northumberland )
Officer - (Silver) - 1790-1830


1880 Bavarian Army button

43rd Regiment
Monmouthshire Light Infantry
Officer - 1803-1830


WWII Fire service button ? - construction looks German

19thC livery button

RN Capt / Commander - 1812


19thC livery button

1871-1873
Reynolds & Co


50 St Martins Lane London


44th (West Essex) Regiment of foot 1855-81

19thC hunting button

Superior quality back mark

Royal Horse Artillery
Generic Issue

Officer & O/R's - 1873-1901

Generic Issue - 2nd Pattern
Officer & O/R's - 1790-1802
9th Aug 2007 More finds ID'd
Managed to find a great Condor token site and ID'd and got more details on our 18thC copper tokens, these are a really neat find.
1792 Devonshire Exeter Halfpenny Condor Token

OBVERSE: A three-quarter figure of Bishop Blaize holding a book and wool comb. SUCCESS TO THE WOOLEN MANUFACTORY. REVERSE: Shield of Arms with Semper Fidelis, pegasus. EXETER HALFPENNY 1792. EDGE: PAYABLE AT THE WAREHOUSE OF SAMUEL KINGDON .X.

1794 Essex Braintree Halfpenny Condor

OBVERSE: A building. BRAINTREE & BOCKING HALFPENNY Ex: MDCCXCIV. REVERSE: Figure of Hope. SUCCESS TO TRADE AND COMMERCE. Period midway between legend and anchor. EDGE: PAYABLE AT W GOLDSMITHS BRAINTREE ESSEX . X X .

1794 Halfpenny of Lancaster (d)

OBVERSE: IOHN OF GAUNT DUKE OF LANCASTER. Star under bust. A flaw gives an impression of a nose-ring. REVERSE: Shield with lion. LANCASTER HALFPENNY 1792. EDGE: PAYABLE IN LANCASTER LONDON OR BRISTOL

1795 Hampshire Portsmouth Halfpenny Condor Token

OBVERSE: IOHN HOWARD F.R.S. PHILANTHROPIST. REVERSE: Britannia seated. RULE BRITANNIA 1795. EDGE: PAYABLE AT THE WAREHOUSE LIVERPOOL X X X


1796 Hampshire Portsea Halfpenny Condor Token

OBVERSE: George and the Dragon. PROMISSORY - HALFPENNY. Ex: 1796. REVERSE: A Man-of-War sailing. EDGE: PAYABLE AT S.SALMONS I CURTNEY & E FROST PORTSEA X.


Still not ID'd this one yet
8th August 2007 Venetian coins ID'd
What a great result as I joined an Italian coin forum and they have ID'd all our outstanding Venetian coins for us. These coins were brought over by Venetian sailors that used the port nearby of Harwich. Special thanks to Rob on that forum for ID'ing them and the copper/silver mix 'bagattini'
'I did some research on the venecian soldini found in the UK, and most of them are from the doges:
Antonio Venier (1382-1400)
Michele Steno (1400-1413)
Agostino Barbarigo (1499-1503)
Leonardo Loredan (1501-1521)
Assuming these coins fall within the same timeframe the type you posted is either from Antonio Venier or Michele Steno. The inscription on the obverse includes the name of the doge:
Antonio Venier: +ANTO VEN ERIO DUX
Michele Steno: +MIChAEL STEN'DUX
Rob

| | |
| --- | --- |
| | |
| Antonio Venier (1382-1400) | Antonio Venier (1382-1400) |
| | |
| Antonio Venier (1382-1400) | Michele Steno (1400-1413) |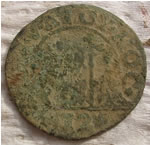 'Soldo da 12 bagattini
Undated - what you see is actually * 12 *
Doge Alvise Mocenigo II (1700-1709)
Mixture of copper and silver.
In the venician coinage system 12 bagattini (earlier called denari) were 1 soldo, 20 soldi 1 lira (12d = 1s, 20s = 1£ this should sound familiar to you )
A rather common coin to find in the venecian area, I'm surprised you found it in Essex!' Rob

5th August 2007 Chicago Ron's monster find - Next Coroners inquest - hammered gold photo album
Chicago Ron has been out practicing for his next hunt and made the find of a lifetime is in the USA. This very valuable 100 diamond gold ring with a well know maker was recovered while he was out beach hunting, what a great find. More details on members forum.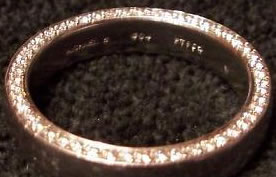 50 - 1 or 2 point diamonds each side 16.9g - Pt90%
I have just received the confirmation of the next Coroners inquest which is to be held on the 2nd October for Chicago Keith's Charles 1st silver loyalist badge find. This is a superb artifact and the back is etched CR for Charles Rex (King). This would have been carried during the civil war to show allegiance to the King and not the Parliamentarian rebel forces.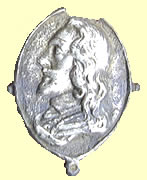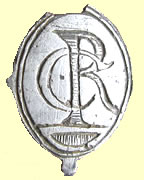 1625 Charles 1st bust - 0.58g, 13.54mm L
I have been uploading more finds to our new data base and have almost completed the Hammered gold photo album. We found yet another Celtic village at the end of last season on new land so hopefully we can add a few more to the album this year. There have been just so many excellent Celtic finds and several like Alaskan George's Celtic gold are still the only one of it's type ever found.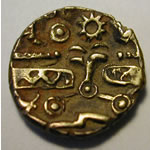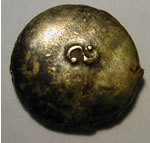 One of a kind Celtic gold 1/4 stater found by Alaskan George
Latest views from the experts
"it's an early (perhaps c. 50-40 BC) quarter stater, possibly produced in Essex.
It seems to have developed out of the Gallo-Belgic D quarter stater (Van Arsdell
69), imported in large quantities into Britain from Belgic Gaul, possibly with
some influence from the so-called 'Kentish trophy type' (Van Arsdell 147) of a
very similar period.
This particular type is unpublished in any major catalogue,
31st July 2007 Exports approved - Saxon gold dagger pommel drawings
18 approved export license's arrived this morning, list of names posted on members forum. The Colchester FLO has sent me the line drawings of Ohio Bud's Saxon gold dagger pommel find now on display at Colchester Museum. If you want to visit it and Mass Bruce's Axe hoard then check out the museum page.
There have been two amazing hoard discoveries recently, details here.
600 Roman silver coin hoard After four hours' digging near Newport, Brian Stephens found 587 silver denarii dating back some 2,000 years
Viking hoard The most important Viking treasure find in Britain for 150 years has been unearthed by a father and son while metal detecting in Yorkshire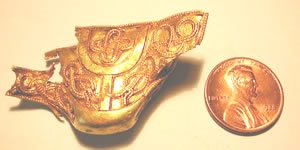 Saxon (c.550-650AD) dagger pommel

30th July 2007 More gold and updates - 2 slots at the Barn House 5th Oct
Chicago Ron has his team at the Barn House for a couple of weeks in late Sept early Oct. The first week is full but he has a couple of slots just become free in a twin bedded room for the second week starting 5th Oct if you want to join him . E-mail Ron if you are interested and check out the Barn house video.
Ark Gary has sent me some pictures of his gold finds from his recent Moore's creek hunt.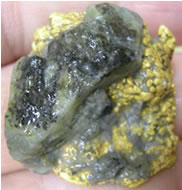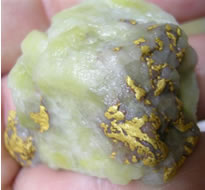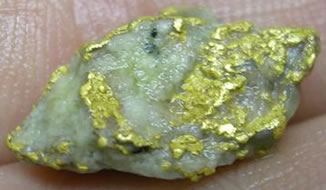 The photo albums on the new foundintheground database are filling up nicely. I have changed the layout to 50 thumb nail pictures per page to make viewing easier. I have uploaded a whole bunch of hammered silver and gold coins for easy viewing. Remember you can search for any item/items by key words.
26th July 2007 Boys out there practicing LOL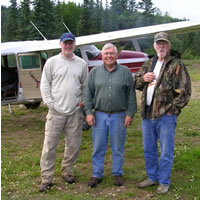 Some of the senior members have been out there practicing hard for the start of the season by hunting for gold in Alaska . Ark Gary and Alaskan George have just been at Moore's creek and found some nice chunks of gold, not got the pics yet . I just got the pictures of Idaho Gerry's monster 20 oz'r and his other gold finds at Ganes Creek, what a great week. Gerry is trying to run training courses here in November at the Barn house and there are still spaces if you want to join him, Check out the training week page and the Barn House.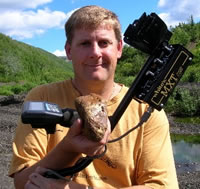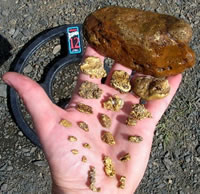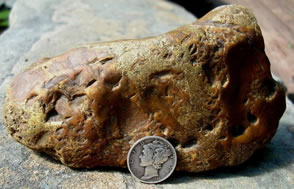 More pictures of Moore and Ganes Creek on the members forum
Latest feedback from the museum on the current outstanding treasures:
Charles 1st silver pendant - Currently at the British Museum
Silver concave button with shield design – Currently at the British Museum
17thC Charles II silver cufflinks – Currently at the British Museum.
Roman twisted gold ring – Currently at Colchester Museum

23rd July 2007 Exports back and disclaimed treasures
Several approved export license's have been returned approved under the new exporting procedure's, details and list on the members forum. Two treasures have also been disclaimed by the British museum and will be returned to finders, further details on members forum. I am still uploading finds to the new sites photo albums and also USA Civil War buttons sent to me by the guys on the ARH forum, check out the new Civil War buttons album as there are some great examples from this amazing period in American history.
19thC July 2007 Finds ID's - 6 weeks to go - Another Saxon piece
The guy that supplies those really neat USA style display case is re vamping his site so it is unavailable at the moment. Luckily my order arrived for some more of those finds cases and a whole set of the coloured inserts which are like a velvet. I have been busy getting all my finds arranged neatly and using those matching coin type trays. I ordered up the 3 sizes and the one below is great as you can display your silver Crowns and Half Crowns easily. The smaller ones are great for hammered pennies and Romans. Finds Trays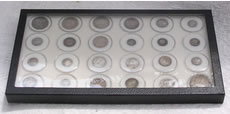 I am still getting e-mail's wanting help with your finds ID's, please use the new forum set up on http://foundintheground.com/ and not by e-mail so everyone can see it. UK Christine sent me a really neat silver button with castle design yesterday so hopefully she will post it over there. I am still busy building up the new data base on the site and have also included some really nice USA Civil War pictures of buttons.
It is just 6 weeks to the start of the first hunts of the season and several of our best Saxon areas have already been cropped as I was out with the landowner yesterday, they will be online ready for the first week. I had feed back from the museum on another c10thC Saxon piece from this area that I sent to the them for confirmation. It has the classic circle design associated with that period but not enough of it remains for a definitive ID
'I've had a look at the photo's. It is Anglo-Saxon in date. It does have some resemblance to the foot plates of small long brooches, however there does not appear to be any trace of pin fittings on the reverse, thus as you say it is not a brooch fragment. Unfortunately, I don't think we will be able to provide a better ID than a fragment of decorated Anglo-Saxon metal work. A very similar piece was found in Kent, and has remained unidentified.'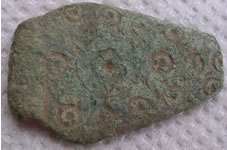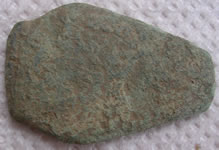 11.14g, 37.76mm L 24.89mm W
16th July 2007 Foundintheground.com - finds ID and discussion
Our new community site is now up and working, all the photo's on this site will slowly be uploaded onto its SQL server database.
This new community is for the discussion and help in ID'ing all areas of collecting, i.e. 17thC trade farthings, 19thC tokens, button of all types, livery, dress, Army, Navy for any countries. The hammered silver and copper coins are again for every country, we can mutually help each other out with those unknowns. You can have your own blog on the site and share with everyone about your collection or finds.
The new site has a great search engine so you can find any item/topic you are interested in by any key word and they are also displayed in photo album style with slide show facilities. It has multiple specialist forums for the ID and discussion of any area and I can simply add another one if needed.
This new site is not just about metal detecting finds but any artefact, button or coin that we or you need help to ID or just wish to discuss. If you are an expert, collector or finder please join in, the more help the merrier.
Membership is open for everyone but to keep out spammers you need Admin approval on the site.
Come along and see if you can help ID the few items that we have started to post or post those items that have you stumped.
11th July 2007 What a rare find donated - Bruce's Axe hoard goes on display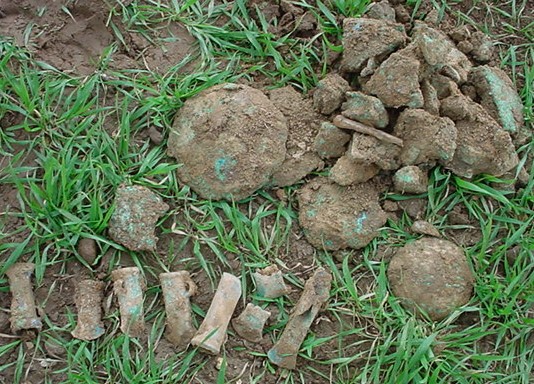 1000-850BC axe hoard with ingots
Mass Bruce's amazing axe hoard discovery is now finally on display in the Colchester Castle museum along with Ohio Bud's Saxon gold dagger pommel and some of the Celtic gold coin hoards we have found. Bruce's hoard has been cleaned and preserved so I must go for a visit to see them in all their glory. Check out Bruce's Axe hoard story
Further feedback on NS Andy's Saxon strap end is it is the only one of it's type ever found in Britain, what an amazing discovery. What is even more exciting is this was from a new site that consists of 17 fields and we only partially detected it for the first time from Sept last season, hopefully there are more artefacts and coins from this part of the continent out there. This find has now been donated to the Colchester museum who are very excited about acquiring the item.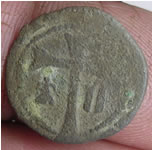 I dropped off a huge bag of finds to the museum today for recording and also that outstanding Medieval hammered copper coin we have still been unable to ID. Several items have been returned including a write up on a knife pommel I left with the museum a couple of weeks ago. It has been dated Medieval (possibly) 1450-1600 in date, great find. Ark Gary's twisted silver wire piece has not been ID'd or dated and been returned unknown. Ark Gary's Roman handle is thought to be a Roman sceptre head, another great find.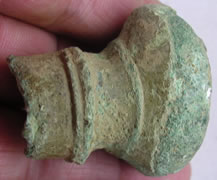 Roman sceptre head
7th July 2007 Last exports completed - NS Andy's donation - reduced page size again
I have archived the month of March to improve loading times of this page. Link to old news is at the bottom of this page or use Old News Index
Phew, finally finished the last export application using the new agreed style. It has taken me 8 weeks to complete this process as each piece of metal is re- examined individually and those finds missed while the hunt are in progress are photo'd, posted and researched. I have a whole series of finds the museum has requested to see this week for recording and further investigation.
Remember that any metal detecting find over 50 years old must have a valid export license before it can be taken out of the UK. Check out the rules on the Exporting page with contact details of the MLA (export duty)
I spoke with NS Andy last night about the importance of his discovery and he has withdrawn his export application before the BM hearing. He is aware of the historical significance of this piece and intends to donate this rare Saxon strap end to Colchester museum. Real nice gesture.
6th July 2007 Russian bale seal report- Nationally important find - Community site
I have just received the hard copy of a brilliant report from Prof. John Sullivan on Russian bale seals. It covers the whole subject in real depth and is over 20 pages of material. There are great examples of the seals, how to ID the town etc and also how to read the Cyrillic script. I can't find an electronic copy so I need to get it copied so I can publish it here.
An objection has been raised today to allow the export of one of NS Andy's find due to it's historical importance, the museum has identified it as
'It is probably an insular copy of a Carolingian style, or it could even be the product of a workshop located on the fringes of the Carolingian continent, maybe somewhere like Domburg on the coast of Frisia. 10th - 11th century in date'.
I have withdrawn this item from the export process pending discussions with the finder. What an amazing discovery.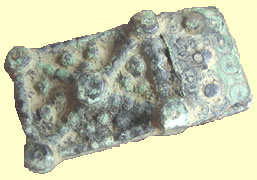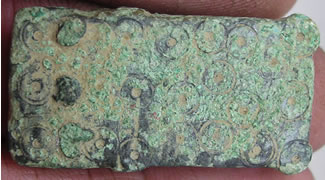 The new finds community site has been loaded onto a new server with a the domain name of foundintheground.com. It is not live yet but hopefully it will be up and running shortly as a place to post and get finds ID'd.
4th July 2007 More unpublished finds and ID's
Swedish Yngve. who is our resident coin collector, has sent me more details on that 1603 Spanish copper posted on the 1st July and a great testimonial of his 2 trips here so far. Swedish Richard joined him on his second trip and did really well for a total noob LOL
'mintmark is the aqueduct of Segovia. You can see it to the left of the shield with the castle. it is countermarked with XII, so it actually became 12 Maravedi'
I have just about completed the guys export pouches and there were just so many finds this season to clean and photo. Another group of great POW site buttons cleaned up. The WWII 4th German company button is a new one as we have found 7th, 10th & 12th company buttons so far. The early Napoleonic artillery button is a great find by Canadian Rod, I have posted it to the French forum for their comments.
Updated the following pages:
Military buttons foreign
Military buttons numbered regs
Military buttons named regs
Navy buttons
WW1 to II German 4th Company

Infanterie de ligne (1871-1916)

French Napoleonic artillery button - one piece

Livery button or another wierd military ?

WWI German - Bavarian Army

Grenadier Guards


1832-1912
Jennens & Co
London

Prussian 1880 onwards

The Dorsetshire Regiment

Mid 20th C
Firmin
London

The Royal Regiment

1840
Smith, Kemp & Wright
Brearley Street, Birmingham


Generic Issue - 2nd Pattern
Officer & O/R's - 1790-1802

Britain's Merchant Navy
Generic Design Issue
In use 1900 's onwards


USA GI button
3rd July 2007 New finds commumity forum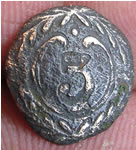 Over the last year or so button finds have become a passionate interest for me. Last season we found huge numbers of unrecorded and rare buttons on our POW site from all over Europe and I have had mixed success at ID'ing them. When an unknown button or maker is found especially if it is foreign I send it off to various experts and continental forums hoping for an ID. The big problem is finding the right guy or country to try and contact. I spend hours surfing the net with limited success and the button find on the left is still not ID'd. I keep thinking that it would be really nice if there was a international forum for all button collectors experts etc to help each other out. We have loads of livery buttons where we cannot ID the family but there must be guys out there that know who they are. I also get dealers and collectors writing to me for buttons they see on this site to purchase from the guys that found them.
I thought it was about time to bite the bullet and registered a new domain name today to set up a button forum to try and pull all the collectors and finders together from around the world to help each other. The forum will cover any button either dug or brought, military or civil. It will take a while to set up as I am going use a new community server package that will enable us to add other specialist areas like lead cloth and bale seals at a later date.
2nd July 2007 More unpublished finds - displays and ID's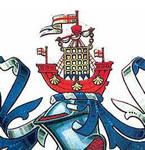 Great feedback from Tim on the unknown button published yesterday. 'Probable candidate . . .

1st Suffolk & Harwich Royal Garrison Artillery, (Volunteers), Territorial Force, 1908.
Texas Dave has sent me some great pictures of his find displays posted on Members finds pages. Dave is famous for his hammered gold finds ! The blue backing on these oak cases is really smart.
More cleaned and unpublished finds from the export pouches
Admiralty Civil Police
In use 1940 - 1949
became the Admiralty
Constabulary in 1949


Georgian Twisted band button

RN Capt / Commander - 1787
RN Lieutenant - 1787


?

UNITED KINGDOM
Royal London Yacht Club
R. T. Y. C. - R. T. Y. C.
London, England
In use 1837 - 1901

18thC enameled button with flower design

RN Capt / Commander - 1825
RN Lieutenant - 1825
RN Midshipman - 1825
In use 1825 - 1827


RN Lieutenant - 1748


RN Capt / Commander - 1812


Capt / Commander - 1774-1787


WWII Royal Air Force

W Twigg & Co Ltd
Birmingham

19thC Royal Victoria Yacht Club

Firmin & Sons

London

Hammered copper coin - Looks French with 3 Fleur De Lis on obv - not checked the books yet

16thC Continental Gold Angle coin weight - 4.92g, 75.7gn figure standing with sword and shield

19thC Livery button

1545- 1547 Gold 1/2 Sovereign coin weight 89.1gn, 5.77g Antwerp hand type

Livery button 1838-1842
Boggett & Co

St Martins Lane London


Livery button

Unknown maker

R.E Hayward

21 Bouvette St

London

5th Dragoon Guards

Early 20th C
Firmin & Sons Ltd
London


1766-1780 THE 76th REGIMENT OF FOOT

Royal Horse Artillery

Generic Issue


Officer & O/R's - 1873-1901


27th(Inniskilling) Regiment of foot

1855- 81
1st July 2007 More unpublished and cleaned up finds
Still cleaning up finds and it is amazing what is under the crud. The James 1st coin weight found by NS Andy must have been sitting between two lumps of iron as it was covered with rust both sides . It took 3 weeks of soaking in lemon juice and picking to finally reveal the detail. You can still see one line of rust which does not want to shift yet . Another really interesting find is an early dated 1603 Phillip of Spain hammered copper 8 MARAVEDIS. I particularly like the Royal Harwich Volunteers button which is not in any books so I have sent it off to Tim our button expert for his views.
I still have load more to post but I have got to reduce this page size to improve loading speeds.
Late 18thC Navy cufflink

Royal Harwich Volunteers button - not in any books

Back mark

Treble gilt

1704 Queen Anne Lead circular trade weight 54.18g - double A mark with Crown

RN Capt / Commander - 1787
RN Lieutenant - 1787


1670 Ipswich copper farthing

1602 James 1st Angel, 3rd coinage coin weight 3.77g

1760's 10 shilling and 6 pence ( 1/2 guinea) coin weight 3.72g

1603 8 MARAVEDIS OF FELIPE III

obverse: PHILIPPVS III D G surrounding to I circulate that it contains a crowned shield of a castle between mint and value VIII

reverso: HISPANIARVM REX DATE surrounding to I circulate that it contains a crowned shield of a lion to izqierdas and date

30th June 2007 New farm video on line and more find displays
I met with the new landowner yesterday who just approached us to detect his land and he gave me the map of the new fields ready for this September's start. He grows wheat and barley so they will be cropped in August and ploughed shortly afterwards. I filmed a 5 minute, 360 degree video of the site and all the new fields, it is now available to view on the members forum via streaming video for the guys. The land has never been detected so it will be interesting to see what the first few hunts produce.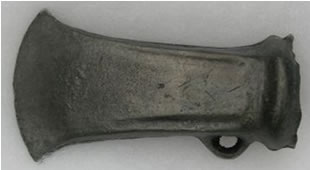 Guys have been submitting their find trays for the forum competition, Mass Bruce had 17 trays of finds and the pipe one is really neat using those large J mount cases with white infill !! Unfortunately his axe hoard find is not in one of the displays as it is now in the Colchester museum, Bruce bought a replica so he has something to look at LOL. Canadian Rod send a bunch including this stunning display of Canadian native arrow heads. I have stated a new page of these great displays Members finds pages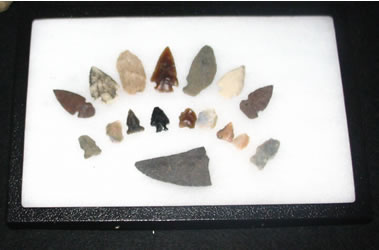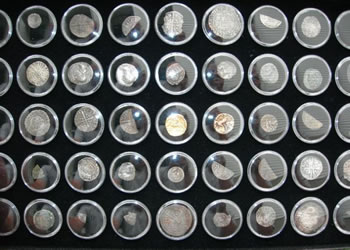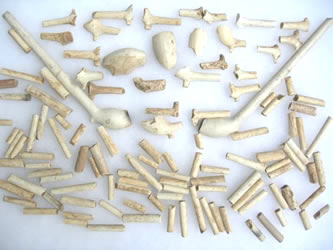 It was like Christmas here yesterday as my latest order of find trays arrived plus the whole range of inserts to try out .They do a whole set of colours, black, grey, claret, red etc to highlight the type of find you want to display. It is quite tricky deciding whether to do a themed display or a varied one.
I still have a huge number of unpublished and cleaned finds to post yet but I am busy finishing off the last few export applications using the new export format.
27th June 2007 Find trays arrived - New forum competition
I got a whole batch of those US style artefact and find trays yesterday and have started to lay out my finds on them. All the guys back in the States use them so I have added a new competition on the members forum for the best display they have made to win a couple of prizes. I will post the best ones and the overall winner on the site. The oak one below is great quality and perfect for button displays so I will have to order up another couple. They have a real nice stand or you can wall mount them. I have posted a load more pictures of them on the display case page and a link to the importers site.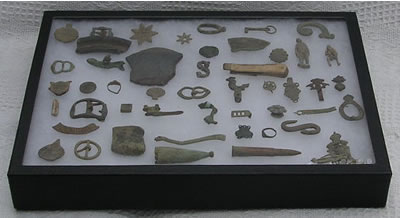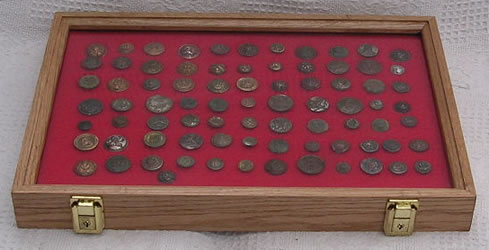 26th June 2007 Idaho Gerry finds a monster nugget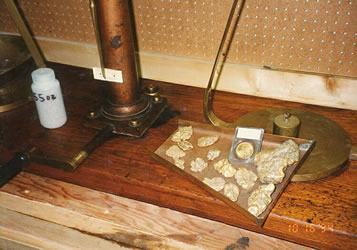 Each year one of our member's Idaho Gerry, takes two teams of guys for 2 weeks to Ganes Creek Alaska for gold hunting. One of our Snr members Cal Sarah has just returned after the first week and told us that Gerry, who is now on his second week, has just found a monster 22.6oz nugget Ganes Creek, congrats to Gerry. We are trialing for the first time 2 one weeks detecting training run by Gerry at the Barn house this season in Nov which is the best detecting time, moist compressed land after ploughing and rolling. So far there is very limited interest but if you really want to improve your game then this is the opportunity to really learn the art of detecting from the master LOL . We will only be running the event if we can get 6 guys interested so if you want to try out detecting for the first time or want to seriously improve your skill and technique then put your name down. All detecting kit can be supplied if required. You have full range of all the 150 fields + the new site we added yesterday. Gerry has his own mini bus so you come and go as you please on the sites and pick your own start and finish times.
25th June 2007 Another new site added for Sept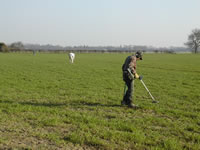 A new farmer has approached us to start detecting his land as from Sept and I will be getting the new maps from him on Friday. This will keep Canadian Rod busy with yet another research project for the summer, his research on the last new plot of land uncovered a Celtic chief burial and Torc site excavated in the 1950's. This latest site is very exciting as it is in the Ipswich area which is a Nationally important Saxon settlement . This particular site has a documented Roman road running through it and near the location of previous important Roman finds. The land has never been detected so our main task in Sept will be trying to hot spot it along with all the other new land.
I have added a land page to give a brief over view of the sites and what we have discovered so far.
24th June 2007 Russian bale seals.
Prof John Sullivan rang last night and he has now been able to further ID around 50 of our Russian bale seal finds and is sending me a list of updates . In Sept when the hunts restart we can now send him a picture as they are found and he will attempt to ID them for us. John is a specialist in this area so if you have found any Russian bale seals yourself then his e-mail address is at the top of his page and he would be pleased to log and ID your finds.
1777 Russian bale seal

1813 Russian bale seal
23rd June 2007 - Nails and Outstanding ID's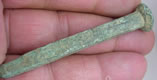 We find huge numbers of nails from all periods and I have started a page on the info I have gathered so far. Further discussion with the BM confirms no one is covering this area and very little research has been undertaken on this subject. However I did pick up another interesting snippet about bronze nails being used in gun powder storage as they do not produce a spark. It is interesting to note that on an early fair site we have several 1640's English civil war lead power measures and bronze nails have been found. Did they sell gun powder at the fair stored in sheds constructed with bronze nails ? If any reader has more info on anything to do with nails please drop me a mail with any photo's and I will add the info to the page Nails
This coin found by Mass Glen still has me totally stumped. I have sent it to specialists in Crusades coins, Spanish experts, Continental forums and gone though every page of the World coin books since 1601. Even Swedish Yngve coin club have not been able to ID it. Some one out there must have seen it in a book, drop me a mail if you have any clue please as it is driving me mad ! The WWII German button below has still not been ID'd any ideas ?
Sill can't ID this coin - any ideas drop me a

mail

Working in Germany in 1941

Anyone know this button ???

BM

I.C.Maedicke

Berlin

Still no ID - French guys say it is not one of theirs
22nd June 2007 Bale and cloth seals - Finds display cases - Latest annual treasure report
I have split the bale and cloth seal pages into 2 separate pages now to make it easier for further studies. Geoff Egan who wrote the BM book on cloth seals is working on ID's of the cloth seals and Prof John Sullivan a Russian bale seal expert is looking at the bale seal page to help us with better ID's. John wrote a paper on Russian bale seals which he is kindly sending me. The Russian bale seals are a fascinating find as they have the markers name, Russian town of origin and normally a date. It also helps if you speak fluent Russian like John ! Bale seals
The museum kindly gave me the latest annual treasure report and it includes a large number of our treasure/hoard cases. The report is over 300 pages and includes a report on each item and pictures.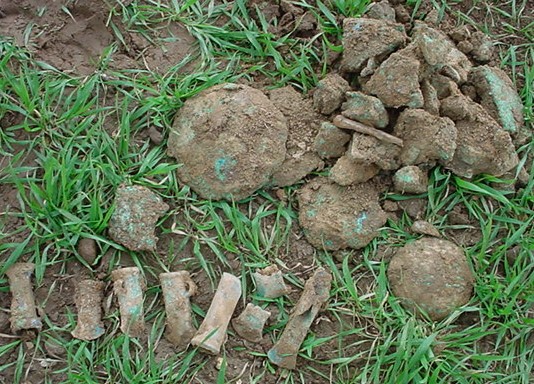 1. 2004T116 Late Bronze Age base metal hoard and scatter. Date 1020 - 800BC found by Mass Bruce. Nine bronze artefacts and ingots. Of the axes found some were note worthy like the Shoebury variant and the Bilton variant. This was acquired by Colchester museum.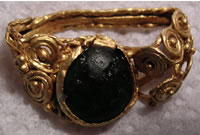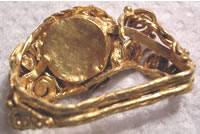 2. 2004 T356 Roman gold filigree finger ring- Late 4thC found by Boston Bill -This was acquired by Colchester museum.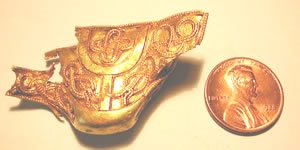 3. 2004T37 Anglo Saxon gold sword pommel cap Late 7thC - found by Ohio Bud - This was acquired by Colchester museum.

4. 2004 T220 Post medieval silver button - 17thC found by Vancouver Mac - This was acquired by Colchester museum.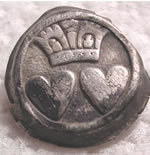 5. 2004 T371 Post medieval silver button - 17thC found by Wis Wayne - This was acquired by Colchester museum.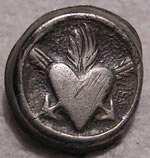 6. 2004 T473 Post medieval silver button - 17thC found by Boston Will - Disclaimed and returned to finder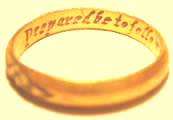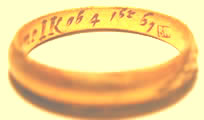 7.2004 T36 Post medieval gold mourning ring - Dated 1667 found by Ark Gary - This was acquired by Colchester museum.
Inside the inscription contains much of its black enamel:prepare be to follow me IK ob4 1st 67 (IK died 4 January 1667.The inscription is followed by the maker's mark, BW in a rectangular shield. The skull may once have been enameled black. Note This is characteristic type of morning ring.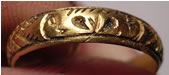 8. 2004 T363 Post medieval gold mourning ring - Late 17thC found by Canadian Marjo - Disclaimed and returned to finder
Exterior is engraved with a stylised skull and black enamel remains. The interior is engraved with Roman capitals MM 'mememto mori'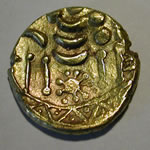 9. 2004 T109 Four iron Age gold staters and 4 Roman silver denaii- found by Van Brent, Mil Mike, Nev Gary, Virg Brian. This was acquired by Colchester museum. A foot note suggests that this is an ancient sanctuary site.


I have been searching for weeks to find a UK supplier of these American style finds cases that a couple of the guys bought over for me . All the Virginia hunt boys use them and they are the perfect way to display your finds. They are glass faced, cheap to buy and superb for all kinds of finds and they also come in a range of sizes and depths to suit the type of find . You can select several different types of fillers as well, I like the foam type as you can lay any type of find on them securely and they are made of a material that does not react in any way with the find. I finally gave up and rang the USA producer and they supplied me a link to a site of a UK importer of their products . I have just ordered up a load and a really nice lockable wooden one to try out . They also do a special backing in a case just for buttons so I ordered up one of those to try out. Once I have arranged all those great POW site button finds in the cases I will post more pictures of the results. I have added a new page with a link to the guys site. Display cases
21st June 2007 New exporting procedure trial - more finds update
The Museums, Libraries and Archives Council (export duty)Victoria House,
Southampton Row,
London WC1B 4EA
tel: +44 (0)20 7273 1444
fax: +44 (0)20 7273 1404
email: info@mla.gov.uk
I had a meeting yesterday with Roger Bland who is the Head of Treasure at the British Museum and who has just taken over responsibility for exporting and Treasure/Hoard payments, David Uffindell who is Head of Exporting (MLA) and Laura McLean the new Finds Liaison Officer for Essex. The meeting was to trash out a much better method of completing the export process with more detail supplied and identifying the historically important pieces for recording and further assessment. An agreement was reached to trial a new system where greater detail is supplied electronically which saves huge amounts of paperwork and printing. The new trial process is to start immediately as I have 3 more export applications to submit by the new system.
1- Normal detailed finds lists with export application form sent to MLA (Export Duty)
2- Detailed finds lists also sent to FLO at the same time and finder
3- Full size pictures of finds electronically mailed to MLA and FLO and finder
4- FLO selects the find/finds from the list that need to be taken into Colchester museum for further investigation and recording
5- FLO signs off on the finds list and informs export duty so license can be granted.
This is a good way forward to ensure all important finds are looked at more closely and to reduce waste paper.
Roger raised another issue where it is difficult to process Treasure/Hoard payments in a foreign currency which is causing delays. It was suggested that payments are now made to me in Sterling and I arrange payment to the finders. I agreed to this new proposal to help speed up outstanding payments and the guys will also get a better exchange rate.
I have updated the export page.**Please note that the critea for exporting has not changed and ALL finds over 50 years old must have an approved export license issued as detailed on this page.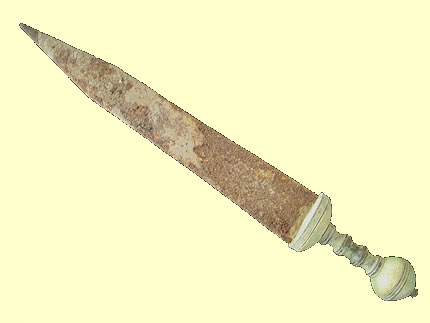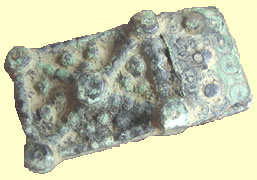 The ROMAN LEGIONARY MAINZ GLADIUS sword handle found by Ark Gary is now with the museum for further investigation. NS Andy's Carolingian style, Saxon strap end 10th - 11th century in date is currently having a line drawing made of it which the museum said we will get a copy of once it is completed.
20th June 2007 More unpublished finds and Roman eagles.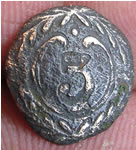 Another great military button just cleaned up that I think is a 3rd Regiment of the line from the Napoleon period. I sent it off to the guys on the French forum to see if they can confirm the ID and date but they reckon it is not one of theirs so I am stumped. Tim our button expert is working on it.The POW site has produced a staggering diverse set of military finds this year and also a whole raft of unpublished makers on both livery and military.
I just cleaned up our 4th Roman eagle find and each one has the same wing broken !! Was this done by the plough or the way it was knocked off it's perch ? It is thought that these are off a military standard and you can clearly see the mounting point fracture. The guys at the ARH forum and Florida Mitch have put me on the right track to the 'tree' button below and sent a great link for family mottos.
Try "crescit sub pondere virtus" (Virtue increases under Oppression) ...and check this website:

http://freepages.genealogy.rootsweb.com/~jkmacmul/namemeanings-coatofarms/mottoes_Ca-Cl.html
CRESCI.ESSOBI.ONDERE VIRTUS ??

Unknown maker

Hunter & Co St Martins Lane London

19thC Livery button - interesting design with Arm & Shell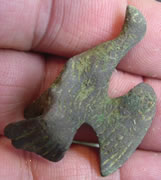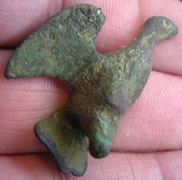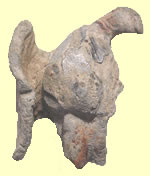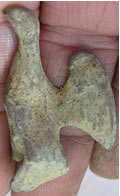 Benets Artefact book page 171 .Roman Eagle, spread wings with feathers, mount perhaps from a military standard 15.03g, 38,34mm L x24.74mm W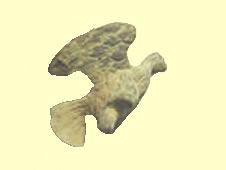 19th June 2007 More videos added

Slowly getting to grips with streaming video ready for Sept's vids from the fields while the guys are detecting. I have produced a video of the Barn House inside and out so guys that have booked can see what an amazing location it is. Each time I produce a video it will also have a download button next to it so if too many guys are watching it at the same time you don't have to wait. Barn inside and out.
If you want to join a group at the Barn House then two weeks are already reserved in Nov with Idaho Gerry running the show and he has some free slots. (Friday 2nd to 16th Nov 2007)
18th June 2007 Coin hunter of the year - Video's from Sept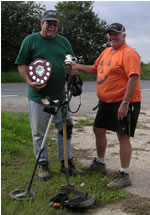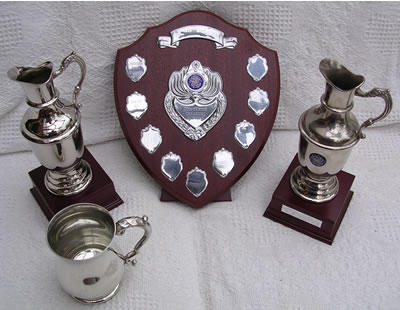 I still have a few more export pouches to complete but no one has enough coins to catch Orlando Rolo's 86 coins he found in one week. His count included some very choice pieces like that stunning 1689 William and Mary silver three pence. Rolo gets his name on the shield of honour next to another previous Florida winner Daytona Steve. Congrat's to Rolo's for a lot of hard work and dedication he put in during his hunt. The Florida team are back in force again in Sept to try and keep the title LOL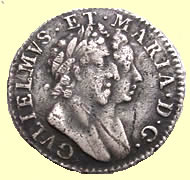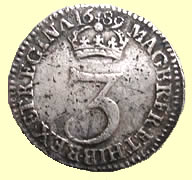 Some more videos are available for view via the members forum. We have ordered up more specialist kit to improve the quality so that from Sept live streaming feeds from the fields will be availble to view as the hunts are underway. If you can't be here in person then you can see it dug LOL
15th June 2007 More unpublished finds and updates.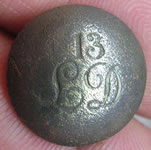 Tim has send an update on the unpublished 13th Light Dragoons post on the 13th.
Probably the famous 13th Light Dragoons.

"Into the valley of death rode the 600", they were part of the charge of the light brigade.

Button appears to be Crimea of pre-Crimea. What a great find.

Georgian pewter snuff box lid

17thC lead nipple button

1580's Fish Scale decorated crotal beell

Royal Artillery 1795 pattern

Crown with Thistle ?

83rd Regiment of foot

In use by 1881
Smith & Wright
S & W Patent
Birmingham


Georgian dandy button

19thC Stag liver button

Royal Marines Light Infantry

Trinity House
UK Lighthouse Authoruty
Pilot's Tunic Button
In use 1900 - 1930s
"Trinity House Pilot"

14th June 2007 Archived half this page - Ron's Video available to view
I have halved the size of this page to speed up loading time and Archived the news to a new page March2007. All old news links are at bottom of this page or OldNewsIndex.
Chicago Ron's video he made of his trip is now available to view by clicking on this page Ron's Vid. It is true streaming video and autoruns. If it fails to start then too many people are watching it at the same time, try later. Arz Reid's gold dance is a classic when he found the Roman gold ring. I am still playing around with the quality of the video to improve it. The club has now purchased it own camcorder so that daily vid updates will be available when the hunts start in Sept. If you can't be here then at least you get to watch the boys in action.
More info in from Nigel the 17thC token guy have been posted on the members forum and which particular tokens he is after. Nigel has a book by Eileen Judson who wrote a re-listing of the Essex series with much personal information on many of the issuers which I think would be a great investment for the club.
13th June 2007 17thC hammered trade farthings - more unpublished finds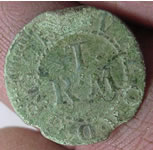 Got a nice e-mail in from Nigel this morning and he has joined us as our resident hammered trade farthing expert. He has ID'd a couple of unknowns including the very clean one above that is a mid 17thC Robert Terry of Ufford ,Grocer of Suffolk hammered copper trade farthing. If you have any items that you want to part with them drop him a mail. Link at top of page.
'came across your site by accident this morning & was pleased to see so many 17th Century Tokens illustrated even though many of them are badly chemically affected. I can also identify a few of your mysteries, though none are exciting (yet anyway!).

For my part I am a collector of Essex & Suffolk 17th Century Tokens (amongst others) & a dealer in the same. There were tokens illustrated that I would like for commercial purposes & would be happy to exchange other similar pieces for same. And, of course, I also have some for sale, including a few pieces ex Eileen Judson Collection (she wrote a re-listing of the Essex series with much personal information on many of the issuers - also in stock)'.

RUC - Royal Uster Constabulary ?

1895-1915
Firmin & Sons Ld
St Martins Lane London


19thC Livery button

18th/19thC apothecary weight

2.21g

13th Light Dragoons one piece button - unpublished

Shipping company

unknown sent off to our button expert

19thC livery button

17thC button
12th June 2007 Huge site update - Added Streaming video - Treasure and hoard updates
Our web server reached it max file size reading ability again and I have revamped the site into smaller folders so there could be some missing links and pictures I have to repair yet. The sheer numbers of files and pictures on this site makes it a monster LOL . We have added a new streaming video server so members can now watch the video's guys made of their trip here . Chicago Ron just sent me a 330 Meg DVD through the post that he made of his last trip and it is real blast to watch. It includes the clip of Arz Reid finding the 4thC Roman twisted gold ring and doing the gold dance and also Ron wandering around the Barn house showing off the fittings LOL. I have launched the new page on the members forum and will make it available to view here once we have tweaked it some more.
Updated the treasure and hoard page with latest info on the outstanding finds.
8th June 2007 Museum Saxon update - New nail page - More cleaned up and unpublished finds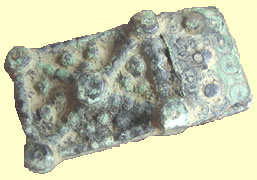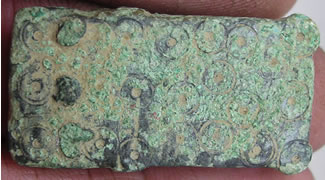 C10thC Anglo Saxon strap end 18.48g, 34.41mmL x 18.33mmW x6.53mm H
Fascinating feed back on the Saxon strap end left for the museum to examine. It turns out to be another really nice Continental Saxon piece.
'It is probably an insular copy of a Carolingian style, or it could even be the product of a workshop located on the fringes of the Carolingian continent, maybe somewhere like Domburg on the coast of Frisia. 10th - 11th century in date'.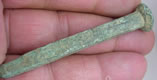 I have started a new page on nails with some history as this is a fascinating area where dating is tricky. We find huge amounts of really nice bronze nails and I have no books that cover this area. Nails . I will be adding more info to this page with our better nail finds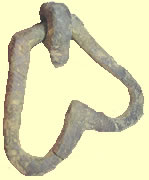 I have also updated the following pages with more finds and detail on Medieval Chaffing dish handles like this one found I just cleaned up. This is a really nice example as it has the fixing lug still attached. I also added some of our lock plates to the Key page.
Great find - Cross pendant with the Lord's prayer on both sides - probably Victorian

38th (1st Staffordshire) Regiment of foot 1855- 81

1840
Smith, Kemp & Wright
Brearley Street, Birmingham


Britain's Merchant Navy
Generic Design Issue
In use 1900 's onwards

6th June 2007 Sword handle find ? More cleaned up and unpublished finds
This piece found by Ark Gary was initially confusing as it was obviously of the Roman period as the surface 'patination' was the same as on 1st Roman coins where 'laminating' was taking place. The slit on the end of the piece indicated that a hole was originally there and something passed through it but I was not aware that some Roman swords used bronze handles until I started finding examples on the net. I am pretty certain that this is a Roman bronze sword handle as the style matches known types but I will send it to the museum for further investigation. Excellent find if it is.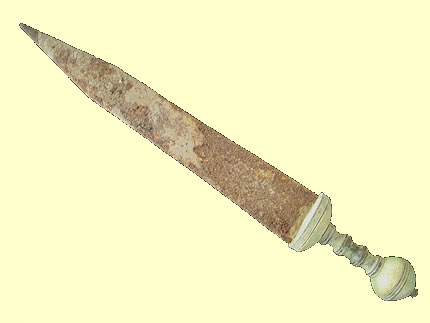 ROMAN LEGIONARY MAINZ GLADIUS
Material: Iron, Bronze
Era: First Half of the 1st Century AD
Culture: Roman Provincial
Style: Roman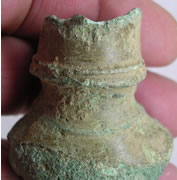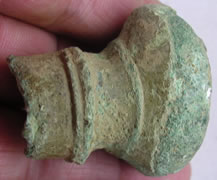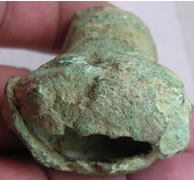 Bronze sword handle 52.35g, 40.57mm L x 38.58mm dia max x 21.05 dia min

Unknown button

trying to get more detail by soaking it

Coventry COPPER halfpenny token dated 1793

Rev PRO BONO REPUBLICO

Early one piece unrecorded 3rd 'Essex Local'

Back mark

Best Quality

1351- 1412 AD King with sword and shield in ship - 1/2 Gold Ryal (60gr) 55.2 gr

George II trade weight 52.6gr

London hall mark

Early 20thC Pulman catering staff

Back mark

Superior quality

RN Surgeon - at Sea - 1805
RN Ass' Surgeon - at Sea - 1805
RN Physician - at Sea - 1805
RN Surgeon - at Sea - 1805


Back mark

Standard Colour Treble gilt
More news
Double Cunobelin Celtic gold
Chicago Reid's Roman gold ring
NS Andy's Saxon strap end
Medieval Iconic gold ring find
First Celtic gold of the season
Celtic Woad cosmetic grinder and Jeff Roman Pecker find
Viking silver strap end- Rare Roman silver coin finds
Great Saxon silver finds Offa Rex - Coenwulf - Hammered gold
Villa Dig - Roman gold - Celtic gold hoard found
Can Majos and Mass Bills gold rings - Texas Dave's hammered gold
Roman gold coin - Mass Bruce's axe hoard
2000BC Axe - Boston Buds Saxon gold
michelle@colchestertreasurehunting.co.uk