5th April 2007 Stunning Roman silver and Celtic silver finds
This Antoninus Pius Roman find was protected by a thick layer of 'horn silver', a thick crust that can grow on old Roman silver coins which can make the find look initially like a grotty bronze coin. Always test the edge on what appears to be a bronze grot to see if any silver shows through. Pick the 'scab' with your finger nail and wooden toothpick so not to scratch the silver underneath. Mark Lehman has sent us an interesting ID of the coin. Below is a picture of a Roman Imperial silver coin with pictures of the 'scab' and the coin underneath.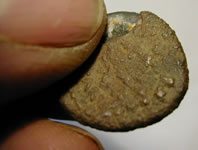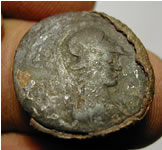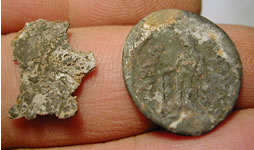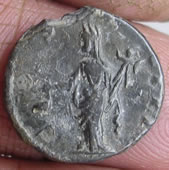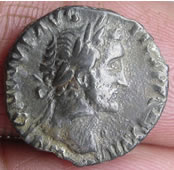 2.01g,16.29 mm

'It's Antoninus Pius, 138-161 A.D. - His connection to you and the island is that he built the 2nd wall, the wooden one north of Hadrian's. This is a silver denarius, as I'm pretty sure you already knew, this one was minted in 153/4 A.D. at the Mint of Rome.

Obv: IMP ANTONINVS PIVS PP TR P XVII. Laureate head right.
Rx: COS IIII. Vesta standing left holding simpulum (ceremonial ladle) and palladium.
RIC III # 239a, RSC 198, Cf. SR 4065, VM 18/1.
Pretty spiffy stuff these days.
Mark Lehman
Another excellent find from a new site is this very unusual Celtic silver unit of the 'King of Colchester' Cunobelin. Celtic silver is very rare in this area as 99.9% of Celtic coin finds are gold coming from a very wealthy Celtic trading area. This is only our 4th Celtic silver unit ever so it is a very rare find.
Cunobelin - Son of Tasciovanus, father of Adminius, Togodumnus and Caratacus. During the last years of his father's reign, he invaded the territory of the Trinovantes and subdued them, probably prompted by the news of Rome's loss of Varus' three legions in Germany in AD9, and therefore fairly confident that his action would go unpunished. He continued to rule over the Trinovantes from Camulodunum (Colchester) by dint of his own resources and retained his seat of government there when he succeeded to the Catuvellaunian throne upon the death of Tasciovanus in circa AD10. He became 'the first British statesman,' and through diplomatic means, probably had his kingship over the joint Catuvellaunian/Trinovantian kingdom ratified by Rome, for some of his later coinage bears the title 'REX'. He continued to rule the combined tribes from Camulodunum for many years, and his capital became the focal point of British politics, learning and trade. Suddenly, in c.AD40, he was enfeebled, possibly due to a stroke. Subsequent military actions by his sons Togodumnus and Caratacus, who swept throughout south-east Britain deposing first their own brother Adminius (who had pro-Roman tendancies) from Cantium, then their old adversary Verica of the Atrebates, brought the attentions of Rome. Cunobelin died shortly before the coming of Rome c.AD42.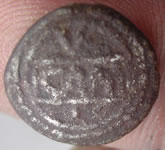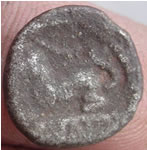 C 10 to 40 AD Cunobelin Silver Unit - CAM V - very unusual type sent off to the CCI for registration and ID
1.51g, 12.74mm
'CCI 07.0182, the silver unit: another rare one, and another which isn't in VA or in the BM catalogue. Again from memory I think we have about 8 or 10 of these. The obverse as you can probably see has CAM in the panel and then V above and L below; the reverse is a crouching dog with CVNO in the box below, if I remember rightly. The animal is very similar in style to the 'wild' horse so it probably dates from the same sort of period'.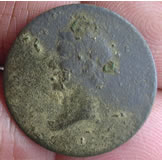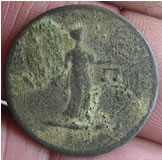 Roman or 18thC ?
I have a ton of other finds to upload yet like this Roman looking medallion or it is an 18th token ? I have sent it off to our Roman expert for his opinion.
4th April 2007 Stunning Celtic gold finds and rare hammered silver
More great finds from the new land we are still trying to hotspot is these two 'King of Colchester' Cunobelin Celtic gold staters and both are stunning examples. These coins date from 10 to 40AD and are distinctly different types. This site is huge and is several miles from our existing Celtic village sites. I have sent both of the staters off to the Celtic coin index for recording and registration and for Philip's comments and ID. Other great finds include some excellent medieval hammered silver coins and one of them is a very rare Bury St Edmunds mint. I have posted a bunch on the latest finds page March 2007 finds page 8 with tons more to follow including an Roman silver that I have yet to send to our Roman expert for his comments.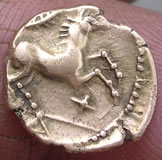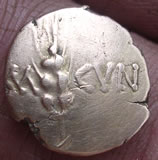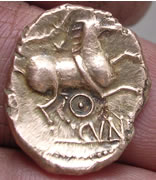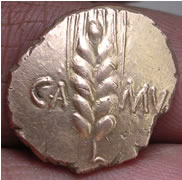 1stC AD Cunobelin Celtic gold 1/4 stater 1.32g, 13.43mm - Cunobelin full Celtic Stater 'plastic type' 5.38g, 19.24mm
'CCI 07.0181, the stater: actually a wild type, I think, VA 1931, with the rather doglike head on the horse. So on current thinking perhaps from the middle of Cunobelin's reign, say 20s AD.'
'CCI 07.0180, the quarter stater: this is the type sometimes inscribed 'A', as here, and sometimes 'AGR'. There is no real agreement on what AGR means, but it might possibly be a son of Cunobelin - so issued in the short period between Cunobelin's death and the conquest, perhaps. Or it might be some other word, not necessarily a personal name. These are not common - not more than a dozen, from memory. The type is not listed in VA.'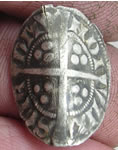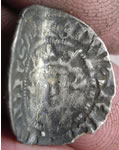 This is very rare first coinage 1327 Edward III hammered silver penny type 15d , Initial cross type 3 - Bury St Edmunds mint
obv EDWAR R ANGL DNS HYB
rev SCIE DMV NDI
More news
Chicago Reid's Roman gold ring
NS Andy's Saxon strap end
Medieval Iconic gold ring find
First Celtic gold of the season
Celtic Woad cosmetic grinder and Jeff Roman Pecker find
Viking silver strap end- Rare Roman silver coin finds
Great Saxon silver finds Offa Rex - Coenwulf - Hammered gold
Villa Dig - Roman gold - Celtic gold hoard found
Can Majos and Mass Bills gold rings - Texas Dave's hammered gold
Roman gold coin - Mass Bruce's axe hoard
2000BC Axe - Boston Buds Saxon gold
michelle@colchestertreasurehunting.co.uk