Sept to Nov 2008 Archived news page
8th Nov 2008 2nd testimonial ? - Roman silver cooking update - Meteorite found
Updated Forum competition page with latest milled silver tally.
One the guys Cal Glen found an interesting rock out in the fields and has ground down an edge to reveal a meteorite , what a brilliant find. One of the members posted a a video link on the forum that shows you what to look for while your are out hunting. The video link is below the picture.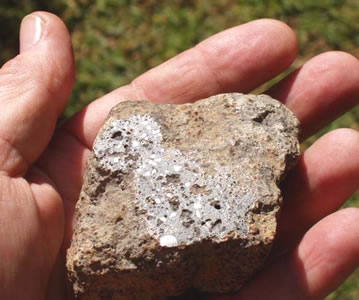 I have never had two testimonials in from a guy for the same trip but Idaho Orv decided to give us another write up from a total 'newbie' point of view. Our closed members forum is a great asset to any newbie coming here as months before he/she is due to hunt they can meet and greet all the old members, chat, see all the finds, museum feedback, read what land is hot and what sucks and ask any questions to help with their trip. Orv has become a very active member and joins in all the light hearted banter that goes on daily. He can also see what he missed if he was on that field himself and a monster was found later on !! Read Orv's Testimonial.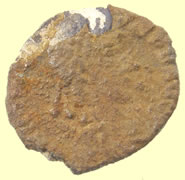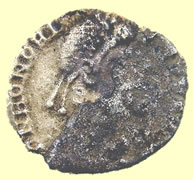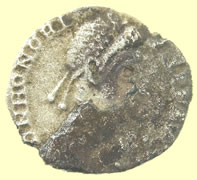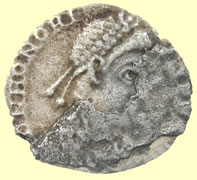 This coin has been 'cooking' for several weeks now and is very slowly revealing the detail.
5thC Roman silver siliqua of Honorius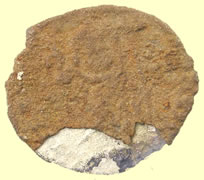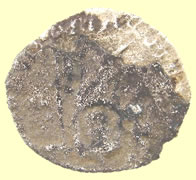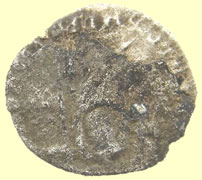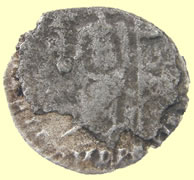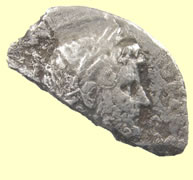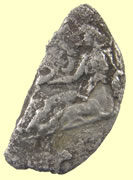 Roman 2nd C cut half silver coin ? 1.14g, 17.45mm
This Roman silver coin is probably a cut half and was just a thick crispy disc when Mass Mike dug it. I put it in the 'cooker' last Saturday what an amazing result to reveal a very pretty coin.
It's always hard to tell whether a half-coin was cut for change - a very common practice in the "middle ages" as you must be aware - in fact the long-cross reverse has been said to have been continued as a major reverse type for so long because of its utility in showing where to cut... or whether any particular half-coin was broken by a plow-hit, etc.
This appears to have started out as a denarius of Hadrian - one of the "grand tour" types. Hadrian toured the entire Empire towards the end of his career. He issued gold, silver and bronze to commemorate his visits to various provinces and locales. One of the most common reverse types for these coins was an allegorical personification of "The Province" or river, etc, - whichever he happened to be honoring - usually seated recumbent, legs stretched out, by the side of the local river or framed by the local landscape. I thought I had an image of a Hadrian AEGYPTVS, or NILVS, or AFRICA denarius available to show you, but I can't find one quickly.
So I can't tell which of maybe 15 or 20 locational types this is, but from the portrait, I'm pretty sure it's Hadrian - there were some similar types issued by other emperors, too, but the general type is more usually associated with Hadrian than with anyone else.
Mark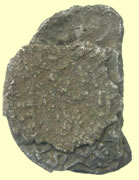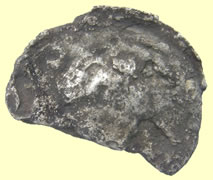 BC Roman Republican silver coin ? 1.25g, 16.42mm
Another Roman silver dug by NS Andy with very thick 'horn crust' that is also 'cooking' to reveal the detail. This Roman is laminating badly but there is some legend on the reverse. I will have to cook this some more before I seen it off for ID.
7th Nov 2008 Roman ID's back - Celtic silver recorded
The coin below is one of the most perfectly stuck legends on a hammered silver Medieval penny I have ever seen. Oregon Ed dug the little beauty and then 5 minutes later pulled up a really nice Henry VIII archbishop issue half groat.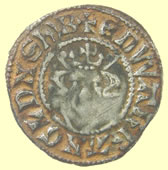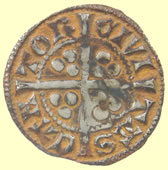 1279 Edward III hammered silver penny - class 10ab
obv EDWAR R ANGL DNS HYB
obv CIVI/TAS/CAN/TOR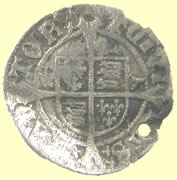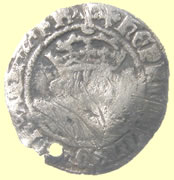 1526-32 Henry VIII hammered silver halfgroat- cross patonce
Archbishop Warham - WA by shield -Canterbury mint
Just got the feedback from Dr Phil at the Celtic coin Index on the last silver Celtic unit I sent him
'Thanks very much for this. As you probably know the type has a very Kentish distribution, so if it is of Tasciovanus – the traditional attribution – it seems to have been produced specifically to be used there. The other interesting feature is of course the inscription itself, which is often now interpreted as meaning 'victory' or something similar, rather than a personal name. Tasciovanus winning a battle in Kent, perhaps?
I'll record it as CCI 08.9335. There are only seven on the web at
http://www.finds.org.uk/CCI/images-lister.php?&VA_type=1851.01
and although the number may have gone up a little since then, it can't be by many – perhaps a dozen at most.
All the best
Philip'
Facinating ID below on the mint Roman bronze coin find.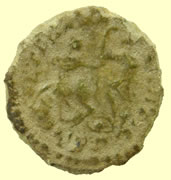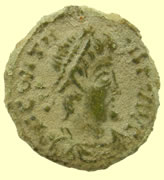 I believe you have a local, unofficial copy here. The type is the ubiquitous "FEL TEMP REPARATIO" ("to the return of happy times" or more broadly: "Happy Days are Here Again!") showing a Roman foot-soldier spearing an unfortunate, un-horsed "barbarian" or Persian cavalryman - wishful thinking at best that a Roman infantryman could unhorse and kill a Persian armored cataphract or German cavalryman - but it was a powerful bit of propaganda well suited to its times in which the Roman army was increasingly being shown not to be invulnerable to the "barbarians" on the borders or to the omnipresent antagonist in the East - the Persian Empire.

The size - 16mm - is typical of the enormous later emissions of this type under Constantius II (and to a lesser extent, Julian II as Caesar) in the 350's AD, but the obverse legend is a badly blundered attempt to spell "CONSTANS" - who had died in 350 - and although he is associated with this type, it's only with the large-module, "AE2" Centenionales of the period 348-352. (or 348-350 in his case), not the small AE 3's & 4's of the later years of the issue.

The official coins were produced in such astronomical quantities that it is probably a reasonable guess that after the Chinese square-holed cast brass cash coins, the FEL TEMP-fallen horseman type is the single most common coin of all antiquity - although they're probably a bit scarce for you and your digs since the Roman presence was already on the wane by the time of the inflation - which must have been on the scale of that seen in post WWI Germany - which produced the mind-numbing quantities of FEL TEMP's at the official mints throughout the Roman Empire. They additionally were copied extensively at unofficial mints across the Empire, but particularly in the more rmaginal fringe-areas like Britannia. You can date this piece to the general period 350-365 AD.

Mark

And the big one Billericay Mark found yesterday

This is a "DE GERMANIS" sestertius of one of the Aurelian emperors - I know these were struck for Commodus, very probably for Marcus Aurelius and maybe even for Lucius Verus - although the victory over the Germans of which this speaks may well have been after Verus' demise.

Here's a specimen from my collection showing a young Commodus (from a MD dig in France according to the seller, BTW)

http://www.stoa.org/gallery/album95/ML_02_Commodus_De_Germani_sest

I can have a look a little later to see for whom this reverse type (and the very similar DE ALEMANIS and DE SARMATIS types) was struck, but I'd say Marcus Aurelius and Commodus as co-emperors during the period 175-181 AD is probably as good a guess as any for the general date.

Mark
6th Nov 2008 Gold at last - more nice Romans
Cal Vicie finally found gold on a new freshly ploughed and rolled plot and her husband Dave found a stonking Roman bronze with amazing detail nearby . Several of the Roman coins had enough detail to send off to our Roman coin expert Mark Lehman for an ID. The guys also found several hammered silver and a good range of do dads including some nice buttons that I will post later.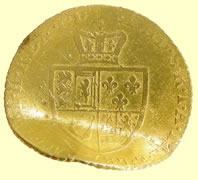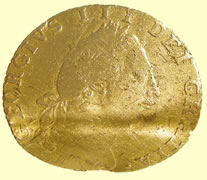 1787 George III milled gold half guinea - will straighten nicely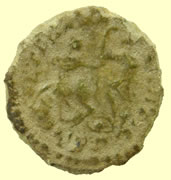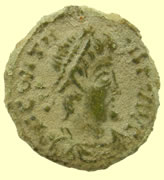 4thC Roman bronze sent for ID 16.95mm, 2.0g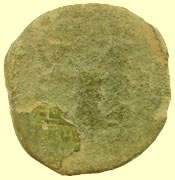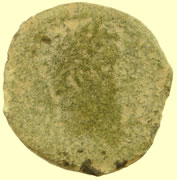 2ndC Roman bronze sent for ID 29.98mm, 13.8g
4th Nov 2008 Get well skunked on new land - more treasure going to inquest
I just received a letter from the local coroner with the latest treasures going forward to inquest. Details posted on members forum.
| | |
| --- | --- |
| | |
| 1422- 61 Bronze uniface Crowned Three lis in shield French Ecu gold coin weight. No Letters by the shield indicate English version. | 1679 Charles II milled silver 2 pence |
The weather has been festering out there with high winds and rain. New land has been giving the guys almost a total skunking over the last few days and the odd nice find. I have just posted a load of do dads to the latest hunt page. We need to find a monster !!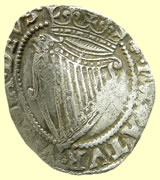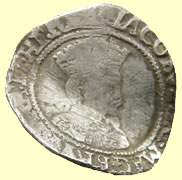 1604-7 James 1st Irish hammered silver sixpence - 2nd issue
obv LACOBUS D.G.MAG BRIT FRA ET HI REX
2.25g, 21.27mm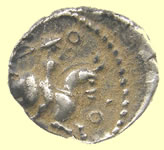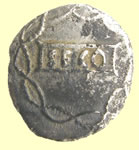 Sego 10 BC to 10 AD Silver Celtic unit
Celtic silver coin found in Kent by one of our members - left with me to record properly with the Celtic coin index and obtain export license correctly - 1.34g, 14.01mm
28th Oct 2008 More page updates - Disclaimed potential treasure - Hunts start again in 3 days
I just got a report back on Cal Val's gold ring find from last season. It has been disclaimed as not being over 300 years old.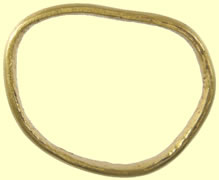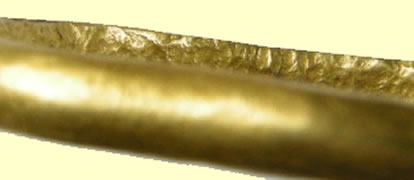 2008 T265: gold ring from 'North of Colchester', Essex
This large plain gold ring has a roughened interior which is unusual for a finger ring and suggests that it may be a fitting of some kind. In the absence of any diagnostic features there is no evidence to date this ring pre-1708.
J. Rudoe
British Museum
30.9.08
During the break I have been updating the individual find pages with our latest discoveries.
| | |
| --- | --- |
| Romano/British Artefacts | |
| James 1st - Gold and silver coins | |
| Elizabeth 1st - silver coins | |
| Charles 1st - silver coins | |
| Seal Matrix | |
27th Oct 2008 First 5thC Roman silver find - ID help - Updates
Huge updates of our latest finds onto the individual hammered silver coin pages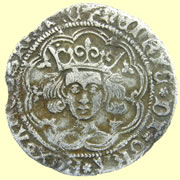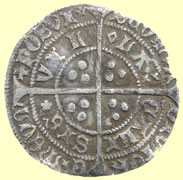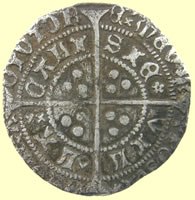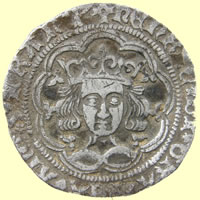 Tudors - Henry VII and VIII
Ricard 1st to Henry III - Early hammered silver
I am still getting lots of e-mails wanting ID help with your finds. If you want help you must post them on our Foundintheground forums please so they are logged.
Initial feedback on the gold piece below found by Chicago Ron is it could be from a Saxon necklace. It is currently with the British Museum undergoing tests. I have just updated the Find of the Year page.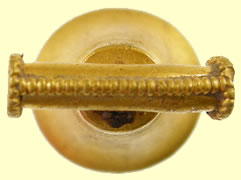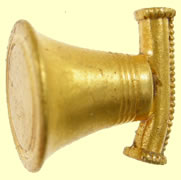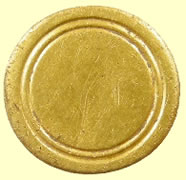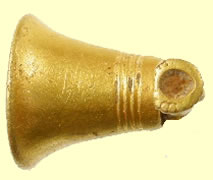 Solid gold hanging pendant - 2.65g, 11.95mm H x 10.68mm dia x 11.68mm W - Treasure case No 2008 T596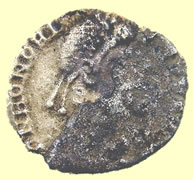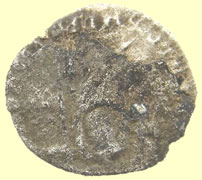 Roman silver coin - in the 'cooker' to remove the 'horn' crust 16.22mm, 0.97g
Mark Lehman just sent me back the initial ID for that 'cooking' Roman silver coin and it is our first 5thC type. I am still 'cooking' it some more to try and bring out more of the reverse detail. I have updated the cleaning tips page with more finished examples.
The reason that this coin seems so thin is that it's the way they were made. The Romans were already (and had for some time been) experiencing the shortage of silver which would extend well into "modern" times (taking the long view) and was the reason that medieval deniers all tend to be such fish scales. This is a siliqua of Honorius. Honorius was one of the last of the Western emperors and the one during whose reign the Visigoths sacked Rome in 410 AD.
Honorius ascended to the purple at the age of 9, in 393 AD, so you know there was someone else behind the scenery pulling the strings. He was actually around for a pretty long time as rulers went (and they mostly went) in those days. He survived until 423 AD. but isn't known for much of anything except happening to be in power when Rome was invaded.
I'm not certain about the reverse type, but it's probably VIRTVS ROMANORVM and would show Roma seated left holding a small Victory and a scepter. Then looking at the image again, it might actually be a half-siliqua with the VICTORIA AVGGG reverse showing Victory walking left. A diameter measurement might help tell what it is (in addition to some further cleaning) - and there are other types it might be, too, it's just those are the most likely ones this could be based on what is visible in the photo.
Mark
26th Oct 2008 Break for a week - Hunts start again 3rd Nov
I have a break for a week to catch up on paperwork and posting out export pouches. The hunts start again on the 3rd Nov. I have posted the last of the latest finds onto the new hunt page Oct 2008 finds page 1.
I have updated the Forum competition page with the latest milled count (117) and quite a few of the guys have been knocked out of the running already. The new sites we have been hot spotting produced some really nice early Victorian silver and the rarer George IV and William IV silvers.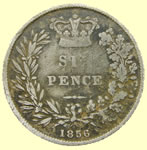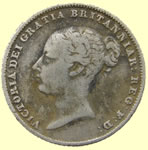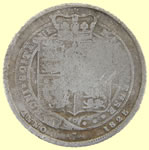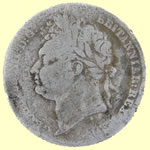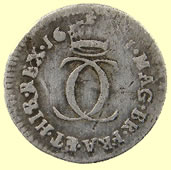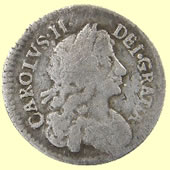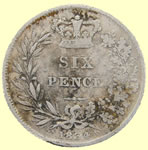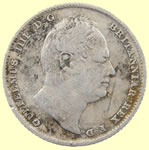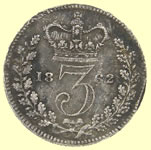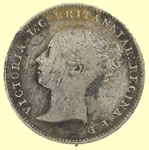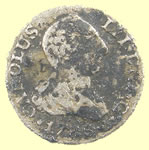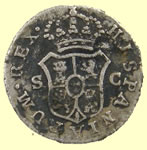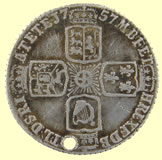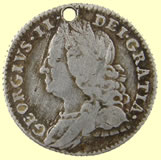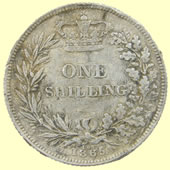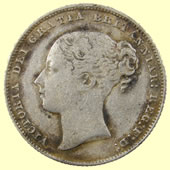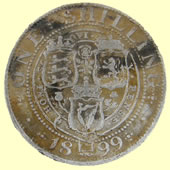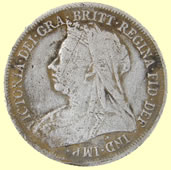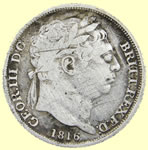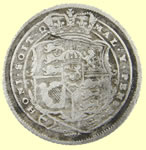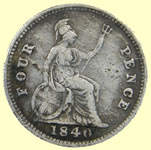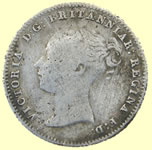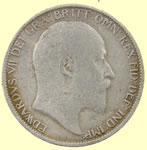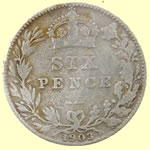 25th Oct 2008 Slow to cook Roman - Important Roman bronze find
This Roman silver has been 'cooking' now for 10 days and the black crud is as hard as rock. This is a very rare 4thC Roman find so I dare not 'pick' it as it is wafer thin as a coin and could break easily. Back in the 'cooker' again ! I have posted more finds to the latest hunt page Oct 2008 finds page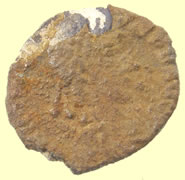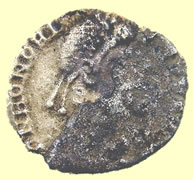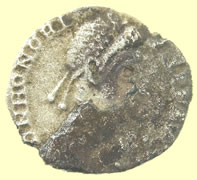 Slowly revealing the detail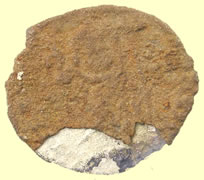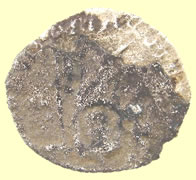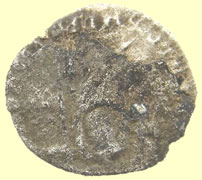 Another interesting video which Chicago Ron took with his hat cam when his team found a Roman settlement area on new land. The long bronze piece Ron thought was pot leg cleaned up to be Roman dolphin headed knife handle, a good mornings work. Here are pictures of the other 2 finds shown in the video.



Roman dolphin headed knife handle with suspension loop


1stC BC Celtic bronze wode grinder - suspension loop type worn around the neck
51.56mm L x 10.13mm W , 12.27g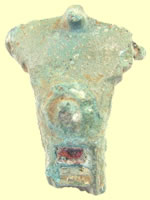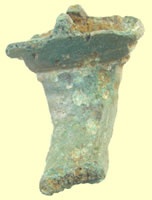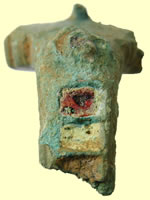 2nd C Roman red and yellow enameled 'Headstud' type fibula brooch Ref 944 p332 Hattatt's
20.72mm W x 28.82mm L 10.83g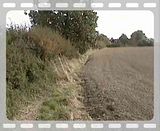 Click picture to view
I just got the ID back from Mark Lehman on a Roman bronze coin find I sent him yesterday, what an interesting coin.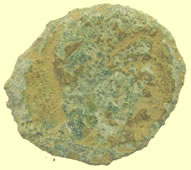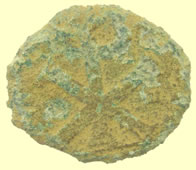 That is a very important coin you've got there. That is just about the very first coin with a purely Christian reverse type - the "Chi-Rho" or Christogram had appeared on banners & shields on coins before this, but this is the first reverse completely dominated by a purely Christian symbol. These are typically associated with Magnentius (and his younger brother Decentius, to a lesser extent) and are also known for Constantius II. They were only minted for a short period of time - 352-353 AD.
This reverse type was issued in 3 different denominations, a "double centenionalis" (28-30mm) - which was a very short-lived denomination, only this type was ever made in that size - and also the more usual centenionalis (~22mm) and half-centenionalis (~18mm) sizes from the era after the reforms of 348.
I don't think it's going to be possible to tell which of the 3 it was who issued this one, nor the mint at which it was struck. I don't see diadem ties behind the neck, so I'm going to guess it's Magnentius or Decentius - both of them were portrayed bare-headed (and with a rather embarrassing-looking mullet-cut).
Mark
23rd Oct 2008 More great relics - £ plummets, buy your pounds now
We have always prided ourselves here that we run the best value metal detecting tour in the UK as we are priced in £'s.
With the £ pound dropping to 1.62 against the dollar it is the lowest exchange rate for 5 years. Our tours are now over 50% cheaper per detecting hour than the closest priced other tour and a whopping 75 % cheaper than the most expensive tours. If you are booked for the second half of the season grab them pounds now and get an amazing deal !!!
Click here to check for free detecting slots and availability
Just uploading a load more hammered silver coins to the latest hunt page Oct 2008 finds page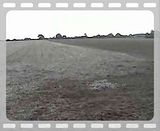 Left click on picture to play
Another Chicago Ron vid from the field when one of his team, Illinois Tim, finds hammered gold - James 1st 1/4 laural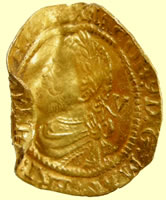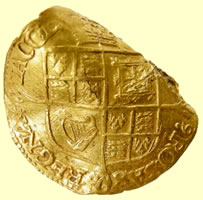 1619 -25 James 1st hammered gold Quarter-laurel - 2.24g, 19.46mm 2nd coinage
Chicago Ron vid from the field when Ill Joe finds the medieval gold ring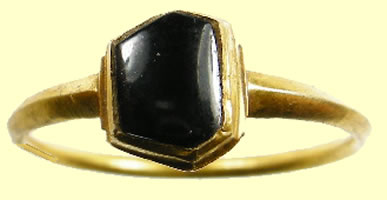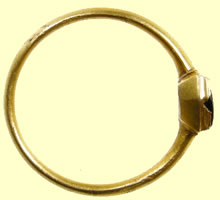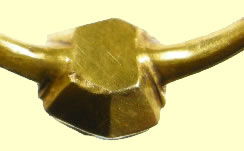 Black Onyx Medieval gold ring 21.93mm dia, 2.51g - this is currently with the British Museum - Treasure case No 2008 T580
The guys are still slowly hot spotting the new land and it is still a mixed bag out there . Canadian Dave is another guy on fire this week and cannot put a foot wrong having already found 8 hammered silver coins including the full medieval groat and these two other great relics. The members are calling this 'season of the Newbies' as new guys are really kicking butt so far this year.



Stunning medieval gilded red and white enameled hanger 61.05mm L x 21.27mm W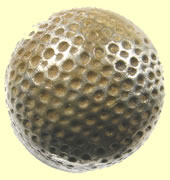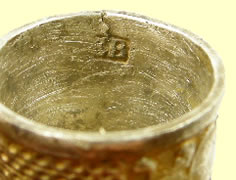 17th/18th C silver thimble - maker CB - reported as potential treasure to the museum 6.51g,17.72mm H x 16.24mm dia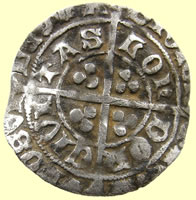 1369-1377 Edward III hammered silver groat - Post treaty period - North 1286
obv EDWARD DI GRA REX ANGL F FRANC (IE)
rev CIVI/TAS/LON/DON London mint
22nd Oct 2008 Brilliant wind up - New members video's - More stunning finds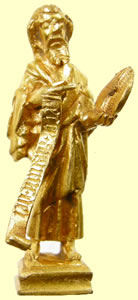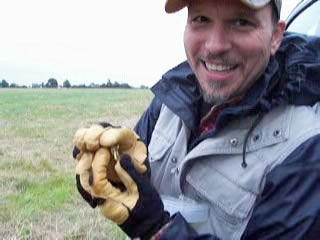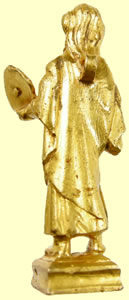 Just uploaded a great 30 second video Chicago Ron took in the field of Tenn Brad when he found that stunning Medieval gold statue. 'Jesus holding a pancake ' is a great quote. Click the link below to watch it on our streaming server.
Just produced another big video of the guys out there hunting which I have just uploaded to the members forum. It included the brilliant wind up perpetrated by Chicago Ron. Ron is president of the Chicago Club and brings a team of his guys here twice a year and they are all pranksters so it is an absolute blast for the two weeks they are here. Ron's team had just found another Roman settlement on new land this season, Ron got a Celtic wode grinder, enameled fibular brooch, Roman bronzes etc and after the 2nd day Ron pulls out this gilded horse statue and slaps it in my hand. Lots of **** and ***** later I thought he had found an absolute monster Roman or Celtic find. I am there drooling over it and saying what I think it might be and then Ron tell me he had brought this in a junk shop in the USA and stuck earth on it the ******, what a brilliant wind up and he fooled all of us. The video also included Cal Sarah and Ark Mary giving the guys a skunking one morning when they got a handful of silver including a Henry VIII groat!!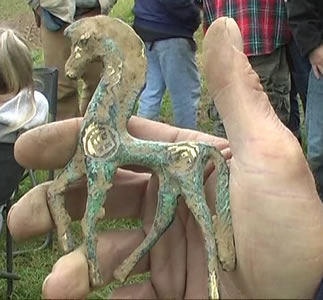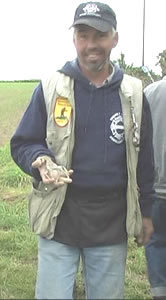 Ron's USA 'Roman' statue LOL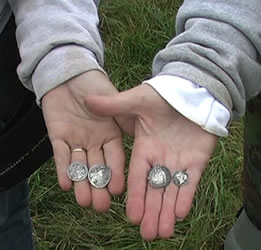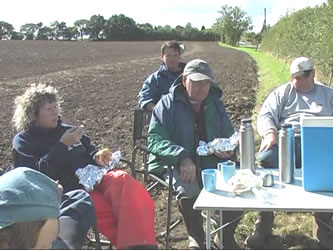 Girls give the guys a skunking and Chow time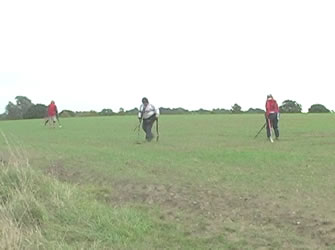 Girls in action
Some amazing finds made that I will try and get uploaded later including a stunning enameled medieval piece and a mint silver thimble
21st Oct 2008 More great silver - Axes recorded and returned
I dropped off a load of our latest treasure finds to the museum today and picked up the 2 early axe heads previously left with them for recording and ID. It was interesting to note that the palstave axe (ESS -382FB5) is a very early example dating from 1500-1400 BC and not as the usual 1250BC type as I had first thought. The 2nd polished flint axe was dated as 3500-2100 BC and is recorded as ESS-388BD4 on the National finds.org database. The guys have been finding amazing amounts of silver coins including another 3 full Medieval groats that I will try and post later. Check out the latest finds page for all the uploads Oct 2008 finds page 1.
| | |
| --- | --- |
| Object Type: | Palstave |
| | Bronze Age (c.1500-1400BC) cast copper alloy primary shield pattern palstave, dating to the Acton Park Phase. It is damaged and incomplete, with active copper corrosion. The butt end is missing, and the flange damaged. There is a prominent stop ridge, with a shield shaped depression just below on both surfaces. There is a casting flaw just above the stop ridge on one surface, which has created a small void, approximately 10mm deep, and 3.6mm by 2.6mm wide. The blade expands out into a concentric cutting edge, which is extremely worn. The axe is 135.10mm long, and is 24.95mm wide, 7.95mm thick at the butt end, with the damaged flange increasing the thickness to 21.21mm. It is 27.73mm wide, 27.16mm thick at the stop ridge, and the cutting edge is 53.84mm wide. The axe has a dark green patina, however most of the original surface has been removed, leaving a pitted, light green surface. A casting seam is visible through the corrosion on one side. |
| | |
| --- | --- |
| Object Type: | Axe |
| | Neolithic (3500-2100BC) polished axe head, knapped from mid-grey flint. The surface of the axe is not fully polished, leaving a large amount of scaring along the edges of the axe from the shaping process. The butt end is damaged and incomplete, and the break appears worn. There is a partial hinged termination where the axe has been broken. The cutting edge is in good condition along most of its length, with a few small breaks to one side. The blade itself is not worn. The axe has a double convex cross section. In profile, the axe is widest towards the cutting edge, tapering in thickness towards the break. The axe is 78.74mm long, 57.08mm wide at the blade end and 44.85mm wide at the broken butt end. It has a maximum thickness of 22.56mm. Weight 124.31 grams. |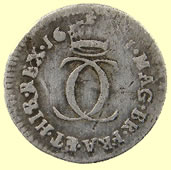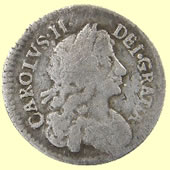 1671 Charles 1st milled silver 2 pence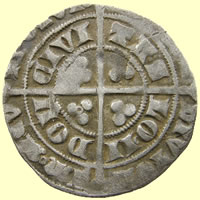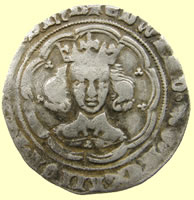 1356-1361 Edward III hammered silver groat (4 pence)- Standard F type - annulet in third qtr
obv EDWARD D G REX ANGL Z FRANC D HYB
obv CIVI/TAS/LON/DON - London mint
26.33mm, 4.48g
19th Oct 2008 Latest treasures - New treasure reporting procedure
Guys finished on a high Friday with a dozen silver coins and some great artefacts which I partially uploaded to the latest hunt page . Don't forget that you can also use our 'key word' searchable database at http://foundintheground.com/ to view finds. The new team in Saturday have continued hotspotting the new land and already Geo Doug pulled up a full medieval groat on a new field taking the total to 5 for this 13 field, 800 acre site.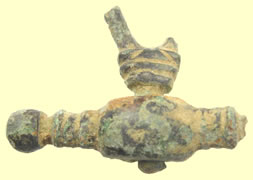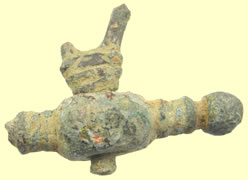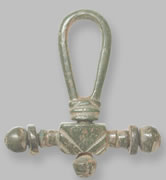 Medieval purse bar
Late Medieval to early Tudor period type B1* purse bar complete with swiveling suspension loop.


Georgian pipe tamper

The Deputy Head of the British Museum paid the guys a visit last week in the field to see them in action and to discuss new processes and procedures to streamline the finds recording and treasure processes. I now send an email to the museum as normal the day a treasure or hoard is discovered detailing any treasure find with find spot, pictures, dimensions, land owner and finder details etc. I always CC the same details to the landowner so he knows what has been found on his property but now I also include the Treasure Registrar at the BM. When the treasure case number is issued by the Registrar I am cc' d in on the e-mail so I know the treasure case number and aware it is now going through the treasure process. The BM are hoping in the future to introduce an on line system where the finder or landowner can log on and using the Treasure case number monitor the current location of their treasure in the process. Currently I have to ring the BM to find out what the latest state of play is. It was also discussed that I should have the ability to log our finds directly with the PAS data base to reduce the recording load on the local Finds Liaison Officer. I already photo all our finds and log the find spot so it would be a simple job for the FLO to check the validity of my data sent and upload it. We currently take every Roman coin including illegible grot's to the museum for recording as they are undertaking a project of all Roman coins found in Essex. These too could be input directly to save time. We also discussed other procedures to improve the export duty process with dealing with disclaimed treasures. The list below is the latest treasures logged and their case numbers supplied by the Registrar.
Updated the Hoard and Treasure page with latest feedback and pictures.
Post Med silver gilt pendant

PAS no: ESS-481232

2008 T575

16/9/2008

whilst searching with a metal detector

M.W

Mrs C Beasley-Murray

Post Med silver ?bell fragment

PAS no: ESS-481856

2008 T576

19/09/08

whilst searching with a metal detector

G.C

Mrs C Beasley-Murray

Post Med silver button/cufflink

PAS no: ESS-497F12

2008 T577

30/09/08

whilst searching with a metal detector

M.C

Mrs C Beasley-Murray

1 gold finger ring

PAS no: ESS-49A356

2008 T578

30/09/08

whilst searching with a metal detector

D.C

Mrs C Beasley-Murray

1 silver seal matrix

PAS no: ESS-49C036

2008 T579

07/10/2008

whilst searching with a metal detector

M.D

Mrs C Beasley-Murray

Gold ring

PAS no: ESS-49D8F6

2008 T580
11/10/08

whilst searching with a metal detector

J.L

Mrs C Beasley-Murray

Medieval gold figurine

PAS no: ESS-49E265

2008 T581
6/10/08

whilst searching with a metal detector

BC

Mrs C Beasley-Murray

Tudor pinhead

PAS no: NOT ENTERED YET

2008 T584

13/10/08

whilst searching with a metal detector

J.L

Mrs C Beasley-Murray

Gold pendant

PAS no: NOT ENTERED YET

2008 T596
15/10/08

whilst searching with a metal detector

R.G

Mrs C Beasley-Murray
17th Oct 2008 Another amazing day on new land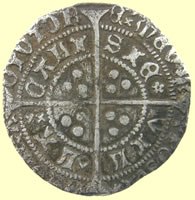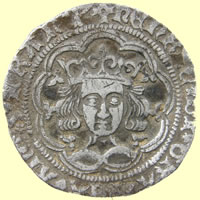 1427-30 Henry VI hammered silver half groat - Rosette Mascle issue- Initial mark incurved pierced cross - rosettes and mascles in obverse legend
obv HENRIC DI GRA REX ANGLIE Z FRANCE
Rev VILLA CASTISIE - Calais mint
3.38g, 25.64mm
The guys dug huge numbers of silver coins and artefacts yesterday which I will be posting during the day. I have reduced the size of the Sept 2 finds page and started a new finds page Oct2008 finds to speed up loading times. I have updated the forum competition page with the latest total of milled silver so far.



Roman dolphin headed knife handle with suspension loop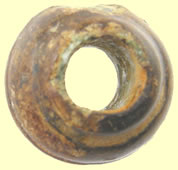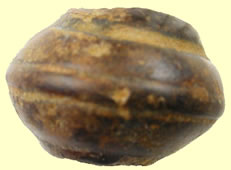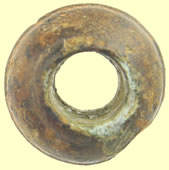 Roman bronze bead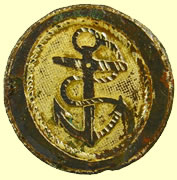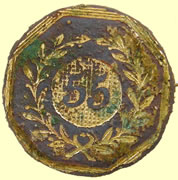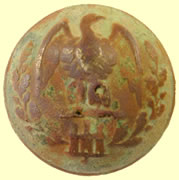 Loads of great buttons turning up
16th Oct 2008 More great finds - Roman gold ?
Chicago Ron found what looks to be a gold bell shaped hanging pendant possibly off a necklace. It was located in a new area we have just started hunting this week that we believe is a small Roman settlement. It's construction suggests Roman with the scrolled top edging but it could easily be Saxon. I have reported it to the museum as treasure and the British museum will ID it at a later date. I have a meeting at the museum next week to exchange treasures so perhaps they can shed some light on it's date, what a great artefact. I have uploaded more find to the latest hunt page.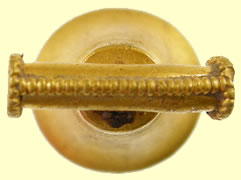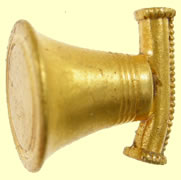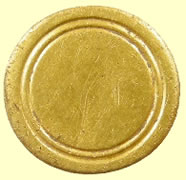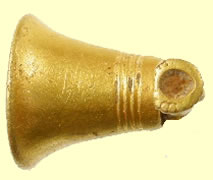 Roman solid gold hanging pendant ? - 2.65g, 11.95mm H x 10.68mm dia x 11.68mm W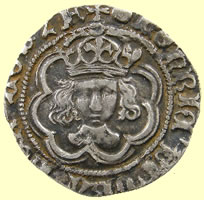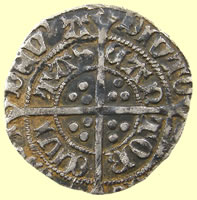 1490-1500 Henry VII hammered silver half groat - Class IIIc, Tun mintmark, one arch jewelled one arch unjewelled
Obv HENRICUS DEI GRACIA REX ANGLIE ET FRANC DNS IBAR
Rev CIVI/TAS/CAN/TOR - Canterbury mint
19.80mm, 1.57g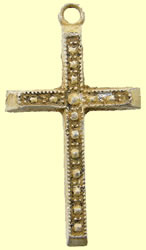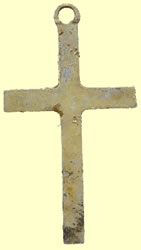 Interesting cross find- not sure if this is as old as it looks but taking it to the museum for their views.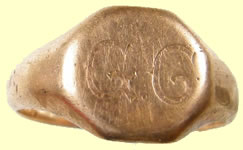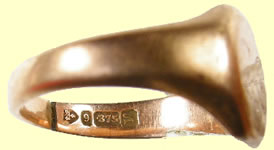 Gold signet ring - Chester hall mark 1921 -4.77g
15th Oct 2008 More great finds and Romans - more testimonials added
I just got a couple of real nice testimonials in from guys that just hunted here - check out their write ups here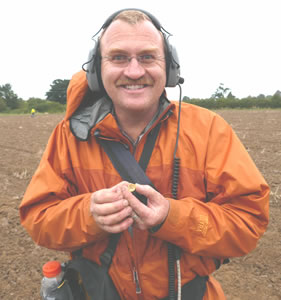 Orv sent me a picture with his Celtic I had not seen before , one cheesy grin !
The Roman silver coin found at the beginning of the week to still in the 'cooker' as the crust is as hard as rock. This silver coin is wafer thin so you cannot do any picking with a tooth pick. The detail is slowly coming through and the legend is very crisp.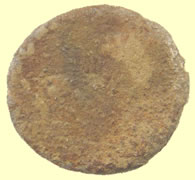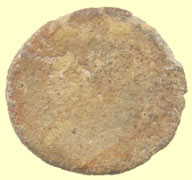 I put another Roman silver coin above in the 'pot' found yesterday and this again has a thick horn silver crust on it.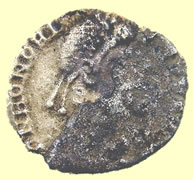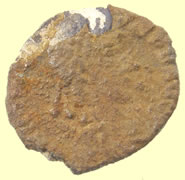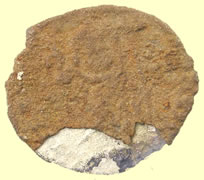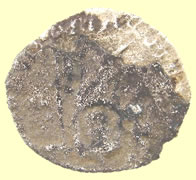 Roman mid 4thC Roman silver coin - still in the 'cooker' to remove the 'horn' crust 16.22mm, 0.97g
Mark Lehman has sent me the ID's of yesterday two huge Roman bronzes.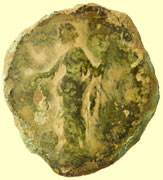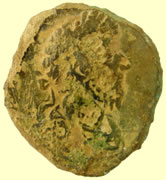 I believe you have two more Sestertii here, or what's left of them. I notice the AE you've been finding lately tends to have disintegrated from the rim inwards and/or chipped off in large hunks. The more lozenge-shaped one appears to be Marcus Aurelius Augustus (161-180 AD) with - and here it's a bit of a guess, since the attributes aren't particularly clear, but I'm going to go with a globe at the feet of our allegorical personification - that, plus the attitude in which she holds her right arm/hand and the scepter in her left would lead me to suspect that it's Providentia who often is shown pointing a wand at a globe at her feet.
If this is what I believe it to be, it's an issue from 165 AD.
The more round of the two is also, I believe, Marcus Aurelius, but on this one, he's Caesar under Antoninus Pius (139-161 AD) - what's visible of the obverse legend corroborates that, too, since a common legend would begin "AVRELIVS CAES...", of which we have IVS CAES plus the shape of the head, short beard and curly hair go with the era for him. The reverse, however, I can't make out any part of the central type, and can only see a couple vague letters of the legend. Re-orienting the reverse to what I feel is the most likely orientation - with what appears to be a "ground line" across the bottom - what the letters appear to be is [TR] POT [X?] and virtually ever sestertius of M. Aurelius as Caesar the reverse legend begins with the tribunician powers date, so that does us no good. If it cleans up at all to reveal any more useful features on the reverse, send me a new photo and I'll have another go at it.
Mark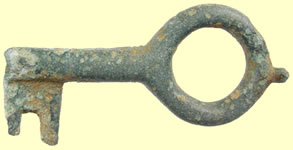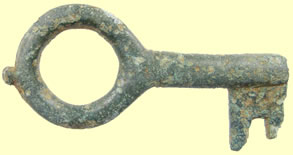 C10thC Saxon key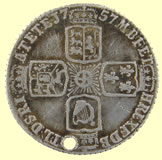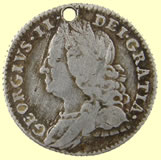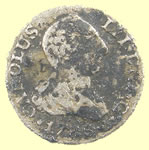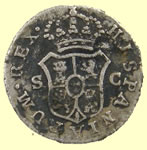 Just posted loads more great finds including some great hammered and milled silver to the latest hunt page Sept 2008 finds page 2
12th Oct 2008 Romano/British settlement found
Chicago Ron hunting new land has possibly stumbled upon a small Roman settlement at the top of a hill. There were a whole range of bronzey bits including several poor condition 1st/2nd C Romans, Celtic wode grinder, fibular brooch and what appears to be an early disc brooch. I have uploaded loads more finds to the latest hunt page including some great silver coin finds Sept 2008 finds page 2


1stC BC Celtic bronze wode grinder - suspension loop type worn around the neck
51.56mm L x 10.13mm W , 12.27g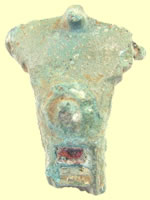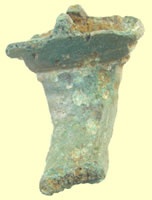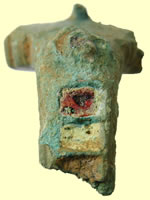 2nd C Roman red and yellow enameled 'Headstud' type fibula brooch Ref 944 p332 Hattatt's
20.72mm W x 28.82mm L 10.83g
Large 1st/2nd C Roman bronze 14.70g, 31.62mm sent for ID

This appears to be a Sestertius of Faustina II - wife of Marcus Aurelius (161-180 AD) She died in 175 and most of her coins are either posthumous or were issued while M. Aurelius was still Caesar under Antoninus Pius (139-161) so the dating can only be general with no reverse type to guide us and not enough obverse legend to tell if it's a life time or posthumous issue. There isn't much else I can say in the condition this one is in.

Mark

Large 1st/2nd C Roman bronze 29.74mm, 13.94mm sent for ID

Large 1st/2nd C Roman bronze 14.04g, 30.74mm sent for ID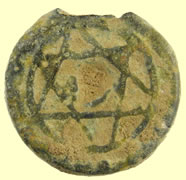 Disc brooch found in the same area - Possibly Roman but could also be Saxon - one for the museum
23.05mm ,7.02g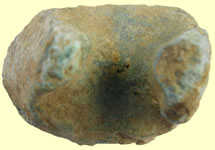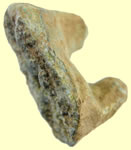 850BC Bronze age axe head casting waste plug
40.72g, 35.05mm L x 24.96mm W
11th Oct 2008 More monster finds
Brand new land has been skunking us again and then giving up the monsters. Illinois Joe found a stunning medieval gold ring with a black onyx stone in mint condition that I have just reported as treasure to the Colchester museum. Tenn Brad had a great afternoon with his second full medieval silver groat, long cross medieval hammered silver penny, medieval bronze beehive thimble and then a superb 850 BC Bronze Axe axe. Loads of other great discoveries were made that I have started to post to the latest hunt page.
I have updated this years gold finds page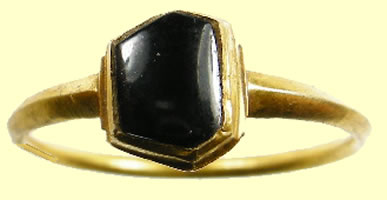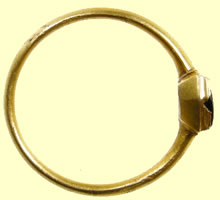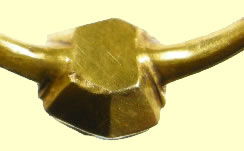 Black Onyx Medieval gold ring 21.93mmdia,2.51g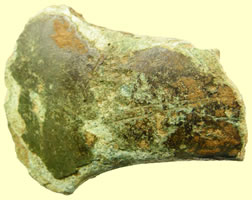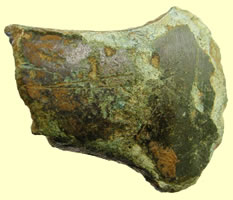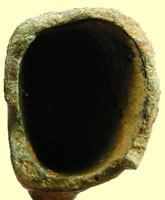 850BC Bronze Age socketed axe 79.73g, 53.86mm L x 44.24mm W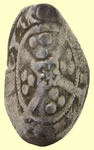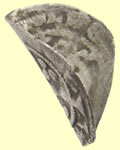 1464/5 Edward IV hammered silver penny - Type VIIi - 0.93g, 18.07mm
obv EDWARD DI GRA RE ANGL
Rev CIVI/TAS/EBO/RACI - York Mint - Archiepiscopal issue
9th Oct 2008 Late November hunt anyone ? - Hammered gold and more finds
I am trying to get another team together for a late Nov early Dec hunt if anyone can make it, there are still a couple of free slots. We have only covered half a dozen of the 30 new fields so far and there is still huge amounts of hot spotting to be done. Of our 250 fields available we have only been briefly on a 1/3 of them so far.
Illinois Tim is still on fire this trip and was searching around an old house site yesterday that is on an early map but no sign of it exists out in the field. A couple of the guys dug some hammered silver coins and then Tim found the monster, a stonking James 1st gold Laurel, what a pretty coin.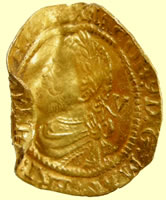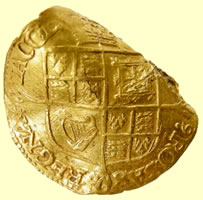 1619 -25 James 1st hammered gold Quarter-laurel - 2.24g, 19.46mm 2nd coinage
I have posted a load more finds onto the lastest hunt page including some great do dads and hammered silver.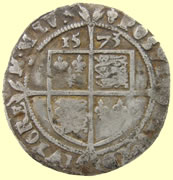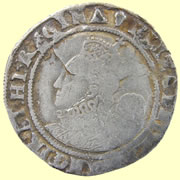 1573 Elizabeth 1st hammered silver 6 pence - Acorn mintmark 4th issue
8th Oct 2008 More stunning finds
Some great finds yesterday including this magnificent silver seal matrix with double headed eagle around a heart inscription. This style is very difficult to date and could be medieval but I get a 'feel' that it is 17thC. It has been reported as potential treasure to Colchester museum and the British museum will be able to give us the definitive date later on .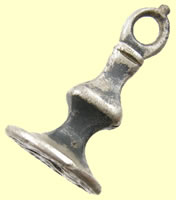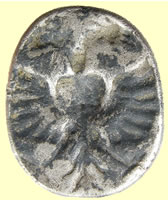 Silver seal matrix – double headed eagle with heart
5.02g, 25.09mm L x (13.79mm x 10.98mm seal head)
Another very rare find is this 4thC Roman silver coin, the Roman empire was broke when the last of the silver coins was issued. There were several large Roman coins found in the same area but they were all illegible. However Tim who found the silver Roman coin got one huge bronze with great detail and a female bust on it. I have put the Roman silver in the 'cooker' and sent them both off to Mark Lehman for ID and his views, I have got back the large bronze ID already posted below. Other great finds included some really crisp early hammered silver and a decorated Roman fibular brooch fragment. I have posted more finds to the latest hunt page Sept 2008 finds page 2 New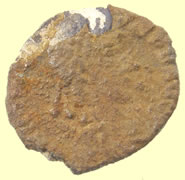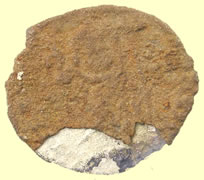 Roman mid 4thC Roman silver coin - in the 'cooker' to remove the 'horn' crust 16.22mm, 0.97g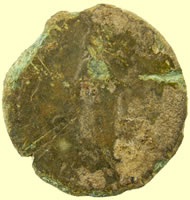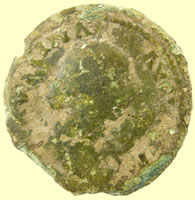 Huge 2nd C Roman bronze coin with female bust 17.91g, 31.29mm dia x 3.95mm thick
The big AE is a sestertius of Faustina Jr. She was the wife of Marcus Aurelius. The obverse reads: FAVSTINA AVGVSTA, and so it's a lifetime rather than a posthumous issue for her. Theirs was a very "fruitful" marriage and she bore a large number of children, among whom were the future emperor Commodus and Lucilla, wife of Lucius Verus. She survived almost to the end of Aurelius' reign (181 AD) dying while visiting him out on the borders in 175 AD.
There are a number of interesting "dynastic" sestertius types for Faustina Jr. showing her surrounded by her children, holding babies, etc. This, unfortunately, does not appear to be one of those. This seems to have a more prosaic allegorical personification or deity standing on the reverse. Unfortunately, this standing figure is not (visibly) holding any specific "attributes" - objects which might help us tell who it's supposed to be - or holding (visibly) her arms in a posture which might help, so we'll just have to say that it's a more-or-less generic Sestertius type. This means that we'll be unable to date it more accurately than to say it would have been issued during the time between her marriage to M. Aurelius as Caesar under Antoninus Pius in about 145 AD and her death in 175 AD. So, it's a mid-to-late 2nd century AD piece.
Mark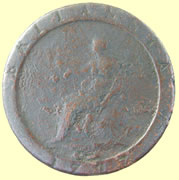 1797 George III cartwheel penny - cleaned using the 'Loc Plus' polishing method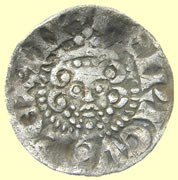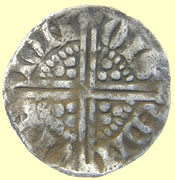 1247 Henry III hammered silver voided long cross penny Class IIIc, 17.22mm,1.34g
Rev ION/ONS/E(DM/VND -Moneyer Ion - Bury St Edmunds mint
7th Oct 2008 Celtic silvers are rare ones - 2000BC bronze flat axe - Lots of updates



Earliest flat axe there are 2000BC - It's size suggests it may well be a chisel or scraper 68.50mm L ,24.35mm W x 4.72mm T 30.11g
The guys had a mixed day out there yesterday, a new field gave them a ton of nice buttons including some early numbered regiments and other new land produced eight hammered silver coins including a mint short cross penny and a full medieval groat. Canadian Victor has found what looks like a 2000BC bronze flat axe which is only the 2nd one we have found, they are an extremely rare find for this area of the country. It's size suggests it might well be a chisel but the museum will send it off to their experts for their views. I am backed up with finds to post but will try and get a load processed and uploaded to the latest finds page today Sept 2008 finds page 2 New
I just got the mail back from the CCI recording and ID'ing the last 3 Celtic coin finds.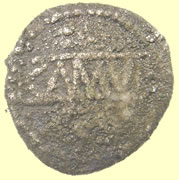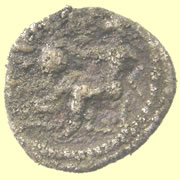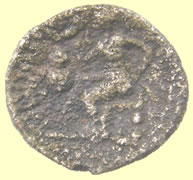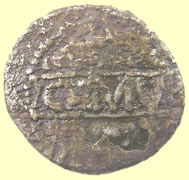 14.25mm, 1.32g --------------------------------------14.59mm, 1.14g
Fascinating to see the two cleaned up Celtic silver coins alongside each other as they are from totally different dies but with the same design found around the same Bronze Age village site. First one is recorded as CCI 08.9325, 2nd one is 08.9326. I will send the new cleaned up pictures to Dr Philip for his further comments.
The two Cunobelin silvers are very nice, and a rare type at that. The first one (West side of the Bronze Age village) will be 08.9325, and logically enough today's will be 08.9326. They are both the same type, I think - the seated figure is to the left on the second one. The only standard reference for the type is no. 308 in Spink's Coins of England, it's not in Van Arsdell or the BM catalogue. On the first one of the two you can see the amphora which the seated figure is holding quite clearly, but the CVNOBE doesn't show up too well on either. I don't have the exact figures here for rarity, but I don't think there are more than a dozen of these recorded at most. Date is perhaps somewhere in the middle of Cunobelin's reign, say perhaps c. 20-25 AD.

Thanks again for all these,
Best wishes
Philip

Mark sent back the ID on that last 'cooked' roman silver. I have finished cooking it now, amazing result.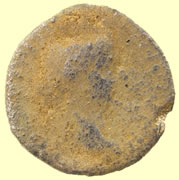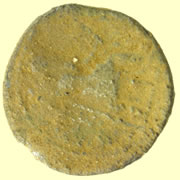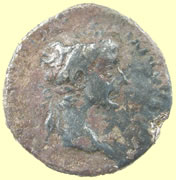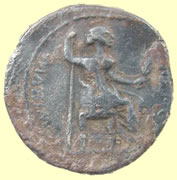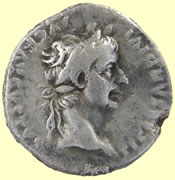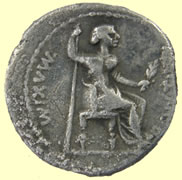 Yes, you are becoming quite expert in getting encrusted early silver looking presentable again. This is Tiberius and the coin is the so-called "tribute penny" denarius which is often associated with the passage in Matthew about "rendering unto Caesar.." etc. This has been a very successful marketing ploy and results in this type generally bringing a price far above what it should, based on its scarcity (or lack thereof).
Tiberius was a rather reluctant "heir" to the Principiate to begin with and made a distant and barely-concerned emperor. After his first few years in office, he retired to his huge villa on the Island of Caprae and never set foot in Rome again. He cared so little that he never bothered to change the types of the coins to take advantage of their great propaganda value in a time and place in which they were nearly the sole mass media. So, from 14-37 AD - a rather long rule - he continued to produce the same few types - and only this one type of denarius.
Mark
Chicago reid found the first Roman from new land and it is in remarkable condition, Mark Lehman has sent back his comments and ID, very interesting.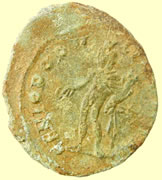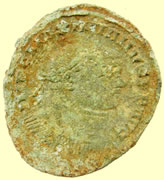 Remarkable Roman bronze 6.99g, 28.90mm sent for ID
Interesting one . There were 2 emperors who used the name "Maximianus" - one was Diocletian's colleague Maximianus "Hercules" who had a colorful career, being emperor no less than 3 times in his life and Constantine the Great's father-in-law, among other factoids. There was also his junior colleague Galerius Valerius Maximianus, generally known as "Galerius". Galerius was Caesar under Maximian, then he was Maximian Augustus in his own right during the first of the senior Maximian's abdications. He was also one of the VERY few emperors of this era who died in his own bed (albeit from a dreadful disease).
So the issue is, when faced with a coin with the obverse legend: "...MAXIMIANVS PF AVG", which Maximian do we have here, the 1st or "2nd"? - it's one case where if he'd been called "Maximian II" it would be more useful than his given name of Galerius. So, depends on when the coin was issued - and this we must discern from the sequence marks. So, we have to approach this coin from the reverse to try tell when it's from in order to know who it is. And, Voila! this coin has neither exergual mintmark or fieldmarks to help us, plus it's the extremely common reverse type of Genio Populi Romani - well, isn't that interesting? OK, then, the obverse legend is: "IMP C MAXIMIANVS PF AVG" so we turn to the list of obverse legends in RIC VI to see which mints used that form of the name - and it turns out to be all of them, no help here either. Luckily, in the plates for RIC VI, there is a photo of a GENIO POPVLI ROMANI follis with a blank exergue and fields for Lugdunum - modern Lyon.
So, this appears to be RIC VI, Lugdunum 14b - c. 296 AD. I cannot, however, be absolutely certain that no other mint issued for either Maximian as Augustus a GENIO PR follis which had no exergual or fieldmarks - absence of evidence not equalling evidence of absence and all that - without spending an absurd amount of time turning pages in a volume over 725 pages long. The findspot being Britain, however, a Western European mint like Lugdunum is quite likely.
Since Galerius, the junior Maximian, was a Caesar at this time, this must then be the elder Maximian.
Mark
6th Oct 2008 Double Celtic coin day - Roman is cooking nicely and ID back on the bronze
Posted a load more great finds to the latest finds page Sept 2008 finds page 2 New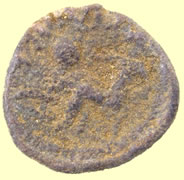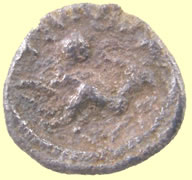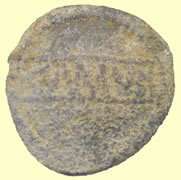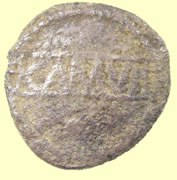 10 to 40 AD Cunobelin Celtic silver unit - horse facing right - in the 'cooker' starting to clean it up - sent to CCI for recording and ID 14.25mm, 1.32g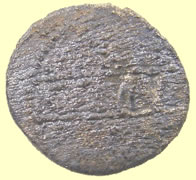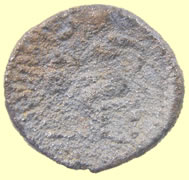 10 to 40 AD Cunobelin Celtic silver unit - figure sitting, facing left - in the 'cooker' starting to clean it up, sent to CCI for recording and ID 14.59mm, 1.14g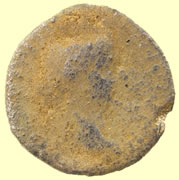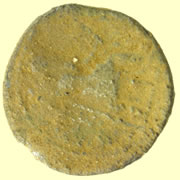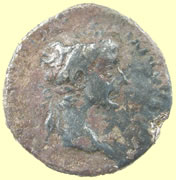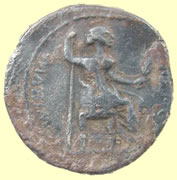 Roman 1st C silver coin 19.19mm, 3.35g- As dug and 'cooking' nicely to remove the 'crust'- sent to Mark Lehman for ID
It was pouring with rain, high winds and really festering weather out there but it did not stop the guys finding two rare Celtic silver coins. This is an amazing result as the Colchester area is well documented for a disproportionate ratio of gold Celtic coins to other metal types . Since we started searching this area we have found 68 Celtic gold coins but only 4 silver and 5 bronze units so to find 2 in a day is staggering. These came up both West and East of our huge Bronze age village site. One the previous silver units found 3 years ago was to the North of the site so they surround the village. 99% of all the gold found was deposited as ritual offerings but did they also do the same for the silver coins when times were hard ? If you read the report we commissioned by the 40 page Sussex Archeology field unit report on this site it has all the information on the burial, ring ditches, crop marks and henges.
http://www.colchestertreasurehunting.co.uk/D/desktopsurvey.htm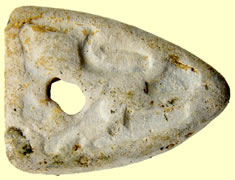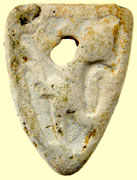 Stunning early medieval lead shield trade weight - Lion prancing right - first of that type we have found
I managed to get an ID on that Medieval hammered silver penny find from yesterday, 1274 Edward 1st hammered silver penny - Class 3d 16.72mm, 1.04g Obv EDWR ANGL DNS HYB, Rev VILL/ABR/ISTO/LLIE - Bristol mint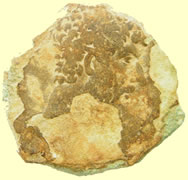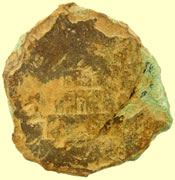 That is indeed a sestertius - or what's left of one - and was issued posthumously in honor of Lucius Verus - co-emperor with Marcus Aurelius from 161 AD to his death in 169. He wasn't much help while he was alive, being more interested in the "percs" and pleasures of Imperium than in service like his senior partner Marcus Aurelius, who spent nearly his whole reign out on the borders fighting "barbarian" invaders. He was "family", however - the son of Hadrian's chosen heir Aelius who predeceased him (Hadrian), and was married to Marcus Aurelius' daughter Lucilla - so was accorded all the conventional honors, etc.
The "wedding cake" looking arrangement on the reverse is a huge funeral pyre. The Romans cremated their dead, mostly, and the more important a person, the more public and lavish the event. Those who had no real "name" but were rich, might arrange for extravagant funerals as well, to try to gain some fame after death, at least.
There were two "stock" posthumous reverses for emperors at this time, the "layer-cake" crematory pile and an eagle standing on a globe. This coin was issued by Marcus Aurelius right after Verus' death in 169 AD. Similar coins were issued for both Antoninus Pius and Marcus Aurelius after their deaths - Verus' posthumous coins are a bit scarcer than either of the other two - Verus' lackluster life and career wasn't seen as deserving more than perfunctory, if Imperial, honors
Mark
5th Oct 2008 Stunning Medieval gold statue pendant - other amazing finds
Tenn Brad on brand new land found what is probably one of us best ever artefacts. It is simply stunning and a very important discovery especially as the field it was on has never been detected before. Both the landowner and finder have generously agreed to donate this amazing find to the Colchester museum. It has been reported as treasure and will go through the whole treasure process but they will not have to hold the valuation stage. The circular disc the guy is holding had something attached to the gold pin that still remains.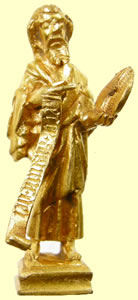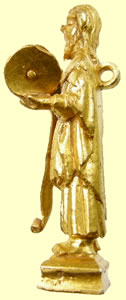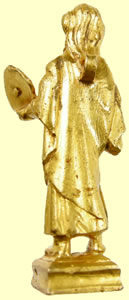 Stunning medieval gold statue pendant - C13th judging by the Lombardic script on the scroll . This is probably to do with the Catholic church (DEI) and one of the members suggested FRCO is St Francis
Script reads FRCO ++SMYUNC +DEI - reported to Colchester museum as treasure
32.80mm H ,11.46g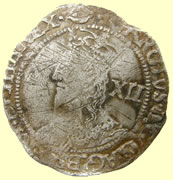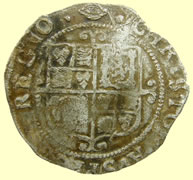 1645 Charles 1st hammered silver shilling - Tower mint under parliament - Eye mintmark 32.09mm, 5.87g
The guys were spread out thin on 6 new fields to try and hot spot them and there were some other amazing finds that I will try and post later. Can Bill found what looks like an unrecorded Medieval hammered penny in great shape, huge Charles 1st hammered shilling, a stunning huge Roman bronze, the first medieval shield weight I have seen, a 1440's gold Ecu coin weight, all kinds of knic knacks. What a great days detecting.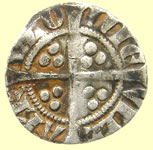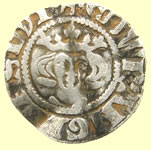 This coin needs a lot more work to ID it - clearly a Medieval Edward (EDWR) silver penny but it is a Villa type obv I do not know
4th Oct 2009 End of a great week - great start to the new hunt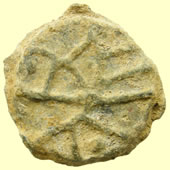 It was a great end to the weeks hunt with Mindy again finishing with a really crisp Elizabeth 1st penny. Some great finds were made including a Saxon lead token, really neat trade weights, tokens, stunning early Regiment of Foot buttons etc . I have posted a bunch more on the latest finds pages. Cal Jim got a neat 17thC engraved cufflinks that I have reported to Colchester museum as treasure.
Chicago Reid started the ball rolling on the new hunt with an early looking Roman Republican silver coin that I have put straight into our Roman silver 'cooker'. I am posting a load more finds to the latest finds page. Sept 2008 finds page 2 New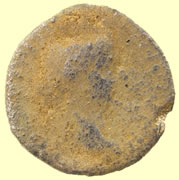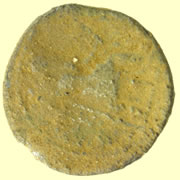 Looks like a Roman Republican silver - BC in date - got it cooking to remove crust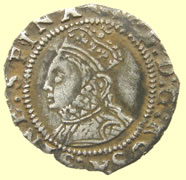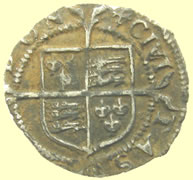 Stunning 1560-1 Elizabeth 1st hammered silver penny - Cross Crosslet 2nd issue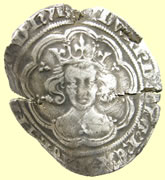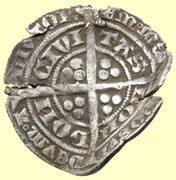 1351-2 Edward III hammered silver groat - Cross 1 Pre treaty series C
Obv EDWARD D G REX ANGL Z FRANC D HYB
26.99mm, 4.38g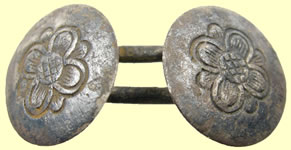 17thC silver cufflinks reported as potential treasure
2nd Oct 2008 Another Celtic gold found - Members forum is down - new Treasure process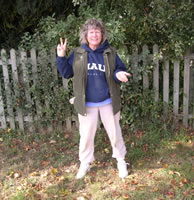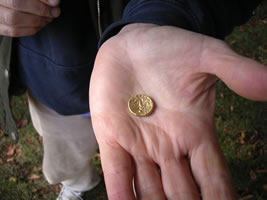 The members forum is down again, http://www.forumer.com/status.php to check the status, we are No7 which is showing as down.
Minnesota Mindy is tearing it up out there and is our first female member to find a Celtic gold, it is a mint example and another 50 BC Gallo Belgic full stater. This was found on the North side of our Bronze age village site and I thought is might be a die match to the one found last week by Idaho Orv on the East side of the village. This is an interesting find as the village has been primarily 45 BC Addedomaros, 10 BC Dubnovellaunus and 20 AD Cunobelin tribes and now we have had a single find of a Gallo Belgic on all 4 points of the compass around the village. I have sent it of to the Celtic coin Index for Dr Philip's views and recording. It is interesting to compare both Mindy's and Orv's to Can Dan's example which is a completely different stylized design from a new area we have just started searching. His is the first Celtic gold ever recorded in that Parish.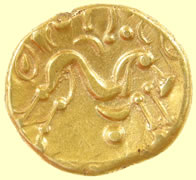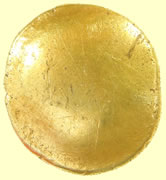 Mindy's Gallo Belgic 50BC Celtic gold stater 6.38g, 16.96mm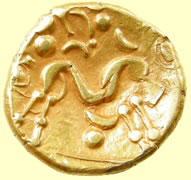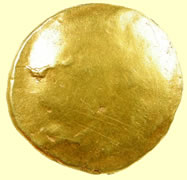 Orv's 50Bc Gallo Belgic Celtic gold stater - 17.42mm, 6.19g CCI 08.9320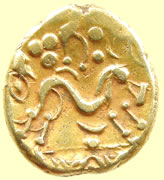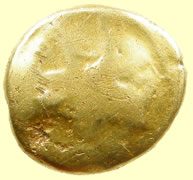 Can Dan's Gallo Belic 50 BC Celtic gold full stater 6.30g, 17.59mm CCI 08.9323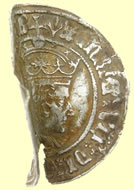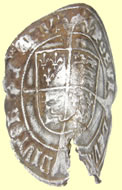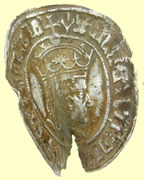 1507-9 Henry VII Regular profile issue hammered silver groat - Triple banded crown - Pheon initial mark
2.90g, 27.51mm
Obv HENRIC VII DI GRA REX ANGL Z FRA
Rev POSUI DEUM ADIUTO(R)E MEU(M)
The guys hit a new field in a small village and dug unbelievable amounts of targets, buttons, coppers, thimbles, lead and trash. The were a couple of early Victorian silver milled silver finds but mostly it was Georgian period. One of the guys said I have found this big bale seal, it was a beautiful 13thC lead seal. Lunchtime the guys split up and went to two new fields as the 'grass is always greener' LOL. Min Mindy decided that the first field showed real potential and stayed there for the afternoon session on her own. They should have listened to Mindy as they all got totally skunked and she found a stonking big hammered silver and a bunch of great buttons and do dads. Just shows the grass is not always greener on the other side and we should listen to Mindy as she is on fire at the moment.
19thC Eastern Railways and steam ship Co

Essex counties button

Early foreign navy ? not checked ref books yet

19thC The Great Eastern Railways button

Essex badge

Hunting button

Georgian pewter button with glass stones

East London Engineers button

Generic merchant navy button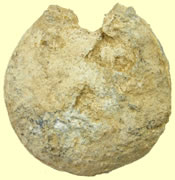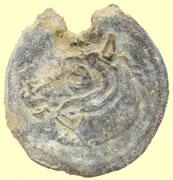 This is an interesting piece as it is domed lead like a Medieval Pilgrims item and would have been a pendant by the hanger hole. One for the museum to look at further
1st Oct 2008 Another early 850 BC axe head found - more stunning relics and Celtic gold ID'd
Started a new finds page to speed up load times Sept 2008 page 2 New
Just got an email in from Dr Philip of the CCI on the 2nd Celtic gold found this week. This was from new land in a totally different area from our normal Celtic village sites so I asked him if any others had been recorded with him in the past.
This one will be CCI 08.9323, and it's definitely VA 52. I haven't heard of **** before, which is a pretty good sign that there aren't any other coins recorded from the parish. Good luck with the rest of the fields...
Cheers
Philip
Can Dan is still on fire and while washing up his finds last night said to me is this anything ? Yep sure is, a 850BC Bronze age socketed axe end. What is funny is he got it in the same location as his gold ring find from yesterday. You can clearly see on this example why it fractured during use as the casting thickness was very uneven.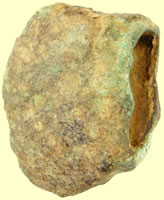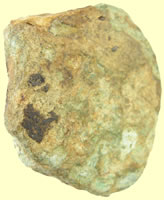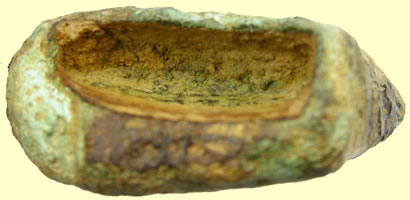 850 BC Bronze Age socketed axe 37.04 W x 30.58mm L47.54g
Some really great relics turning up which I have posted below, more posted on the latest hunt page including an unknown medieval hammered silver coin Sept 2008 page 2 New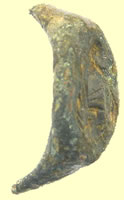 Medieval bronze seal ring - bearded figure sitting - 2.70g, 18.86 mm dia x 9.62 mm W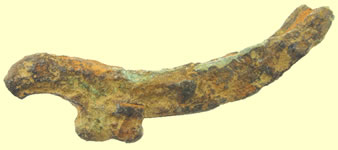 Superb find - 1st C Celtic wode grinder - 'bull head' type with broken suspension loop 44.34mm L ,7.40g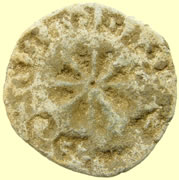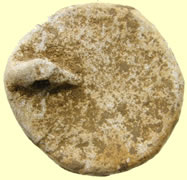 Circa 1260 AD lead personal seal , 4 have been found attached to pasture rights. The design is typical of mid 13thC non heraldic seals
30th Sept 2008 Extra - Neat early gold ring - interesting hammered silver - more land
I met with the farmer this morning to exchange contracts on the new land that we were offered this week, I was surprised when he gave me the maps of his land that he also has another half a dozen extra fields to for us to explore. More details on members forum. I have updated the land overview/availability page.
I have posted more finds to the latest hunt page, also I am constantly updating our photo albums on the searchable database.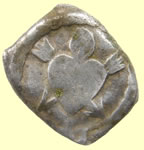 Canadian Dan is on fire this trip and got his 2nd gold item of the week, this time an early pure gold ring. I have sent it off to Colchester museum as potential treasure as it appears to be very early and hand made. His wife Marjo also found another treasure of a Charles II 17thC silver heart and flames button (1.19g, 14.67mm). We have found several of these in the past that are now on display in Colchester museum.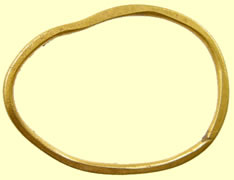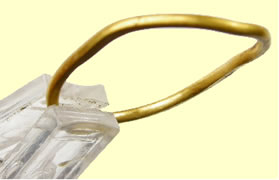 Early hand made gold ring - no hall marks 1.18g, 23.26mm x 1.06mm T
Two really interesting hammered silver coins were found yesterday, really nice Alexander and an unlisted Henry III voided long cross.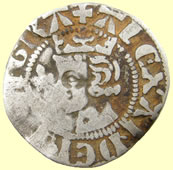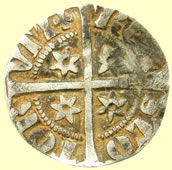 Scotland Alexander 1246-1286 hammered silver penny Class 4
obv - ALEXANDER DEI GRA
Rev -REX SCOTORUM - King of Scotland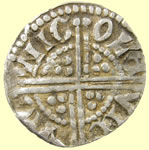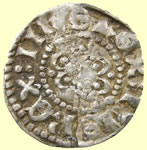 1247 Henry III hammered silver voided longcross penny - Class 3a
This is a fascinating coin with an off stuck cross which makes it appear staggered. The Moneyer is clearly Nichole but the mint is not in C.Wren's book. Mint clearly starts VCE which his no known mint ? I will be sending this off to the hammered silver expert at the British museum for his views.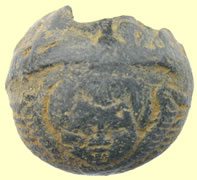 This would have been one amazing crotal bell if it was complete - never seen a cherub face on a bell - Circa 16th C
30th Sept 2008 Celtic ID back - more neat relics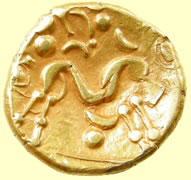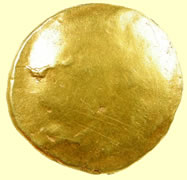 50Bc Gallo Belgic Celtic gold stater - 17.42mm, 6.19g
I have just had a reply about the Celtic gold found last week which was sent for recording, here are Dr Philip de Jersey's comments
I'll record this as CCI 08.9320 - as you say a very nice Gallo-Belgic stater, I think from one of the earlier classes (VA 50 or 52) judging by the continuous line under the horse. Hope it's a sign of more good things to come!
All the best
Philip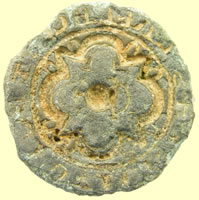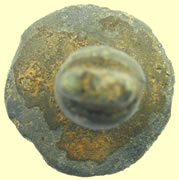 Medieval seal matrix 20.22m dia , 9.34g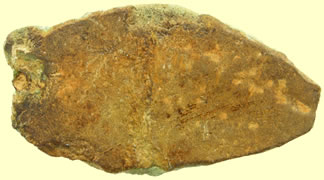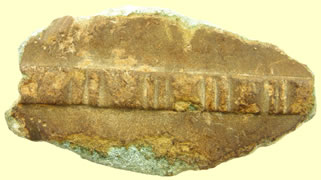 Roman bronze decorated Amphora strap end 44.38mm L x 23.89 W 17.23g
29th Sept 2008 Another beautiful Celtic - feedback on treasure
Archived half this page to speed up load times, old news page is now 2008 June
Another amazing discovery on new land by Canadian Dan in an area that no Celtic gold have ever been found before. This opens up huge possiblities as we have 40 + new fields to hot spot in this area and have only walked on a handful so far. It will be interesting to hear back from Dr Philip when he records it onto the National Database to see if any other Celtic gold staters have ever been reported from this area .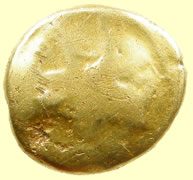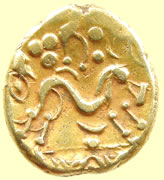 Gallo Belic 50 BC Celtic gold full stater 6.30g, 17.59mm sent to CCI for recording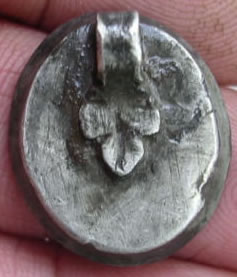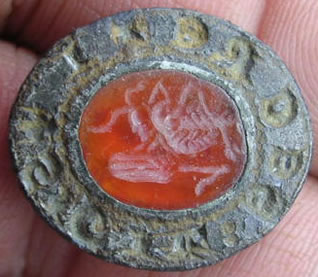 Solid silver medieval vessica seal 62.1g, 21.96mm L x 18.81mm x 5.51mm W (excluding hanger)
I was at the museum during and week and got some feedback on one of our treasures above that is going for inquest on the 18th Nov at Chelmsford Coroners court. The Circa 13thC silver seal has a Roman intaglio at it's centre. What a fantastic relic.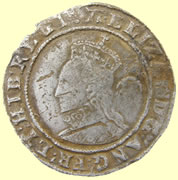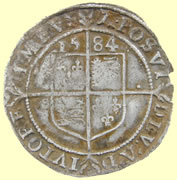 Some nice hammered silver coins found yesterday including this Crisp 1584 Elizabeth 1st hammered silver sixpence - 'A' mint mark 6th issue
More finds posted on main finds page Sept 2008 finds page
Got a great e-mail in from Denis Darmanin an old button collector and researcher. He has kindly ID'd a bunch of our outstanding buttons and updated others. I have updated the pages, Military, Navy and Livery with the changes.
London Borough Volunteers

Maidenhead Volunteer Fire Brigade, pre WW1.

United States Air Force

Very likely to be a Royal African Regiment (needs confirming)

T...... Volunteer Cavalry

This is an old Army Engineers button, either French or Italian.

Again an old British Army button B.... Militia.

New York Militia probably of the 1812 era

Honourable East India Company
28th Sept 2008 Pair of Medieval beauties - New type of Saxon silver coin
We have just been given permission to search yet more land around an old village that has never been detected before. The guys are going to give it a try this week. I have just received an e-mail from Dr Allen with the recording and ID of the latest Saxon silver coin find. It a new variety of the Vernus type, what a superb find. That came from our first hit on a new field so it is well worth a return visit to see if we have found a good Saxon area.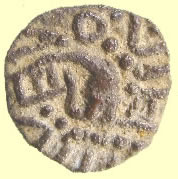 'Many thanks for this interesting new find, which I have recorded as EMC 2008.0410.
This seems to be a new variety of the Vernus type, with an inscription reading VE[N?]VEO. It does not really belong to any of the varieties of the Vernus type described in Michael Metcalf's Thrymsas and Sceattas.
The curved object on the obverse is probably derived from the 'plumed bird' type of Series E, which Metcalf suggests is the origin of the Vernus type. The relatively high weight is normal for the Vernus type, but your comment about the debasement of the silver is interesting.
Regards'
Martin
Other new land we have just started searching produced two stonking Medieval groats. These are particularly interesting as they are both Henry VI, one is the annulet issue and the other Rosette- Mascle. This site is also well worth a return visit as there were tons of other dod dads, trade weights, thimbles etc.

1422-27 Henry VI Annulet issue hammered silver groat (4 pence) Initial mark pierced cross

obv HENRIC DI GRA REX ANGLIE Z FRANCE

Outer legend POSVI DEVM ADIVTORE MEVM

Inner legend - VILLA CALISIE - Calais Mint

3.63g,26.14mm

1427-30 Henry VI Rosette -Mascle issue hammered silver groat (4 pence) Initial mark incurved pierced cross

obv HENRIC DI GRA REX ANGLIE Z FRANCE

Outer legend POSVI DEVM ADIVTORE MEVM

Inner legend - VILLA CALISIE - Calais Mint

3.25g,25.81mm
27th Sept 2008 Another cracking find
Yesterday was amazing, guys split up on 2 plots of new land and both came up trumps. Loads of do dads, milled and hammered were found and it included two full mint medieval groats. I have not cleaned them up yet and will post later. Idaho Orv who has been on fire on his first trip here found another stonking find, mint Saxon silver coin. This is a very important discovery being the very first Saxon period item from this entire new area. On the same land Orv also got a really crisp Roman bronze with a obverse I had not seen before. Mark Lehman has just sent me the ID and write on the coin and it is classed as 'scarce'. I have sent the Saxon silver coin to be recorded and ID's to the National Early Corpus database at the Fitzwilliam museum, they will issue the coin with a unique EMC number and tell us the class. More finds uploaded to the latest finds page Sept 2008 finds page with tons more to post today.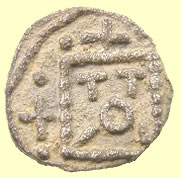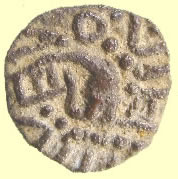 Saxon C600 - 775 AD Silver Sceat sent to Fitzwilliam museum for recording and ID 12.08mm,1.25g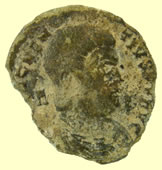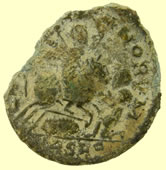 4thC Roman bronze sent for ID
I know this one on sight - and it's actually fairly scarce. This is the short-lived emperor Magnentius. You can easily recognize him and his brother by their distinctive and somewhat silly-looking mullet hair-do's. An interesting footnote to the period of Constantius II's reign, Magnentius had been a general of Constans'. Around the time Constans died in 350 AD, Magnentius had recently been proclaimed emperor by his legions and his authority was widely accepted in Gaul and other Western Provinces, particularly in the power-vacuum caused by Constans' demise. He named his younger brother Decentius Caesar in the spring of the next year - 351. Their rule was meteoric and brief, with both of them commiting suicide after a string of lost battles in 353.
If, as you say, it's "like a typical 3rd c size" (and I'll assume you really meant 4th century here) this would be a somewhat lightweight Centenionalis, or possibly a half - RIC says "20-21mm & 5.07gm for average size & weight and doesn't list a normal half-piece, but it's not unusual for them to be found a bit on the smallish side. This reverse, GLORIA ROMANORVM, with the ruler spearing an unfortunate "barbarian" enemy from horseback, was struck only for Magnentius and not for his younger brother - and only for a short time.
This piece is from the mint at Lugdunum - modern-day Lyon in France - and dates to the period before the elevation of Decentius, so it's pretty solidly dateable to January 350 - Spring 351.
RIC Lugdunum 115, LRBC 214, SR 4021.
Mark
26th Sept 2008 Lots of skunking and some great do dads
Latest news from around the county
Ancient' Christian amulet exposed as modern hoax
RARE COPPER AGE AXEHEADS DONATED TO MANX NATIONAL HERITAGE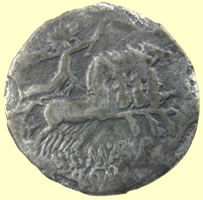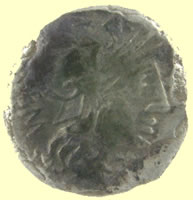 Roman Republican Denarius - moneyer: M Aburius M.f. Geminus, 132 B.C.
I dropped off the latest axe heads finds to the museum yesterday for recording and evaluation and discussed the finds with two of the Bronze Age experts. They were uncertain if the holes in the axe were cast that way or just casting faults. The axes will now go off to the british museum is further analysis. I picked up the disclaimed treasures and the Roman coins left for recording, these can now be returned to the finders. Details on members forum
The last couple of weeks detecting has been a really mixed result. New land has been giving us the monsters and then kicking us to death. It is really exciting being on plots that have never been detected before but these new 35 fields are impossible to grid, we just have to luck out. Yesterday we were next to Celtic village and I had to hide the razor blades from the guys as man did it suck big time !!. The guys today have picked a new field behind the Pilgrims fathers house dated 1570, lets hope they had a bar-b-que before they set off to America and dropped loads of do dads !!
There were however a couple of really great do dads, a superb uncrushed Medieval lead pilgrims ampullae and a mint condition 119th French regiment of the line Napoleonic button. The medieval decorated box chape is a rare find. I have uploaded a load more finds including an unusual number of crude rings, some with stones and what look like diamonds. Sept 2008 finds page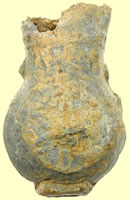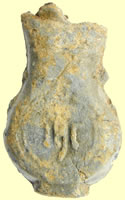 East Anglian Type - IC stands for Jesus Christ - 54.25g, 49.34mm H x 31.73mm W x 13.94mm T
Pilgrim ampullae - holly water bottle made of lead 12th to 15thC,
These ampoule were brought from pilgrimage places as a souvenir
Mitchiner suggests that many ampullae were used in the annual springtime 'Blessing the Fields' ceremony, in which the Holy Water they contained was sprinkled on the ground to give prayer for a good harvest. Having served this purpose, Mitchiner suggests that the ampullae were discarded. Others have suggested that the ampullae were buried along with their contents for a similar purpose.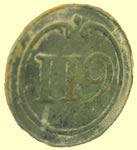 French Infantry Button
119th Line Regiment
Circa 1803-1814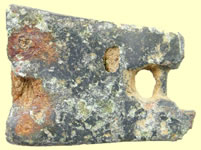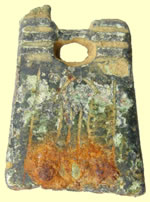 Early Medieval decorated buckle with integral box chape
23rd Sept 2008 First Celtic gold of the season
What mint pure gold example of a Gallo Belgic full stater found by Idaho Orv, first Celtic of the season and an amazing discovery. I have sent it off to Philip at the National Celtic Coin Index for recording and his views on die type.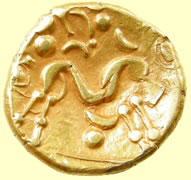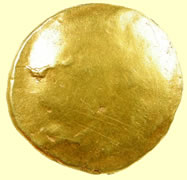 50Bc Gallo Belgic Celtic gold stater - 17.42mm, 6.19g sent to CCI for recording
This coin weight is very interesting as it looks like a bronze Roman coin but is a 15th coin weight.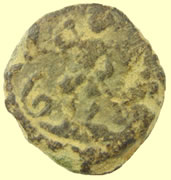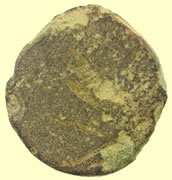 15thC half Ryal coin weight - 15.90mm, 4.01g-61.9gn
Uploading more finds to the latest finds page.
I have updated the forum competition page with the latest milled silver count
22nd Sept 2008 Getting skunked - more Roman ID's
A lot of the new land is giving us a real good skunking as we try and hot spot it. However certain areas are producing sparse numbers of Roman coins but they indicate a good date spread so far with 300 years of Roman occupation. I just got an ID back on couple we found yesterday. I have posted a load more finds to the latest hunt page.
Roman 2. - 0.89g,13.97mm

Roman 3. - 16.78mm dia, 4.48g, 3.2mm Thick

These are coins separated by almost a century.

Your "roman2" is a piece issued only briefly and only by Western European mints for Constans and Constantius II in 347-8 AD - with no legend on the obverse, there's no way to tell which of the brothers it is.

The reverse legend, which is also completely missing on yours should be VICTORIAE DD AVGG Q NN and the type is two winged Victories facing each other, each holding a wreath - it sort of looks like they're playing badminton or squash. There's a branch (I think, it looks more like a column on this specimen, but there is no "column" control mark for this series) between them on this one, it's a control mark for keeping track of issues from each mint. I can't be completely sure I'm reading the exergual mint mark correctly, but it might be "AQS dot", in which case it's from the mint at Arles.

Your thick "roman3" piece is a contemporary copy of an antoninianus of Tetricus I (I think - is there a beard visible? if bearded, it's Tetricus I - if the chin is definitely bare, it's Tetricus II). These, unlike other "counterfeits" are not necessarily lighter than the prototypes - it is believed that they were made and accepted locally in places where the official coin of the Gallic Empire did not reach, or did not reach in adequate supply to properly facilitate local commerce before a regular supply of Imperial coin was resumed under Aurelian & Probus.

Copies of familiar coins, often quite crude and illiterate so there's little chance that they were confused for the genuine article, evidently circulated quite freely alongside their prototypes, since they are so common and found together with official pieces so frequently. This places the coin around 270-280 AD. or possibly just a bit later. I can't make out anything on the reverse so I can't tell you which reverse type it emulates, but Pax & Spes were 2 extremely common reverse types for these - chances are very good it's one or the other.

Mark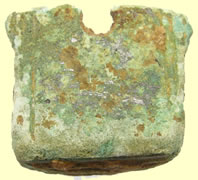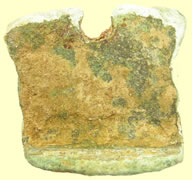 Interesting Roman period decorated stirrup looking plate - traces of silver gilding remains- one for the museum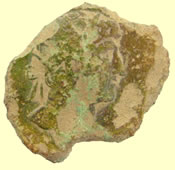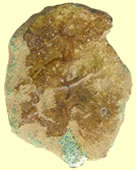 25.23mm, 5.48g
Another damaged, fragmentary and probably mineral-leached As. This one appears to be Antoninus Pius again- 138-161 AD - and the reverse has a standing figure, if you know which way to align it. I believe the standing figure of which we see the middle of the torso is Antoninus himself, togate, and sacrificing over an altar which is not quite visible to the left of the "S" from the S - C in the fields.
If it's the type I think it is, it dates to 148 AD.
RN Capt / Commander - 1787
RN Lieutenant - 1787

Superb find, American Rev Wars period 33rd Regiment of foot button - Officers

17thC hammered copper trade farthing - William Moore bays maker of Colchester Essex, Ref Norweb 1202a
19th Sept 2008 Treasure and more silver
I reported this potential treasure item below to Colchester museum and first impression is that it could be 16th Tudor. A couple of the guys on the members forum have suggested it is a rosery hanger, could well be as it was found near an Abbey. I am picking up the Roman coins left at the museum for recording next week and will be dropping down the two early axe head finds for recording and evaluation. The museum are also picking up the disclaimed treasures from the British Museum this week for returning to the finders. I have posted a bunch more finds on the latest hunt page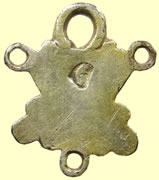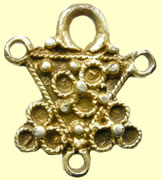 Gilded silver item - possible rosary hanger - 22.34mm L x 19.57mm w, 3.29g
I got an ID today for yesterday's Roman bronze coin find from Mark Lehman.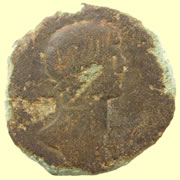 It's smallish, weight-wise, for this, but the diameter is in the right range for it - I'm pretty sure it's a Sestertius of Trajan.
Or, let me put it this way - I'm sure it's Trajan (98-117 AD), but there is some room for questioning the denomination, since as a Sestertius it should weigh in the vicinity of 20+gm.
14gm is a bit on the heavy side (but not completely out of the question) for an As or Dupondius, but the diameter is really too large for either. Also, on a Dupondius the bust would have a radiate crown - this specimen has a laurel-wreath. Asses tend to be a bit lighter than Dupondii, hence it's even less likely to be an As, but it "works" best as a lightweight Sestertius.
Mark
I also got the ID back from Mark on the latest copper Roman found.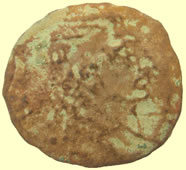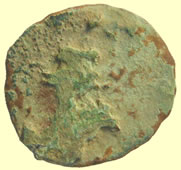 4.78g,25.46mm
The size indicates an As or a Dupondius - a Dupondius, however, like a Sestertius, would have been made of "orichalcum" - a naturally-occuring and not-necessarily consistent form of brass. The Romans did not recognize zinc as a separate metal and lacked the technology necessary to make brass from elemental copper and zinc in controlled proportions even if they had been aware of zinc. Orichalcum, like brass in general, tends to do better under wet and otherwise corrosive conditions than copper. Asses, however, were made from nearly pure copper. The weight of this specimen is way outside of the standard deviation - way too light even for the underweight local copies of Imperial Roman coins. It has obviously lost in the vicinity of half of its original weight to corrosion and/or mineral leaching.
I can't be certain whether it was originally an officially issued, or a contemporary copy of an Imperial As, but the portrait seems to be of Antoninus Pius. I doubt it could be anyone else, since his short beard can appear like a bare chin. Imperial beards came into style with Hadrian and all emperors after that time were bearded, right up through the time that copper Asses became very scarce and went out of use in the early-mid 3rd century - usually all had beards long enough not to be mistaken for a bare chin but Pius is shown with his beard very short. The shape of the head is just not right for Trajan or any of the Flavians, nor is the style right for any of the clean-shaven Julio-Claudians.
Mar
16th Sept 2008 Great silver finds
A great day for silver yesterday with 2 full Medieval Groats, both short cross and long cross pennies plus a rare George II silver love token. The Henry III voided long cross has a unrecorded bust type with double pellet beard on a class 1b with crescent and moon type initial mark. What a rare find. I have just posted more finds to the latest hunt page Sept2008 including a real nice Roman bronze with an interesting bust that I have not seen before.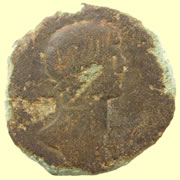 Huge 1st Roman bronze, just sent it off for ID 32.57mm, 14.43g
I have finished cooking the Roman silver coin find and it came out really great but unfortunately a crack has developed. I will be taking it too our goldsmith to see if he can use some silver solder to repair it. Still what a transition from it's as dug condition.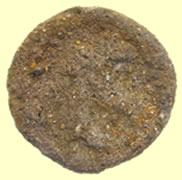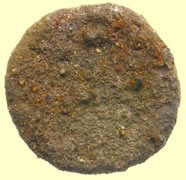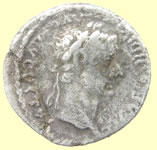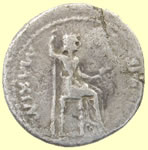 Before and after 'cooking' shots of a Tiberius Denarius 14AD
1247 AD Henry III hammered silver voided long cross penny 17.71mm, 1.32g

Unrecorded bust type similar to Class 1b- no mitre double pellet beard -cresent initial mark

Obv LIE/TER/C(I:/LVN -London

1218 Henry III hammered silver short cross penny, Class 7a 17.18mm, 1.25g,

obv HENRI ON CANTE (Henri- Canterbury mint)

1472 Edward IV hammered silver groat Type 10 , initial mark sun both sides, trefoils by neck, long cross fitchee

obv EDWARD DIA.REX.ANGL.Z.FRANC

Rev CIVI/TAS/LON/DON - London mint

25.18mm, 2.79g

1727 George II milled silver 6 pence love token
15th Another monster axe head find - Roman is 90% cooked
Texas Rob eyeballed this amazing 3500 BC Neolithic axe head on new land yesterday. The workmanship is superb to be able to polish this to such a sharp edge, I wonder if the guy that made it specifically picked that piece of flint for that pretty central change in strata. The guys also found some other great finds like a Roman protected loop terret that I have be posted on the new 2008 hunt page. Mike got that full Edward III Medieval groat below. I have updated the forum competition page with the milled silver tally so far, I have 2 more to upload making a total of 16 as of today.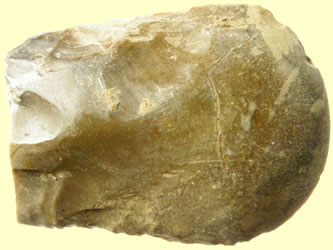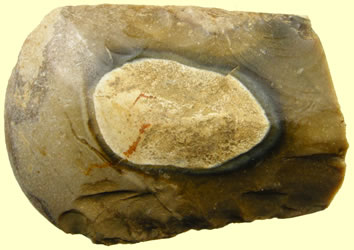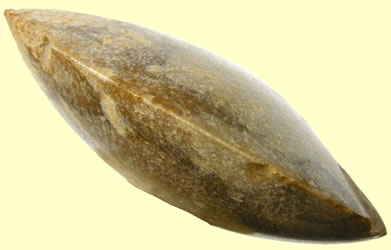 3500 BC Neolithic flint axe 78.52mm L x56.74 mm L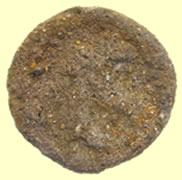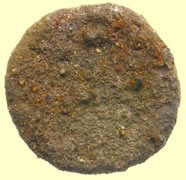 As dug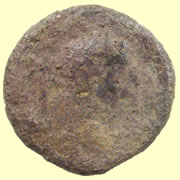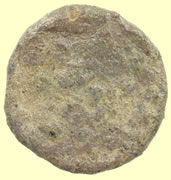 'Cooking'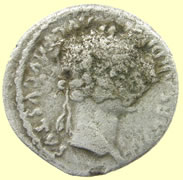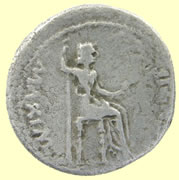 Almost cooked
I spent some serious time yesterday afternoon cooking and picking at the Roman silver coin find and was mint under the crust. I have it back in the cooker to clean up the rest of the bust. I sent pictures off to Mark Lehman and he has sent back this ID for us.
This is a Tiberius Denarius of the so-called "Tribute Penny" type - reverse is Livia (his mother, the presumed poisoner of many of the Julio-Claudians) seated right. This was virtually the only type of denarius issued by Tiberius over his long reign from 14-37 AD. You have had at least one specimen of this type before, about which I wrote at some length if I recall correctly, so I would refer you to my earlier description and explanation of the type.
Mark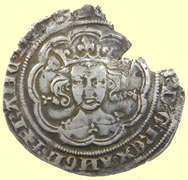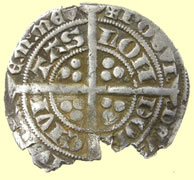 1351-2 Edward III hammered silver groat - Series C, mint mark cross 1, Letters C & E closed - Lombardic M
obv E ***** DG.REX.ANGL.FRANC.****
Rev CIVI/TAS/LON/DON - London mint
27.7mm, 4.08g
14th Sept 2008 Mike finds first piece of gold and sets the coin count at 93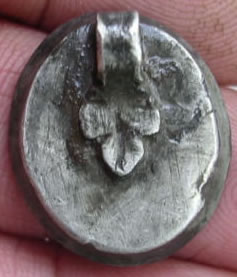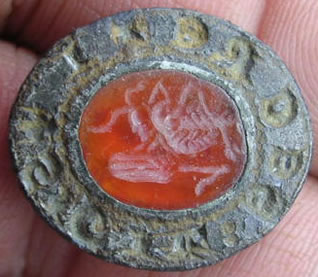 Solid silver medieval vessica seal 62.1g, 21.96mm L x 18.81mm x 5.51mm W (excluding hanger)
I received a letter from the Coroner yesterday detailing a number of our treasure finds, including Gene's stunning silver vessica seal, are going forward to inquest on the 18th Nov, more detail on the members forum. You should also have received the official letter through the post by now detailing your find.
The end of the first weeks hunt sees Atlanta Mike setting a very high score to aim for to win the 'coin hunter of the year' award with a total of 93 coins. Mike is here for a 2nd week so the clock is now reset on his total. Trying to hot spot all this new land, around 35 fields, is really hit and miss at the moment and we are either getting well skunked or as with Don's axe head, finding a monster. Some of the best looking fields around old churches are giving us squat and fields in the middle of no where are coming up trumps !! Mike managed to find the first gold item of the season with a neat Victorian necklace clasp , he also found a monster cow bell (large crotal) on a huge field on new land.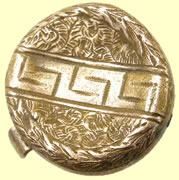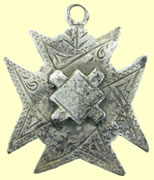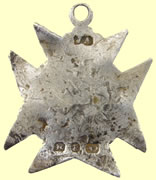 Victorian Gold jewelry clasp (Reading's patent) - Victorian silver pendant Birmingham 1898 hallmark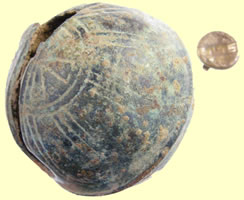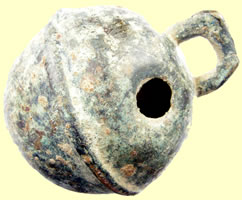 Huge decorated 18thC Crotal bell next to the gold clasp for size
Some of our best fields fortunately have just have been ploughed and the farmers as just waiting for them to dry out and then they will be rolled, possibly today.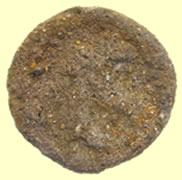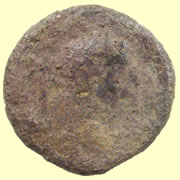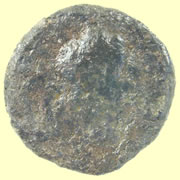 The 3rd stage of the 'cooking' of the Roman silver coin find - head is starting to appear slowly as the grunge melts off. Back in the 'cooker' for some more ! A good tip to this 'cooking' is to replace the olive oil and lemon juice with a fresh mix as it gets saturated with the particles falling off.
12th Sept 2008 Illegal Tudor tavern ? Trumpet brooch
I have posted a few more finds on the 2008Sept hunt page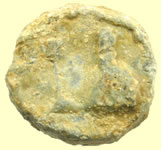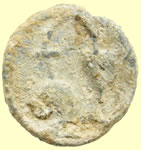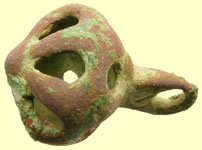 These two lead tokens are a great find being 16thC Elizabeth 1st prohibited lead tavern pieces. The left one is a bottle and glass and the right one shows drink flowing from bottle to glass. These came from the far corner of a field on new land, have the guys found the site of a tavern ? There were other Tudor finds in this location like this crisp Tudor fretwork button,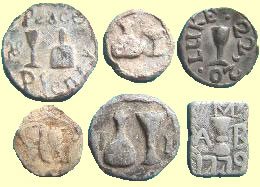 Other examples of tokens not found here
'Instruments of trade, or merchant's marks, are found in small quantities; ditto drinking utensils, presumably indicating tavern tokens, and birds, animals and trees of various descriptions. Depictions of loyalty, in the shape of crowns, roses and the like, are not uncommon, but are usually associated with the Elizabethan period'.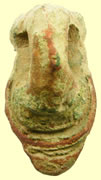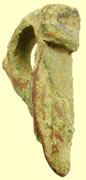 13.74g, 31.75 H x 16.79mm W
This is a fascinating Roman brooch find , it has a trumpet brooch style front mounted on a plate brooch type fitting. It is not in the Catalogue of Ancient brooches so one for the museum to evaluate further and record.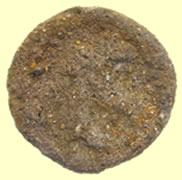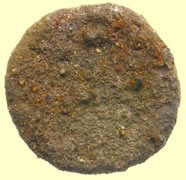 As dug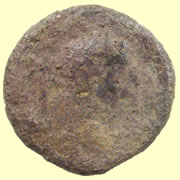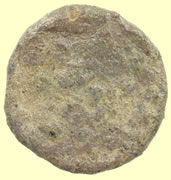 First 'cook'
The Roman silver coin find from yesterday is still cooking and the crust is coming off slowly and detail coming through.
11th Sept 2008 Fl Don finds a monster - Mike does the double
Don was hunting new land by a road and was hitting a few tin cans and thought this was just another one when it blew his headphones off. It was a good job he dug it as this axe, apart from the axe hoard found by Mass Bruce, is the best condition Palstave complete axe we have found. Circa 1250 BC ref Norwich fig 97. I spoke to the museum quickly as it appears to have two rivet holes on the flange to pin the handle which is unknown. Their Bronze age expert suggested that these might be casting holes so it will be interesting to hear his feedback once he has a chance to play with it in the flesh. What a stunning find. Don also found an early Roman crusty silver coin that I have put straight into the 'cooker' to start clean it up. I have posted it and a few other do dads to the new hunt page and will do before and after shots.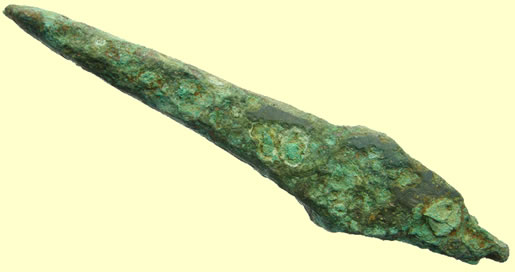 1250 BC Middle Bronze age Falstave axe 134.9mm L x 58.34mm W - 330g
I got an e-mail in from export duty on the current progress of the last of the export licenses, details on members forum. Mark Lehman is still working on the ID of that Republican silver Roman find we finally 'cooked' last month.
I have spent a fair amount of time looking for an ID on that silver you "cooked" for such a long time. I was hoping that the "bowed" shape on what you're calling the obverse would correspond to something in the Republican series - and I have been through and through the listings of Republican and Imperatorial types, so far to no avail. I will keep it in mind and I'm pretty certain I'll stumble over it eventually. I seriously doubt this is an Antony issue, as I seriously doubt that's a galley - but given that I can't come up with anything better, I suppose you can call it whatever your imagination makes of it for the time being. I do still think that it's a Republican or Imperatorial era issue but am stumped for a positive ID at the moment.
Good luck with this year's digging!
Mark
Mark also supplied his views on the first Roman coin find off the new land.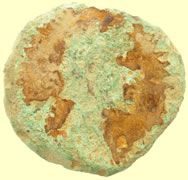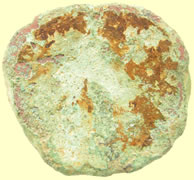 Roman bronze 21.64g, 33.15mm
From the size and weight, it's a sestertius. From the outline and what I think I make of the letter-seriphs, it's Antoninus Pius. I can't really say much more about it with no reverse visible and none of the obverse legend clearly readable.
Mark
Tim Burton the button expert is in the process of moving house at the moment so his books are packed up. It will be a while before he can get to the Military and Navy button ID's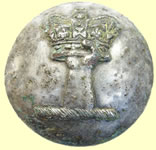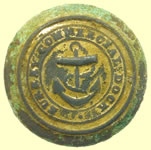 More new land produced it's first hammered silver yesterday which was a worn Elizabeth 1st hammered silver three pence. Not much else was found so the guys moved to another new site in the afternoon. Pickings were really slim as these fields are monster sized and you just wander around aimlessly hoping to walk over it. Mike however managed to find his 2nd silver of the day a Medieval hammered silver penny next to an old house site that Canadian Rod had previously researched.
10th Sept 2008 Great day out there
The weather and ground conditions are just about perfect out there and we are getting real deep signal and lots of Georgian copper finds. New land finally produced it's first hammered silver yesterday and Ark Gary did the triple hammered silver in the afternoon. His Henry VI groat is just about mint. Atlanta Mike banged in 20 + coppers and a really nice Saxon gilded mount, Gary found a Saxon harness cheek piece so a good range of dates so far. I am posting more nice do dads to the new hunt page this morning. A button find from yesterday turns out to be our 2nd unrecorded example of the 13th Light Dragoons.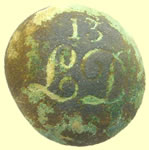 'Still unrecorded, but I have it in my book as the below' Tim


13th Light Dragoons

Officer - 1800-1830
Henry VI 1422-27 Hammered silver half groat - Calais mint - Annulet issue - annulets by neck and between two sets of opposing pellets 21.18mm, 1.79g

Edward 1344-51 hammered silver florin penny

Obv EDWAR ANGL DNS HYB

Rev CIVI/TAS/LON/DON - London mint

1.28g, 17.84g

1582-4 Elizabeth 1st hammered silver penny - A mintmark 6th issue

Circa 10thC Saxon gilded mount with 4 rivet fixing

9.76g, 34.49mm x 5.38mm T
9th Sept 2008 NS Greg's memorial placed - pickings are still slim
The guys have placed a lasting memorial on the field where a club member NS Greg died last season with his digger still in hand. He will be sorely missed by all the members. I have produced a video of the event and posted it on the members forum.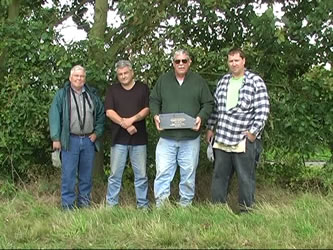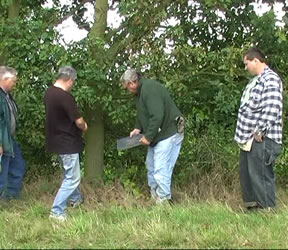 Florida Don places the plaque on behalf of the club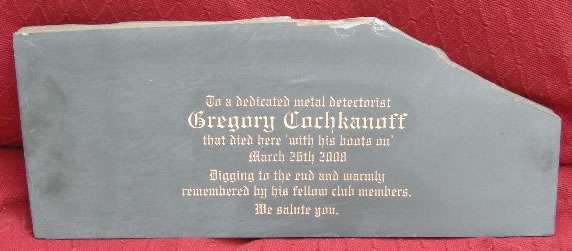 The new 1/4 pounder 'burger' day got the thumbs up from the guys and Atlanta Mike constructed his own special recipe version with fried onions, mustard and chicken flavoured crisps !!. Ark Gary presented Billericay Mark with the Wayne Otto award for showing the best attributes of any detectorist during last season. A very popular winner. The video is posted on the members forum.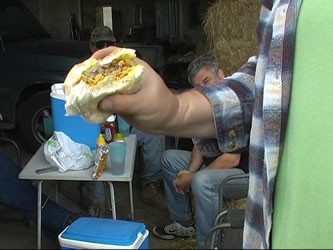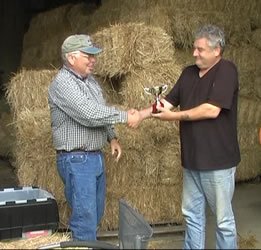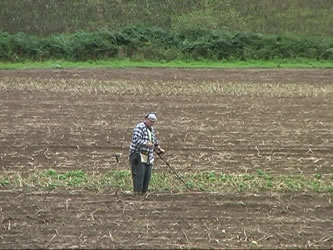 We are still struggling out there on new land to find the hot spots. 6 new fields that have never been detected before have just come on line and the guys took a field each to cross. A kind of mixed result, two 1st Romans in poor shape, early Victorian silver shilling, lots of Georgian coppers including a George III silver shilling forgery.The best find by Atlanta Mike was 3/4's of a Roman fibular brooch. All the usual bits and pieces, seals, buttons etc but no hammered silver yet. I thought however this military silver overlaid button find was a real beauty and must have been individually made for a high ranking officer. I think it is the Life guards regiment but have sent it off to our button expert for his views. It has 'London make' as the backmark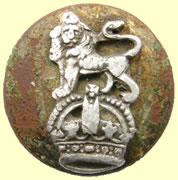 I have started a new hunt page, Sept 2008 and started to upload some do dads to it but pickings are slim so far.
New archived news links
English Saxon gold coin found
Double Cunobelin Celtic gold
Chicago Reid's Roman gold ring
NS Andy's Saxon strap end
Medieval Iconic gold ring find
First Celtic gold of the season
Celtic Woad cosmetic grinder and Jeff Roman Pecker find
Viking silver strap end- Rare Roman silver coin finds
Great Saxon silver finds Offa Rex - Coenwulf - Hammered gold
Villa Dig - Roman gold - Celtic gold hoard found
Can Majos and Mass Bills gold rings - Texas Dave's hammered gold
Roman gold coin - Mass Bruce's axe hoard
2000BC Axe - Boston Buds Saxon gold
michelle@colchestertreasurehunting.co.uk